Metlife Stadium
East Rutherford

,

NJ
East Rutherford (New Jersey)
Monster Energy AMA Supercross Championship
Can one race really change the trajectory of a career? In the case of Nick Schmidt, the notion may hold validity.
At just 15 years old, Nick Schmidt made the decision to leave home. Growing up in a small town in Washington just 35 minutes north of Seattle, he packed up his belongings and make the more-than-1,200 mile trek to southern California to pursue his career in professional motocross.
"My granddad was living in southern California at the time and I never really came back home," recalls Schmidt. "I was only supposed to go down for a couple of months, but I ended up staying to ride supercross."
Access to technical supercross tracks year round would help, but Schmidt was hampered by injuries throughout his amateur career. He wasn't well known when he made his professional debut as a privateer in 2011. At a rangy 6 feet 1 inch, buried behind a bulky 200-pound fame, Schmidt would jump directly to the premier class. It transition wasn't easy.
"I had a couple championships here and there during my amateur career, but nothing like an Adam Cianciarulo or a Matt Bisceglia. I had to kind of work my way up to get noticed," said Schmidt. "In the 250 class, you can get noticed more instead of jumping straight into the premier class like I did."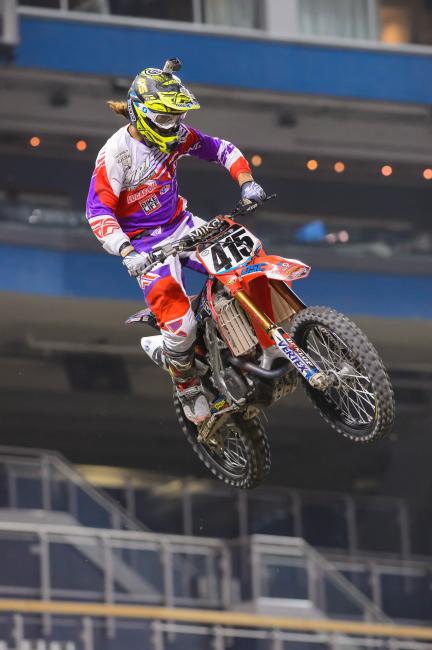 The struggle for Schmidt would linger, as injuries and the adjustment to supercross took its toll. But one race would change everything.
After more than two years into his professional career and zero main events to his credit, Schmidt finally broke through at the 2013 season finale in Las Vegas. Although he only managed an eighteenth in the main, the night changed his career.
"After that night I knew I didn't want to be a guy that just showed up; I wanted to be a guy that got top fifteens and made main events every weekend," he said.
But more adversity would lie ahead.
Just before the 2013 Lucas Oil Pro Motocross Championship season opener at Hangtown, Schmidt suffered a broken tibia and fibula and a torn calf muscle testing. The injury proved to be a blessing in disguise, though, as it provided Schmidt time to reflect and make a decision that would change his career path.
"I had a lot of time thinking on the couch and I knew I had to make a change if I wanted to make it, so I came back and started eating right and training right to get ready for supercross," said Schmidt.
Schmidt shed more than thirty pounds leading up to Anaheim, dropping from a bulky 235 down to a slimmer 198. Determined to become a factor in his fourth professional season, Schmidt ramped up every aspect of his training, leading to a surprising fourteenth at the 2014 Monster Energy Supercross season opener.
Although Schmidt would make just two mains over the next six rounds, his confidence was rising. It was the same confidence that earned him the nickname "The Milestone Assassin" for his natural speed shown at the southern California test track.
With his results trending upward, Schmidt faced a new challenge: overcoming the mental barrier of racing the best in the world—unfamiliar territory for a privateer with one main event on his record entering the season.
"I think it was Phoenix that was my first A practice and it was gnarly," said Schmidt. "Going out there and watching and riding with Villopoto, and watching them hit all the right sections—it was different."
As Schmidt has grown accustomed to his new place in the upper echelon of the supercross hierarchy, making mains is no longer the imposing task it once was. Currently, he's made eight straight main events and eleven of fifteen this year. He's officially reached a new level, and the next step will be continued strength in battling the biggest names in the sport.
"Don't get me wrong, it did [intimidate] me at first," said Schmidt of battling the top guys in the class. "But the more I thought about it, I was like, 'I'm one of the guys now.' They get on a dirt bike and put on their shoes like I do every morning. Everyone is the same on the track."
If Schmidt's rise rings familiar, look no further than Weston Peick. Their physiques bring obvious comparisons, and their career paths aren't that far apart. Neither were highly regarded amateurs. Both made their professional debuts in the premiere class. Both struggled with the adjustment to supercross—although Peick did have more success early.
Now with Peick landing a long-awaited factory ride for the 2014 Lucas Oil Pro Motocross Championships with RCH, he's become the rider privateers can look to and try and emulate.
"I've heard a lot of people say that I'm kind of in the spot Weston was last year, which is a big compliment in itself," said Schmidt of the comparison. "Watching him land a factory ride makes me want to work that much harder."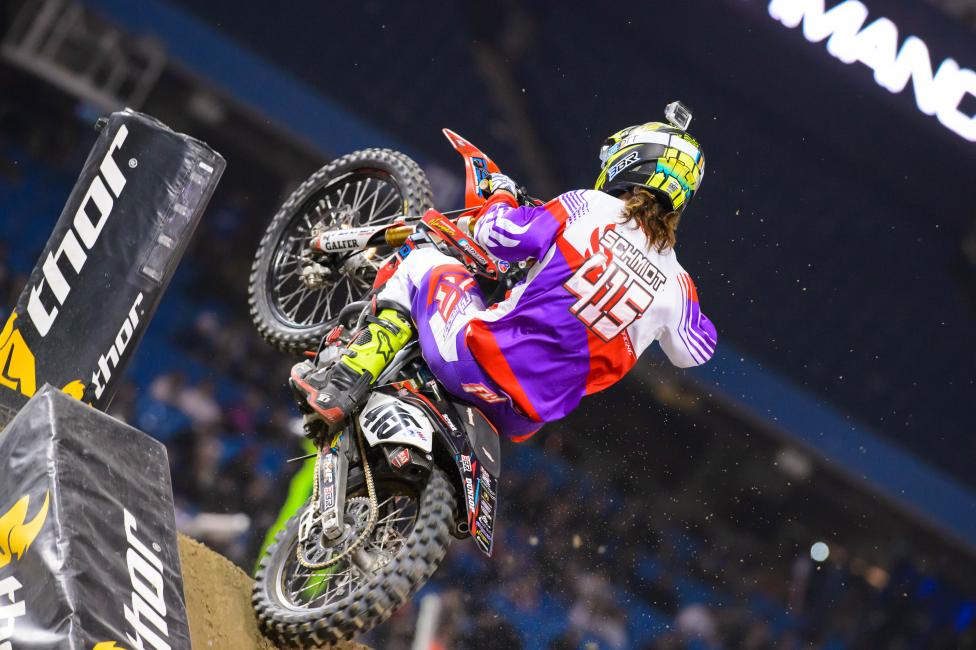 The comparison to Peick also stretches over to the hardship in reaching that factory level. Like Peick in years past, Schmidt is without a full ride outdoors as his supercross team, The Privateer Journey, is not expected to compete in the nationals. Like Peick has done in the past, Schmidt will take a mechanic and his van to the first three nationals—Glen Helen, Hangtown and Thunder Valley—in hopes of putting in good enough results to land support for the remainder of the season. While Schmidt said he would ride in Australia, Europe or Canada, his goal is to stay home and open eyes. But if he's unable to make it to all the rounds, staying relevant and on everyone's radar for next year won't be easy.
"If you don't do outdoors, people tend to forget about what you've been doing," said Schmidt. "I'm still plugging away trying to find a way to do them all, but I will definitely be doing the first three and hopefully more."
Like Peick in years past, Schmidt now faces the daunting task of remaining relevant over the next four months—without a full outdoor ride. Peick eventually figured out how to make it happen, but he had to start putting together some really impressive results to do it. Could Schmidt follow a similar path?
(If you have any interest in sponsoring Nick for the Lucas Oil Pro Motocross Championships, you can contact him at Mxnick816@aol.com.)