Welcome to Racerhead, and Happy Easter and Good Friday to everyone. We have an off-weekend for Monster Energy AMA Supercross, then two rounds to close it all out, the first at MetLife Stadium in East Rutherford, New Jersey, then across the country to Sam Boyd Stadium in Las Vegas for the grand finale. It's been an excellent series so far, though it is all over but the shouting. Ryan Villopoto basically just needs to finish the event at MetLife to wrap up his fourth consecutive title, then true Monster Energy Kawasaki rider can focus on what's next ...
… which is the big question: What's next for Ryan Villopoto? Unless you've been offline the past few weeks, you have read or heard the talk that the defending Lucas Oil 450 Pro Motocross Champion is not going to be racing outdoors. Various reports have him riding with a re-injured leg that knocked him out of the Motocross of Nations last year; others have him injuring his other leg. There's also the rather odd one that he's already exhausted Kawasaki's win-bonus budget for 2014. But no one has apparently talked to RV himself about what's really going on (or not going on), and his team hasn't said anything either. They appear to be getting ready for outdoors, business as usual.
This talk is not limited to online pundits, race reporters, and pit gawkers. It was a big topic of conversation at the Red Bull MotoGP last weekend at the remarkable Circuit of the Americas in Austin, Texas, where much of the racing industry was gathered even while the Seattle Supercross was being run (and won by Villopoto). I have received calls here at the office from national promoters asking if it's true or not, and I don't really know what to tell them, as I haven't had the chance to speak with Villopoto either.
But here's what we think we know: Villopoto has a problem with his knee, but it's the other leg—not the one that needed ankle work and knocked him out of the MXoN last year. He injured it within the last month. While Ryan himself is not saying anything on the subject, the plan is apparently to try to go outdoors, beginning with Glen Helen on May 24, and then for as long as he can stand the pain or stay in the championship hunt. If he makes it through the season, that would be fantastic for everyone—at least everyone but Team USA and maybe even the Monster Energy Cup fans, because if he needs three or four months (a best-case-scenario for knee surgery), that puts him right up against the start of the 2015 Monster Energy AMA Supercross Championship in January. And no one can blame the man for keeping his eye on the SX record books and maybe doing something that even Jeremy McGrath never did: win five SX championship titles in a row.
How can he ride now if the knee is that bad? Supercross is a much different animal than outdoor motocross, and his extraordinary precision and the lack of leg-grabbing ruts and berms makes riding inside a stadium much easier on a bad knee than, say, any of the twelve national tracks. RV lost the 2009 outdoor season to a knee-twisting incident—he won the first round at Glen Helen and then only managed a twenty-first at Hangtown, then he went under the knife.
Regardless of what happens with Villopoto (and I am a glass-half-full guy, so I'm hoping for the best here) the outdoors are still looking extremely competitive in the 450 Class. Past champions James Stewart, Ryan Dungey, and Chad Reed, plus past 250 Champions Trey Canard and Eli Tomac—and of course former MX2 world champ Ken Roczen and Justin Barcia, Jake Weimer, Malcolm Stewart, Davi Millsaps, Andrew Short and Mike Alessi (at least for the first race)—will all line up at Glen Helen on May 24 with a chance at doing something special.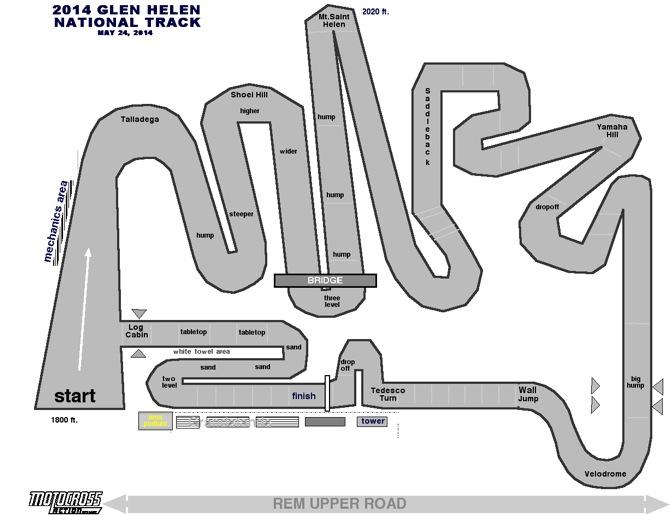 As for the 250 Class, there's a whole bunch of fast kids gearing up for that, including past champs Dean Wilson and Blake Baggett, as well as one very driven veteran: Christophe Pourcel. And the closer we get to Glen Helen, the more I'm hearing from people in the know—including some top riders themselves—that he is going to surprise a lot of people. But since we're talking about Pourcel, it really could be a comeback win or a very short summer. Stay tuned.
Oh, a public-service note to the pro riders out there planning on racing the Lucas Oil Pro Motocross Championships: Don't forget to fill out your license application and get yourself entered.
Okay, here's the rest of Racerhead:
THE NUMBER - 4 - (Aaron Hansel)
Although it won't be official until next week, we can all but safely say that Ryan Villopoto has clinched yet another 450SX Monster Energy Supercross Championship. And perhaps just as impressive as winning four consecutive titles (the second in history to do this behind Jeremy McGrath) is the fact that he's wrapped up the last three of them with gates yet to be dropped. That's amazing. And while some of RV's fellow competitors hold reputations for consistency, perhaps it's Villopoto who should wear that crown as well. Check out the average points per race for the last four seasons.
2014 (through fifteen races)
Ryan Villopoto - 21.2
James Stewart - 18
Ryan Dungey - 17.8
Ken Roczen - 16.6
Justin Barcia - 16.46 (thirteen races)
2013
Ryan Villopoto - 21.82
Davi Millsaps - 19.88
Ryan Dungey - 19.82
Justin Barcia - 16.29
Chad Reed - 14.94 (sixteen races)
2012
Ryan Villopoto - 21.53 (fifteen races)
Davi Millsaps - 15.65
Ryan Dungey - 21.42 (twelve races)
Justin Brayton - 16.06 (sixteen races)
Jake Weimer - 14.31 (sixteen races)
2011
Ryan Villopoto - 21.13 (sixteen races)
Chad Reed - 19.65
Ryan Dungey - 19.29
James Stewart - 17.71
Trey Canard - 18.21 (fourteen races)
Now, to put someone else's consistent dominance into perspective, Ricky Carmichael won ten outdoors titles in the ten years he competed full-time, and he wrapped up all ten of those before the final round of the series. That's just never going to happen again
PRO PERSPECTIVE – CAREER RESURRECTION (Jason Thomas and David Pingree)
JT: In honor of Easter weekend and the resurrection, let's talk about which rider has had the best career resurrection. There are lots of possibilities here, but I am going to go with Kevin Windham. Early in the 2002 season, things were beginning to unravel for the #14. Rumors of him partying and losing focus were rampant, and accordingly his results were not what he or Suzuki expected. The situation came to a head in Atlanta with a horrific practice crash, leaving him with a broken femur.
After the dust settled and the healing began, KW hinted that he might retire, shocking the motocross world. He would miss the rest of the 2002 season before photos emerged of him on a Factory Connection Honda in early 2003. Excitement grew as he looked to be preparing for an assault on the outdoor championship and reports of his speed in testing spread like wildfire. When he did return at Glen Helen, he did so with the full support of the motocross die-hards. He went from just another motocross star to the absolute fan favorite over the next few years. His return and renewed attitude was not lost on fans and they responded in kind, making him a hero in the paddock.
Windham went on to win many races over the next ten years and battled for more than one title. As he grew older, he became the working man's racer. "Down-to-earth family man" was the phrase I heard when his name came up in public, and I can't really argue with that. He was always very approachable in a sport that doesn't always display that. To see a rider have a solid career for seven-plus years is rare enough, but to take a year off only to come back and race for ten more years at the highest level is herculean. They just don't make 'em like they used to. Hats off to you, KW.
PING: After reading JT's thoughts on Kevin Windham, I'm thinking he might have nailed it when it comes to all-time career resurrections. But there are still a few others who come to mind who really rallied when they were down and had the best part of their careers during a second wind. Some of those riders include Jimmy Button, Mike Brown, James Dobb, Steve Lamson … but the guy who stands above all others in my book when you are talking about breathing new life into a career is Doug Henry.
Doug started as a scrappy 125 rider for DGY on the East Coast, blitzing the NESC on a YZ125 and YZ250. He picked up a factory Honda ride in '93 and became a national motocross champion in the 125 class (twice). He was climbing his way to the top in the 250 ranks when he broke his back in that horrific crash at Budds Creek.
Most guys would have called it a career at that point. He had some money in the bank and those #1 plates on his wall. Why risk it? But Doug put his head down and made a comeback, pioneering the modern four-stroke motocross bike in the process. Then, for the second time at Budds Creek, he was struck down when his bike faltered on an uphill double and he broke both arms. Henry brought himself back from the depths again yet again to win the 250 National Championship the following season. If all that wasn't enough, Doug came back again in the sport of Supermoto, winning an X Games gold medal and competing for that championship.
A crash during practice at a warm-up race would injure Doug's spine, forcing him into a wheelchair. But even after all that, Doug comes back and races snocross, A Day in the Dirt, and other events on a modified machine. His grit, bravery, and determination to come back from the lowest points make Doug Henry an easy choice for the best resurrection of a career.
Thanks for the inspiration, Doug.
MOTOGP (DC)
While I hated missing the Seattle SX last weekend (rumors were strong that it might be the last one there, but we'll know soon enough), I was very happy to be in Austin, Texas, at the Circuit of the Americas for the Red Bull MotoGP. The facility is a remarkable state-of-the-art road racing course, and while the racing wasn't as close as anyone might have hoped, seeing Valentino Rossi, Dani Pedrosa, and MotoGP champion Marco Marquez of the Repsol Honda team blasting around the track in front of about 60,000 fans was pretty cool. This was also the first time I had ever visited Austin, and it immediately shot way up on my list of favorite cities around the world.
Also, the MotoGP crowd is much different from what I'm used to seeing in motocross. Comparatively speaking, it was more "Formula 1" than a supercross crowd like you might see at Dallas or Houston SX races, and the whole pace of the event was much more subdued than the slam-bang series of explosions and action that is supercross. Also, the whole town seemed to roll out the red carpet for the visiting race fans, as I am sure they will do when Circuit of the Americas hosts the X Games for the first time this summer.
The whole weekend had parties and get-togethers, including a reception by the Bonnier Group that publishes Cycle World and Dirt Rider, among many other publications. My longtime friend Andy Leisner now publishes Cycle World, and he took the opportunity at the cocktail party to introduce his old boss Larry Little, and together they toasted the room to the passing of longtime Cycle World man Jim Hansen, who passed last week. It was also good to see Ray Blank, the retired former boss at American Honda, back at the races for the weekend.
On Sunday morning my wife, Shannon, and I were invited by Lee Edmunds to take a tour of the Repsol Honda pits, where we got to see how much work goes into the setup of the bikes for Marquez and Pedrosa, who would go out and go 1-2 in the MotoGP. Had Rossi's front tire not had some issues, it might have been much more interesting, but it was really cool to watch and also do some bench-racing with Chad Reed, Michael Byrne, and Dan Truman, who were all there together, plus Adam Cianciarulo and his manager Russ Stratton, who got to hang out with Rossi so the world's two fastest #46s could compare racing notes—and Eric Johnson and Mitch Covington, who were also busy trying to keep an eye on Thomas Covington's race over in Italy. (I also tried to get some workout tips from Johnny Louch of the Rockwell Gym, which I have yet to implement. Maybe after Vegas!)
Finally, there's the town itself. Austin hosts more cool music shows than probably any other town in America besides New York City, which is twenty times bigger, and also has countless restaurants and bars. Every one of them seemed to have some kind of MotoGP insignia going on, including the Chupacabra, which Blake Baggett has nothing to do with! And Rainey Street might be the coolest restaurant row in all of Texas—maybe even America.
If you ever get the chance to go to Austin in general or the Circuit of the Americas in particular, take it! Thanks to Mel Harder for the great passes and hospitality, and good luck to everyone at COTA for the upcoming X Games.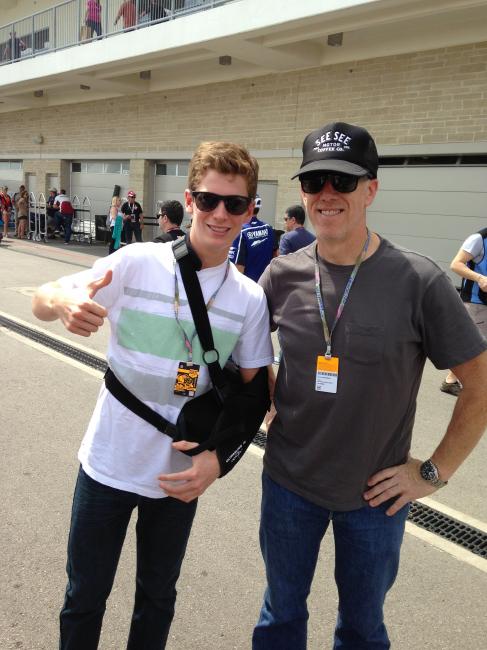 FAST FRIENDS (Jason Weigandt)
In even more Villopoto news, the champion has found a new friend who probably has a better perspective on the pressures and dangers of racing than most. Casey Stoner won two MotoGP World Championships and then shocked the world by deciding to retire two years ago at the ripe old age of 26. Stoner, who coincidentally hails from the same Australian town as Chad Reed, said he wasn't happy with the direction MotoGP was going. He was planning on attending the MotoGP in Austin, so he flew to the U.S. early and checked out the Houston Supercross. But after a day at the races, he was hooked, and Villopoto was his new best friend! Stoner even headed to California to hang with Villopoto for the week and detoured up to Seattle to watch another race. Said Kawasaki senior racing manager Reid Nordin, "Looks like we've adopted him.... He's been hanging around so much we might need to put him to work!"
REDBUD: THE PLAY (DC)
Remember when we featured that unique West End play in London about middle-aged men camping out at the RedBud National? The Brett Neveu-written play is coming to America! Matt Allard, who attended the play and penned the feature for Racer X Illustrated, spotted a note on the broadsheets about the play making its U.S. debut in Chicago in January 2015.
In my mind's eye I see a young Julia Roberts playing Amy Ritchie, an old Seth Rogen playing Tim Ritchie, and Jason Lawrence as himself.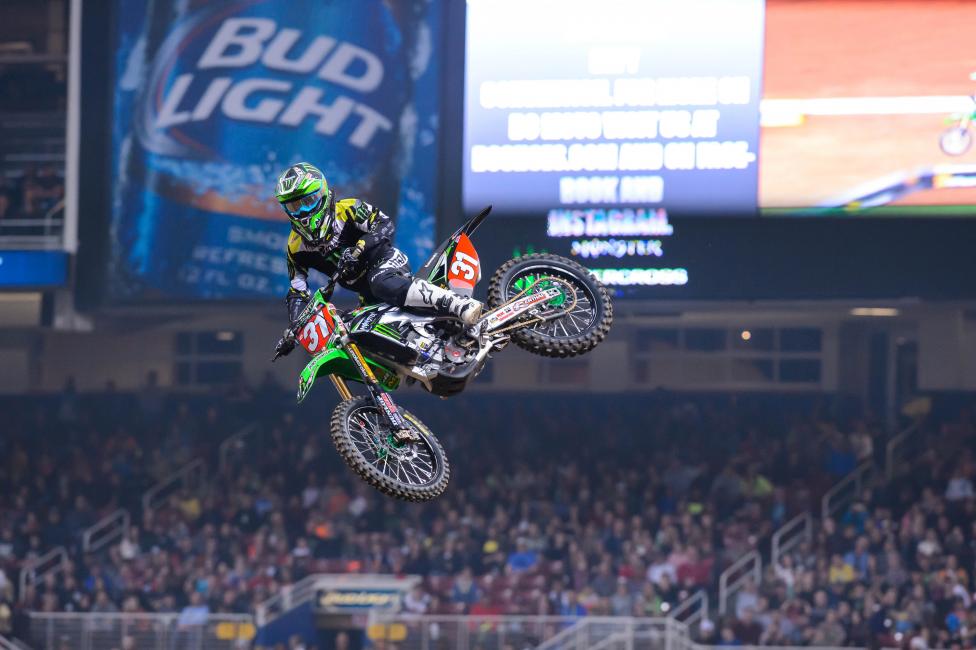 HEY, WATCH IT!
Can't wait for this one—here's the trailer for The John Penton Story, Pipeline Digital Media
And Bryan Stealey spotted this in his weekly search for anything related to Simon Cowell (just kidding).
HEADLINES OF THE WEEK
"Round five goes bar to bar in Bulgaria"
Press release for the Bulgarian GP, quoting Art Eckman's trademark line from yesteryear.
RANDOM NOTES
We spotted an extraordinary set of motorcycling photos from sixties-era America. They were shot by a Chicago-based photographer named Danny Lyons, who published a book called The Bikeriders in 1968. While most of the photos are from a biker gang called The Outlaws that he rode with, there are a few glimpses of old-school scrambles races that are just remarkable. Check them out, along with Lyons' story, right here.
And here are more from the Magnum Photos collection.
On Track School has announced their student of the month.
For the latest from Canada, check out DMX Frid'Eh Update #17.
For The List this week, with the SX world on Easter break, we posted a feature on Americans who went to Europe over the years, just like Thomas Covington is doing now. We got a lot of comments and mail on it, including this one from Eric Golden:
"Awesome 'Americans In Europe' article this week. How about one going the other way - Europeans who left the GPs to come race in the US? I would personally like to know how many GP riders used the GPs as a warmup, then left and came to the US in their prime (not as a last resort because they couldn't find a ride).…"
Stay tuned, we will start gathering them up for a future list.
And supercross may be taking Easter off, but in Europe they will be racing the Bulgarian Grand Prix at Sevlievo this weekend, and it will air online on www.mxgp-tv.com, with the second motos tape-delayed on CBS Sports Network at 6 p.m. Sunday evening. See if Tony Cairoli can rebound from last weekend's defeat at his home GP in Italy, or if Covington can get his Kawasaki back up toward the front.
That's it for Racerhead. Thanks for stopping by, and have a happy holiday weekend. See you at the races.