Centurylink Field
Seattle

,

WA
Seattle
Monster Energy AMA Supercross Championship
Lucas Oil/Troy Lee Designs Honda's Cole Seely needed a win in Seattle to get back within striking distance for the 250SX West Regional Championship in Monster Energy Supercross. But when he flashed across just fifth in timed qualifying—a second off the fastest time—and then went down early in a heat race pileup, things weren't looking good. As we've seen with Seely time and time again, though, he transforms in the main event. He did that en route to a victory, closing to within eight points with a single race remaining.
We found Cole at the TLD truck after the race to grab this interview.
Racer X: First, just explain your practice and heat race versus main event deal. You're like two different riders!
Cole Seely: I don't know, I've always been like that. I feel like these guys go out and they just are literally about to crash, and just lay down two fast laps and that's it. I like to take it like practice—it's practice! I like to go out there, find my lines, hit my marks, see what works, see what doesn't. The track changes, too, so that has a lot to do with it. When I line up there's so much adrenaline and I really feed off my own nerves and just amp myself up. I think that also comes into effect. I'm just a racer, I guess. I don't do well in practice.
But that's pretty good, confidence-wise, that you don't come back and say "There's a second to make up!" You don't worry about that?
No, I never have. I'm really close to [Justin] Brayton over these past years and he's always been one like, "Man, they are going so much faster than me." And I've always just been like, "So what?" When it's race time, it's race time. Buckle down and do your job. It's just how I've always been. I've never been, in my whole life, the fastest guy on the track until the race. I guess it's a good thing to have.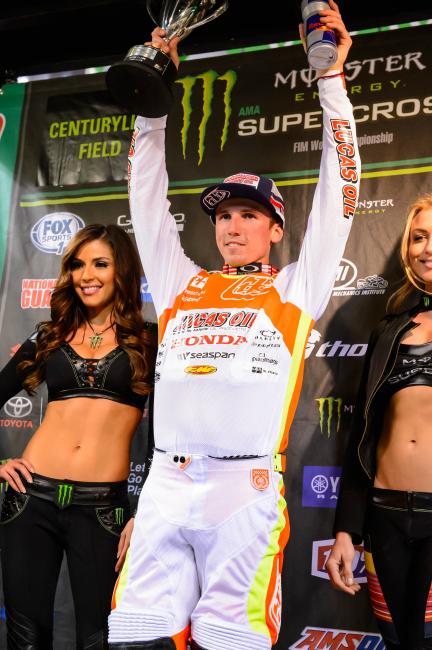 Even starts, the heat races sometimes you won't get starts, but then the main event when you need it, you get it. Is that a coincidence or do you even think that's a mental thing, too?
Today was tough because I got a good jump in the heat race and just got taken completely wide. Deano didn't let off. I think he just kind of overshot and missed his mark. And then I got together with a rider, so I picked my bike up nearly last and fought back to fifth. But going to the main I'm thinking, dang, I've got 10th place gate pick. So I didn't really get to pick the most ideal spot. I was two inside of the box, so pretty center. I knew I was going to get pushed out so I really had to focus and clear my head and just make sure I got a good jump to give myself a fighting chance for that main event.
You've won here before. Is there something about Seattle? The track's pretty tough when it breaks down. Does that help you?
Yeah, I like the dirt here just because it makes you on edge. You can't really take too many risks and you've got to search for all those smooth lines. I was going left to right, right to left, all over the track just to get to the good lines and take the least risks because I didn't want to be dragging my foot pegs off stuff or hitting holes or whatever. I think just having that style of riding naturally just helps me here.
The title, you're closer. Do you really even think that or do you just go out and try to win Vegas and see what happens?
I really wanted to make up some points today. I did literally the best I could with a win, but unfortunately he [Anderson] got second. Not putting anything against Jason, he's a great rider. But I really want to win this title. I had a little incident last week with my rear brake and all that and kind of had to do some damage control. My worst finish this year is a fourth. That's good but it's not good enough to be in the points lead right now. Only eight back, anything can happen. Last year proved that. I'm just going to go into Vegas with high hopes and to come out swinging.
You had some illness stuff in the beginning of the year. You lost weight and all that. Have you recovered? Have you put weight back on?
Yeah, it was just one thing after another with that. I don't know what it was. They couldn't figure out what it was. They just had to say it was a stomach virus, just wait it out. It lasted two and a half weeks. It was painful. Everyone was kind of like, I see on social media kind of making fun of me and stuff for it—for some of those races. I'm like, I just want to beat those guys up because I was in legitimate pain! It hurt to ride and race. I got that all taken care of and then I think a week later I got food poisoning.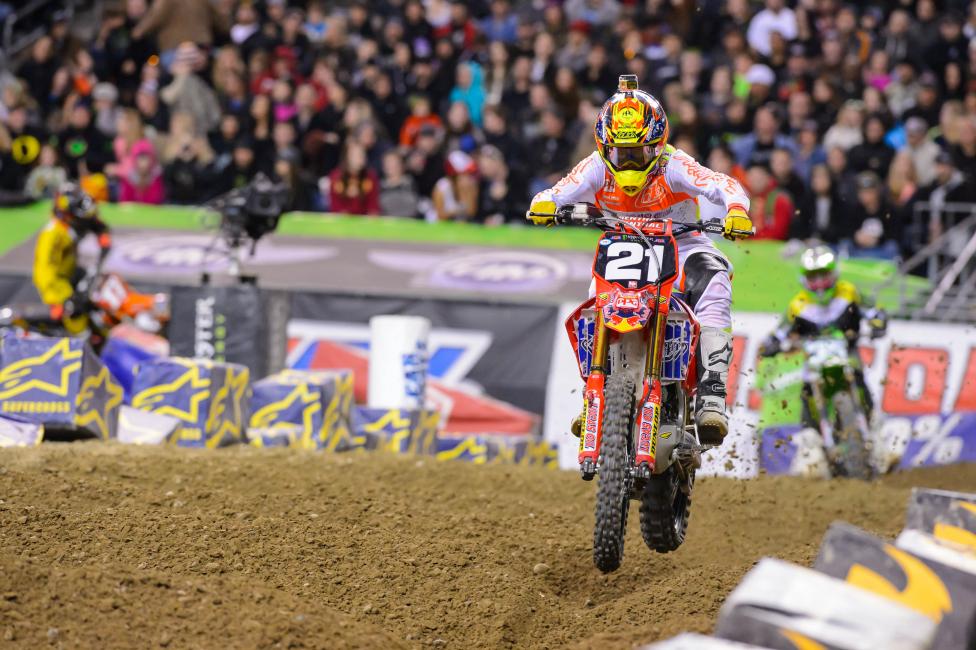 Unrelated?
Yeah, totally unrelated. On a Tuesday night woke up at 1:00 in the morning thinking, "I got to go throw up now." And it took a lot out of me. I lost even more weight going into San Diego. I was, I think, 10 pounds under what I usually weigh. I was tiny. It was tough because that track demanded strength and I didn't have any strength. It was a tough one to get through. So I'm fully healthy now, just back into the swing of things, diet, and training and all that.
With how close this championship is going to be, you've got to be bummed you had to deal with that.
Oh yeah.