Borich Victorious at Big Buck GNCC
UNION, S.C. - Round 4 of the 2014 AMSOIL Grand National Cross Country Series presented by Maxxis, an AMA National Championship, showcased yet another exciting last-lap battle between Walker Fowler and Chris Borich in the XC1 Pro ATV Championship. The duo exchanged the lead several times throughout the two-hour race but in the end, it was Borich who emerged victorious at Saturday's VP Racing Fuels Big Buck GNCC in Union, S.C.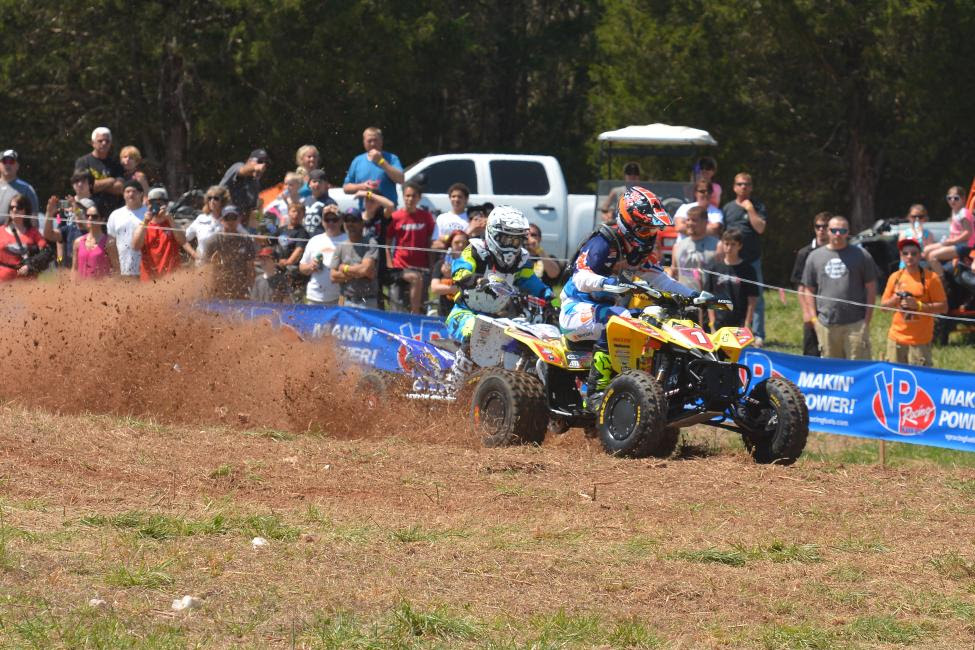 Borich kicked off the afternoon by grabbing the $250 Twin Air/DeRisi Racing XC1 Holeshot Award Photo: Hill
Borich kicked off the afternoon by grabbing the $250 Twin Air/DeRisi Racing XC1 Holeshot Award as he led the pack into the woods on the opening lap. Fowler then took over the lead for the next three laps but Borich kept himself within one second of Fowler's rear wheel.
The duo remained wheel-to-wheel until the final lap when Borich made a mistake that sent him to the ground.
"On the last lap I ended up clipping a tree and he [Fowler] gapped me a good 30 seconds. I just knew I had to put the hammer on him and I finally caught up," Borich said.
Fowler and Borich showcased an exciting battle for the fansPhoto: Hill
But then, Fowler got stuck behind a lapped rider and Borich was able to make his way back into the lead position. From there, Fowler wasn't able to make up the lost ground on Borich.
"At the end there, Borich made a mistake and I tried to take advantage and get as far in front of him as I could but it didn't end up going that way," Fowler said. "I can't buy any luck and lapped riders just aren't helping me this year. But I'm happy to leave here healthy and safe."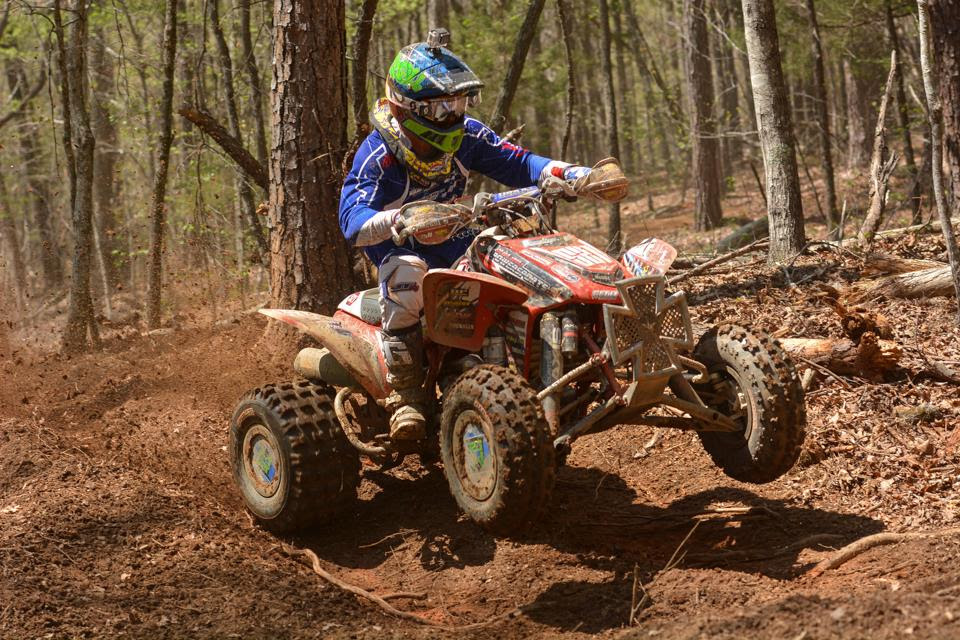 McGill finished just off the overall podium after a hard fought battle Photo: Hill
RacingPowersports.com/CST Tires/PirateMX.com's Adam McGill and DWT Racing's Jarrod McClure battled back and forth for the third place position for a majority of the afternoon. However, after receiving a 30 second penalty on the opening lap for starting his machine early, Precision/Maxxis Tires Chris Bithell made a big push towards the front. On the third lap, Bithell caught and passed McClure for the fourth place position, before reeling in McGill and eventually making the pass for third place on the final lap.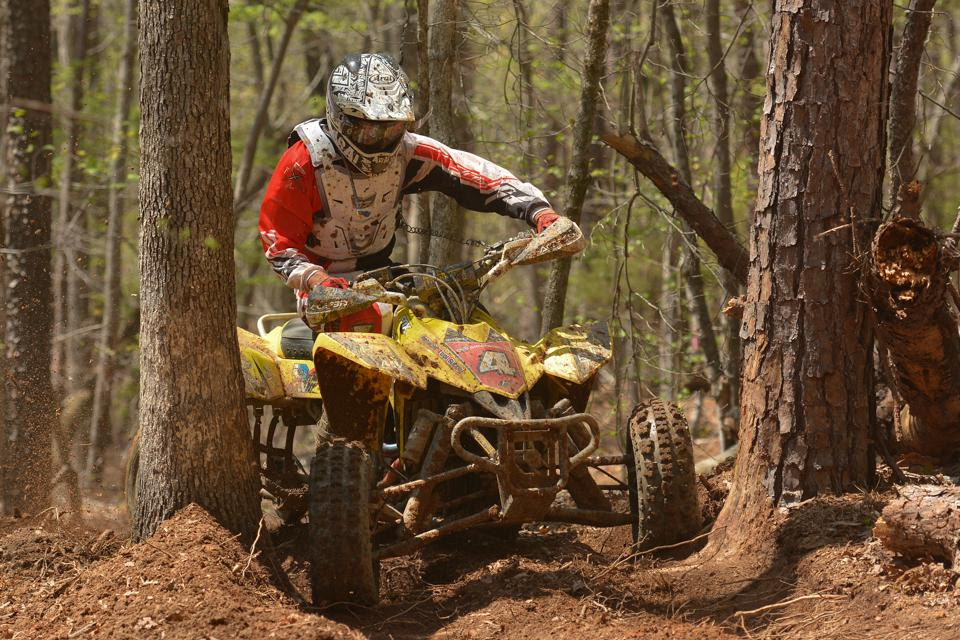 Bithell charged through the pack to finish third overall for the day Photo: Hill
"I have to thank the fans for keeping me going out there because it took a lot out of me," Bithell said. "It really helps us out to charge that hard, I couldn't do it without everyone cheering me on out there."
Borich's victory on Saturday was his seventh career win over the last eight years at the Big Buck Farm, where he currently holds a six-race win streak behind him.
"This track is pretty sweet to me, it fits my style of riding and it has a good flow," Borich said. "The track was awesome and it was a lot of fun riding with Walker and just having fun out there."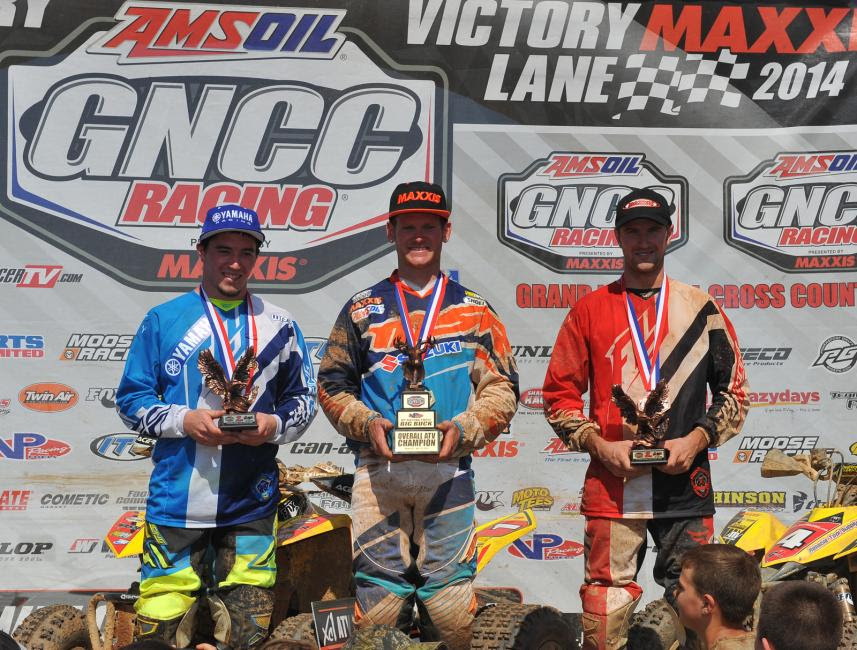 XC1 podium: Fowler, Borich, BithellPhoto: Hill
McClure secured a fifth place position, just ahead of GT Thunder/Maxxis/Howser Racing's Josh Merritt in sixth. DeRisi Racing/Team Woodhead's Braden Henthorn came in seventh, while GT Thunder-backed Brian Wolf took eighth and Dave Bayless Motorsports/Dirtworks/DC Cycles Brycen Neal and Maxxis/FLY Racing/ATV Innovations Landon Wolfe rounded out the top 10.
In the XC2 Pro Am Class, SICC Racing's Marshal Goings captured his second consecutive victory in South Carolina. Martin Christofferson put in a season-best finish of second place in the class, while AJ Koontz rounded out the podium.
XC2 podium: Christofferson, Goings, Koontz Photo: Hill
N-Fab AmPro Yamaha's Cole Richardson ran into mechanical issues that kept him from competing on Saturday. Richardson maintains the points lead heading into Round 5.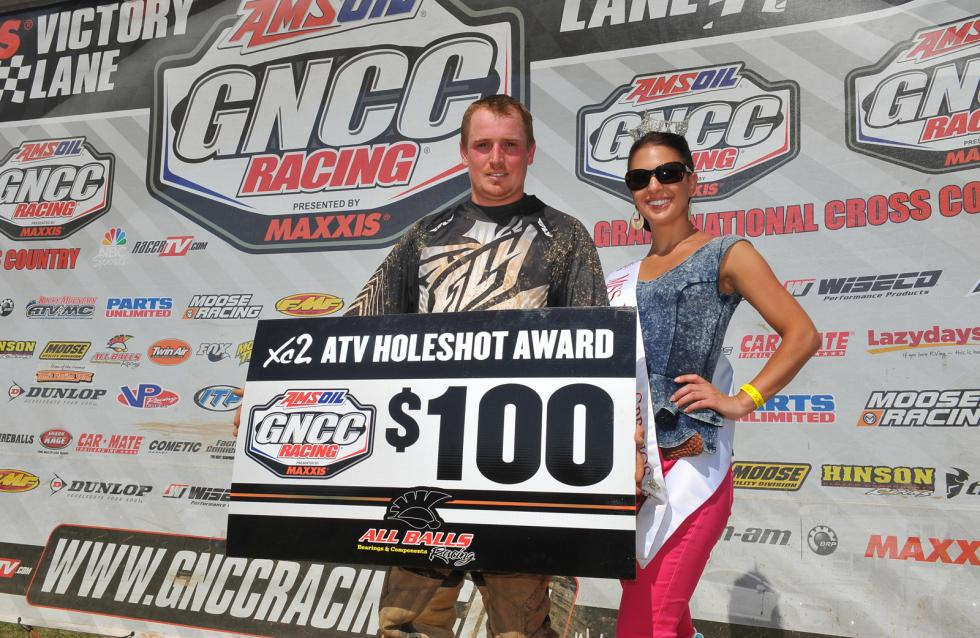 Fred Marley secured the $100 All Balls Racing XC2 Pro Am Holeshot and fourth place in the XC2 Pro Am Class Photo: Hill
Pennsylvania's Daryk Pitzer topped the College A (16-21) Class, while putting in an impressive 20th place overall finish to earn the Top Amateur Award at the Big Buck.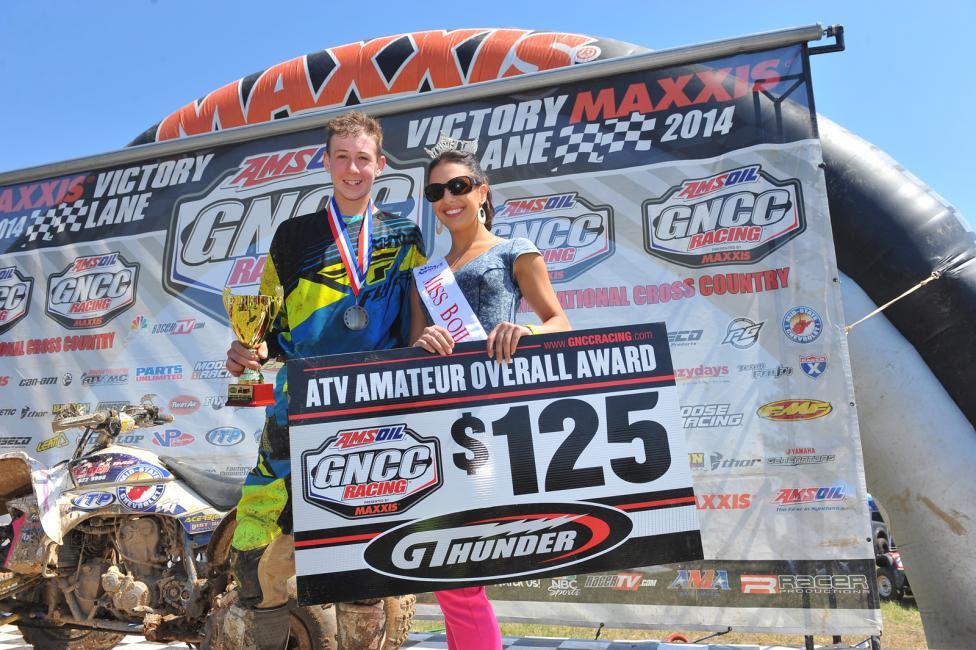 Westley Wolfe earned his first $125 GT Thunder Amateur Overall Award of the season Photo: Hill
Maryland's Westley Wolfe earned his first $125 GT Thunder Amateur Overall Award of the season after outlasting his Schoolboy A/B competition and topping the morning overall podium. Ohio's Cody Collier came in second and 4x4 Pro winner Jordan Phillips rounded out the overall podium.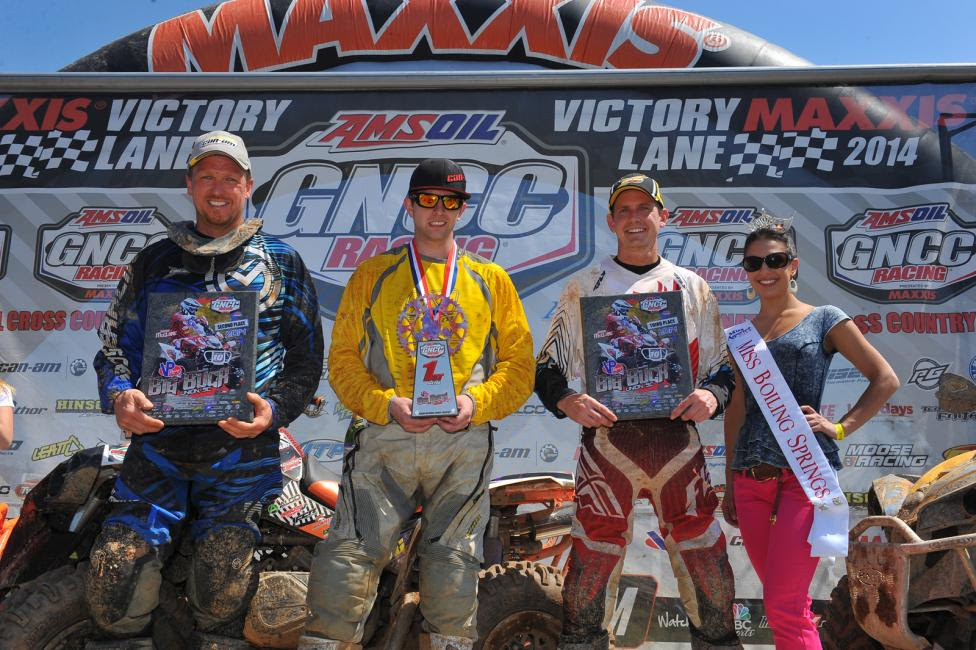 4x4 Pro podium: Trantham, Phillips, Buckhannon Photo: Hill
Can-Am X-Team's Jordan Phillips became the first repeat winner of the season in the 4x4 Pro Class, claiming his second win of the year. His Can-Am X-Team teammate Kevin Trantham came in second, while ATV Parts Plus/Can-Am's Bryan Buckhannon rounded out the 4x4 Pro podium.
In the WXC Premier Women's Class, it was 2013 Women's Class champ Kylie Ahart who topped the class, followed by Pennsylvania's Quincy Cunningham and multi-time Women's Class champ Angel "Atwell" Knox in second and third place.
Youth podium: Kerens, Frazier, Brinson Photo: Hill
In the Youth division, Florida's Brandon Frazier continued his undefeated record in the 90 Open (12-15) Class with his fourth consecutive overall win. West Virginia's Carter Kerens earned second overall, while North Carolina's Davis Brinson rounded out the overall podium.
The 2014 AMSOIL Grand National Cross Country Series resumes April 26 and 27 with the Dunlop Limestone 100 GNCC. For more information on the series, visit www.gnccracing.com.
Stay up-to-date with exclusive content from the AMSOIL GNCC Series by following the series Facebook, Twitter and Instagram.
VP Racing Fuels Big Buck GNCC
Union, S.C.
Round 4 of 13
Saturday, April 12
XC1 Event Results:
Chris Borich (SUZ)
Walker Fowler (YAM)
Chris Bithell (SUZ)
Adam McGill (HON)
Jarrod McClure (HON)
Josh Merritt (YAM)
Braden Henthorn (HON)
Brian Wolf (HON)
Brycen Neal (HON)
Landon Wolfe (SUZ)
*Overall National Championship Standings:
Chris Borich (111)
Walker Fowler (82)
Jarrod McClure (73)
Chris Bithell (64)
Adam McGill (64)
Cole Richardson (47)
Braden Henthorn (47)
Brycen Neal (40)
Landon Wolfe (38)
Johnny Gallagher (35)
*Indicates that the Overall National Championship Standings will determine the 2014 National Champion.
XC2 Event Results:
Marshal Goings (HON)
Martin Christofferson (HON)
Thomas Koontz (YAM)
Fred Marley (HON)
Brody Livengood (YAM)
James Green (HON)
Randy Hamilton (HON)
Jonathan Fugate (HON)
Blake Kramer (YAM)
Brad Aman (HON)
XC2 Series Standings:
Fred Marley (85)
Cole Richardson (85)
Martin Christofferson (74)
Thomas Koontz (67)
Marshal Goings (65)
James Green (56)
Randy Hamilton (53)
Brody Livengood (51)
Blake Kramer (50)
Jonathan Fugate (45)