Reliant Stadium
Houston

,

TX
Houston
Monster Energy AMA Supercross Championship
Due to school obligations, privateer Topher Ingalls didn't arrive in Houston until late Friday. Since his bikes were already in Houston—he received help from friend and fellow racer Jake Mohnike with the transportation—he headed to his hotel.
On early Saturday morning Ingalls received a text from Mohnike. Initially, Ingalls thought he had awoken to a typical prank from a friend.
"I woke up to a text Saturday morning saying the van got stolen last night and I was like 'jokes?' and he was like, "No, I wish," Ingalls told us earlier this week.
Less than 12 hours before the main events were to begin inside Reliant Stadium Ingalls had just received news that his bike, gear, boots, helmet … everything had been stolen.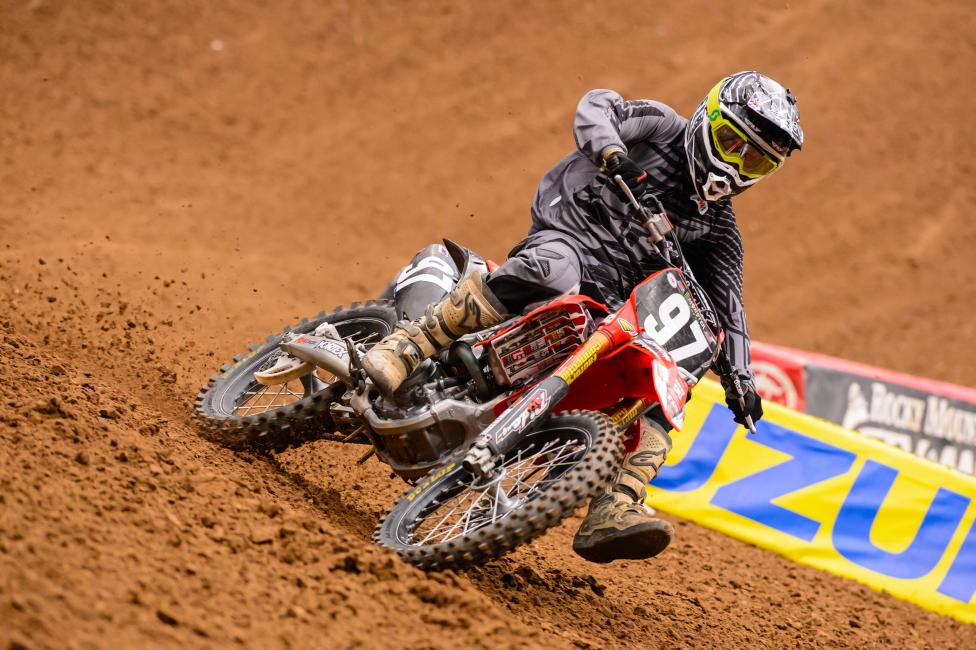 "I wasn't really thinking I was going to race—there was so much going on," he said of the fateful morning. "I was just trying to hold it together and keep my emotions in check."
Although distraught, Ingalls headed to the track like it was any other round. But this would be far from a normal round. He would have to find boots, gear, a helmet, and, of course, a bike, before practice began. He quickly found help in Jimmy Decotis.
"The second or third person I asked was Jimmy, and he had a practice bike there and he was like, "Absolutely". So then I had to find some gear. Max at FLY gave me some gear and then I borrowed some boots, which were a couple sizes too big, but they did the trick. I borrowed a helmet … borrowed it all and then went and bought some fuel from Renegade and that was about it," Ingalls said of his scramble just to make practice.
He had little time to make any adjustments to Decotis' practice bike, but was able to qualify for 250SX nineteenth fastest.
"I didn't change a thing [the entire night]. I didn't adjust the bars, I didn't change the angle … I put some numbers on it, changed the oil and filters. I changed the suspension a little, if we had more time I would have went all the way in [on the suspension clickers], but I kept going increments at a time," said Ingalls.
While most would expect the bike to cause Ingalls the most trouble, part of the new gear caused a bigger problem.
"The boots I had a really tough time with," he said. "They were two sizes too big and were just flopping around and were heavy."
After all this, Ingalls would make the main through his heat and went on to finish a respectable fifteenth. But now his supercross season is in doubt—his bike is still missing.
"I don't know," said Ingalls when asked if he would be able to make it to Seattle. "To be honest, that bike wasn't even mine. It was a sponsor's bike and I was supposed to give it back. I have a practice bike, but it's stock and not something I want to go and compete on."
While his supercross season may be in jeopardy, Ingalls will have plenty going on. Along with his budding supercross career, Ingalls also attends classes at a local community college, with hopes of furthering his education even more once his professional career is over. Ingalls has also begun testing for the CMRC Rockstar Energy Canadian Motocross Nationals where he finished third overall in the MX2 class a year ago.
The individuality of supercross makes it extremely competitive. With only so many rides to go around, competitors have to take any advantage they can get. But inside the pits, away from the track, a comradery exists. Riders won't hesitate to lend a hand or come to the aid of a fellow racer. It's a trait that takes away the individualism and turns the focus to the band of brothers. On Saturday, inside Reliant Stadium, this band of brothers came to the aid of Ingalls—who showed up in Houston with just a carry on bag and left with a fifteenth.