Reliant Stadium
Houston

,

TX
Houston
Monster Energy AMA Supercross Championship
A lot can change in eight weeks, but for Jason Anderson, not much did. The Rockstar Energy Racing KTM rider—the points leader coming into the race—looked as good, if not better, in Houston than he did in getting that points lead earlier in the year. We talked to him about his Houston win, his fourth victory of the season.
Racer X: A lot of us were talking about other guys racing 450s during the break, and you didn't. But that doesn't seem to matter because you came right back and rode exactly like you did before, maybe even better.
Jason Anderson: Yeah, that's not really anything I need to worry about. I have a goal for 250 West and I can't worry about what any of those guys are doing. I don't have any control over what they do and I know what works for me. I just rode and trained and worked on your weak spots and just did it all.
Did you ride outdoors a lot?
Yeah, I rode outdoors for six or seven weeks. I only rode supercross for like two weeks.
When you take that long of a break and you come back to supercross is it almost better getting that break? Did you come back all right?
I think like right in outdoors you have a little bit more corner speed, but your breathing's off a little bit your first day so it takes a while to work into it. I felt like once I ended up getting going back in to supercross I felt way better, maybe a little bit smoother, faster. Corner speed felt better. But when I say better, it's like tenths. We just see lap times a little bit lower, a little bit lower. It's a number game for us at the test track. We're just trying to lower our numbers and hopefully that relays over to the track out here, which I think it did. But it's not something so big that it looks totally different when you get back out there.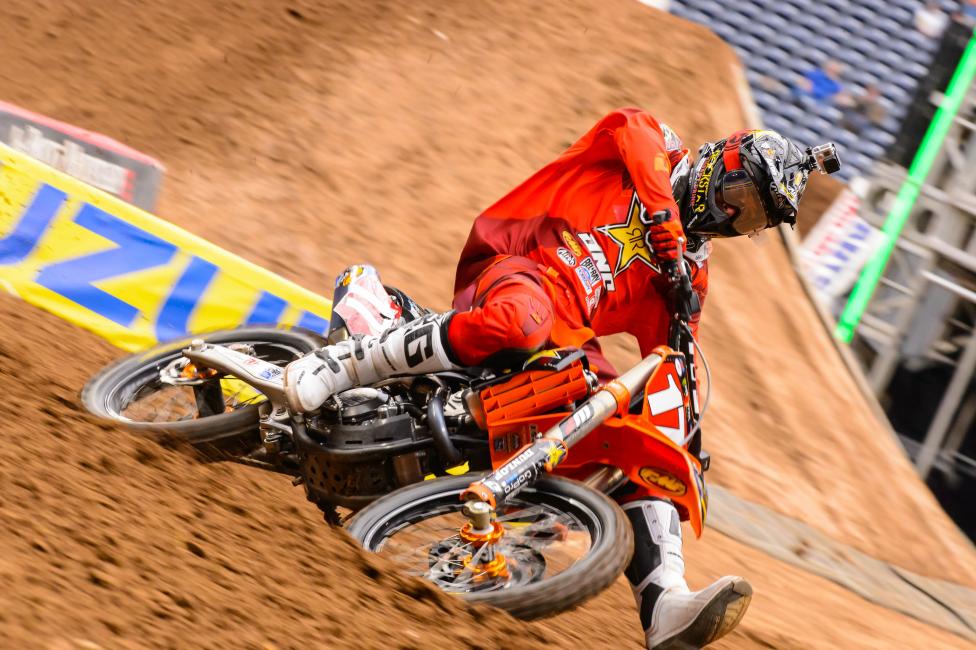 So during that time where you…you just ride. You don't think about like, "I can't get hurt" or any of that stuff?
No, you can't. And even tonight I don't think you can think about points. You've just got to go out there and try and be into the race. Tonight that put me up front. I could have easily been back there with those guys but I've been working on my starts. I feel like if you can have everything pretty strong you'll end up being there in the end.
Is this the first actual race you've won leading from the start?
This is the first 15 I've led ever. It was good. I led Salt Lake last year, my first one I led like 13 laps of it. I didn't lead the first two but it's basically the same thing. It's definitely killer!
At one point you'd have a good lead, Dean would close in, then you'd pull away, Dean would close in… Just take me through what was happening there.
Lappers were big. I think he kind of pushed through them a little bit better. A lot of them tried to race with you, which they're still in a race, so you can't really blame them. There's a lot going on. But I didn't even really know how close he was, I heard him but I knew he wasn't close enough to do any damage. You know what, though? If he would have got me it would have been whatever because my deal is points.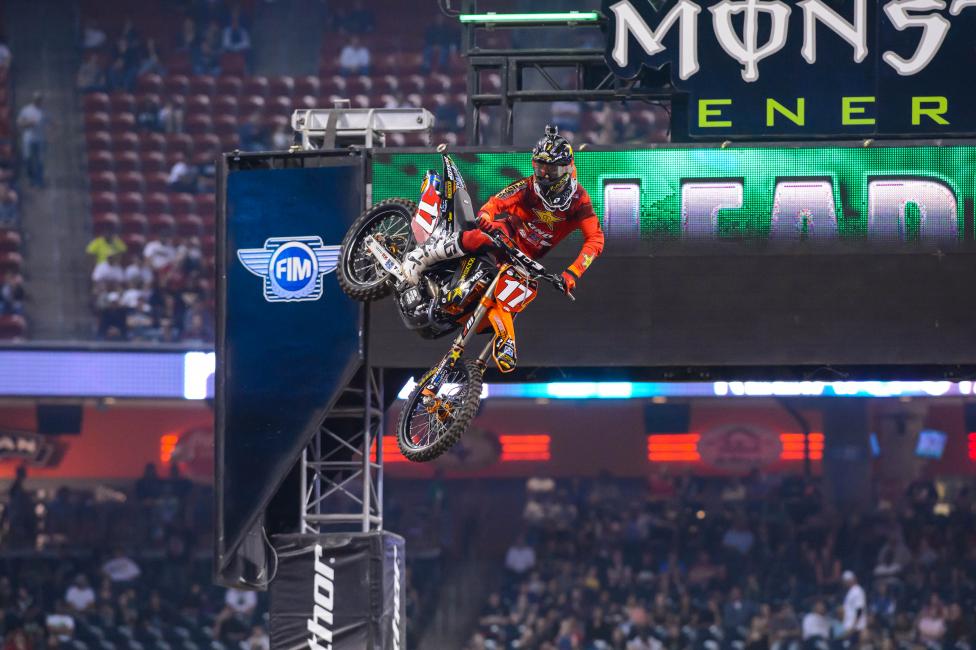 You seem really totally relaxed with this whole thing. It doesn't seem like these are any different races for you at all, no matter how many weeks we go. I bet in Vegas you'll be the same.
I don't think you can stress out. I don't think stress really helps out your deal so much. I went into A1 calm and I won, so why change the way you look at stuff? Stress is only going to make you trip out a little bit more. I'm just going to try and be in the race next weekend and hopefully get good starts and see where that puts us in Vegas. Hopefully that's on top.
You ready to announce anything for next year yet?
Next year? We got some stuff going…but let's just say it'll look very similar.