Edward Jones Dome
St. Louis

,

MO
St. Louis
Monster Energy AMA Supercross Championship
By Denny Stephenson
Last week we were chatting with Denny Stephenson, the 1990 125 East Supercross Champion and a former supercross, motocross and arenacross commentator for ESPN and SPEED. He mentioned he was heading to the St. Louis Supercross, so we told him to type some notes and make some, um, observations. Here they are.
St Louis, Missouri. The Show Me State. In the early '80s it was once the home of the Kansas City Supercross in Arrowhead Stadium and in the late '70s the Agency National in St. Joe. Both races were only a couple hundred miles from my home in Omaha. I remember meeting Johnny O'Mara in a KC hotel elevator and racing my old rival Jeff Emig on a Sunday SX amateur day one year. Oh, and I saw Danny "Magoo" Chandler mistakenly clean out a flagger while trying a different line off the uphill jump that hooked onto the starting line at St. Joe.
St. Louis had a National one year, but that was across the river in Illinois. A young "Too Hip" Rick Johnson crashed and broke his hip (ironically) at that race. (More on RJ later). The last time I actually raced the SX in St Louis was my final year on the tour, which was in 1996. That's the night when Fro stopped MC's win streak at 13 in a row. I finished an unspectacular 17th that night, raced the Denver finale the following weekend and called it a supercross career.
Nowadays if you want to catch a pro race in the Midwest, the STL SX is the closest road trip. So, road tripped we did this past weekend. Courtesy of my buddy Stan Gregory and his van, we headed out Friday after lunch. We were hoping to make it in time for dinner but instead had to make the gratuitous stop at one of the Waffle Houses along the way. We don't have them in Nebraska, but I got to admit, it wasn't what I remembered it. Then again, having your hash browns scattered, covered and chunked is a lifestyle for some.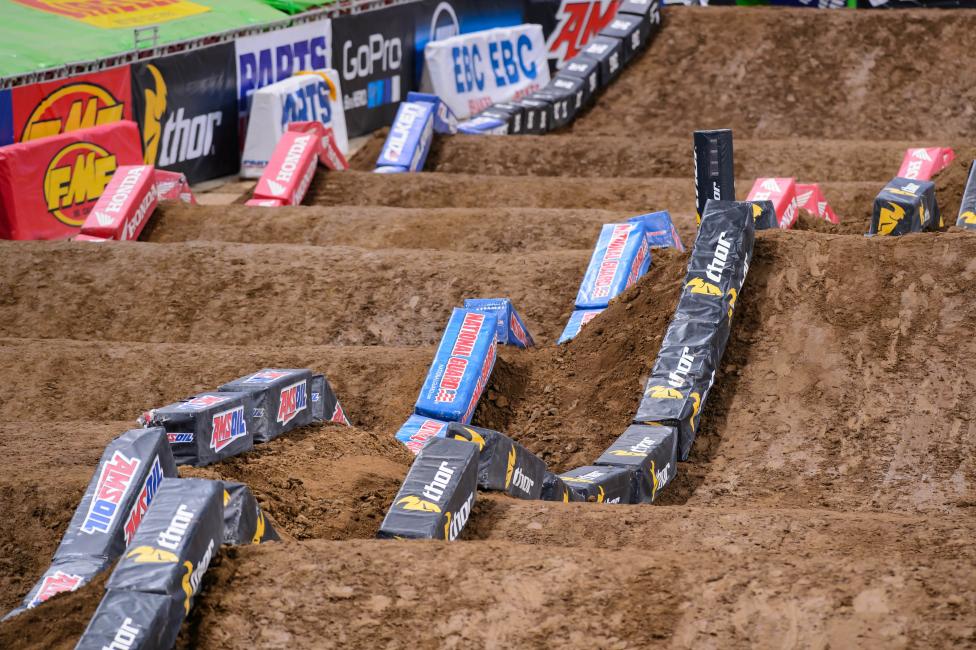 On the drive down I talked to my buddy Cody Gilmore. He was in the middle of his usual Friday: working on his bike from noon to 7 p.m. to freshen it up from the previous weekend. His bike gets to each round with one of the generous privateer haulers, Team Gus, and he usually flies in alone on Thursday night to get the needed work done on his Yankton Motorsports Kawi on Friday.
As one of the few pure privateers putting it in the 450 main, Gilly is the epitome of "chasing the dream." I offered to help when we got down there, but he said the bike already had stickers and the tires had air. Needless to say, I didn't work on my bikes much over the years. Speaking of privateers, is it really that difficult to figure out who is and who isn't a privateer and bring back the extra fund for these guys each week? [Note: SX used to have a privateer fund, but well-supported ex factory riders on well-funded non-factory teams kept winning it—for all we know, Davi Millsaps could have qualified for it last year. So the money that was once set aside just for privateers has been absorbed into the LCQ purse, which generally has the real privateers anyway. But it would be cool for the likes of Gilmore to have an end-of-season award to fight for].
Onto Saturday racing and these East Coast tracks. These past couple rounds have been about two things: long, huge combo rhythm sections and almost as long old-school gnarly whoops. Throw in a bunch of 180 bowl turns and you have some of the best racing of the season. Have I mentioned I really appreciate the good 'ol block pass the 180 bowl turn provides?
In my opinion, these types of tracks bring back the true meaning of supercross. Races were won and lost based on how big you wanted to go, and how fast you wanted to let it hang out thru the whoops. Supercross mains shouldn't be won with silly corner speed as much as they should be by crushing a quad, triple, triple rhythm section for 20 intense life-altering laps. These types of tracks clearly favor the #7. More on that in a bit, too…
Another thing I was anxious to see was if Martin Davalos had the iceman mentality or if he was going to yard sale his championship hopes away. Many were predicting Justin Bogle had the momentum and was going to be the man to beat. Right before the 250 main, I even tweeted a question: Was Davalos about to be man or mouse at the end of 15 laps?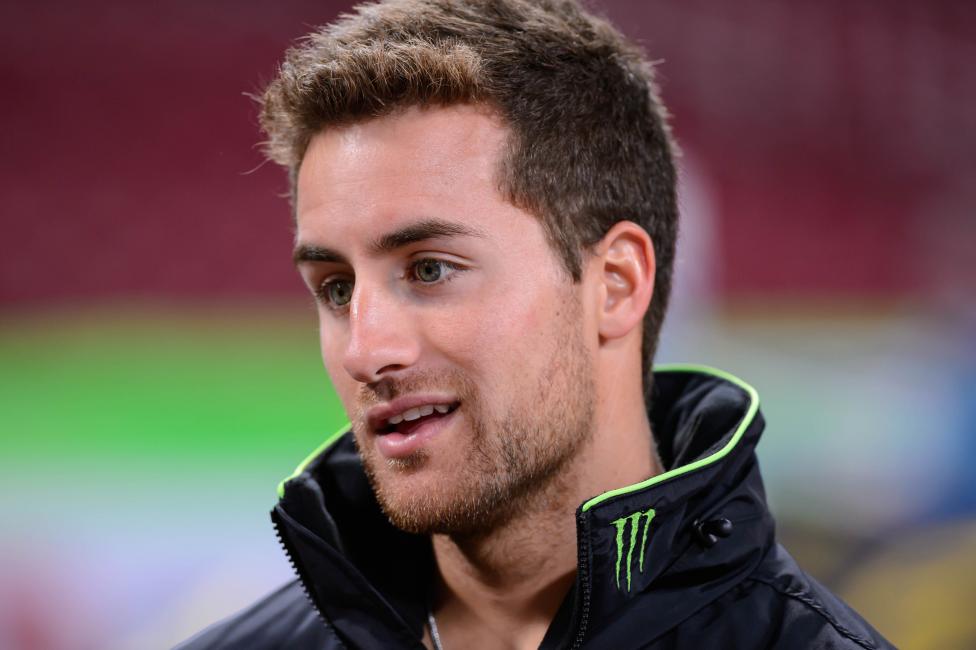 A big holeshot and a very solid 15 had to have quieted some of Davalos' critics. I know I was impressed. He hit his marks each lap and extended his lead to eight points. Bogle had the speed but his big mistake off the dragon's back whoop section, with a handful of lappers in front of Davalos, was the key to the race. If Bogle makes the pass and wins, he's only down two points. That's a big six-point swing with only two rounds remaining.
What is it with Blake Baggett's starts? He's one of the smaller riders on one of the fastest bikes. There's absolutely no reason he should be getting the poor starts he's had so far this season. He was 11th on lap one and quickly raced his way into third. By then, the other two were long gone despite Blake throwing down the fastest lap a couple times. He will head into the outdoor season shaking his head. This was a title he should of had with Cianciarulo going out with injury.
As I mentioned before, I'm thoroughly enjoying the new aggressive riding we're season this season. It continued in he opening 450 heat with Peick, Barcia and Dungey. It even carried off the track a little after the race. I couldn't really tell from where we were sitting but it looked like WP40 had an elbow and some words for Bam Bam while RD5 decided to give Peick a couple, "What the heck?", hand gestures and throttle blips. Or maybe he was yelling at Barcia, too? Ryan probably wanted to yell at someone before DeCoster shook his head at him yet again.
Wow. How good did Justin Brayton look in heat two? He was flat flying! Killing it thru the whoops and jumping that quad, triple, triple section smoothly each lap. I had a chance to talk with JB and his riding coach Nathan Ramsey during the day. We talked about the incredible similarities they've had in their careers. I think it definitely helps when you can relate with the person telling you how to do things. It's all about trust. Also with Brayton, it's great to see another kid from the Midwest having a great dirt bike career. Since he's from next door to me in Iowa and I've raced him in arenacross, I'm a huge fan and have really enjoyed seeing him work his way from pretty much obscurity to one of the world's best.
Although my buddy Gilmore gets announced that he's from Nebraska, he's truly an Iowa kid like Brayton. But I think we've stolen him pretty fair and square. He's a Husker now, Hawkeye fans. Deal with it. After a long Friday of bike work, the 374 put it in yet another main event. He clipped a tuff block in his semi and folded the rear brake around the foot peg. Luckily he was able to race back to the Kawasaki semi for a new one. A rare holeshot in the LCQ saw him get through the hard way. That's his fourth main of the season (following a broken collarbone at A2) and he equaled his career best in the main with 15th.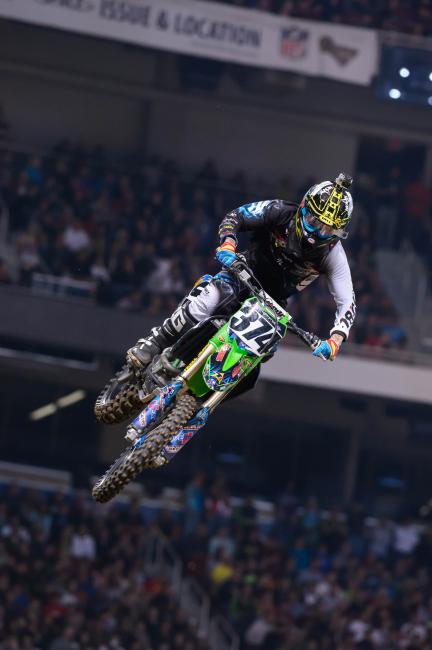 The 450 main again turned out to be the Stewy show. James is back to his exciting, loose, confident ways on the motorcycle. His TV interviews have had me cracking up this year and I think I watched the Toronto round three times last week. I think Villopoto is still maybe a little bit quicker getting in and out of the turns, but there aren't as many turns as their are jumps on a supercross track. With the speed James carries thru the whoops and his peg dragging scrubs on the jumps, he's back to being the fastest man on the track—if not planet—again.
And how about James' new-found popularity? The crowd was going crazy for Stewart when he put a little elbow into the champ. I love the fickleness of the SX fan. RC went thru it. Reedy went thru it. Hate 'em one minute, love 'em the next. Everyone appreciates the underdog. Didn't the #7 have a torn ACL last year? Clearly not a problem this year. The only thing I didn't like about watching the Stewart show Saturday night was that he only wore the red gloves in the heat and went with the black ones in the main. I like the red. I'm going to have to ask Seven brand manager Roger Larsen why they made that decision.
One thing I find interesting is silly season and it's in full swing already for 2015. Probably the biggest names on the market are Barcia and Ken Roczen, and they picked up third and fourth in the main event. When was the last time two young, talents like his were making team switches at same time? I was told Saturday that Barcia is probably going to JGR and Roczen to RCH. I can say these things right? I'm not a journalist. Just a fan. What do I know? Write it down in ink. It's happening. [Editor's note: We'll just pretend Denny doesn't know what he's talking about here. Yup, nothing to see here. Move along].
Roczen's fourth was a good ride. But he seems to have gone a little flat. Don't get me wrong, he's having an incredible season. By flat, instead of winning he got a fourth, which is not bad by any means. But I'm surprised it hasn't been mentioned more. Rookie year. First time doing all 17 rounds. He initially had problems when he first arrived with the long US schedule, and I think his first season of 450 has taken affect a little bit. Usually a rookie just hopes to survive all 17 rounds, but the German has far exceeded that. I just think next year he will come back even stronger and have more understanding of the weekly grind.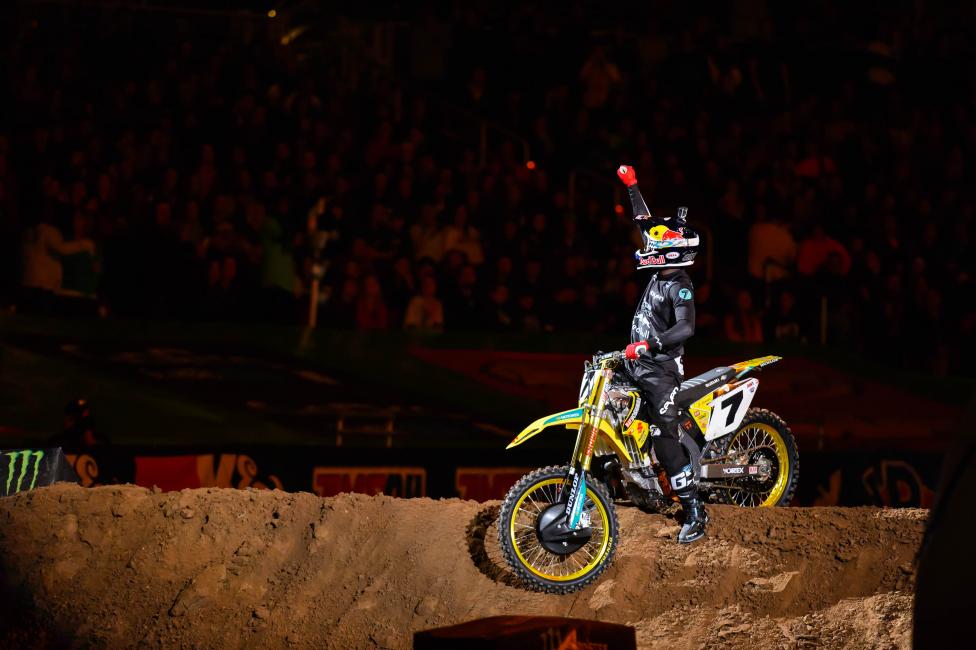 With the races in the books we grabbed Gilmore and headed out to celebrate his successful night as though it was 1994. The 25-year-old was obviously born in the wrong era. And although the racing was great, my highlight of the night came when I got a Facebook message from Stephanie Johnson, Rick Johnson's wife. "Denny, Rick and I are in town, where ya at?"
As a kid you have one main hero growing up. Ricky Johnson was mine. The Bad Boy. He wore red bandanas. I wore red bandanas. Life's a Beach bomb shorts. Made mom buy me them, too. And the wolf on the helmet? I ran it in honor of the man as well. So needless to say, I was giddy as a schoolgirl to meet up for some drinks with my friends and the Johnson family. I'm pretty sure I dorked out a couple times in front of Cody and Stan, and I'll be hearing about it most of the summer. Got to love this sport!
So that was my weekend. Dirtbikes. Old friends. New friends. And a long drive home. Why isn't the drive home ever as exciting as the drive to? Oh, and one last word of road trip advice: play the Tinder games. It's an App for your phone. Pure entertainment. Thanks for reading. My next adventure is the Seattle round. Until then…