Reliant Stadium
Houston

,

TX
Houston
Monster Energy AMA Supercross Championship
In a day in age where amateur riders are finding support at a younger age, it's a rarity to see a rider without much of an amateur career to find a spot in the professional ranks. Growing up in South Jordan, Utah, Landen Powell didn't travel the country attending the big amateur events. In fact, he says his amateur consisted of two trips to the World Minis. Instead, he played high school football. It wasn't until around the age of 17 that he decided to dedicate himself to the life of a professional racer. Since that time, Powell has been a fringe main event rider in 250SX, fighting the fight against the factory guys. This year, Powell rededicated himself, moved east and decided to race the 250SX East Region for the first time in his professional career. After a sluggish start to the year, Powell has made three consecutive mains, including a season high twelfth in St. Louis. We caught up with the friendly, well-spoken Powell after he returned back home to Utah for the East Region break.
Racer X: You're originally from Utah, but decided to race the East Region this year and are training down at GPF. What led to that decision?
Landen Powell: I had a two-year deal with Rocky Mountain ATV/MC, so my plan was to ride the West Coast. But after Monster Cup things kind of turned bad and the deal fell apart. I was kind of left with nothing and after Monster Cup and there wasn't too much time to get together sponsors and get everything together the way I wanted. I could have done it, but I would have been unprepared and that's not what I wanted to do. So I kind of took a step back to decide what I wanted to do, and I made the decision to go east. I got some sponsors together and traveled to GPF and made it work. I got an apartment there and that was kind of my location for the year. It worked out really well. I was able to put my bike on Team Gus and fly in to all the races.
I heard that Tyler Keefe, the team manager at Lucas Oil/Troy Lee Designs Honda, had some input into the decision.
After the whole deal after the Monster Cup I was pretty bummed out. Being 22, kind of a bubble main event guy, it was one of those situations where I was thinking maybe it's time to go to school and move on from this. I was getting some advice from different people and Matt Jory from Proven Moto was like, "You know what, man, I'm going to have you call Tyler. He has always had some really good advice for me and he was in a similar situation when he was racing." I called him and he basically told me, "You have to figure it out for yourself and if this is something you still think you can do, I think your best bet is to pack up and move east. Don't even think about it, just pack up and leave. Get away from California and find yourself out there and see where you fit."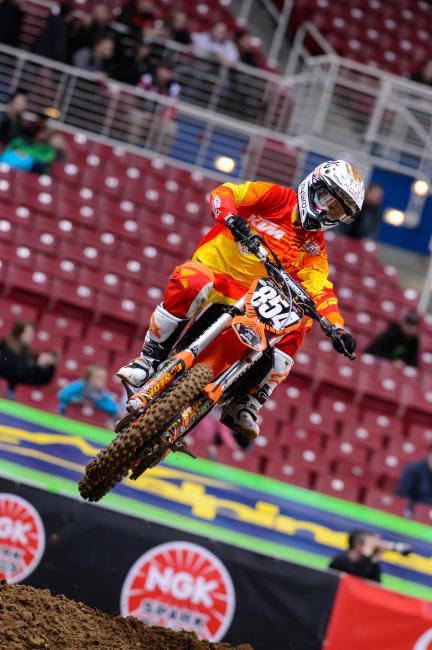 It's quite the contrast from southern California to middle-of-nowhere Georgia. How did you adjust?
I actually adjusted really well. I was never really into the whole California thing. So Georgia worked out really well for me. I saved a lot of money on gas and travel and obviously it's a lot cheaper to live out there. For me, it was awesome to not sit in traffic everyday going to the track.
You mentioned being 22 and a bubble guy. What ultimately led you to say, "Hey, I still want to do this?"
I think for me, to this point I don't think I put everything into it that I could have. I've never had a trainer … I haven't done the things I needed to do to reach my full potential. I think I've always been a really good rider, but I don't think I've had the resources to become a really good racer. That's why I wanted to change things this year and put a little more focus into it. I didn't want to two or three years down the road to regret not continuing. I wanted to make sure that when I'm done with this sport that I put everything into that I have and I'm able to walk away knowing that I reached my full potential.
You actually got a late start to your career. You went to high school and played football and basketball, correct?
Yep. I went to school and played football all the way into high school. When I finally decided that's not really what I wanted to be, my senior year of football would be over with [laughs]. I really wanted to take racing seriously and I wanted to take that next step and see where I could go with it.
So you started to strive for a professional career around 18 or 19?
Yeah, I would say I was about 17 or 18.
That's quite a late start compared to the kids that are coming through the amateur ranks. How were you able to carve a path to a professional career?
It was tough. A lot of guys make their names in the amateurs. Sponsors and everyone are seeing them coming up from an 85. I didn't do any of that. I went to World Mini twice and that was pretty much my whole amateur career [laughs]. So it was tough, but I think just getting a few good results and having a good attitude all the time and making good relationships with sponsors … I feel like I've always tried to represent my sponsors well and make a lot of good relationships in the industry and at the end of the day I think all of that is starting to catch up and people are starting to notice me, which is really good. It took some time, but I think things are coming together.
Let's transition to this year. You got off to a slow start, but have made three straight mains and finished a season high 12th in St. Louis. Lately, what has gotten you over the edge where you're making mains, getting good results?
I think I finally got some confidence. I know I've had the speed all year … I think I've had the speed the past couple years. But to actually believe that you belong there is really hard. And I think that's where a lot of guys struggle. To be able to go into the race believing you should be on the track with those top guys is a really difficult thing. Once I made the first main, the next weekend was no problem—I wasn't even thinking about it anymore, it just becomes automatic.
I think it was 2012 you also got off to a slow start, then things clicked and you made three of four mains to end the year. What is it that is holding you back to begin the year?
Man, that's something I would really like to figure out [laughs]. But like I said, I think it's my confidence. I think I go into the year looking at all the names, everyone is healthy and I stress out. My practice times have always been good, but when I get to the night show and I get in a position I'm so worried about qualifying or the guys behind me that I forget to ride the track. My times are always slower in the night program. So I really think it all comes down to mental. I think my mental game is what needs help and once I figure that out I'll really be able to excel.
I think a lot of riders are always worried about how to improve their technique or their training, but not many actually look at the mental aspect. Now that you've been doing this a few years, have you found ways to approach things different mentally?
I think the biggest thing is not so much yourself, but you have to surround yourself with good people that are encouraging you and improving your mental game. I think this year I've found some good people that are really helping me with my program and my mental game. A lot of people will ask you what the difference is between a privateer and a factory guy and most guys will say the bike, but I honestly don't believe that. I think I have a bike that can compete with the factories, but where the factories are better is that they have the support with mechanics, they have five spotters around the stadium telling you where you need to improve and it's really a team effort.
As we've seen this year guys like Vince Friese, Catanzaro, Lemoine, Oldenburg, etc. the privateers can get it done, but like you said, sometimes it can be the mental aspect they have to overcome.
I think equipment is definitely not an issue. I think it definitely helps, but to have the right mental approach I think is the biggest thing.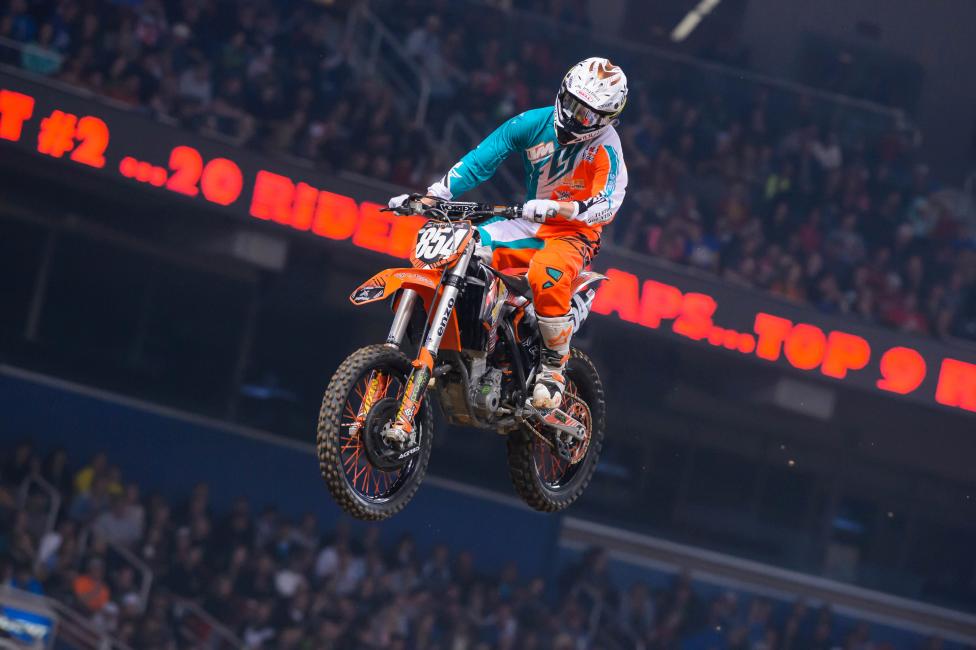 Something unique I heard was that your dad had a part in getting the Lucas Oil Pro Motocross Championship out to Miller Motorsports Park.
Yeah, my dad works at the Energy Solutions Arena where the [Utah] Jazz play and they also own Miller Motorsports Park. My dad had a relationship with Feld and the people that run the races [MX Sports] and he heard that they were looking to approach a venue with facilities like Miller. The people at Miller have been working on that for a few years now and put a lot of time into it, so to see it happen was cool.
What are the plans for outdoors?
I think I will mostly stick to the local races. I will definitely race the Utah National and I may do some West Coast ones. I may go to Lakewood and Washougal. Mostly I'm going to push my motocross school this year and race locally and kind of have some fun.
[If you are interested in his school you can contact Landen via email at lpowell854@gmail.com]
Thanks, Landen. Who would you like to thank for helping you this season?
Frist I need to thank my family. My dad, mom, brother, sister, and girlfriend for being so supportive, my dad really busted his butt to help me find sponsors to make this year possible. I would also like to thank Escape Motorsports, Tuff Country, Proven Moto, Wing Nutz, JayBird Sport, Nitro Circus Live, FLY Racing, Bell Helmets, Ride 100%, Vortex, FMF, Enzo, Dubya, Works Connection, Rekluse, NoToil, Ryno Designs, Moto Seat, Miller Motorsports Park, Bisco Family, MotoHead Clothing, Carbsport, Team Gus, Dunlop, GPF, Car Concepts, Tire Pros, KTM North America, Iconsports, and everyone who continues to support me each and every week!