Edward Jones Dome
St. Louis

,

MO
St. Louis
Monster Energy AMA Supercross Championship
BTO Sports is your number one source for all of your motocross parts, gear, accessories and apparel. BTOSports.com is a motocross company who is truly dedicated to the sport and to the customer. Proud sponsor of your Racer X Podcasts and the BTO Sports race team.
Yeah, St. Louis Supercross! A sneaky-good round of Monster Energy Supercross. Go read some rider interviews about this race and they always all mention the awesome St. Louis dirt. Usually the track is pretty good as well. And this just in: the fans LOVE the race. Atlanta gets a lot of hype and rightfully so (and rumors say there's going to be two Atlanta races next year) but the St. Louis pits are just as packed as the A-T-L. Plus there are more jerseys tucked into jeans than anywhere else!
As I was saying, the dirt in St. Louis was good. Lots of tack, bro. And the design was sweet. As I've harped on again and again, I just want to see obstacles that challenge the very best riders. St. Louis had some good sized whoops leading into a dragon's back as well as a rhythm section with some options—I'll get to that later. There was a wheel tap-triple-thingee that was tricky and we really saw the higher-skilled guys shine there. And again, that sweet dirt that everyone likes.
James Stewart won again. The #7 rider wearing the Seven gear is going for seven wins this season. He's got five now after catching and passing Ryan Villopoto in the main event. Yeah, he made a few mistakes from pushing it but they never bit him. Remember when there were "whispers" about how James just wasn't in the shape? You definitely don't hear that now. But keep in mind there was a point where it was "obvious" to some insiders that Villopoto was being over trained by Aldon Baker, and RV was going to end up with an illness like RC caught at the end of his career. Since those rumors, RV has won just about everything. But, seriously, that rumor was out there at one point. People in the industry are funny sometimes.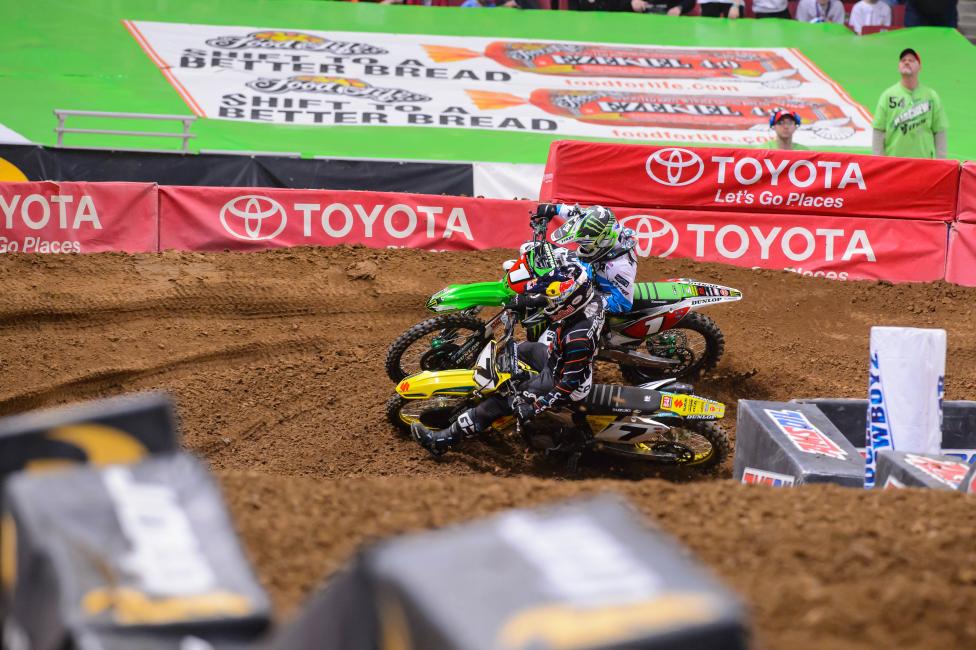 Anyhoo, Stewart's still over a race down in the points to RV with just four races left. It's hard to see anyone other than Stewart or Villopoto winning a race in this last four, if you ask me. Maybe if Stewart makes a mistake in Vegas and RV just has to ride it out to clinch, I suppose someone else could win. But right now, 13 races into a grueling season, I think these two are standing on another level.
On the PulpMX Show I asked Villopoto if he cares about Stewart having more wins if he wins the title. He quickly, and predictably, answered "Nope" and I'm sure he was telling the truth, but deep down, these guys have egos. If Ryan continues to not press the issue with Stewart when caught, we should be amazed. Pride and ego will come into play at some point, methinks, because Villopoto isn't passive. Still, we're all pretty sure that Villopoto will have a fourth-straight supercross title under his belt in a month and it will be well deserved.
Justin Barcia got his second straight podium finish after collecting only one in the previous eleven races. I think it's no coincidence that the last two tracks have seen some good dirt and great traction. This is where the throttle jockey (the rider, not the brothers in Indiana) known as Justin Barcia thrives.
But Barcia being Barcia, he couldn't stay out of controversy. Much like his run-in with Malcolm Stewart at Daytona a few weeks back, this wasn't Justin's fault. In the heat race, with only two corners to go and in a qualifying spot, Barcia scrubbed a couple of jumps and dove inside of Weston Peick and made the pass for second. His move forced Peick to go high and clip a tuff block, which also allowed Ryan Dungey to make a pass. Peick made a good move to get Dungey back but afterwards he had some words for Barcia. There was an elbow by Peick and a small head butt from Barcia according to people on the floor. Then Peick waited for Barcia in the tunnel to "talk things over" and Barcia wanted NO part of that. Can you blame him?
In my opinion there was nothing wrong with Barcia's pass on Peick. He didn't force Peick off the track, he didn't T-Bone him, he just snuck underneath and pushed him a bit high. This is how you pass in supercross! But because of Barcia's reputation, Peick was pissed. And so was, for whatever reason, Dungey. Barcia told us on the PulpMX Show that Dungey called him "an amateur." And of course, Peick seemed like he was ready to beat Barcia down.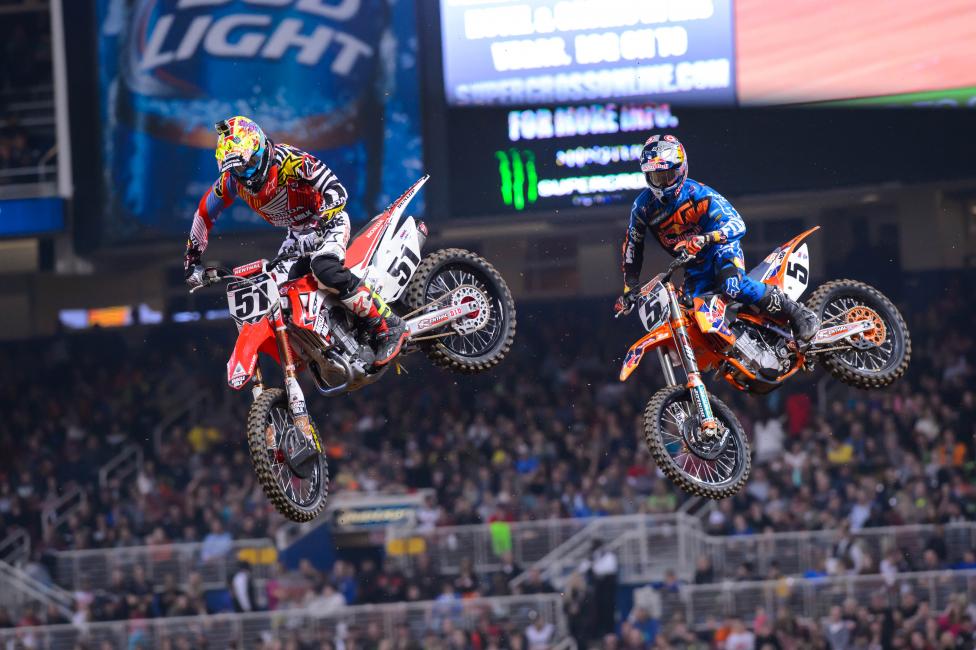 Some people think that because all three riders were in a qualifying spot and there were two turns to go that Justin should've just ridden it out. But this thing is still a race, right? Or did I miss a memo somewhere? Don't forget that Barcia had Dungey breathing all over him and gate pick is important. If Barcia lets up and Dungey passes him for fourth, he's picking four gates worse than finishing second. That could be a difference maker in the main event. Also, look up "aggressive" in the dictionary and you'll see a photo of Peick. He's made similar moves on other riders so I would think he would be okay with the move. I don't know, maybe I'm just old and crusty but I saw nothing wrong with Barcia's pass.
At this point Barcia could rescue some nuns from a flaming house and people would get on him because he forget to wipe his shoes on the mat before going in to get them. I just don't get it. I'm the first guy to call him out for something dumb but can we all relax a little bit here?
I've never been so confused by a rider's race than I was watching Justin Brayton at St. Louis. The Toyota/JGR Yamaha rider looked good all day long (he was fast last week in Toronto also) and in his somewhat-hometown race (he's from Iowa) he won his heat race. In fact he didn't just win it, he walked away with it (leaving that Barcia/Peick/Dungey battle behind him) using his usual tremendous whoop speed along with balls of steel to go 4-3-3 in this one rhythm section. It was about .3 faster according my timing and he was the only rider out of 40 (the amount they take to the night show) to do it with any consistency. Stewart did the section once in practice and Villopoto and Canard did the four in but weren't able to nail the rest of the section.
Think about that for a second. Brayton did a rhythm section that no one else really did, and he kept on doing it! I Stewart and Villopoto told me it wasn't that much faster or whatever, but that's what riders say to fool themselves. So clearly, Brayton is gnarly. But in the main event he just wasn't as quick in the other sections and only had the fifth best time. The 4-3-3 section got rutty and jacked up, so he clipped the quad going in and lost a ton of time. Those mistakes were the primary reasons why Dungey and Ken Roczen passed him. Then on the last lap Dungey crashed and JB plowed into him, which dropped him to tenth. He also ended up with a broken foot from an earlier incident in the heat race. Oh what could have been, right? Years from now scholars will be researching the 2014 Supercross season, see Brayton's tenth in St. Louis, and not fully understand just how good he was at the race. And that's a shame.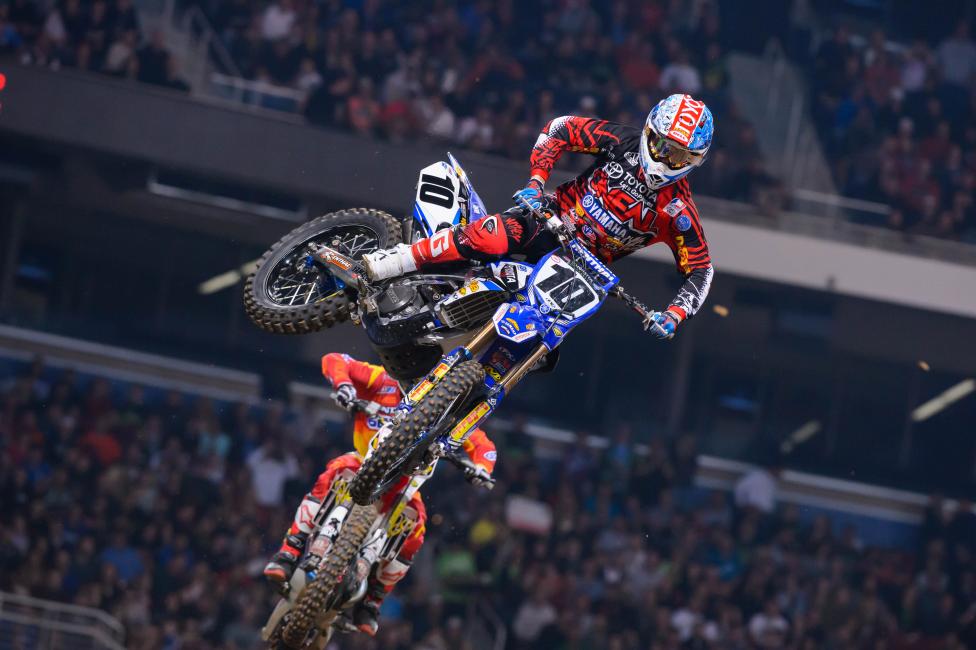 It's not 100 percent confirmed, but there's a very good chance Justin Barcia goes to JGR next year. That leaves one spot, and while Brayton seems like a great fit, there's a very good chance he won't stick around. Weird, right? Justin lives in the Charlotte area, he's married to a local girl (soon to be a dad by the way), he's ridden for the JGR guys for a while and they all like him and he likes them. Why wouldn't all parties want to keep this party going? Well, as usual, it's a money thing. JGR is laying out a ton of cash for Barcia and Brayton wants (deservedly so) a raise on what he makes now. And JGR is balking. Hey, we all have budgets, right? We'll see how it ends up, but to me, these two sides have to figure something out. It's the best thing for all involved and I'm including Jason Weigandt in this.
Let's take a look at the results shall we?
250SX Results
1 31 Martin Davalos Cairo, GA Kawasaki KX 250F- I'll be honest, when Davalos led but was getting reeled in by Bogle, I thought that he was going to pull a "Davalos" and wash the front end out or crash. That's just what he does, right? And in taking a quick poll of people in my phone, lots of other people believed that, also. But to his full credit, Martin stuck to his lines, didn't get rattled and held on for the win. And more importantly, he extended his points lead to eight with two races left. It's taken nine years but this leopard has perhaps changed his spots … I say perhaps, people.
2 32 Justin Bogle Cushing, OK Honda CRF 250- Really the whole race came down to one mistake by Bogle. He was closing on Martin pretty good when he couldn't jump the double off the dragon's back. That was it, he lost a second or so and it took him another five laps to make up that error. Bogle rode well but made one mistake and Davalos did not.
3 4 Blake Baggett Grand Terrace, CA Kawasaki KX 250F- Stop me if you heard this before but Baggett didn't get the start and was forced to come from the back to get on the podium. I know, crazy, right? When has that EVER been said before about Blake?
4 30 Kyle Cunningham Aledo, TX Honda CRF 250- Cunningham had a strong St. Louis. After a bit of a slow start he's grabbed two fourths in the last couple of weeks and has crept up to sixth in the points. Not too shabby.
5 57 A J Catanzaro Portland, CT Honda CRF 250- The Cat was good at St. Louis. He had a great heat race and a solid main event. A few weeks ago he told me was switching some things up, but a lot of riders have told me a lot of things about switching things up. In this case, it actually helped! Good job by The Cat…
6 52 Cole Thompson BRIGDEN, Canada KTM 350 SX-F- Thompson rode well to get his sixth and has had two of his better races in the last two weeks. But unfortunately for Cole, his season with the Rockstar KTM team only has two more races in it before he heads to Canada for the nationals up there. As much as this pains me to type this, because Cole's a good guy, a friend of mine and a fellow Canadian, I'm not sure he's done enough with this chance to get another opportunity like this.
7 96 Matthew Bisceglia Weatherford, TX Honda CRF 250- "Mike" had an almost crash in the main event while running in third and went backwards pretty fast to this position. Then as he tweeted after the main event, he actually broke his tibia! Ouch! Good job to hang in there.
8 56 James Decotis Peabody, MA Honda CRF 250- "James" is hanging tough this year and is currently eighth in the series points which is not too shabby at all for this privateer.
9 55 Alex Martin Millville, MN Yamaha YZ250F- Alex would like me to stop telling people that he's not that good in the whoops. He used to be not good in the whoops but he's really worked hard to grip the bike with his knees and with some short-guy mods to his bike, he feels he's much better. In St. Louis he was good everywhere until he went down on the dragon's back section and took out Vince Friese and his brother.
10 533 Gannon Audette Tallahassee, FL Kawasaki KX 250F
11 42 Vince Friese Cape Girardeau, MO Honda CRF 250- It sucked to be Friese, riding well and looking for yet another top five before becoming an innocent victim in Troll's mistake. That's racing I suppose. Friese is going to get back on a 450 for Houston.
12 854 Landen Powell South Jordan, UT KTM 250 SX-F- Powell is from Utah and races the east coast and when I asked him about it on the PulpMX Show he said that TLD Honda manager Tyler Keefe told him he needed to change up his program and move back east. And he actually did it! I know I probably would've told Tyler to go pound sand rather than live 3000 miles away in the woods of Georgia at GPF to try and "change my program" but hey, props to Powell for doing it and getting two good results in a row now.
13 60 Jackson Richardson Wildomar, CA Honda CRF 250- He's an Aussie. I hope you guys know this by now.
14 874 Zack Williams Elko, MN Honda CRF 250- Did I ever mention that I raced in Elko, Minnesota, in 1988? Wonder if it's any more of a booming town now then it was back then?
15 88 Jesse Wentland Elk River, MN Honda CRF 250- Wentland is heading to Canada this summer to ride for a team owned by The Hot Dog Vendor. Serious.
16 69 Levi Kilbarger Logan, OH Honda CRF 250
17 99 Justin Starling Deland, FL Honda CRF 250
18 812 Luke Vonlinger Stanford, KY Honda CRF 250
19 386 Aaron Gulley Jonesburg, MO Kawasaki KX 250F- I wonder if one Gulley gets mad at the other Gulley when one of the twins makes the main and the other doesn't? One thing for sure, they both stand out as the only two riders who walk the track in their gear.
20 19 Jeremy Martin Millville, MN Yamaha YZ250F- This is the kind of year that Jeremy is having: his brother accidently takes him out while he's in sixth and looking good. Of course that would happen to Jeremy this year.
21 78 Matthew Lemoine Pilot Point, TX Kawasaki KX 250F- Lemoine was in third. Again! But then he crashed while all by himself (I bet he would've got another podium, he was riding well) and that was it. From hero to zero just like that. Too bad.
22 49 Gavin Faith Fort Dodge, IA Honda CRF 250- Faith has some sort of sickness, maybe mono or something like that and he wasn't able to line up for the main event. It's been a throw away year for Faith so far.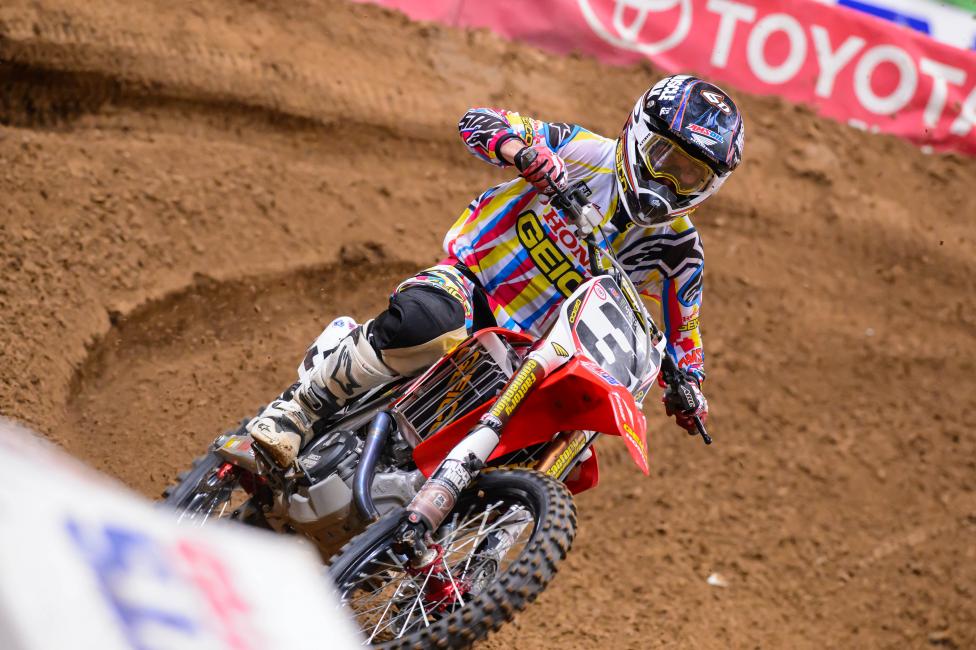 450SX Results
1 7 James Stewart Haines City, FL Suzuki RM-Z450- I have a good relationship with James (we've had a few rocky moments but we've always worked it out) but I don't see him much on race day. When I do he looks like he's really focusing on not talking to anyone so I leave him alone. But after the races I've been very impressed with the amount of hanging out he does, signing for his fans and talking to the media. He's like this win OR lose, by the way.
2 1 Ryan Villopoto Seattle, WA Kawasaki KX 450F- RV told me that he really enjoyed Jason Thomas's Racer X column last week about what a hero he was in racing Toronto. And he didn't like my column at all. It was, and I quote, "shit media."
3 51 Justin Barcia Pinetta, FL Honda CRF 450- Barcia doesn't do very much media stuff, he's good at it but I think like Ryan Dungey, he doesn't particularly like talking and all that. But after a good six months of pestering him I got him on the PulpMX Show this past Monday, and he was a great interview! At the end of the call he said thanks to all his fans and the haters also. Good stuff.
4 94 Ken Roczen Murrieta, CA KTM 450 SX-F- Kenny had a dice of death going on with Dungey for a lot of the main event before pulling away a little bit. Afterwards Roczen admitted to me that the 17-race supercross series is a bit of a grind on him. Still with two race wins this year, 2014 has been fantastic for the rookie.
5 41 Trey Canard Edmond, OK Honda CRF 450- Look who's back! Trey Canard made his season debut in St. Louis and was a welcome sight for sore eyes. And he was super ballsy, bro! Right away in the first practice there was no hesitation with Trey and he attempted some of the hardest things out there. Canard's fast and he just needs to keep on keeping on with these types of finishes and get ready for the outdoors. And by the way, with Canard coming back this means that Tim Ferry is coming to the races as well!!!
6 3 Eli Tomac Cortez, CO Honda CRF 450- Like Canard, Tomac just needs to string some more of these good finishes together and get ready for outdoors. And in case you're keeping track, he's back on the factory Honda with air forks. This is what I was told as I never got over there to check it out for myself. Hey man, Tim Ferry was back at the races, I'm busy.
7 75 Joshua Hill Yoncalla, OR Suzuki RM-Z450- Yeah he passed Dungey and Brayton on the last lap when they collided (as did Canard, Tomac and Short) but Hill will take this solid finish and move on. It's the best result on the year for him and remember when a lot of people thought he'd never race again? Eleventh in the points (soon to be 10th) is not too shabby.
8 29 Andrew Short Smithville, TX KTM 450 SX-F- Wasn't the best night for Shorty as he was in eighth at one point and went back to tenth before the gift of two spots on the last lap. To rub salt into the wound, he's now been passed by Barcia for sixth in the points. Then again, I tried to get Short excited a few years back about a battle with Weimer for eighth in the points and he didn't care.
9 5 Ryan Dungey Belle Plaine, MN KTM 450 SX-F-Weird crash for the normally very-in-control Ryan Dungey on the last lap. He's one point ahead of Stewart for second in the points and with the way James is riding lately, does anyone think he can hold the #7 back?
10 10 Justin Brayton Cornelius, NC Yamaha YZ450F- I think I've devoted enough words to Brayton's crazy St. Louis race, right?
11 27 Nicholas Wey Murrieta, CA Kawasaki KX 450F- Wey didn't make many changes this weekend (start hook position), but he killed it with one of his best rides of the season. After being forced to the LCQ, Wey's start was pretty crappy but he came from basically last to get this season-best finish. Wey was good!
12 800 Mike Alessi Hilliard, FL Suzuki RM-Z450- Mike holeshot the main event and then went backwards really fast. Faster than he should have, in my opinion. Mike's not going to get inside the top five but he's been riding well this year and a 7th to 10th spot is achievable for him when he gets the holeshot.
13 68 Chris Blose Phoenix, AZ Honda CRF 450- Good rebound for Blose who couldn't race Toronto after his bike "Blose'd" up (Weege is giggling somewhere). The race to get inside the top 20 in the series points and collect cash is on between Blose and Albertson!
14 77 Jimmy Albertson Shawnee, OK Honda CRF 450- Top Jimmy and Blose will pass Dean Wilson, and Jimmy's four points up on Blose so he looks good to get into the top twenty. It's $8780.00 for 20th, so it's not chump change. Here's the problem though: Trey Canard is 38 points back and it's not unreasonable to think Canard can put ten points on Jimmy in four straight races and therefore bump his buddy Jimmy out of the top twenty (Jimmy and Blose have an outside shot at Matt Goerke by the way). Observations: the only column on the Internet that cares about who's top twenty in the points!
15 374 Cody Gilmore Blair, NE Kawasaki KX 450F- Happy is riding well, that's the bottom line.
16 48 Ben LaMay Perris, CA Yamaha YZ450F- LaMay tried to come back for Detroit but crashed in practice and didn't race the night show. This week he was back in the main in only his second race of the year and he told me afterwards that his injured wrist was killing him so he backed it down.
17 415 Nicholas Schmidt Riverside, CA Honda CRF 450- Awesome to see a guy like Schmidt get interviewed on Fox Sports by Jenny Taft about his season. That's a good job by the producer of the show to highlight a rider that's been a nice surprise this season.
18 606 Ronnie Stewart Easton, PA Suzuki RM-Z450- All Ronnie Stewart does is make mains. That's what he does. He's the New Jersey Terminator of Supercross.
19 92 Killian Rusk Murrieta, CA Yamaha YZ450F- Killian and his abs made the main event. You should read Just Short on Pulpmx.com or stalk him on Instagram like Moser does to know what I'm talking about.
20 211 Tevin Tapia Menifee, CA Suzuki RM-Z450- I'm not sure but I think this was Tapia's second-ever 450SX main event.
21 879 Augie Lieber Loxahatchee, FL Suzuki RM-Z450- Wey told me that Lieber thanked him after the semi race for not smashing him as Wey was furiously racing up to recover from a fall. Pretty sure he's the first person named "Augie" to make a 450SX main event, no?
22 40 Weston Peick Wildomar, CA Suzuki RM-Z450- Peick tangled with Hill early in the main and somehow he went down while Hill stayed up! Peick's bike was too mangled to carry on and he was forced to DNF. Weird season for Weston, he's had six races out of thirteen that he's DNF'd, DNS'd (Daytona) or crashed his way back. But he's still 12th in the points! Speed man, he's got that dirty, nasty speed.
Some other news and notes from St. Louis:
- Thoughts go out to Wil Hahn who absolutely ate crap in the heat race and will be out for a while. Hahn suffered a cracked skull, a broken upper arm, a dislocated shoulder and a cracked collarbone. Like I said, it was ugly. Hahn was having a great 450SX season (his first) and he's a great guy. There really isn't anyone in the pits that has a bad word to say about Wil. And in the pits, that's tough to do! The only good thing about this crash is that Hahn's been tested before with serious injuries and has always come back strong. I'm sure he'll do it again.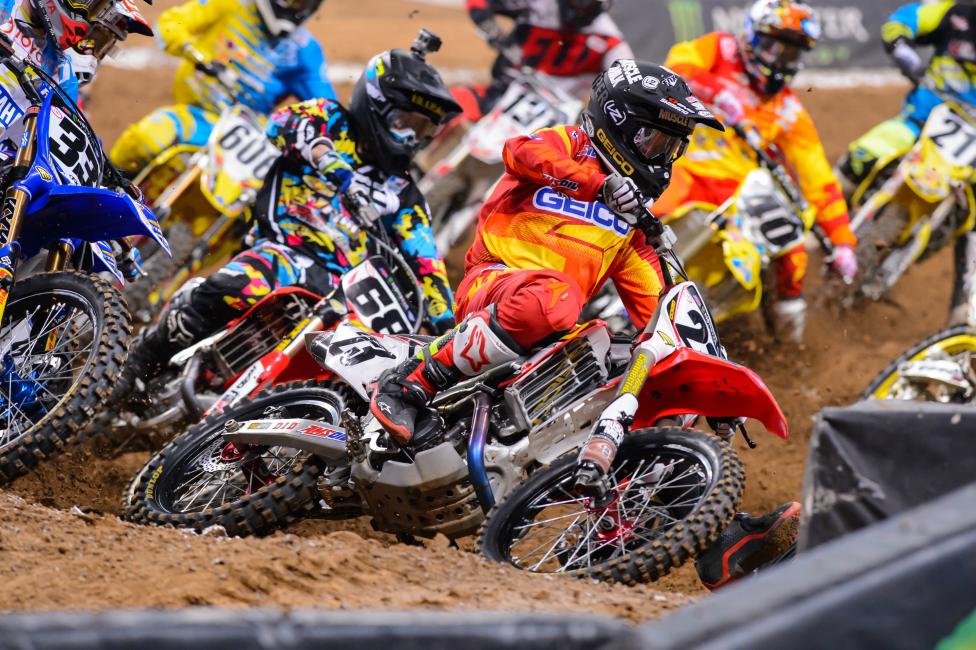 - And on that note, BTOSports KTM's Matt Goerke suffered an elbow injury in practice and he'll be out for a while as well. Add in Broc Tickle last week, Chad Reed earlier this season and we're starting to see the attrition rate pick up. I hear that BTOSports KTM team will hire a fill-in for Matt at some point and rumors are that it might be Michael Byrne, who's currently out of a job while he tries to heal up from another surgery on his leg.
- Number 155 in the 250SX class is named Drayke Sizemore (seriously parents, just stop spelling your kids names all weird to make the kids think they're special and they stand out. All it does is create confusion their ENTIRE lives when they have to spell it for people) and although he didn't make the main and only qualified 34th fastest he caught my eye because in the very first practice of the day Sizemore went out there and jumped both triples on his very first lap. That's confidence, bro! Golf claps to Sizemore from this corner.
Thanks for reading, email me at matthes@racerxonline.com and we can talk or bro down. I just have to get over this cold first.