Edward Jones Dome
St. Louis

,

MO
St. Louis
Monster Energy AMA Supercross Championship
What's going on in Monster Energy Supercross? Racer X staffers Jason Thomas and Chase Stallo took in the scene at St. Louis, and then we Asked Ping! too. Be sure to leave your thoughts below.
1. How do you rate Canard's performance?
Jason Thomas: Trey finished around where I expected but he actually rode a bit better than I anticipated. He was very frisky early, jumping rhythm options and pushing the limits quickly. You could see his excitement to be back out there in the way he was attacking the track. His starts really held him back once the races came around, though. In reality, had Dungey and Brayton not handed him two spots on the last lap, we would be looking at a seventh place finish for TC41. He simply put himself too far back in the early laps and the leaders were long gone. I think he will improve on that in Houston and we will see him up front at least for a while. So, all in all, it was a strong return but there is more to come.
David Pingree: Let's just say I would give him four stars. Two enthusiastic thumbs up. A smack on the rear end with a "good game" shouted in his general direction. Trey's biggest problem has been running into the dirt too hard so getting through his first race back without incident is great. Add to that a solid top-ten finish and I don't see how he could be disappointed with that. If he can build upon that result and come into the summer strong and ready to race he could be a front-runner at the nationals.
Chase Stallo: How can you not give Canard an A+? Although he was gifted two spots on the last lap, which led to a fifth, a seventh would still garner an A+ from me. Like JT mentioned, Canard was in attack mode from the get go in practice. It looked like he was in mid-season form, not returning from a twelve-round absence. I'm sure his starts will come with time. The sport is better off with a healthy Trey Canard, and if he can use these last few rounds as a building block for the Lucas Oil Pro Motocross Championship, we could have another contender in the mix outdoors.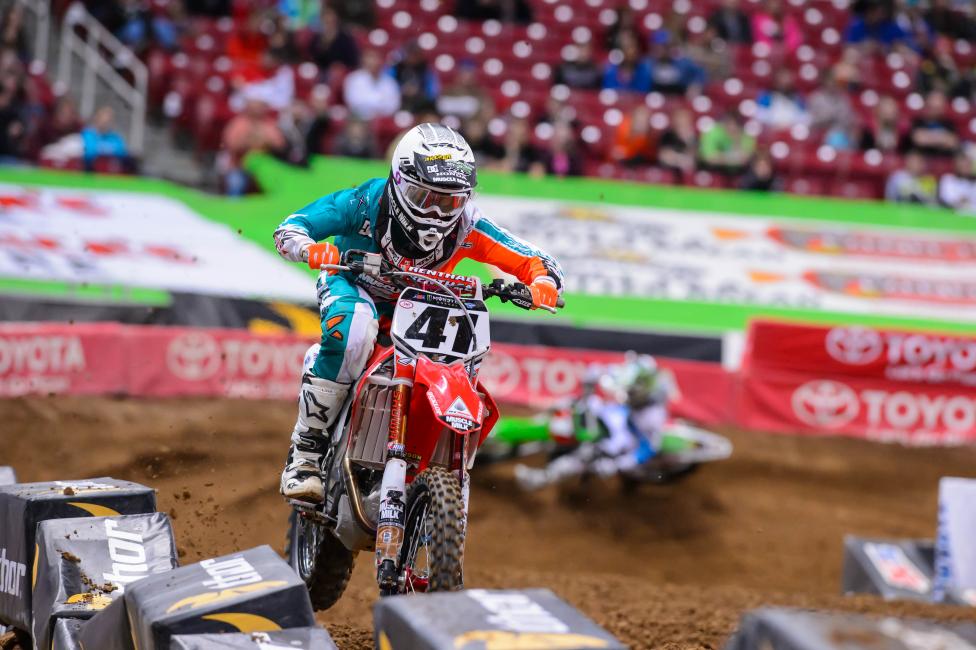 2. Related, we hear Davi Millsaps could be out until outdoors, but Jake Weimer might come back for last few supercrosses. What's the right move?
Thomas: I am a bit conflicted here. Until last Saturday, I was under the impression that Millsaps was returning at Houston. After hearing that was not the plan, it makes me wonder if he would be better served racing a round or two of supercross to end the season. With a two-weekend break after Vegas, he would still have plenty of time to regain his form outdoors. Keep in mind he hasn't raced since Las Vegas 2013 so it will be over a full year since he left a starting gate. As for Weimer, he looks to be preparing for a return to supercross before it's over. Jake is in a contract year and really needs to get back up to speed and turn some heads if he wants a solid deal for 2015. I expect him to return only when he is ready as there is no upside for him to return early and struggle. Just getting in the mix and running at the front for a few laps could do wonders for his value. On the other hand, if he comes back and doesn't do much, that is going to be the leverage teams use to try to sign Jake on the cheap.
Pingree: Jake does better in supercross so it might be in his best interest to grab a couple results while he can. Millsaps has no reason to rush back and I like the idea of focusing on a series and trying to be 100 percent when you get there. If Weimer can squeeze out a good finish or two it could help him in 2015. If not, it won't help his case. Millsaps will have all summer to leave an impression; I think he's making the right decision here.
Stallo: It's really dependent on the rider and the injury. An ACL injury is typically a six to nine month recovery process. Millsaps had surgery in mid-December, which will put him right at the six-month mark for the opening round of the Lucas Oil Pro Motocross Championship at Glen Helen on May 24. While it could benefit Millsaps to get a few races under his belt, this was probably the right call.
In regards to Weimer, like JT mentioned, he is in his contract year, so these last few rounds could go two ways: 1) He could return and contend for top fives, upping his market value or 2) He could return and struggle, in return lessening his value heading into 2015 talks. I'm sure Weimer and his camp are cognizant of this and will let Jake return when he is 100 percent—whenever that may be.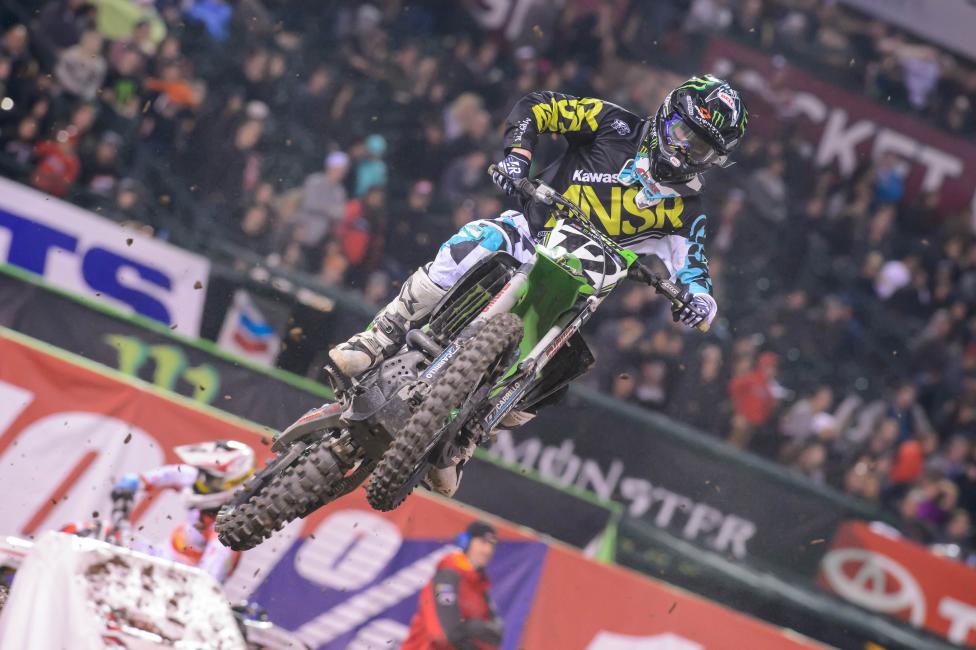 3. Is Ryan Villopoto stressing over James Stewart's growing confidence at all?
Thomas: For the past year or two, our own Steve Matthes has had a great time arguing with Villopoto about it "raining yellow." I think RV found this a lot of fun, as he knew he had James under control and other than the random anomaly, felt he always had the upper hand. As James has improved, though, those jokes may seem less funny underneath the green tent. The #7 has come back with a vengeance and stalked, passed and gapped the Villopoto in St. Louis. Stewart is on a three-race win streak and handily holds the most race wins on the season. This is a renaissance James Stewart compared to what we have seen the past few seasons and I think RV knows it. For supercross, James has dug a hole too deep to seriously threaten RV's grip on a fourth title. The scary prospect is that before long, the fight will move outside and the points advantage will return to zero. What happens then is anyone's guess but rest assured that Ryan would rather stop this momentum now rather than later.
Pingree: If by stressing you mean clearing out a space above the fireplace for his 2014 supercross championship trophy then, yes, I think he's probably freaking out. Otherwise, no.
Stallo: No, no, no. I'm sure it stings a bit for RV to watch Stewart rip off three straight wins. But when the dust settles, we will remember 2014 as the year Villopoto matched McGrath with his fourth straight title—if that does indeed happen. Will this translate over to outdoors? Time will tell. But I guarantee it won't have any repercussions on RV's confidence heading to Glen Helen. If anything, it will drive him to work harder than he is.