Edward Jones Dome
St. Louis

,

MO
St. Louis
Monster Energy AMA Supercross Championship
Welcome to Racerhead, and welcome to a whole new series for Monster Energy Supercross. Sorta. If you missed all of the drama last weekend, Ryan got sick, James got busy, Adam got hurt, Justin (Bogle) got a win, and Martin has a shot at his first championship. All that happened in Canada. Now we come back to the States—St. Louis, to be exact—and a chance for Ryan Villopoto to get back up to speed, while Stewart goes for three in a row on his Yoshimura Suzuki, and another big milestone (more on that below). We also have one more round of East Region racing before the break, and a chance for either Davalos or Bogle to get their second career main-event win and momentum going into the down time to come.
Tomorrow night's race will air live on Fox Sports 1 beginning at 8:30 pm. ET (5:30 out West). And you can watch the very slick and fun Supercross Live! practice coverage and commentary on www.supercrossonline.com. And of course we will have coverage all day long on Racer X Online, as well as @RacerXOnline on Twitter and Instagram. (And if that's still not enough Monster Energy Supercross for your weekend, the fourth episode of Behind the Dream airs on Sunday at noon Eastern on CBS Sports.
This seems like a good place to get right into the mix of the week's news, and what to watch for tomorrow night with the rest of Racerhead.…
THE NUMBER: 50 (DC)
Now that James Stewart has passed a major milestone—he's now got one more than Ricky Carmichael's forty-eight career wins, giving him sole possession of second on the all-time wins list—the next big number is right in front of him: fifty wins. As it stands right now, Stewart is at 114 career starts to RC's 115, although each hit forty-eight on their 113th start, which is crazy when you think about it. Now Stewart will begin trying for fifty with his 115th race, which is tomorrow in St. Louis.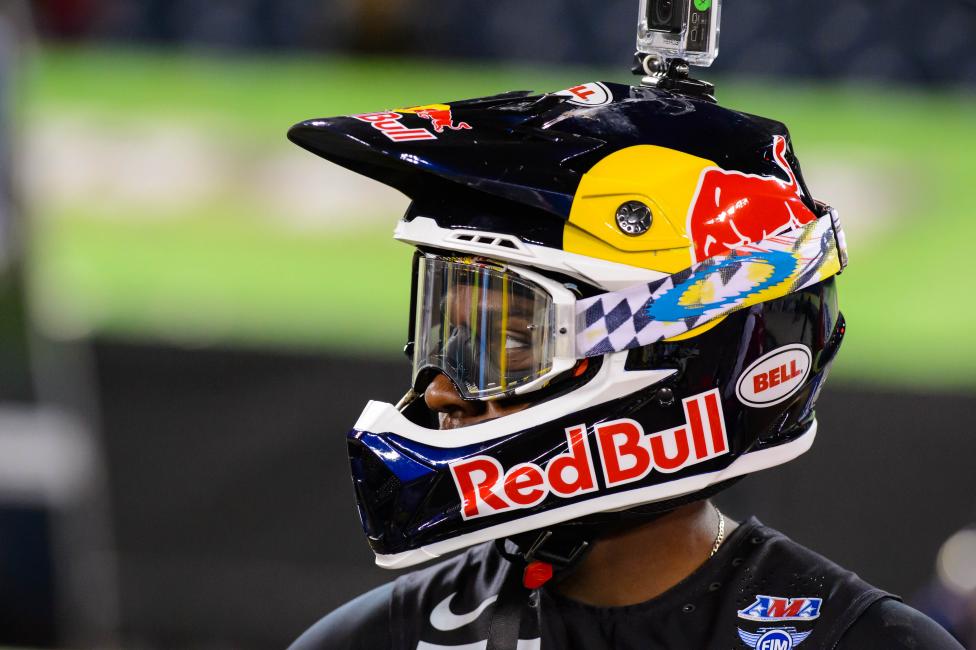 For a little perspective on just how dominant the all-time winner in supercross, Jeremy McGrath, was in the nineties, the King of Supercross won his fiftieth premier-class main event in just his ninetieth start. That win came on a Yamaha YZ250 at the 1998 Daytona Supercross. That's mighty impressive—twenty-five races sooner than it will be for James if he wins tomorrow night—and a mark for efficiency likely to never be challenged.
And here is a record that James does already own outright: He has forty-six 450SX main-event wins aboard four-stroke equipment. Stewart won his first three premier-class races in 2005 aboard a KX250 two-stroke, but then everything since then has come aboard thumpers.
TURNING GREEN (Matthes)
Let's not start crying for Kawasaki now, for the green team was on quite a roll in 2014. Going into Toronto, Monster Energy Kawasaki had the 450SX points leader Villopoto going for his fourth straight supercross title with a commanding lead of over a race's worth of points. And in the 250SX class it was Monster Energy/Pro Circuit Kawasaki's Adam Cianciarulo who had an 18-point lead and a growing collection of wins. In fact, although they're not going to win a title on the West side, the PC guys had racked up seven straight wins with Dean Wilson, Justin Hill, Cianciarulo, Martin Davalos, and Blake Baggett.
Toronto changed all that. Villopoto had a stomach ailment that held him out of practice all day, and although he finished sixth in a gutsy ride (get it?) and didn't lose too many points it's still got to be a bit troublesome that (to my knowledge) they never really found out what it was. Could this issue strike again? Who knows? But thanks to all those who emailed me and explained what happened to their Aunt Edna five years ago when she went to see Niagara Falls.
And on the 250SX side, Cianciarulo's shoulder popped out and he's done for three to four months after surgery earlier this week. And Baggett, once a contender, cartwheeled and DNF'd, which knocks him out of the championship. So it's Davalos with a slim five-point lead on GEICO Honda's Justin Bogle. (AC is only four points down, but he's out.)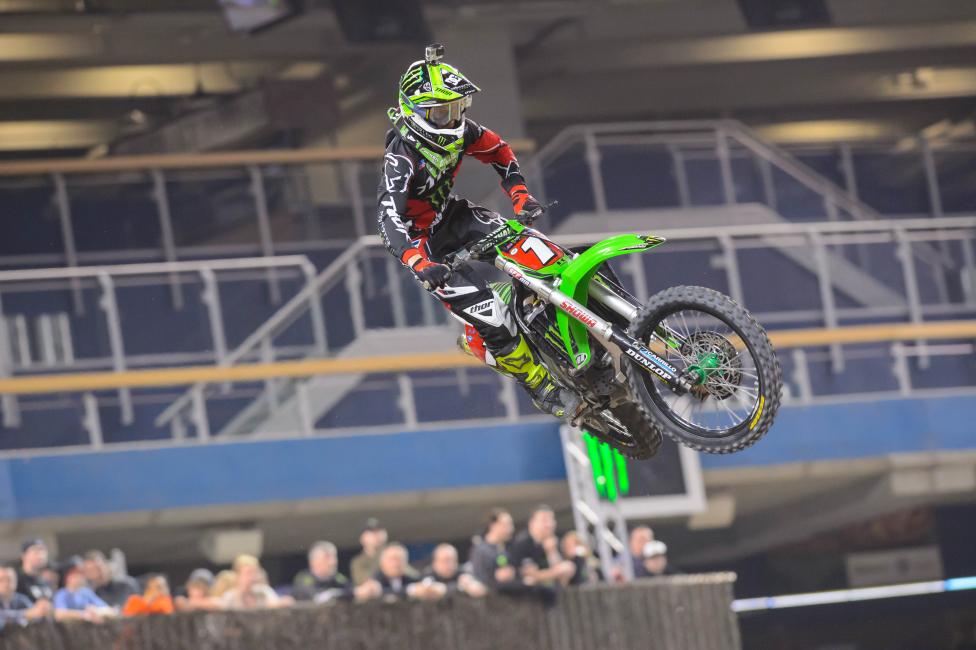 Okay, now that I recapped that for you guys, I'm here to tell you that I was texting with Villopoto this week and he seems more than fine. He does indeed blame Canada (my homeland) for his issues and also for the wait to be seen by some doctors. And when I asked him what was the trickiest part of the track for him in the heat race, seeing as how he hadn't ridden it, he said "nothing."
So this week in St. Louis, with some good dirt, we should see him back on his game and he seems angry. I'm just saying....
As far as Cianciarulo goes, my phone lit up Wednesday morning after my Observations column went up here on Racer X Online. It was AC asking me if I thought he was dumb. I assumed this meant because I took the stance in the column that I really didn't think it would work out very well for AC if he tried to race St. Louis. But no, he was talking about the fact that I wrote that he probably would try to race St. Louis. But the decision was made at this point—he was going under the knife and that was it.
The fact that Adam, his family, and his teams all took the long-game approach to this injury is a good thing. He's 17 and has a ton of winning ahead of him. But he made me promise to wait for the PR before blabbing anything out. Adam did mention that it was the same shoulder he had issues with as an amateur and that the doctor found the problem with it and he's 100 percent sure he can get the shoulder back to new.
THE NUMBER: 2 (DC)
Two title contenders, heavy favorites to win their respective 250cc series, with the same bad news: shoulder injuries. One is racing a Kawasaki here in the 250SX East Region; the other is a Red Bull KTM rider who was hoping to go undefeated in MX2 Grand Prix wins this season. On the same day, basically, both announced that they were parking their bikes. Adam Cianciarulo's injury seems much more serious, and he will be out be out for some time. The other, Jeffrey Herlings, got hurt racing locally in Holland, but his shoulder problem seems less serious (or at least we hope it is). Regardless, he's pulled himself out of the Grand Prix of Brazil. What a damn strange coincidence that these two remarkable young racers would have the same bad luck, on the same day.
Cianciarulo was having quite a year in supercross, and while I wouldn't say he was exceeding expectations, I would say he was just about doing as good as any rookie could out there ... unless you're Ernesto Fonseca or Trey Canard, who were extremely good in their first years on tour in the 125/Lites class. Adam is building a loyal fan base, in part by his riding and in part by his charisma, and his social outreach program (fancy market speak for Instagram) doesn't hurt either. There are great things ahead for him, so why rush there and risk not healing properly or completely?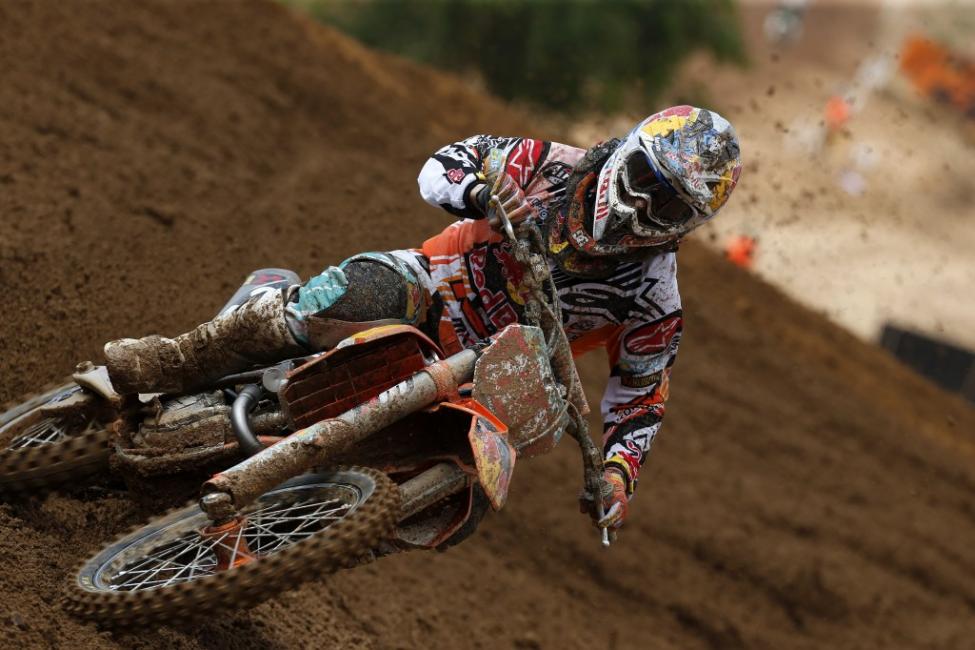 As for Herlings, he was not quite having the dominant year we all expected—he was injured for much of the off-season—but he was in control of the MX2 class once again. But then after Thailand he had stomach issues for a week (as did our contributor and MOTO UK captain Adam Duckworth) and then came back to race a Dutch National at the sandy Mill track and crashed in practice. Herlings drove out from there, called his boss Stefan Everts, and they decided to have the doctors take a look. Missing Brazil was probably an easy decision, because although he will lose the points lead, he has plenty of time to get that back. But after that, if the shoulder isn't good, that's a whole different situation, and Jeffrey may be looking at a similar decision that Cianciarulo and his team had to make.
Either way, good luck soon to both Adam and Jeffrey.
PRO PERSPECTIVE: (David Pingree and Jason Thomas)
A week ago Martin Davalos had a seemingly bleak shot at the East Region title, as did GEICO Honda's Justin Bogle. Now that's all changed. We asked our resident pros for their perspective on this reversal of fortune and what it might be like for the new points leader, Monster Energy/Pro Circuit Kawasaki's Davalos.
Ping: In 1996 I was second in points to Kevin Windham. I was riding for Pro Circuit and felt like I could win races, and that championship, but KW was on the gas. After three rounds I was around 10 points down in second place. I got a call Tuesday after the Seattle round that Kevin had broken his collarbone and would miss the San Diego SX that weekend. I felt like I shouldn't have a problem winning with him out that weekend, and I would hold a 15-point lead with just a few rounds left to run. I was bummed that Kevin got hurt but pretty excited about the possibility of winning my first title. That Friday I crashed in practice and broke my femur.
Martin Davalos is in a similar situation with Cianciarulo out, but he has to be careful of Justin Bogle, who is picking up steam. It seems like Martin is taking it one race at a time and trying not to focus on the title, which is a good thing. The worst thing he can do right now is start riding defensively and let Bogle steal another win before the break.
As for Justin, he'll be riding a wave of confidence and looking to make it two in a row this Saturday. This race will be very important in setting up the showdown for this title and I expect both riders to fight hard for the win.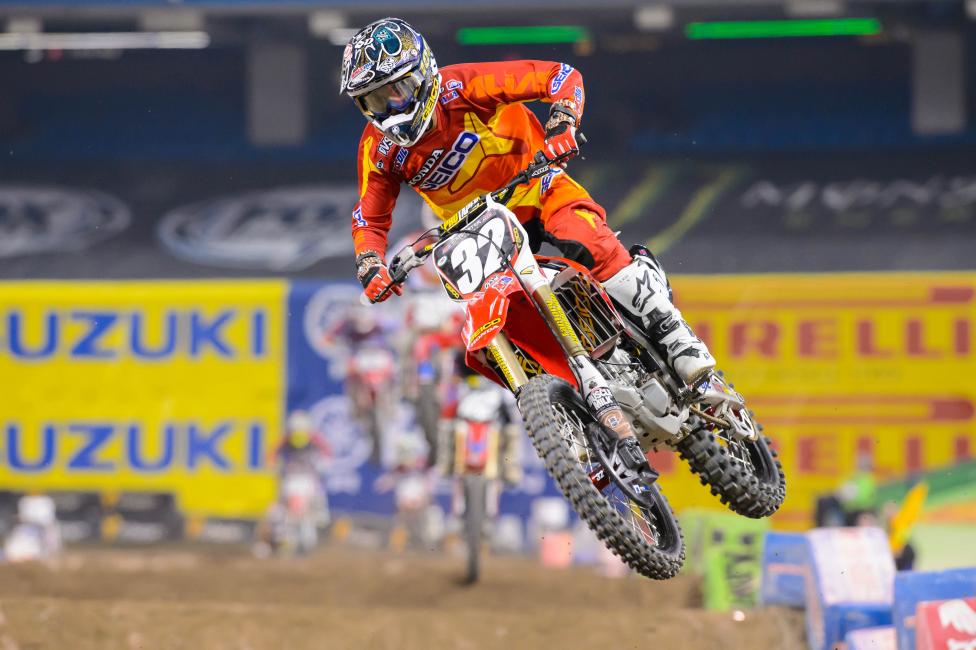 JT$: I feel like this is sort of some cruel joke—I'm supposed to talk about title pressure in AMA SX? Cool, thanks, guys! Let me draw on my endless experience at the front of the pack; those days of fending off late-season charges from Carmichael and Reed should come in handy. I always seemed to have them handled when it came down to brass tacks. I attribute that to my wealth of talent and prowess in the whoop sections. No one had anything for me!
In all seriousness, even though I know titles about as well as Matthes' sports teams do, I have certainly been around these situations many, many times in my day. I was fortunate enough to be friends with riders who really do have championships and had the opportunity to watch those scenarios play out. For Davalos and Bogle, they have to balance that unenviable task of riding loose but not throwing it away. If I knew the exact recipe for that, I would be a very rich man, but it can be done.
I think the key is to find ways to keep your mind focused on executing the riding part of the equation and forget about the points, money, and legacy. Every time on the track, concentrate on that particular session. If it's practice, figure out the track and nail that good lap. Prepare for the racing and think of lines that will help later that night. For the heat races, get that good start and try to run away from everyone. Lock in that good gate pick and imagine how the lines will change for the main event.
When that main event rolls around, take one step at a time. First, make sure all of your effort is put into getting out front and avoiding trouble. Put in solid, mistake-free laps early and get an idea of the situation behind you. Does anyone pose a threat at my current pace? Is my breathing and heart rate sustainable?
As the race continues, block out the distractions. Nothing else is happening or controllable other than your fifteen laps. "Engage the mechanism" is a term from a baseball movie, and Jeff Emig throws this term around as well. Basically, once you lock into that mindset, there is nothing else but white noise around you. For those fifteen laps, you are simply putting in perfectly executed laps, hitting every mark.
Keeping perspective on each task is my best advice. There are so many variables that are out of one's control that it is just wasted effort to think of the what-ifs. For Davalos and Bogle, just do what you do. Ride within yourself but also realize that you're in this position because you did the work, you have the speed, and you know how to ride. Take one step at a time and just keep checking off the checklist. Your own nerves and thoughts are your biggest enemy. Above all, try to enjoy this title fight. Most riders never get to experience it at this level. Instead of the pressure and dread, put a smile on your face and enjoy the ride. It's what I would have done!
BIG BUSINESS (DC)
There was a lot going on in the motorcycling industry this week, but nothing bigger than the announcement that MAG (Motorsports Aftermarket Group) was joining forces with Tucker Rocky/Biker's Choice in order to consolidate the companies. In layman's terms, a whole bunch of industry-related companies just decided to pool their resources, including Answer, MSR, Renthal, Pro Taper, Progressive Suspension, Biker Master, Biker Choice, Vance & Hines, and more. There's also media outlets Cycle News and Moto USA, as well as online retail giant Motorcycle-Superstore.com and J&P Cycles. It will all live under the name MAG and probably be finalized within the next three months, though it's subject to customary regulatory approval and closing conditions.
What does it all mean? Too early to get a real feel for it, but there's strength in numbers. Look for more on this in both the near future and further down the road as the consolidation begins to get online.
NEWS FROM BRAZIL (Adam Wheeler)
Copious rainfall down here in Brazil has also dampened MX2 FIM Motocross World Champion Jeffrey Herlings' ambitions of perfection for another season. The 19-year-old double title holder had previously spoken publicly about his lowered infatuation with going undefeated in Grand Prix in 2014 but matters were taken out of his hands this week. An accident in practice for the second round of the Dutch Championship at Mill last Sunday led to a muscular injury in his left shoulder, and with a lead of 23 points in the MX2 GP standings after owning the first two rounds of the campaign in Qatar and Thailand, Herlings was advised to skip the Grand Prix at Beto Carrero this weekend. The Dutchman is expected back for round four in Italy in two weeks and then has the Bulgarian round to continue to improve his fitness before his home event at Valkenswaard on May 4.
So with the MX2 "wide open" there are a number of candidates who could take the Brazilian top step. Factory CLS Monster Energy Kawasaki duo Dylan Ferrandis and Arnaud Tonus stand a good chance, as does Rockstar Suzuki's Glenn Coldenhoff (still waving the flag for Holland), Husqvarna Wilvo Nestaan's Romain Febvre, and Bike It Yamaha's Max Anstie. Coldenhoff, 23, who is already set to move into MXGP on a Suzuki in 2015, is the only rider remaining in the class with Grand Prix-winning experience.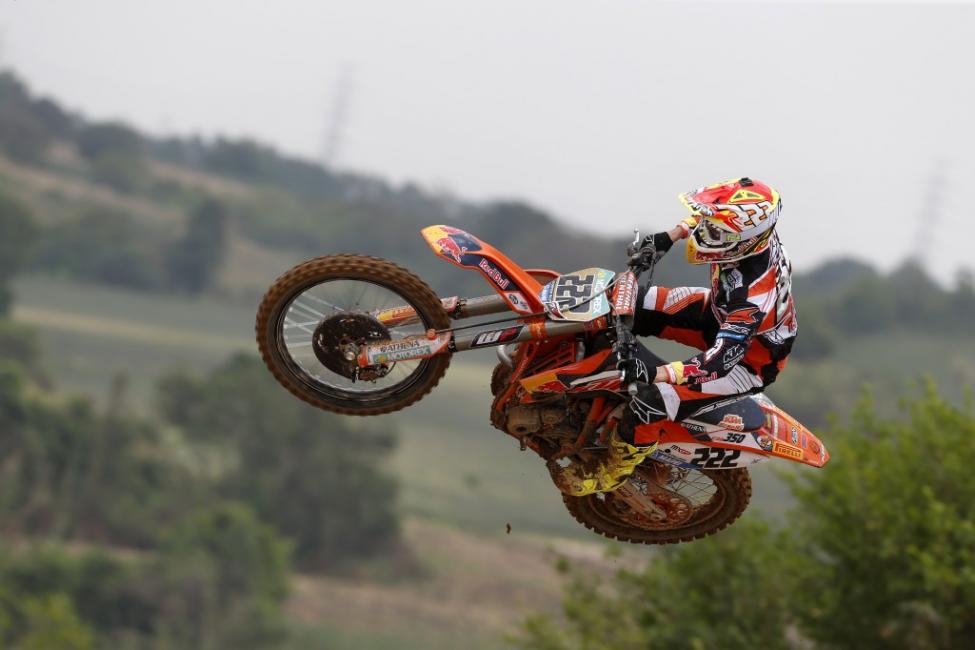 Double defending champs Red Bull KTM might well be down to half strength (Tony Cairoli's teammate Ken De Dycker is now finally riding the works 450 SX-F after recovering from a broken wrist and could make his first appearance of the year in Italy), but MXGP #1 Cairoli is in imperious form on the 350 SX-F after his clean sweep in Thailand. There are no other significant developments in the premier class except that Honda's Evgeny Bobryshev is still recuperating from surgery on his troublesome right leg. Tyla Rattray remains absent from the Husqvarna camp after finger surgery, and an early estimation has the South African down for a Grand Prix return at Valkenswaard—appropriately, the scene of his breakthrough as a 16-year-old in 2003.
Thomas Covington will make his third Grand Prix guest appearance on the Monster Energy Kawasaki in MX2, but in truth the American is not the only wild card this weekend. A horrible weather forecast has showers in the build-up to the event and also throughout race day, the third year in succession that Beto Carrero will be slimy. Although the fixture has been shifted earlier in the calendar year to edge into Brazil's autumnal season, the east coast climate has again been unkind, and depending on the depth of the mud, stick a pin in the entry lists to guess the winners of this first trip of three to South America in '14.
You can watch the Brazilian GP on Sunday on www.mxgp-tv.com. Keep an eye out for lone American contestant Thomas Covington, who is contesting the first four rounds of the FIM World Championships to get himself ready for the Lucas Oil Pro Motocross Championship in May. CBS Sports Network will cover the United States and Canada, screening delayed coverage on Sunday, March 30 starting at 5 p.m. Eastern.
SOUTHWICK UPDATE (DC)
The transition to a new leaseholder at Southwick MX338 is still being sorted out, according to a post by Motocross338 on the Vital MX message board:
"We have been asked a lot of questions about the status of Southwick but at this point there aren't a lot of concrete answers. There are numerous issues and we are working hard to go through the process of resolving them. Unfortunately, we had no idea about most of the preexisting issues when we signed the lease so it has taken some time to come up to speed as we work through the challenges. There are a lot of positive signs and our goal is to have a couple of races late in the season and we are optimistic that will become a reality."
"We attended a meeting with the Southwick Board of Selectmen on January 27th and were asked to submit a business plan/vision statement which essentially gave a brief overview of the history of the track, the current status of the facility and our vision for the future. The meeting went well and the Selectmen have stated numerous times they want to work with us to get the track open again."
From the 1/27 BOS meeting minutes:
"The Board of Selectmen went over the Business Plan/Vision Statement that was provided. (See Attachment C) All of the parties would like to go forward working together to see the project benefit the Town as a recreational community. Mrs. Cesan, Selectperson would like to speak to some of the individuals who wrote emails about the MMX 338. The Board of Selectmen will address the legal issues with Town Counsel to see how to proceed and then at a future date hold a Public Hearing to inform town residents. Issues center on zoning use, the school property use, for profit or non-profit eligibility of the operator, monitoring wells, and scheduled events."
"There are also concerns among the residents about noise, hours of operation, types of vehicles to be raced, etc. The Board of Selectmen have scheduled a public meeting on March 31st at 6PM in the Town Hall Auditorium and have asked us to give a short presentation followed by a Q&A session."
If you can get there to help support the return of the track to active riding/racing, now would be a good time to get involved in the civic matters of motorsports.
HEADLINES OF THE WEEK
Unit Technologies brothers Paul and Ian Everest fall victim to apparel consumer malaise.
HEY, WATCH IT!
Ryan Walters put together this superb look into the life of Joey Savatgy, who plans a comeback from injury with Rockstar Energy Racing KTM this summer. Savatgy claims the time off has helped him appreciate the work that much more.
In case you haven't won a 450SX main event while coming from the back of the pack, here's what it looks like:
RANDOM NOTES
The Amsoil GNCC Series airs live on RacerTV.com, our affiliate online network that is just now getting up and running. This weekend they will be streaming the races live from the third round of the series in Morganton, North Carolina, with the FMF Steele Creek GNCC. FMF KTM's Charlie Mullins leads the points after two extremely muddy rounds in Florida and Georgia, with Am-Pro Yamaha's Paul Whibley second. The races start at 1 p.m. Sunday and you want to watch them live and free on www.racertv.com.
Also, there was an article on Examiner.com about the online network and its reach, and how sports fans and racing fans in particular can count on seeing more of these content providers proliferate in the future.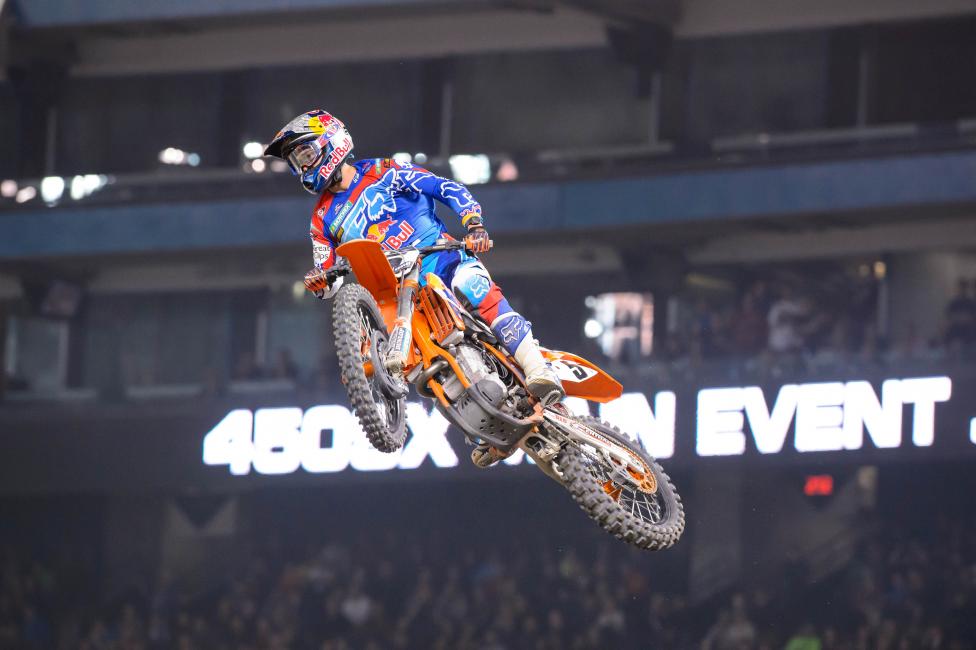 In light of James Stewart moving into second in the record books for all-time SX wins, Jason Weigandt put together a look back at what may be James Stewart's 10 best wins. It's a good read and a good trip down memory lane.
Another great eBay find (and read the bottom part too).
We did a film with Adam Enticknap at Toronto where he explained he qualified faster than Ryan Villopoto. Well, here's his column from that race.
David Vuillemin answered some burning questions from Toronto.
Weege and JT joined Matthes for a little podcast about St. Louis and took calls on the Fly Racing Moto:60 Show presented by N-Fab.
For the latest from Canada, check out DMX Frid'eh Update #13.
Issue 4 of Trials & Enduro News is live. This month features off-road racing from Florida, South Carolina and Texas. Plus some crazy Trials coverage.
Lake Elsinore is getting ready to reopen. Check it out here.
And it sounds like Pala Raceway is working through another issue but should be back up and running soon, too, according to this post on their website:
"Pala Raceway is still closed to the public for right now. We are working on getting back open. To go along with our electrical problem, there was a new insurance policy demanded to be put in place before the Raceway can reopen to the public. Two of three policies are currently in place; a third policy had fundamental language changes requested before approval. So the process had to be restarted and had to go back through the underwriting process, which unfortunately takes time. Our legal and insurance team are working on it, and trying to get you guys back riding at Pala Raceway as soon as we can."
That's it for Racerhead. Thanks for reading, and see you at the races.