By Racer X Staff
Fitting that James Stewart's 49th AMA 450SX main event win, the one that put him into second all-time on the SX wins list, was a memorable one. What are some other highlight-style wins on the route to 49? We tried to pick seven for the #7 but that was impossible, so we made it an even ten (Count Toronto if you want #11. Heck, that might have been the best of all!)
Dallas 2005: His much-anticipated first 250SX win. Stewart held the all-time 125SX wins record but his 250 debut season was a wash with a mudder at A1, and broken arm at Phoenix, and a crash while leading after he returned in Orlando. The next weekend in Dallas, he waxed the field—including Ricky Carmichael and Chad Reed—even though he was having front brake problems.
San Francisco 2006: Classic mudder battle with Carmichael. The main event was shortened to 12 laps, and Bubba and RC still lapped every other rider on the track! To give you an idea of how muddy it was, James made the final pass by merely pulling out a double jump.
Someone shot this from the stands and posted it, cheers and all!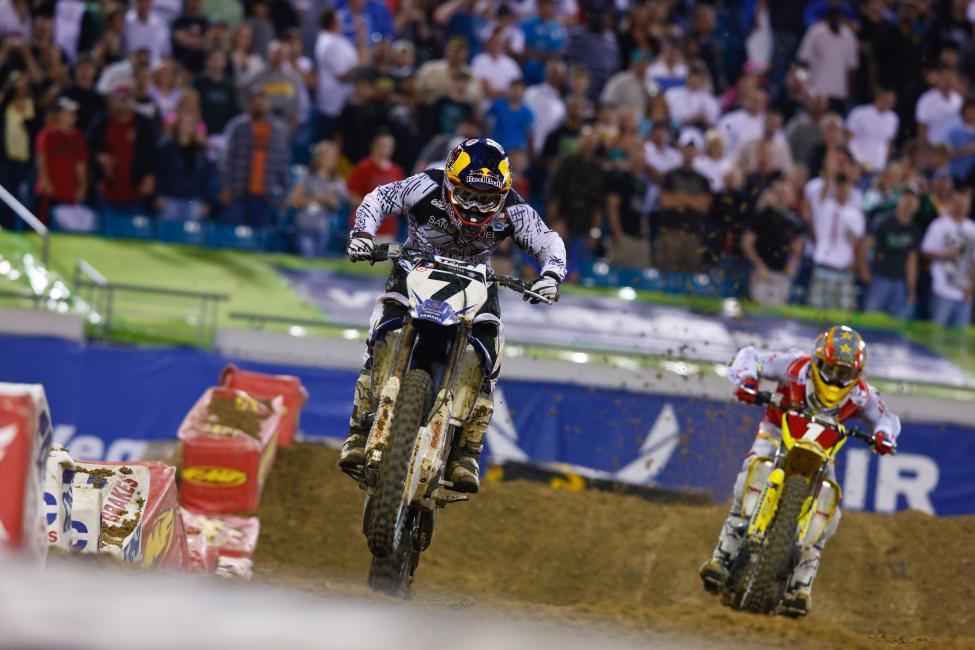 Orlando 2007: The story was shaping up perfectly for Ricky Carmichael, who was about to race the final supercross race of his career, and had to take a helicopter to the race because his twin son and daughter had just been born. When this type of thing happens in NASCAR, they get accused of fixing races if the guy wins. But James had other plans. RC gave it his all but Stewart held him off in an amazing race, one of their best (and their last) 20 lap duels.
Indy 2007: In year three in the big class, James has it all figured out. He dominates the season, highlighted by an Indy race where he came from way, way, back to first. Kind of like Toronto a few days ago!
Said SPEED TV announcer Ralph Sheheen to Jeff Emig early in this one: "Jeff, settle in, because watching James Stewart come through the pack in supercross is something else."
Jacksonville 2009: Out of all the grudge races with Reed, this might have been the closest of all, as the rivals battled all night—actually, they started battling in practice! In the main, Reed led most of it before James made a late pass and pulled away, but Reed wasn't happy with some of the rough riding after the race. While Stew was celebrating, Reed grabbed him by the back of the neck/shoulder, aka "the neck grab heard around the world." The 2009 season was ridiculous.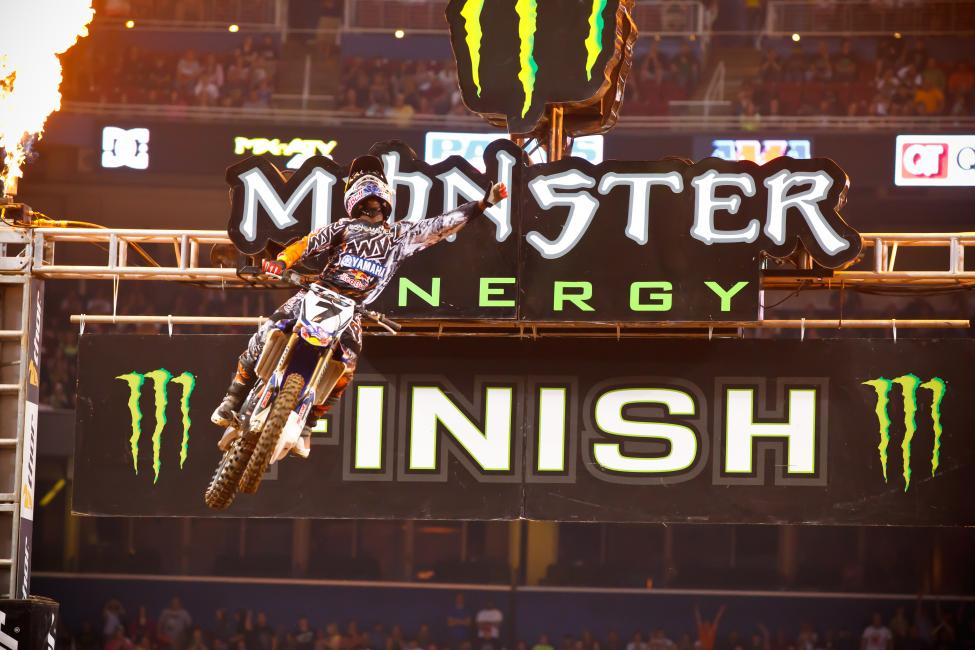 Anaheim 2 2011: Jumping quads! James missed nearly all the 2010 season with a broken wrist, but looked to have his old mojo back with two wins early in 2011. Then came Anaheim 2. After testing out a difficult quad-quad combo in a technical rhythm section just once (as far as we remember) in practice, Stewart used the move to his advantage in the main to maintain a lead over runner-up Ryan Villopoto. The rest of the season would be full of ups and downs, but this race was Stewart at his most spectacular.
The TV footage doesn't really indicate how difficult this was, but you can find it here at 32 minutes.
St. Louis 2011: Mainly impressive because of all the craziness that was happening around him that season, including big crashes, turmoil within his team on the management side (team manager Larry Brooks was sent home to "spend time with his family') and then James getting into, ahem, trouble with the law at home. But he blocked it all out to win this race. Said an emotional Stewart afterward, "All of the things that have been taking place over this season, it just finally overcame me. And then I looked over at my dad, and I know he wanted to cry. I just couldn't hold it back anymore."
Daytona 2012: Daytona is usually feast or famine for James (and sometimes it's both in one night, i.e. gator pit/crash/gator pit in 2011) but it was all good in 2012. The season had not gone well on his JGR Yamaha but he dominated on this night, and his teammate Davi Millsaps was second to boot.
Atlanta 2013/San Diego 2014: These races are too similar to split. Last year, after a torn ACL at the beginning of the season, James finally puts 20 solid laps together to hold Ryan Villopoto at bay the whole way. First SX win on the Suzuki. He logged a performance one step better this year at San Diego, passing the current champion on lap one and holding him off all the way for his first win of the year.