Ford Field
Detroit

,

MI
Detroit
Monster Energy AMA Supercross Championship
Racerhead is on the run this weekend. We've got half the crew headed to the Motor City for the return of the Detroit round to the Monster Energy AMA Supercross schedule. We also have folks headed to the second round of the Amsoil Grand National Cross Country Series in Georgia. And local racing is starting up all over the country as the weather seems ready to finally break… Hope I didn't just jinx that.
Unfortunately, I am back at the office, having spent the better part of the previous week at Daytona International Speedway helping out with the Ricky Carmichael Amateur Supercross, so a magazine deadline looms. And adding to the "unfortunate" part is the fact that tomorrow night is one of the few times we can't watch the SX race live on Fox Sports 1. Why not? College basketball and the mainstream fervor that is March Madness. As the field for next week's NCAA Tournament is trimmed down via conference tournaments, Fox Sports 1 has a commitment to the Pac-12 Tournament and the Big East, which means the Detroit SX will air on a tape-delay basis:
PROGRAM CHANGE ALERT

**FOX Sports 1 will air the Detroit race on delay at 11:30 p.m. ET / 8:30 p.m. PT**


**Coverage from Detroit will also be available on the authenticated FOX Sports GO app**

**FOX Sports 1 will re-air the Detroit race Sunday, March 16 at 2:00 p.m. ET


**FOX Sports 2 will re-air the Detroit race Sunday, March 16 at 9:00 p.m. ET**
I feel for the guys at Feld Motorsports and know that it's a frustrating night to be taking a backseat to basketball, but the exact same thing happens to Lucas Oil AMA Pro Motocross each May, only in our case it's the NHL Playoffs that get the live TV priority over the opening round of motocross. So give them a break—and maybe save another one for outdoors come May. Hey, at least they are taking the track back up into the stands, Pontiac Silverdome-style!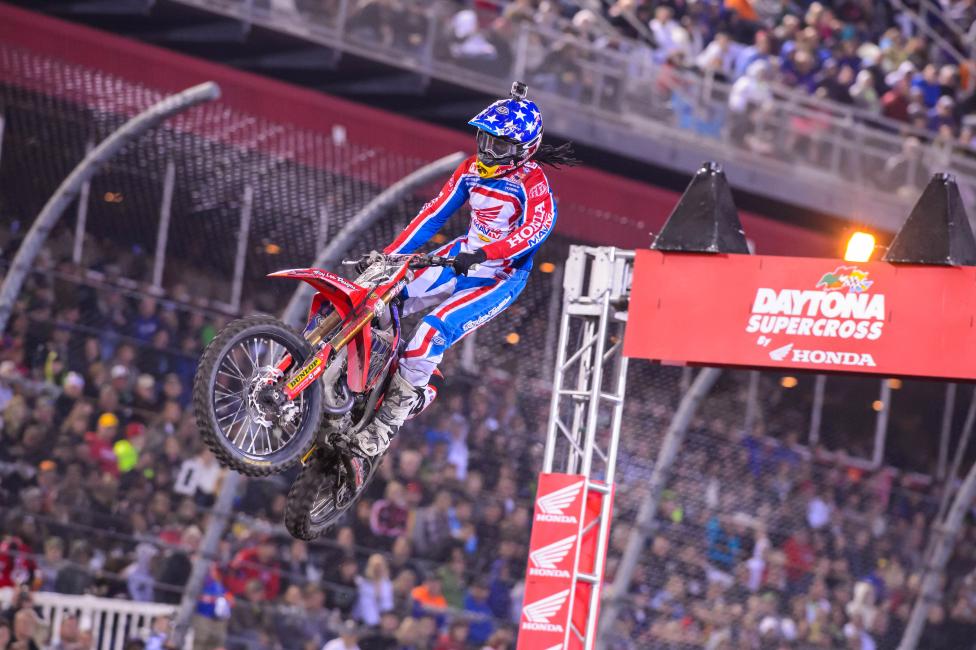 Speaking of giving someone a break, it's time once again to check the haters online who have been giving TLD Honda's Malcolm Stewart a ton of grief for his reaction to an aggressive pass by Muscle Milk Honda's Justin Barcia at Daytona. Mookie, very well-liked in the pits, shoved Barcia after both went down, momentarily losing his cool. It was enough for the AMA and FIM to penalize him—especially after some previous incidents that followed Stewart contact with other riders.
Like the Mike Alessi deal a couple weeks back, Stewart deserved some criticism, and he paid dearly—$5,000 to be exact—but he does not deserve the hateful garbage that seems to be the only way some people can express themselves online. At least there were no death threats this time… Maybe the internet is finally growing up.
Nah.
Back to Daytona: It was a blast to hang out on the infield and watch some of the fastest young talent in the country rocketing around on Sunday and Monday. The RCSX has grown by leaps and bounds, and you watch much of the action in the archives right now at www.racertv.com. Keep an eye out for three kids in particular: Jett Reynolds, Stilez Robertson and Ryder DiFrancesco. They are three of the "Bakersfield Boys" profiled in the new issue of Racer X Illustrated by Jordan Roberts.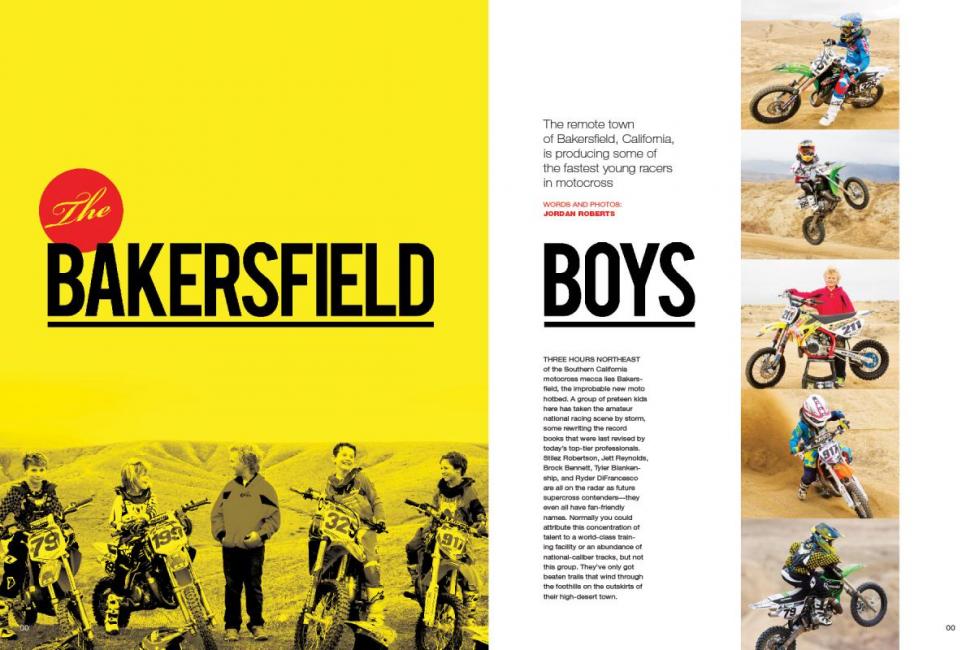 All three were very impressive in Florida, and I actually got a chance to talk to one of the boys, Stilez Robertson, after he won one of his classes. I shot a photo of him and was going to post it to @racerxonline on Instagram. He told me that he had a bet with his dad: If he ever got 5,000 followers to his account--@stilez325-- he would get one of those electric Oset trials bikes. His dad overheard him and said something to the effect of, "Hey, no cheating, Stilez!" But after they walked away, Team Green Kawasaki's Ryan Holliday gave me the kid's Insta ID and we decided to give him just a little bit of help. At that point Stilez had just over 3,000 followers. Within two hours he had won the bet—and more. Sorry, Mr. Robertson; enjoy that sweet new ride, Stilez!
Another young rider who really impressed down there was Hannah Hodges, the 85cc and Super-Mini rider who is hands-down the fastest girl I have ever seen on minicycles. Hodges is not yet on big bikes, which means she's not in the WMX as of yet. And while the revamped eight-round WMX was running its first round at Daytona, with Mackenzie Tricker taking the win over Marissa Markelon and Kylie Fasnacht, Hodges was running away from her Women's Amateur class (14+) competition, and also battling with the Super-Mini boys. Even after a crash, she finished eighth in the main event against some very fast young men, serving notice to the older girls that she will soon be a force to be reckoned with—and to the boys as well.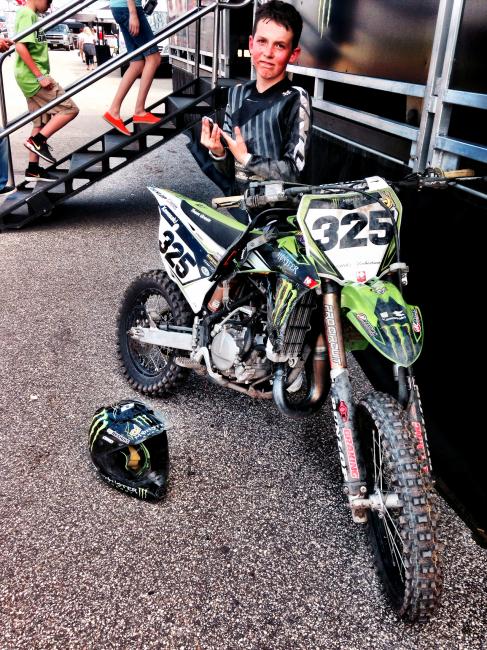 You can read all about the RCSX, and stand-out stars like Aaron Plessinger, Zach Commons, Alexander Frye, Austin Forkner, Broc Papi, Jalek Swoll and more, right here.
As far the Daytona Supercross itself goes, the crowd has never been bigger, and although the track was shorter than it traditionally has been, it was its usual rough and nasty self. The top three in the 450 SX class were all Florida-based heroes who know their way around a sandy supercross track: Ryan Villopoto, Ken Roczen and Ryan Dungey. In the 250 SX class it was a Monster Energy/Pro Circuit Kawasaki sweep as Blake Baggett became the fifth winner of the season under Mitch Payton's tent, a record for Mitch's team. There were also a couple of epic moments by James Stewart as well as privateers Jacob Baumert and Ryan Zimmer, which you can read about right here.
The Supercross and GNCC crowds may have moved on from Daytona's Bike Week, but racing will be going on this weekend, including the historic Daytona 200 road race. The races will be streaming live on AMA Pro Racing's new online platform www.fanschoice.tv, which will air the races live and free. Check them out if you get a chance this weekend.
Okay, on to the rest of Racerhead…
PRO PERSPECTIVE: RACING UP INTO THE STANDS (David Pingree and Jason Thomas)
Ping: In a tip of the cap to the old Pontiac supercross round, this weekend's course will run up into the grandstands, adding elevation and a unique obstacle to the event. It will likely be a tight 180 degree turn, which will add to the length of the lap times and provide one extra spot where riders can lose or make up time. I never got to race in the Silverdome but I have raced at the L.A. Coliseum many times, and at the Las Vegas supercross when they ran the track up and over the locker rooms. In both places, the feel of the track was completely altered by the elevation change. In my experience there aren't many passing opportunities in these sections, but a mistake or a good line through them can lead to a pass.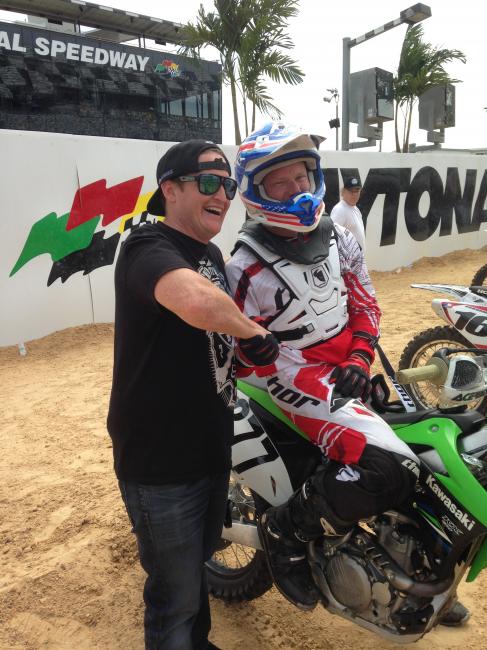 JT: I can remember as a kid watching my heroes ride up into the stands at the now-defunct Pontiac Supercross, always wishing I would get to do the same. My time would finally come in the late '90s, but at first it was underwhelming with no fans lining the course. It was cool to add elevation to a supercross track but it wouldn't be until the night program that the uniqueness of the obstacle would stand out. Climbing into the crowd, you could see fans on your right and left and as you began to turn at the top, it would be eerily quiet for a second. That momentary silence in the midst of supercross chaos is something I will always remember about Pontiac. That second of calm was rare and made this race one I was lucky to have been a part of.
WELCOME TO THE JUNGLE (DC)
Ryan Sipes got himself a little baptism-under-fire when he headed into the Florida woods for his first post-SX/MX-career off-road adventure in the Amsoil AMA Grand National Cross Country Series opener, the Mud Mucker GNCC. The Rockstar Energy/WMR/KTM-backed Kentuckian got off to a great start and had the speed to run with the series' elite—FMF/KTM factory riders Charlie Mullins and Kailub Russell, Am-Pro Yamaha's Paul Whibley, Rocky Mountain ATV/MC's Josh Strang, RideMPS.com/Amsoil Honda's Thad Duvall and more—but not quite the endurance. GNCCs run three hours, and in Sunday's particularly nasty conditions—hot sunshine, but deep mud due to all the rain the week before, and finally all those endless sand whoops and palmetto roots—those three hours were probably the longest of Sipes' life! Ryan held the pace for most of the race but then faded to eighth at the end, suffering from deep leg cramps.
The good news is Sipes gets another chance this Sunday when the second round of the GNCC Series goes off in Washington, Georgia. It also marks another chance for #1 Kailub Russell and the previous season's #1 Charlie Mullins to renew their rivalry as the top riders in this series. Both were involved in a huge first-turn crash, and Mullins put in a heroic ride to get back up front and win. Now they take the fight to Georgia for the General GNCC. You can watch the racing stream live on www.racertv.com beginning at 1 p.m. EST, live and free.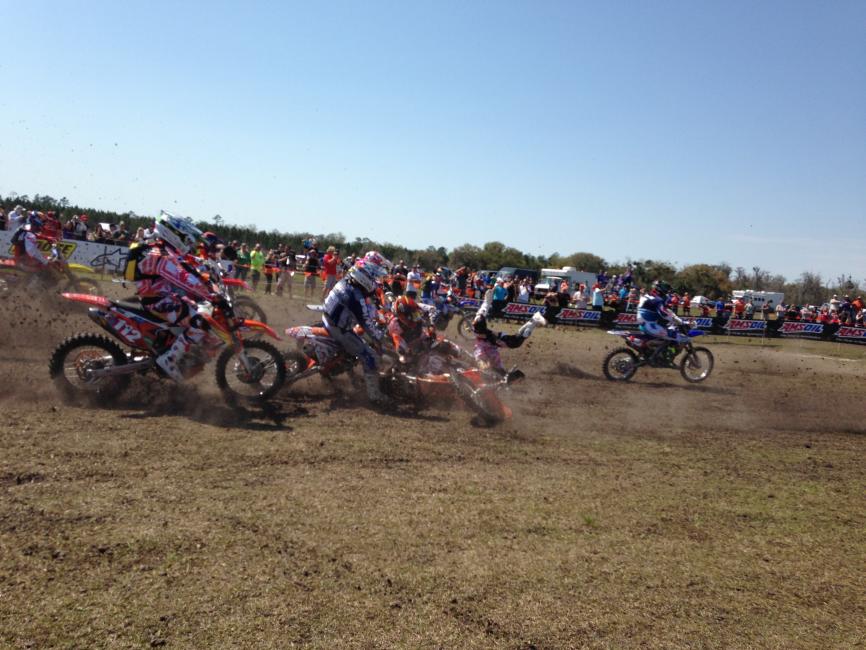 OVER THERE (DC)
Another rider getting his baptism-under-fire is Thomas Covington of the Monster Energy/Pro Circuit Kawasaki team. Covington is planning on making his AMA Pro debut at the Red Bull Glen Helen National on May 24, following a path that's become familiar in recent years—rookies turning pro in May and starting outdoors rather than waiting until the end of summer. But unlike Cooper Webb or Adam Cianciarulo last summer, Covington decided to check out the FIM World Championship and race MX2 Grand Prix "to get a few gate drops in" before Glen Helen.
Two weeks ago Covington ran to an impressive third in the second moto at Qatar, opening some folks' eyes to his speed. But then last weekend in Thailand, things didn't go nearly as well for Thomas, who just couldn't seem to get going in qualifying or the motos.
"I could never get a good lap in during qualifying," he told Eric Johnson this week from the house he's staying in back in France. "Someone would get in my way or I would make a mistake. It was almost like I was just trying too hard. I ended up getting a bad gate pick there. I was coming from far behind in the qualifying race on Saturday and was starting to get up around the top 10 and had a pretty big crash in the rollers and tweaked my bike all up and wasn't able to finish the moto."
Covington was a victim of the problems with the local fuel the teams were forced to use when their regular race fuel was not allowed into the country. His bike never ran right, and his results suffered (though not as bad as his friend Tommy Searle, who's KX450F cut out on the face of a jump because of the bad gas, resulting in a crash and a broken wrist).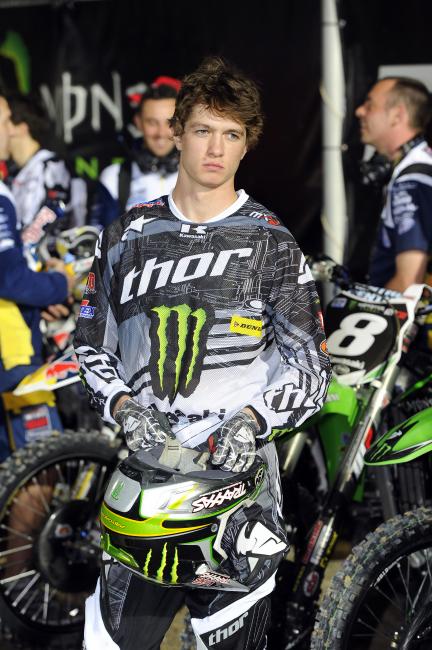 "One thing we struggled with right from the beginning there was the fuel," Covington told EJ. "The fuel was off and we didn't have the capability to completely re-map my ignition. Right from the start the bike was feeling really sluggish because of the fuel. In the first moto on Sunday I was trying to do my regular second-gear start and when I did, the bike just wouldn't pull at all. The bike just bogged big right out of the gate.
"In the second moto I had to start in first gear, which I've never done. It was a little better but still not really what I'd like. And I was way on the outside for the start. No matter how good of a jump I got, there was no shot for me to get a good start. I got bad starts, and trying to come through the pack with my bike not running so great wasn't the easiest thing. Then towards the end of the moto the fuel started boiling and my bike was just popping and bogging the whole time. I really had no shot at it. It was just a rough weekend. But I learned a lot."
Covington is eleventh in the point standings going into the next round, which will be in Brazil in a couple of weeks.
BAD GAS 2 (DC)
I remember writing "Bad Gas" (and probably a few other journalists do too) as the title of a bit about Ricky Carmichael's fuel problems and the subsequent controversy all those years ago when he was DQ'd for having lead in his fuel, then reinstated as the winner. This time, it appears that the bad gas happened to almost everyone in Thailand. (Insert Thai food joke here.) The MXGP teams were not allowed to bring in their own race fuel, deemed "dangerous goods," into the country due to some local politics, and although both Youthstream and transport company SEL tried every route possible, they simply could not get past the unforeseen embargo, according to the statement released here by ETS Fuel about the whole mess that followed.
After some quick meetings and decisions by the FIM to allow a higher leaded fuel content due to the unforeseen circumstances, the race went off with all of the teams using different fuel. Unfortunately, it didn't work out so well for many riders who suffered bogs due to vapor lock and even boiling fuel in the hot Thai conditions.
Which leads to the late laps of the second motos, when the hot temperatures were at their peak and the problems mentioned by Covington, as well as others. Stephen Frossard said, "The engine stopped due to fuel problems." First-round winner Gautier Paulin said, "I'm frustrated; they provide us in Thailand some special fuel, as it's not allowed at the moment to import racing fuel from Europe, and we had problems during the races. Fourth of the first heat, I was again fourth in the second when my engine didn't run normally. I lost five positions and important points during the last three laps, and took too much risks to finish the race."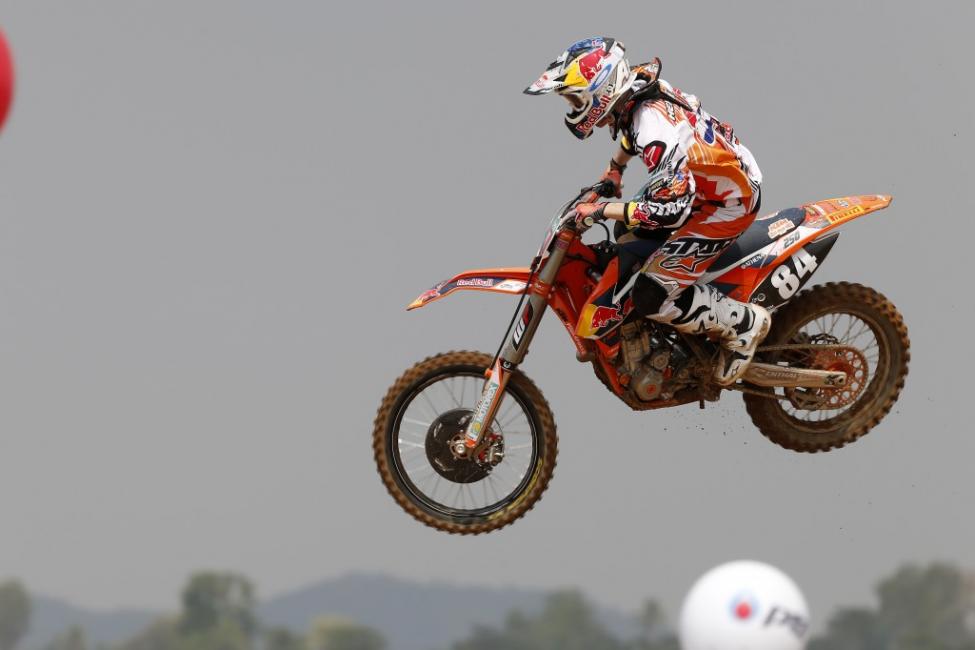 There was also Clement Desalle, who appeared to have the win in hand late in the moto before his Rockstar Suzuki starting coughing and sputtering, handing the win to Red Bull KTM's Tony Cairoli. Desalle was extremely frustrated after the race and created a stir with his raw emotional display. Clement would later apologize for what he called his own "aggressive reaction," saying afterwards, "It was not so professional of me but I think because I am coming back from an injury I was worried about hurting myself again. It was a heat-of-the-moment thing."
So why did some bikes have problems and others did not? According to the official statement from fuel supplier ETS, "In addition to extreme temperature conditions, the fact that problems occurred by the end of the race may suggest that heat coming from the engine is one additional key factor as well for vapor lock. Local temperature around the fuel tank or pipe could be much higher than the 45°C (113 degrees Fahrenheit) measured during the race. That is the reason why some teams whose motorbikes are equipped with different fuel tank and pipe design didn't experience such vapor lock problems."
As for race winners Tony Cairoli and Jeffrey Herlings, MX Vice's Jonathan McCready reported that Red Bull KTM said they didn't have their engines at maximum power to prevent any fuel issues and they had no problems.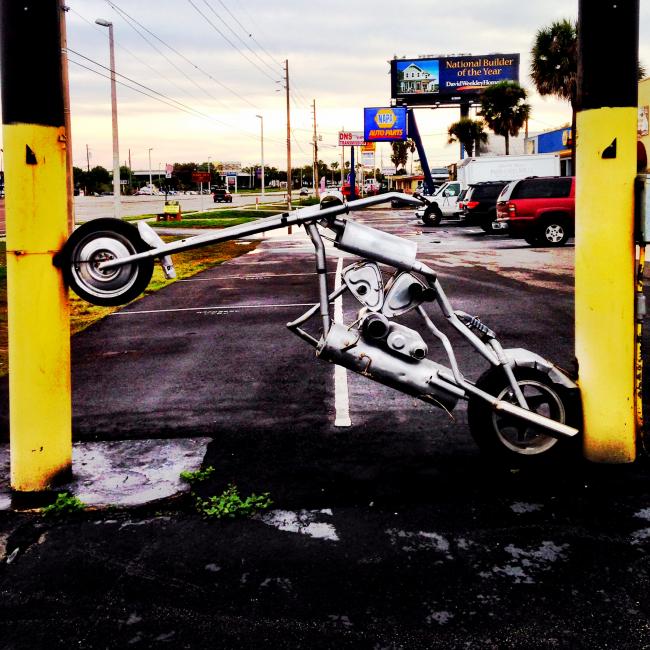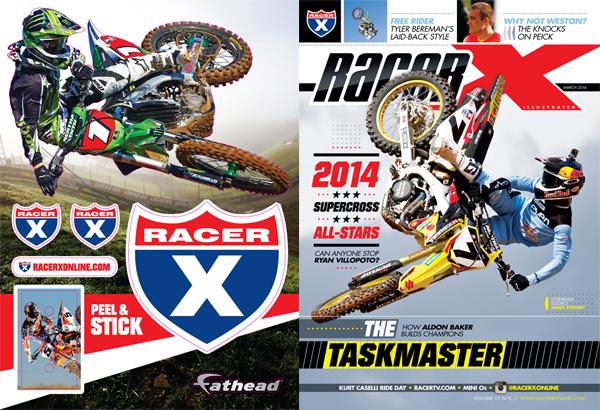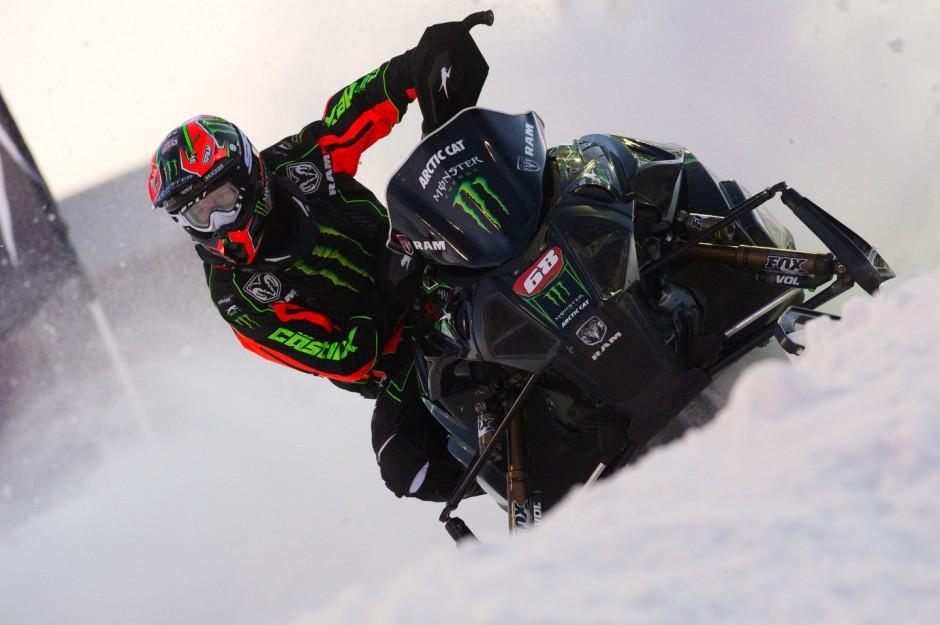 Pro MXers Ross Martin, Kody Kamm & Tucker Hibbert lead the charge this weekend in Lake Geneva, Wis. (just a holeshot from Parts Unlimited in Janesville) for the final round of 2013-'14 AMSOIL Championship Snocross, powered by Ram. Sunday's final will be broadcast - "Live" - on CBS Sports. Check out the webcast on www.isocracing.com tonight. Action gets underway at 6 p.m. CST.
Thanks for reading Racerhead, see you at the races.