Like dot coms in the 1990s and energy drinks in the 2000s, it seemed like everyone wanted a piece of the "holding a big amateur race" pie about five years ago. Races new and old were making huge pushes toward becoming the place to be. March marked the busiest time of year. We all can make jokes about home schooling and "moving to Cairo, Georgia" nowadays but believe it or not, the big amateur motocross calendar has always revolved around the regular school schedule. That's why Ponca City and Loretta's take place in the summer (when kids are off) and the Mini Olympics take place across Thanksgiving week. Then there are the spring races, built around spring break and Easter.
For a long time, the amateur moto calendar featured two weeks of racing in Texas, probably most well known as Mosier Valley and Lake Whitney, and then later the Mosier race moved to Oak Hill, also in Texas. Pretty simple. Then the Lake Whitney race moved to Mill Creek in Alabama, which still gave back-to-back weeks of racing, but now no longer in the same state. So the folks at Freestone Raceway in Texas jumped into the ring with what is now known as the James Stewart Spring Championship. To further jam up the works, the Ricky Carmichael Amateur Supercross in Daytona kicked off in 2010. The Daytona race has to take place in March, because the Daytona Bike Week schedule is determined by the Daytona 500 schedule, which is actually determined by the Super Bowl schedule. That puts Bike Week in March, right when those traditional spring amateur moto races are rolling.
This made for tough decisions for amateur riders and families. They're all in this to get discovered, and you do that by racing where the manufacturers go and racing the fastest kids in the country. Also: contingency. But this ever-growing pile races even confused the manufacturers. There were so many "big" races to support now, year round, and especially in the Spring. After years of feeding two events in Texas, there were now four total races, so no one really knew where to go, or what races to send support, contingency or riders to. And, with the economy in a tailspin throughout the last few years, they couldn't afford to support them all.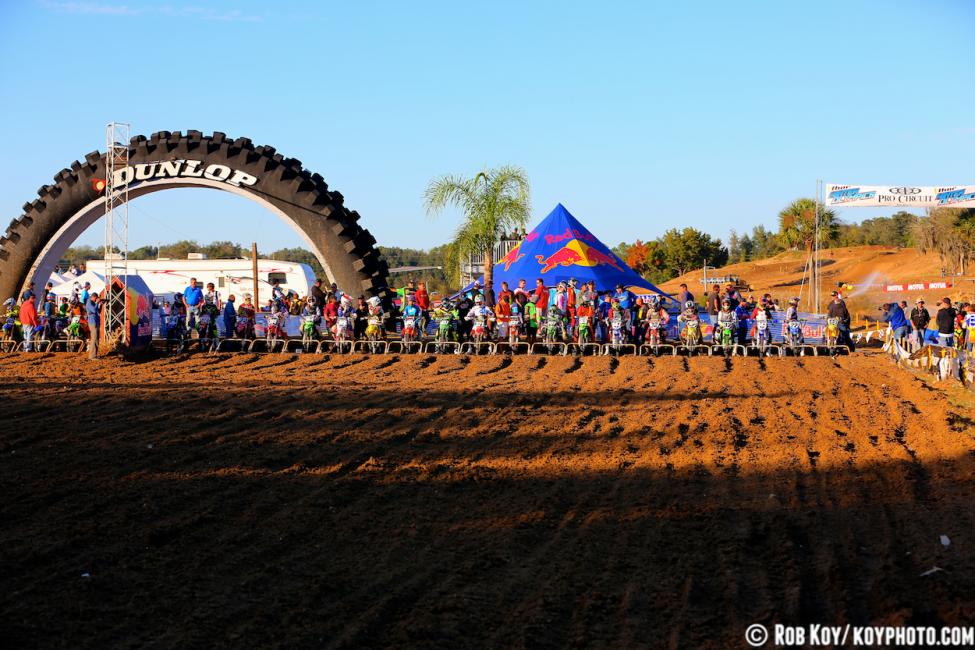 About two years ago, the manufacturers said "no mas" and started asking for a little more organization and cooperation from the different events. After a series of meetings between manufacturers, sponsors, promoters and the AMA, a group of races emerged as the American Motocross Championships. It's not a series or anything; these are still stand-alone events. It's just a brand identifier of what are now being called "Majors" on the amateur calendar. They are all AMA sanctioned and the major manufacturers have pledged support for these events. From what I hear, it's a loose gathering from the manufacturer side. There aren't requirements for X amount of dollars or mechanics or factory-supported entries. They just promise to represent in some way.
The majors are: The Mini Olympics at Gatorback in Gainesville, Florida; the Ricky Carmichael Amateur Supercross in Daytona, Florida; the James Stewart Spring Championship at Freestone, Texas; Mammoth Mountain in California, and the AMA Amateur National Championship at Loretta Lynn's. These five cut a balanced path, both geographically and also on the calendar. There are still plenty of other viable amateur races still out there, from World Mini, to Ponca, to the Mill Creek and Oak Hill races listed above… the list goes on. But the Majors are all AMA sanctioned, and the promoters have agreed to a loose partnership where they will assist each other. It's basically an agreement to work together instead of against each other. For example, the Mini Olympics' Wyn Kern helped run the races over the weekend at Daytona, alongside MX Sports' Tim Cotter, who was on hand at the Mini O's, too. (And here's where I throw in the full disclosure part about MX Sports, which runs the Daytona race and Loretta's, being a sister company to us here at Racer X).
Personally, I'm much more involved in the pro scene, and I haven't even been to most of these big amateur races so I really can't comment on most of them. But, I have been at the Daytona race for the five years it has existed, and I can certainly comment on the impact of the Majors idea. For the first four years, the event grew steadily, but it was lacking a certain punch. Now it's really catching on.
Hard to believe it took even five years, since this race was immediately backed by two of the biggest names in racing—Daytona and Carmichael. The concept was sound from the start: race in Florida during the winter, get to watch the pro race on Saturday, get to brag to your friends about competing at the World Center of Racing, pit out of NASCAR garages, all that. But, the biggest names in amateur motocross weren't always racing it—because they were being stretched all over the place trying to decide which of these four big spring races to visit. This year the field seemed healthier, not just in pure rider count (the 1250 entries is like triple what it had at the inaugural 2010 event) but in talent. Aaron Plessinger might be the hottest property in amateurs right now, and he rode his Yamalube/Star Racing Yamaha machine to the 250 and 450 Pro Sport titles. Kawasaki Team Green and KTM's Orange Brigade sent most of their big names to Florida—heck even the "Bakersfield Bunch" of California minicycle stars like Jett Reynolds, Stilez Robertson and Ryder Difrancesco were on hand. The real tipping point would have been the mighty GEICO Honda program, but Jordon Smith and RJ Hampshire are both out injured at the moment. I contacted a source within the team and he thinks they probably would have raced Oak Hill and not Daytona, though. I heard that just today, Plessinger met up with reinforced comp at Oak Hill including returning-from-injury Team Green rider Chris Alldredge and TLD's Justin Hoeft. It's still hard to say who will show up where.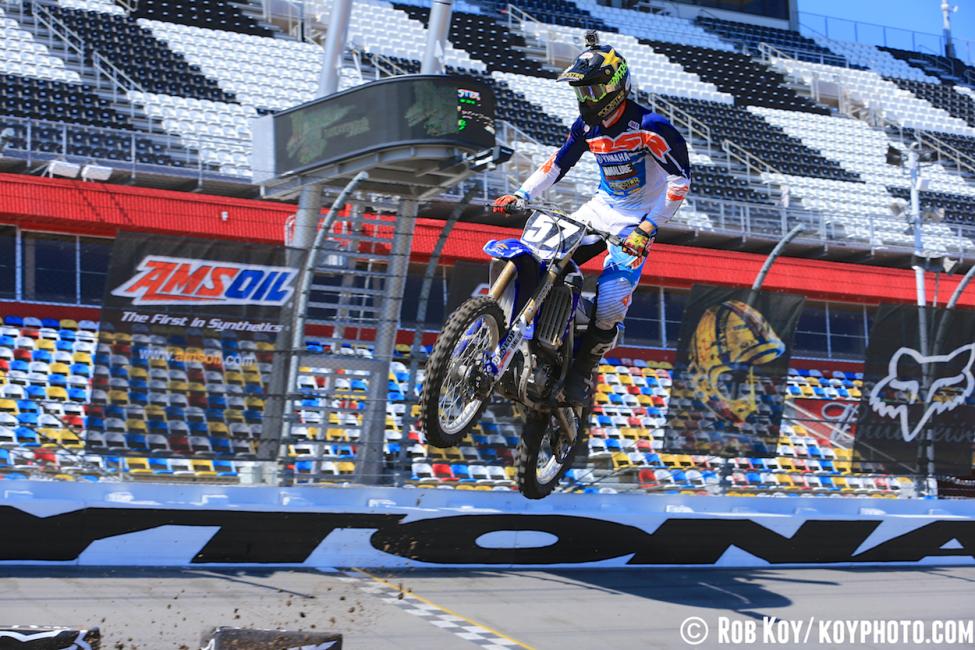 Of all of these races, it seems like the Freestone event might be the one that gathers the largest collection of high profile talent, and we'll know for sure when it starts next week. But it's clear the landscape is changing all the time. It's logistically possible for a rider to compete in all four big spring events: start in Alabama, go to Daytona, then race the Texas two-step in Oak Hill and Freestone, but that's a lot of time on the road, kids.
Anyway, who shined at this year's Monster Energy Ricky Carmichael Amateur Supercross at Daytona this year? Plessinger's double Pro Sport wins were probably the highlight. Team Green's Nick Gaines put it to him in one of the heat races, but crashed out of the first Pro Sport main, which also prevented him from racing the other class. Team Green did get a win from Zach Commons in the new 250 A/B All Star class. That class is designed to let B riders test themselves against A talent without ruining their B status. The test worked for KTM's Alexander Frye, who ripped a B class and Schoolboy title and took second in that All Star race—he beat all but one A rider. Very impressive.
In minis, there's just something about Austin Forkner on a supercross style track—he killed the Monster Energy Cup Supermini race the last two years and was pretty much unstoppable in Supermini here. There's actually a rider in Supermini developing bigger buzz, though: female sensation Hannah Hodges. The MAVTV Lucas Oil Farren Racing Suzuki rider is drawing a lot of attention for her speed and riding style—she can mix it up with the best of the boys in her age group. She might have had a top-three finish in Supermini had she not crashed, and even after she did she ripped back through traffic for eighth. She also won the Women Amateur (12+) by over a minute. That's not a typo.
In 85s, Broc Papi and Jalek Swoll battled all day long and split a bunch of titles—they put on some of the best races of the day. However, the absolute best battles were produced by the oldest and youngest contenders of all. In 51cc (4-6), Kyler Rohm and Mason Tucker were glued to each other all the way until Tucker got stuck in a rut in a way only a 50 can. Then the two old guys, 50-year-old Earl May and 47-year-old Barry Carsten dueled nearly every time they were on the track. I'm talking side-by-side for multiple laps! They battle like that every year at this event. In the 40+ A main, May went down (while they were side by side) which ended the battle after a few laps. But man, it was good until then, and they'll be back to battle again next year.
But at this point the likes of May and Carsten are just chasing contingency money and such—they don't need to prove themselves to anyone. For the younger set, they're just trying to go where the most people will notice them, and there are a lot of places to do that this time of year.