Daytona International Speedway
Daytona

,

FL
Daytona
Monster Energy AMA Supercross Championship
When Chad Reed crashed at the San Diego round of the Monster Energy Supercross Series, I had a pretty strong inclination that it was the last we would see of him until summer. Lying in the hospital bed, he was pretty sure he was injured more severely than the initial scans were showing and unfortunately he ended up being correct. The week leading up to the Dallas SX, he was certainly doing everything in his power to try to compete but I also think the wheels in his mind were turning, contemplating a replacement rider. Knowing Chad, he would only be interested in a replacement rider that had the potential to run up front. He had to be a high profile guy that will interest sponsors and excite fans. Also, Chad has made mention that he plans on hiring a full time second rider in 2015 so it would be a great opportunity to get a feel for that different scenario.
The circumstances that led to the pursuit of Dean Wilson were both fortunate and unfortunate, depending on your perspective. For Dean, he had just tossed away a race win and a legitimate chance at the 250SX West Region title by crashing out of the lead in San Diego. For Chad, Dean's crash made him a viable option as there was no longer a championship at risk. Had Dean not crashed in San Diego, I don't feel that Mitch would have let Dean take the opportunity. So on a night in San Diego when both riders would crash out of contention, the crashes themselves led to this Dean Wilson/TwoTwo Motorsports partnership. Funny how things work sometimes.
Dean's first race was in Indianapolis and while it surely wasn't a disaster, I don't feel it was what anyone necessarily wanted out of the weekend, either. Dean was nervous and rode tight all day and then was collected in a first lap crash that put him near last place. He was able to claw back to 10th by the end of the race but I'm sure he was anticipating another chance seven days later. He would head back to his Florida house and ride at Reed's compound in preparation for Daytona. Chad always builds a unique, hybrid style Daytona replica track. It is very close to what the race track will offer and makes testing and riding very productive. With parts of the standard supercross track used along with brand new sand sections, 20 laps there is a good fitness test. From the sources I talked to, Dean was able to put 20 fast laps in during the week without an issue.
Based on that info, one would think that the main event on Saturday would be no different. There are, however, a few other factors to be considered.
Dean came out swinging in Daytona, taking the pole position in timed qualifying. This was quite an eye opener for many naysayers but practice is practice and once the racing begins, everyone forgets. For those who forgot, Dean reminded them by besting James Stewart in his heat race, leading every lap and refusing to buckle under the pressure of the legendary two-time champion. There was no denying it, Dean just went out and showed speed, poise under pressure and a complete lack of intimidation. Of course, everyone in the 15 camp was hoping for a great main event result, too, but that heat race win went a long way towards validating this 450 campaign.
The main event started much like the heat race. Dean grabbed the holeshot but this time, another legend in Ryan Villopoto jumped into the lead. Dean tried to lock onto the #1's wheel, and did for a lap or two, but RV was on another level. For Dean, though, he was doing what most thought he wouldn't. He was holding strong in second place ahead of both Ken Roczen and Ryan Dungey. Sure, he wasn't exactly gapping them, but they weren't applying too much pressure either. He looked like he was appropriately in the top three mix. As the laps went by, Dean looked solid but Ken and Ryan were also getting antsy behind the part timer. Everything was going great… until the 15 lap mark.
Whether his arms pumped up, his heart rate spiked, he cramped up, or he got nervous, the result was the same. Dean slowed between 2-5 seconds per lap until the finish and in the process dropped from second place to seventh place. Visually, everyone could see him laboring to just make it to the checkered flag and if you were in a Discount Tire/TwoTwo Motorsports team shirt, it was a painful sight. After 15 glorious laps, the bottom was falling out right in front of their eyes. Seventh place is not the end of the world but it certainly was a letdown for what they had their sights on.
Dean has since said that he had arm pump and couldn't hold on to that pace, nor the handlebars. While I believe the arm pump plea, I think that there were a few more factors in play. First, I think the pace he had been pushing was higher than he is accustomed to. He was being chased by two of the best riders on the planet and was holding them off for 15 laps. Keep in mind that until two weeks ago, 15 laps was the key number. Every training session, every moto, every thought was geared towards being absolutely unbeatable for 15 laps. It may sound simple, but it's actually simply impossible to add five laps onto your peak performance in two weeks. By the way, Roczen came out in the 450 Class as a guest rider last year and also ran hard early before tightening up down the stretch.
Also, Dean was dealing with mounting podium pressure. To come out at his second 450 race, at Daytona nonetheless, and land on the podium would have been monumental. No one expected that but it was becoming more and more of a reality as the laps wore on. At this point, Dean's mind became his worst enemy. Any thought other than maintaining his rhythm, breathing and thus his lap time was detrimental. The thoughts of "Am I really going to do this?" started to come, and the loose riding he displayed all day and night was gone. He was just trying to salvage what he could at that point.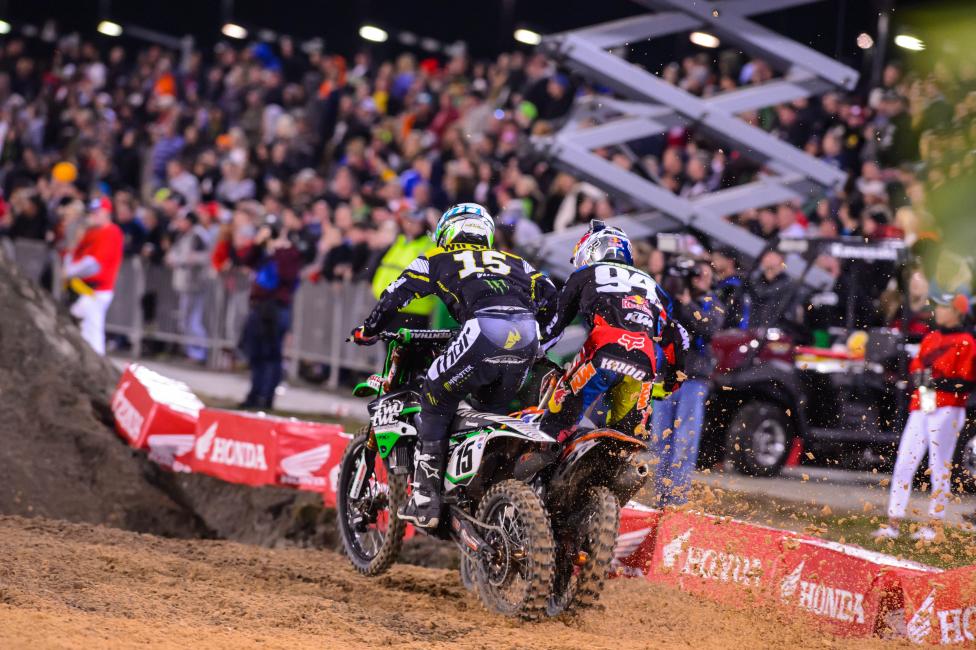 All in all, I think that Daytona was an overwhelmingly positive night for both Dean Wilson and the Discount Tire/Two Two Motorsports team. They qualified first, won their heat race and rode in the runner up position for 75 percent of the race. Had someone offered Dean or Chad that option on Friday, I have a strong feeling they would have taken it. It was a strong statement for Dean's 450 capabilities and also great publicity for Chad's team and sponsors. For a replacement rider scenario, it was still a very good outing. It showed prospective riders that the bike is very capable, not only for Chad but also for someone with little 450 supercross experience in Wilson. For Dean, it showed many teams that he could indeed ride with the best 450 riders in the world and on one of the toughest tracks nonetheless. The last five laps were tough to watch, no doubt, but the pros outweighed the cons.
They say that numbers never lie, but in this particular case, the result is a bit misleading. Dean was better than the seventh place that he put on paper. Factory teams hire riders that are capable of winning and landing on the podium. Period. Dean showed that ability Saturday when many questioned it and come 2015, I don't think those same doubters will be able to question it any longer.