Indianapolis, IN
Indianapolis
Monster Energy AMA Supercross Championship
BTO Sports is your number one source for all of your motocross parts, gear, accessories and apparel. BTOSports.com is a motocross company who is truly dedicated to the sport and to the customer. Proud sponsor of your Racer X Podcasts and the BTO Sports race team.
Right as Ryan Dungey took the halfway flag at the Indianapolis Supercross we were officially at the halfway point of the 2014 Monster Energy Supercross Championship. And at that point, things were quite sideways. The points leader was barely inside the top ten, second place in points was tenth and third place was thirteenth. It was that kind of night in Indianapolis. Let's take a look at it some more in this week's BTOSports.com Observations from Indianapolis.
Something that hasn't been talked about much is the fact that in the last five years or so, most supercrosses have lost their identity. The dirt in every city is usually in good condition nowadays—the use of lime to dry out the dirt, the storing and hauling procedures—whatever it is, has improved things.
Back in the day dome cities like Indianapolis, Atlanta, Pontiac (or Detroit this year) and St. Louis had dirt that was soft and rutty. Not any more, though. The dirt you see in Atlanta is pretty much the same as St. Louis or Phoenix—usually hardpack and sometimes dusty by the end of the night. Some of this has to do with bringing in a base and having monster trucks run over it a week or two before supercross comes to town, and some of it has to do with the stuff I explained in the previous paragraph. Like Daytona losing its speedway pavement crossing, tracks not going into the stands anymore, moving away from the L.A. Coliseum and Grandma not bringing apple pie to Thanksgiving dinner anymore, things change and you adapt.
Well, Grandma's pies were back this weekend! The NFL had its annual draft combine in the Lucas Oil Stadium right before the supercross, so the track crew got a late start in hauling the dirt inside for the race. And at this time of year in Indianapolis, the dirt is pretty frozen and/or wet. Once inside the building, the dirt started melting. Without the normal number of days to dry out, the track broke down on race day like we haven't seen in a number of years. It was very soft and very rutty and riders were having trouble clearing the jumps. Yes, you read that right. It was very exciting to watch the world's best riders struggle with something as simple as a finish line jump.
I thought James Stewart summed it up best after he set the best time in practice, saying: "It's been a long time since the best riders in the world looked like squirrels." Personally, I liked the race. It was exciting and riders making mistakes is cool, but then again, I'm not the one closing my eyes, saying a small prayer and launching a triple while my feet are being pulled off the bike.
I said before the race that I thought Ryan Dungey would do well on this track because he doesn't make a lot of mistakes, he's in great shape and he can put together consistent laps. And that's exactly what he did as he grabbed a great start and led fifteen laps on his way to his first win of the season. Now a guy that was out of this thing not that long ago moved into second in the points. Ryan Dungey can never, ever be counted out, I suppose. Dungey's had a quiet season as we've marveled over Ryan Villopoto and his three straight titles, Stewart's speed, Reed's resurgence and even his teammate's results. But, let's not forget about Dungey here.
I think Ryan's weaknesses (and I use that term lightly here, he's better than 99.9 percent of humans in every racing category) are outright speed, hanging it out and whoops. But his strengths are that he's just so damn solid. Those weaknesses I just spoke of are still better than nearly anyone, and a lot of times, people (and I include myself in this group) are sometimes just too focused on what he's not than what he is. At Indy he was great and with Reed's injury and Stewart's two poor races in a row, maybe Dungey will prove to be Villopoto's greatest threat for the title as we get down to the end. Ryan's speed through the rutty whoops (they weren't really whoops anymore, more like a mud bog) was impressive. He would slow down in the turns before to make sure he went far inside or outside and then pin it once he was straight and set.
When you're a three-time supercross champion, it's races like Indianapolis that win you titles. Ryan Villopoto found himself on the ground in the first turn and it could've been disaster for him (clearly he's living right, though, as the second and third place riders were also down with him in that turn) but he fought hard to get to a fourth. He had many close calls, but usually just pinning it worked out for him. Villopoto had a terrific race and although it's the wins that get talked about, its rides like this that have given him that number one plate three years in a row.
We've talk about Justin Barcia and his not-so-good year (Barcia was out this week with a knee injury and should be good to go for this weekend's Daytona SX) but it's also been a bit of a struggle for GEICO Honda's Eli Tomac. The current 250MX champion and former 250SX champion was the hottest guy last year when it came to silly season, but an injury at the first round delayed his full-time start this year. And since he's come back, there've been little flashes here and there but more "Huh?" and "What's up with him?"
This week we saw a much better Tomac throughout the day and he went on to get a career-best second place in the main event. Tomac is a hang-it-off-the-back-and-pin-it type of rider so one would think the ruts and gnarliness of Indy might bite him, but instead he really rode well. Why the sudden change in Tomac's fortunes? Last season when he rode the 450 he was plenty fast but didn't get the starts or finishes that he wanted until he switched to a more production-based bike for Daytona. It was there that he got his (until now) career best finish. And guess what? This week Tomac was again back off a full-blown factory bike and onto something much closer to what his teammate Wil Hahn runs.
There appears to be something about the full factory bike that just doesn't gel with Tomac. Most riders in the world (99 percent of them actually) would love a factory Honda bike, but for Eli it didn't seem to be working. I have a hard time thinking that this was a one-off "lucky" race for Tomac, and I don't think he will go back to his struggles in Daytona. Nope, I think he'll be better from here on out and kudos to Tomac, factory Honda and GEICO Honda for not caring about anything other than getting Tomac the best finishes he can get.
So what's the difference in bikes? Well, lots of small things but from what I can tell it's different front and rear suspension components, probably some different frame modifications and maybe a swingarm or something like that. Factory teams use frames and swingarms from different production years to make a "super bike," if you will, and from what sources tell me, Tomac's bike is way, way more of a 2014 production bike than it is a factory bike.
Guess what? Silly season stuff is heating up! I've been talking to agents, riders, gear guys and there is definitely a lot of talk out there. With so many riders' contracts up (Villopoto, Reed, Dungey and now Stewart are about the only guys in 450SX that are locked in) there are truths, half-truths and flat out lies being thrown around. So what do we know? Well, as far as facts go, not much because people aren't going to go out and comment on these things but here are the solid rumors I've heard in the pits. All of the riders' current teams have the right to match an offer, so nothing's official until the team that holds the rider's current contract sees the entire "new" contract, but many times teams that are capable of matching offers don't because they feel like if the rider wants to go, then he should go, rather than forcing him to stay somewhere he doesn't want to be anymore.
These are all solid enough that I'm comfortable to put them out there.
Kenny Roczen to RCH Suzuki. This one looks very solid in talking to some sources. Roczen will bring Red Bull with him.
Justin Barcia to JGR Toyota Yamaha. I think this has a good chance of happening. Both sides seem to want to make it happen.
Eli Tomac has a rider option for 2015 and although it would seem hard to believe, I have heard his name being floated out there.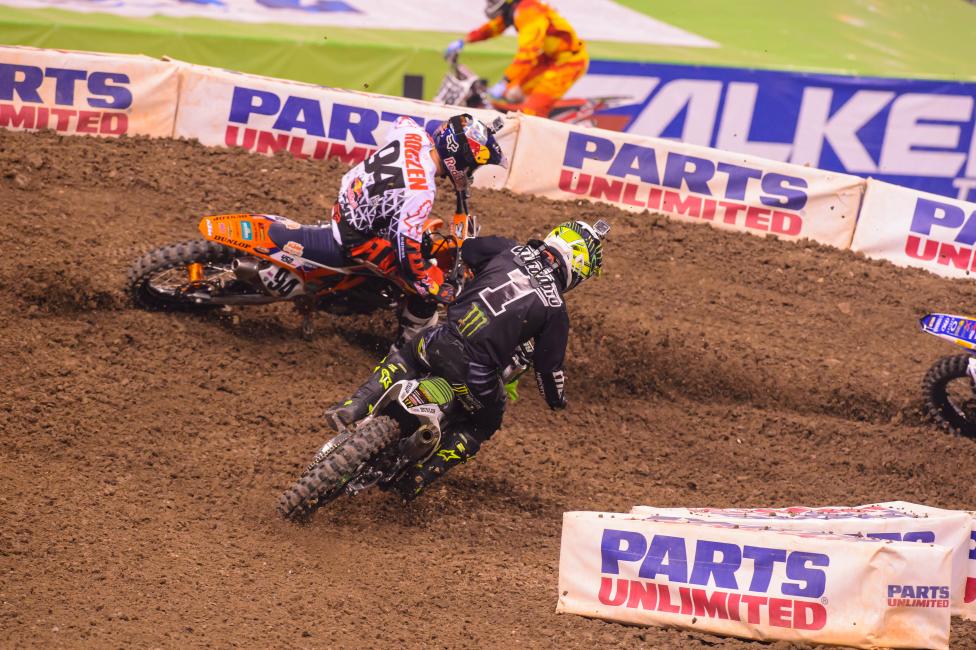 Justin Brayton's deal is up and I heard that Kawasaki is talking to him to be teamed up with Jake Weimer. It's hard to see how JGR wouldn't buck up and keep JB10 as he lives in and loves North Carolina, but he is in for a raise. I've also heard the JGR guys want to see how he does in the Nationals.
Dean Wilson wants to move to 450s full-time (again) even though I believe he will be eligible for 250s again. I think he'll end up at KTM replacing Roczen, although I think Discount Tire/TwoTwo Motorsports will obviously be in there trying to get him.
Jason Anderson and Cole Seely are battling it out for the Western Regional 250SX Championship, but they're also both being shopped for full-time 450 rides.
Ok, let's take a look at the results shall we?
250SX Results
1 46 Adam Cianciarulo Port Orange, FL Kawasaki KX 250F- The kid won again. That's two out of three and like last week when he had to overcome an issue (going to the LCQ), this week he tipped over in a corner shortly after getting into the lead and had a few guys breathing down his neck. Then he calmly got up and stretched his lead back out to a comfortable level on his way to the win and extend his points lead. Oh yeah, he busted out a quad in the main that was sketchy and was the only guy to do that. Earlier in the day I was talking about Heath Voss and World Supercross titles with him and afterward we were laughing about how Alan (his dad) wasn't happy with the win because he was slow in the whoops.
2 31 Martin Davalos Cairo, GA Kawasaki KX 250F- On one hand I feel for Davalos, who was again the fastest guy out there (even Cianciarulo admits that he doesn't have Martin's speed right now) but crashed when he hit a huge plywood spot on the track and spun wildly out of control and off the track while leading. But on the other hand, twenty-one other riders hit the same spot and although there were sketchy moments for some of those guys, only Davalos went flying off the track. That's the stuff that happens to Martin! It always has, except for last week, and it just might always happen to him. Still, he's hella-fast this year.
3 32 Justin Bogle Cushing, OK Honda CRF 250- Two straight podiums for Bogle and that's not perfect for him, but hey, it's better than a poke in the eye with a dull stick. He's riding well, but as it sits right now, AC and Davalos are clearly better than everyone else in the class.
4 96 Matthew Bisceglia Weatherford, TX Honda CRF 250- The season hasn't started out like "Mike" and his team wanted it to and an Indianapolis crash sent him to the LCQ where he took the win. From there he ran third in the main for a long time before taking this fourth. It was an impressive ride for the rookie and one he can build on from here. We've been waiting to see how he can do, but crashes in one race and a bike problem in another left him in a deep hole. At least with this finish "Mike" grabs enough points to make it back into the seeded practice next week.
5 4 Blake Baggett Grand Terrace, CA Kawasaki KX 250F- Mitch Payton told me that Bones Bacon, ace suspension guy for PC, went out with Baggett this week and worked with him on his starts. Well, it's back to the drawing board this week because Blake cannot keep giving these guys the jump like he's been doing.
6 42 Vince Friese Cape Girardeau, MO Honda CRF 250- Friese pulled the holeshot in the main event and had another solid finish.
7 56 James Decotis Peabody, MA Honda CRF 250- Decotis had a solid night and was helped (like Friese) by getting a good start and laying down some fast laps before the track just went to poop.
8 78 Matthew Lemoine Pilot Point, TX Kawasaki KX 250F- It's always a good race between Lemoine, Decotis and Friese on who can do the most with the least. Like Leib on the West, though, I just think Lemoine should've stuck to the 450 like last year.
9 52 Cole Thompson BRIGDEN, Canada KTM 250 SX-F- Thompson was just okay. I'm sure he wanted better, but what can you do?
10 30 Kyle Cunningham Aledo, TX Honda CRF 250- A solid finish for Cunningham who came from eighteenth to this result.
11 55 Alex Martin Millville, MN Yamaha YZ250F- For the second week in a row, Martin was off the track and riding around in between the lanes. This is never a good indicator for main event success by the way.
12 47 Kyle Peters Greensboro, NC Honda CRF 250
13 62 Mitchell Oldenburg Alvord, TX Honda CRF 250- All Mitchell Oldenburg does is go out there and put in good finishes. Oldenburg went 10-10 in the first two races and then he was the absolute last qualifier in the LCQ. So things were bleak for Oldenburg fans at this point. But look what he did!
14 57 A J Catanzaro Portland, CT Honda CRF 250
15 60 Jackson Richardson Wildomar, CA Honda CRF 250- Richardson is NOT from Wildomar, California, like the AMA sheets say he is. He's from Australia. The more you know…
16 99 Justin Starling Deland, FL Honda CRF 250
17 620 Brad Nauditt Colbert, WA Honda CRF 250- This Washington State rider, who spends his summer racing the Canadian Nationals, and is for some reason racing the East Coast, made his first main of the year.
18 410 Jace Owen Mattoon, IL Honda CRF 250- Owen was again fast in practice, but to me it looks like he gets a little tired in the main events. But then again, this week's track tired just about everyone out.
19 19 Jeremy Martin Millville, MN Yamaha YZ250F- Well the good news is that Martin made his first main of the year. The bad news is this championship contender got a terrible start and then crashed on the first lap. Then he may or may not have crashed again and called it a day after that. I haven't seen a start this bad since the Chevy Chase show went live. Google that, kids.
20 36 Blake Wharton Beaumont, TX Honda CRF 250- Poor Wharton. He ate poop once really good, but to his credit he got up and continued. Then he crashed two more times and finally said "No mas." I was thinking about Wharton on Saturday as someone asked me who was good and bad in interviews. Wharton may not really answer the question you asked him but he's always a great interview. Very worldly guy and has a good take on things.
21 977 Paul Coates Cairo, GA Yamaha YZ250F 10 Laps- I don't know anything about Paul "Winter" Coates but I can guarantee you that he's not born and raised in Cairo, Georgia. [Editor's note: He's a Brit.]
22 49 Gavin Faith Fort Dodge, IA Honda CRF 250 4 Laps- Crashing sucks.
450SX Results
1 5 Ryan Dungey Belle Plaine, MN KTM 450 SX-F
2 3 Eli Tomac Cortez, CO Honda CRF 450- We're nine rounds in this season and I'm really sorry, but I just can't embrace this Alpinestars gear look. I've seen about one set that I like.
3 21 Cole Seely Lake Elsinore, CA Honda CRF 450- Honda reached out to Seely to ride Trey Canard's bike and looky here, it paid off big time. Whether or not Justin Barcia was going to miss the race or not, Seely is locked in for what I was told is four races. And in the chaos of Indianapolis, Seely rode twenty solid laps to get his first podium in the 450SX class.
4 1 Ryan Villopoto Seattle, WA Kawasaki KX 450F
5 20 Broc Tickle Holly, MI Suzuki RM-Z450- Tickle's always good at Seattle and he's good in the sloppy stuff, so when you combine those facts with the fact that Tickle's brought his game up to another level lately, this finish isn't that surprising.
6 29 Andrew Short Smithville, TX KTM 450 SX-F- Short had a terrible practice. It was so bad that KTM's Roger DeCoster went over to ask him if he was okay! Short changed triple clamps, a front tire, and gearing during the day (who does he think he is, Nick Wey?) and it paid off with his best finish of the year. Weird how that works, huh?
7 7 James Stewart Haines City, FL Suzuki RM-Z450- On the Pulpmx Pre-Race Pulpcast, we all talked about how Stewart looked so good in practice and some of us liked him for the win. But the first-turn melee ruined that for a lot of dudes. After he got up he was decent as he was twenty-first after lap one. But, I don't know, I thought he would get up there faster. Call me demanding, I guess.
8 10 Justin Brayton Cornelius, NC Yamaha YZ450F- Brayton had food poisoning on Friday night so he struggled all day long (I bet a lot of guys would love to "struggle" to an eighth, right?) so this spot is pretty good all things considered. Jason Weigandt was not at Indy, otherwise I'm sure he would've volunteered to do a blood transfusion or anything else JB10 needed to feel better. [Editor's note: I would have offered him any kind of fluids that he needed. TMI?]
9 75 Joshua Hill Yoncalla, OR Suzuki RM-Z450- Great ride for Hill in Indy, as he was dead, dead last. Lot's of riders tell you they were dead last at different times when there is actually one or two guys behind them, but with Hill, he was DEAD last. He's a Pacific Northwest guy and is probably a bit more comfortable on the type of dirt we saw at Indy. Twenty-second to ninth? Yeah, that's pretty sweet and for the second time this year Team RCH has two riders in the top ten.
10 15 Dean Wilson Wesley Chapel, FL Kawasaki KX 450F- Wilson's debut in the 450SX class was a wash. He was tenth fastest (pretty good) but he fell in the first turn (pretty bad). From there he did well to get back up to tenth. But let's face it, it was survival mode out there. His team owner Chad Reed did tell me that Dean went from his new settings he tested with during the week to Chad's identical setup after the second practice.
11 23 William Hahn Menifee, CA Honda CRF 450- Hahn told me that he thought he could've made the podium had he not fallen. And he was looking good with his lap times but then he crashed and we'll never know. Hahn's been good this year, better than I thought.
12 33 Joshua Grant Corona, CA Yamaha YZ450F
13 27 Nicholas Wey Murrieta, CA Kawasaki KX 450F- Wey made some bike changes (no, hear me out) that actually paid off. His starts were back this week and he tied for his season best finish at Indy. He was also one of the better riders (that I saw) through the sand section as he would jump all the way in and out pretty consistently.
14 68 Chris Blose Phoenix, AZ Honda CRF 450- Blose got a fourth-place start which is good. Getting pushed back to fourteenth probably doesn't make him too happy but it's still a good finish for the privateer doing the most with the least.
15 800 Mike Alessi Hilliard, FL Suzuki RM-Z450- This finishing position for the 800 isn't indicative of how well he rode. His starts are back and with that comes improved results from the start of the year. Alessi should be in the news this week for the right reasons, as he won his heat and then was second for a long time after giving up the lead on lap five. Tomac had nothing for Mike whatsoever and he was looking really good for his second career 450SX podium. But then disaster struck on lap twelve and he went down. Huge letdown for Mike and his team but he was very good until the crash.
16 11 Kyle Chisholm Valrico, FL Yamaha YZ450F- Chiz, like a lot of other guys, crashed in the main and it hurt him out there. He also had to ride the LCQ, which didn't help at all. I've been telling you guys that Kyle's been better lately, and he has been, but at Indy his night was just so-so.
17 77 Jimmy Albertson Shawnee, OK Honda CRF 450- I asked Albertson to describe his night and he replied with, "Two words, Steve…Women's Endurocross…That was my night in a nutshell."
18 374 Cody Gilmore Blair, NE Kawasaki KX 450F- First main event of the year for Gilmore who probably holds the record for biggest side plate numbers in history. Good guy, good result and good to see. Got it?
19 415 Nicholas Schmidt Riverside, CA Honda CRF 450- The Milestone Assassin made his second main event in as many weeks after missing out on four. Schmidt's got that hair out the back of his helmet like Mike LaRocco in 1990 so I'm sure the Indiana crowd was pumped on him.
20 606 Ronnie Stewart Easton, PA Suzuki RM-Z450- I believe this is Stewart's first ever supercross main event. And he was very happy when he qualified after finishing second in the 450SX LCQ. Good to see a guy be like that. Makes my icy and cynical heart warm up a little.
21 94 Ken Roczen Murrieta, CA KTM 450 SX-F- Roczen was following RV through he pack a couple spots behind when he drug his pegs off a triple and ate poop. All year long we've been talking about Kenny and his terrific ability to make the best out of the worst but not in Indy. His DNF knocked him out of the top two in points for the first time all year.
22 40 Weston Peick Wildomar, CA Suzuki RM-Z450 10 Laps- Peick was a solid eighth when he cross-rutted on a smaller triple and ate poop. That was it for The Nihlist, as he was all caught up in his bike and the flagger guy was trying to drag the bike off him the wrong way. Weston's already dealing with an ankle that looks like it has elephantitis so when it's caught in the wheel and a guy is wrenching it the other way, that's not good.
Some other news and notes from the weekend:
- Ivan Tedesco's comeback to supercross has gone pretty well. Not many guys can sit out a year, jump back into supercross and make it work, but he has. But this weekend, the New Mexico born-and-raised rider did not enjoy the ruts and sketchiness of the track. Tedesco failed to qualify for the main event and never really looked comfortable out there. None of the riders from New Mexico that I've hung out with over the years enjoy the ruts. BTOSports KTM's Matt Goerke also failed to qualify for the main, which breaks a nice streak he had going on.
- The 7-Deuce-Duece, AKA Adam Enticknap, a privateer on the Teddy Parks experience had a pretty funny moment in the LCQ when Kyle Chisholm stuffed him for the last transfer spot. This forced Enticknap off the track, which happens every now and then, but Adam took offense to the pass and pinned it alongside the whoops and made the pass back! It was awesome and incredible all at the same time. Unfortunately for Enticknap, it was also illegal. He took the finish line for the last transfer spot but was appropriately docked some spots afterward. Still, it was highly entertaining!
Thanks for reading and we appreciate it. Send me an email to matthes@racerxonline.com if you want to chat about this or anything else.