BTO Sports is your number one source for all of your motocross parts, gear, accessories and apparel. BTOSports.com is a motocross company who is truly dedicated to the sport and to the customer. Proud sponsor of your Racer X Podcasts and the BTO Sports race team.
It was hot and heavy in the Georgia Dome in Atlanta this week for the Monster Energy Supercross Championship. We saw a little bit of everything this week as a vet got the first win of his pro career, a rookie showed that he's got what it takes to win the whole shooting match, and an Alessi making news for all the wrong reasons. Again.
First up, the track. One thing I've definitely learned in life is that you can't make everyone happy with the track (I can imagine anyone from Dirt Wurx who is reading this nodding their head slowly). It's impossible. I hear it each and every week (and I'm a critic of the tracks from time to time as well) from the winners and the losers. How a rider did on a particular night is oftentimes the way a rider feels about a track.
Having said that, I had someone tell me after the race that the track was complete garbage because the riders weren't racing out there. They were jumping through the beat-up whoops, navigating the deep ruts, etc. Simply put: a lot of guys just looked tired by the end of the main event. I couldn't understand what this person didn't like about the track. Would I want seventeen races like what I saw in Atlanta? No way, but I did think the track was really tricky, and that's okay. A double over the start straight was pretty cool and tough to do. The 250SX riders had a ton of problems with a triple coming out of a turn, and the whoops … forget about it. They were big, deep and gnarly. And the composition of the dirt made the track break down big-time, which made it into a bit of a survival game.
As I've said time and time again, I like seeing the world's best supercross racers challenged with an obstacle they can't always do, or in this case, a track that (unintentionally) breaks down and gives them fits. I want variety in my supercross and motocross championships dammit!
Seems like we were kicking off the season not that long ago, right? Well, we're no approaching the halfway mark of the series. And at one point in Atlanta, Ryan Villopoto was leading the race, leading the points, and seemed headed to his third win of 2014, which would be a series' high for the year.
But four laps after the halfway flag, a triple that had confounded so many other riders all day finally got Villopoto. His mistake was Ken Roczen's gain. Roczen sailed past to take his second win of the season and move three points closer to his training buddy.
If Roczen wins this title, in his rookie year no less, we can look to halfway through Atlanta when things started to turn. On a track that was getting nastier and nastier, Roczen just wouldn't budge. Generally speaking, Villopoto combines brutal speed with brutal fitness to form a deadly combination, but in this main event, with a rider on his tail that not only knows what RV does during the week, but actually does the exact same thing, Villopoto couldn't pull away. Call it the irresistible force meeting the immoveable object. Both riders couldn't do anything to pull away—they were equal! It took a big mistake by one to allow the other by.
Fascinating to watch this happen. I know Jason Thomas feels like RV has been too nice toward Roczen out on the track because of friendship, but I'm not there yet. I haven't seen it as much as JT has, but then again, I do know this: This two-fast-guys-training-and-riding-together-thing never works out. Whether it's Stewart/Dungey, Reed/Ferry, Carmichael/Lusk, Stanton/Johnson or whoever, eventually two alpha dogs will clash.
But as far as Roczen, I've been impressed with his two wins (of course) and also that in his bad races, he still gets a good finish. He's consistently consistent and that's the sign of a great rider. He's got speed to spare, he's in shape and he's now only nine points behind Villopoto in this championship. He is also in the last year of his contract. It's good to be Kenny Roczen, folks.
Well he did it. Martin Davalos, long a source of amazement as to how he can be a top 250SX contender for so many years and still be allowed in the class, captured his first career win in Atlanta. And now the critics (raising my hand…) can shut up about Martin not being able to seal the deal. Davalos has been very impressive through the first two races—more so than perhaps at any other time in his career.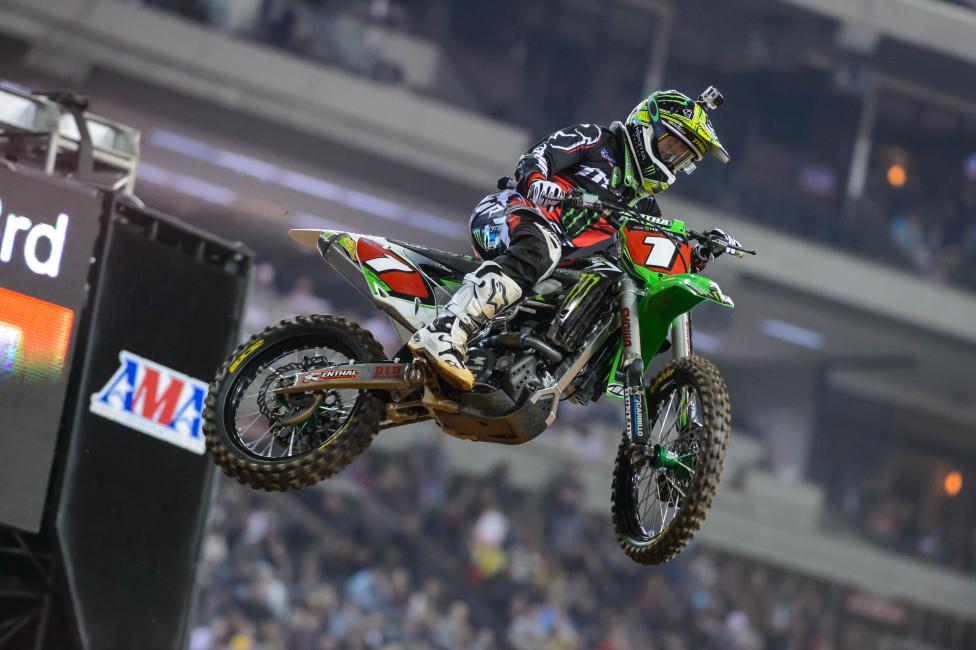 And out of all the races to win, it's cool to see Davalos get Atlanta, which is as close to a home race as he will have, seeing as how he spent his teenaged years living nearby at MTF. I've definitely criticized Davalos (for a long, long time) for not being able to win when it counted, even though he was on good teams with good bikes and, this being the most important, having tremendous skills and speed. But really, is what I said over the years any worse than what everyone else was saying? The TV commentators were even calling him a "Heat Race Hero," which again, is all I've really ever said about the guy. When the pressure has been on and everything looked to be in his favor to win, he's thrown it away. That's all I've ever said and I stand by all of that.
Not anymore. The guy won a race and you know what? He may just win this title as well. And while we're dispensing the roses, how about Monster Energy/Pro Circuit Kawasaki winning the last four races (Dean Wilson, Justin Hill, Adam Cianciarulo and Davalos), with three of those riders all being first- time winners?
It's unfortunate that Mike Alessi's holeshot, laps led and season-high finish of sixth is completely overshadowed by the move he put on Broc Tickle in the heat race. Tickle had been riding very well all day and in that heat race he had stalled his bike while going for second and then worked his way back up to fourth. All this in six laps! Alessi's T-boned Tickle was an incredibly dumb decision on Mike's part and could have hurt Tickle badly. I don't know what Mike was thinking right there. He had no chance of making the pass and his move was 100 percent guaranteed to take both riders down. I have no explanation for it so let's get Mike's words from the Pulpmx Show to try and help us figure this out:
"First off, it's a tough situation and it's unfortunate it had to happen" a contrite Alessi told the audience. "I did not do it with intention to hurt him or to try and take him out. He made a clean pass on me. I came into that corner and I realized that the angle wasn't right and I was screwed. At the point of contact, I tried to turn into Broc to lessen the impact. But I was in the wrong."
I like Mike. He's a good kid, works hard and is incredibly talented on a motorcycle. But the part that I put in bold is, in my opinion, true and false. I think it's true that Mike did not intend to hurt Tickle with his move, but I think it's false that he didn't try to take him out. I think Mike knew it was the last transfer spot and the last lap and he wanted that spot. But because he's not at all a dirty rider, he had no effing idea how to really take a guy out and he panicked. He mentioned on the show that he tried to scare Tickle but his clutch was out. He mentioned that he came in too hot, but that doesn't explain the twisting of the throttle hand. In short, I think Mike made an incredibly bad decision and because he's not good at being dirty, it came off looking bad for him. Luckily, Tickle made the main (although his ribs are back to being sore) and for the most part (like the Barcia/Roczen deal last week) we escaped any real and significant damage.
The AMA fined Mike $4000 and put him on probation for the year. But really, the AMA's probation doesn't mean much (if you do something again, they put you on double-secret probation) and Mike ended even up coming out of the night a few hundred bucks ahead with the purse and the holeshot money. So I get the RCH guys being a bit upset about the fine and the punishment as a whole but Mike Alessi's ultimate penalty in this is that his name is once again in the news for the wrong reasons. And of course, the social media hate that he incurred.
Speaking of which, I like Carey Hart a lot. He's always been a cool guy and I knew him when he lived in his van and raced supercross with baggy gear. It's awesome to see what he's done with his life and he's giving back to the sport with his team. But I didn't like his Tweet during the live broadcast about how Mike is lucky he wasn't in Atlanta or he would "smash" Mike and his father Tony. C'mon Hart, you're a team owner and you can't be basically threatening a rider and his dad after something you don't like happened (although I can completely understand his anger). What if Richard Childress had done this on a NASCAR broadcast? Or Mark Cuban said he was going to fight Kobe Bryant? There would be big penalties from NASCAR or the NBA for that, you can be certain. If I was the AMA I would definitely talk to Carey and find out if there is going to be a problem with the Alessis and the RCH team. Now, I'm 100 percent sure Hart wouldn't actually do anything and that his Tweet was out of anger, but you just can't do that.
Let's take a look at the results while I try to figure out why James Stewart only did three laps in the second practice.
250SX RESULTS
1 31 Martin Davalos Cairo, GA Kawasaki KX 250F
2 46 Adam Cianciarulo Port Orange, FL Kawasaki KX 250F- Well, the undefeated season is history, but the kid impressed me more this weekend than he did last when he won and I'll tell you why: Leading the heat and going down twice forced him to the LCQ. He was wayyyy outside when it came to that race but he nailed the start and won. The pressure was on and he came through. Then in the main event he grabbed the holeshot from the outside again and got a solid second. When the pressure was on, the kid rose to the occasion. That's what champions and winners do. It was a real display of why he's the real deal. Oh, by the way, I just noticed this weekend that he's probably grown six inches in the last year. Seriously, he's almost a giant now.
3 32 Justin Bogle Cushing, OK Honda CRF 250- Nice ride by Bogle to get the last spot on the podium. This is a big year for Bogle and he's got to stay injury-free and ride with the skills that he's clearly got.
4 36 Blake Wharton Beaumont, TX Honda CRF 250- All day long Wharton looked like he was going to pull a "Wharton," which means come out of nowhere and win a race. He was fast in practice and it could've been one of those nights where you're just like, "Huh?" after Blake wins. But it just wasn't to be on this night, but it was better than last week.
5 4 Blake Baggett Grand Terrace, CA Kawasaki KX 250F- Baggett got a terrible start and officially came from thirteenth to this finish. He was tangled up coming out of the gate and was pretty much last off the start. It's tough to win when your two main competitors are always good starters. Baggett's supercross skills are written off by people in the pits WAY too easily for my liking. Like Dean Wilson, winning a 250MX title makes you a guy to contend with, I don't care where you're racing.
6 42 Vince Friese Cape Girardeau, MO Honda CRF 250- A very nice start to the series for Friese. A fourth and a sixth in the first two races is strong. Good for him.
7 56 James Decotis Peabody, MA Honda CRF 250- Decotis had a good race coming through the pack. I spoke to Jimmy after practice and he was going to go meet with some of the Feld Motorsports folks about some social media posts he made about the 250SX purse money. I guess the talk went pretty well because Jimmy was obviously feeling good in the ATL.
8 52 Cole Thompson BRIGDEN, Canada KTM 250 SX-F- Thompson was eighteenth after the first lap so this finish is more than respectable after last week's strong sixth. Cole should be pumped on this ride because on a track that was tough, he was moving forward at the end of the race and got Lemoine and Oldenburg on the last lap. That had to be extra sweet, as did waking up the next morning and seeing Canada had beaten Team Sweden for Olympic gold in men's hockey.
9 78 Matthew Lemoine Pilot Point, TX Kawasaki KX 250F- Good finish for Lemoine, who was on his way to a top ten last week before having a bike problem. This week he was again in the top ten and finished there as well.
10 62 Mitchell Oldenburg Alvord, TX Honda CRF 250- On the Fly Racing Moto:60 Show presented by N-Fab last Thursday at noon PST on Pulpmx.com (PLUG!! PLUG!!! PLUG!!!), Racer X's own Chase Stallo told us that Oldenburg's tenth in Dallas was no surprise, and that he was the real deal. There you have it, Stallo called it.
11 88 Jesse Wentland Elk River, MN Honda CRF 250- A couple of good rides from Wentland to start off the East. Wentland, Oldenburg, Lemoine and Decotis are definitely privateers racing against the big boys. It's interesting to see these somewhat no-name guys getting in there and mixing it up with the big names.
12 30 Kyle Cunningham Aledo, TX Honda CRF 250- Not a good start to the Eastern Regional 250SX series for the talented Cunningham. I'm not really sure what happened in the race though, because Kyle wasn't allowed to talk to me after the race per Team MotoConcepts orders. But I think after talking to team owner Mike Genova about this, I'm once again okay to talk to the team riders. Don't ask, it's long story. Back to Cunningham; he'll get better.
13 57 A J Catanzaro Portland, CT Honda CRF 250- AJ wears X Brand goggles and as some of you may know I do the service for them on the weekends to help pay my travel from race to race. So I give the riders their goggles in zip-lock bags marked "Heat and LCQ" because, hey, you never know, right? AJ texted me and told me to not put LCQ on the bags because that's bad luck and he hopefully doesn't need to ever go to the LCQ. So what happens this week? He goes to the LCQ before he makes the main. And he had fresh goggles for that race. So, yeah, just saying…
14 99 Justin Starling Deland, FL Honda CRF 250- Starling missed the main last week after crashing in the heat, so this finish is pretty good, all things considered.
15 533 Gannon Audette cairo, GA Kawasaki KX 250F- With Oldenburg (originally from Minnesota), Alex Martin, Wentland, and now Audette, the state of Minnesota had four riders in the main event, which is the most from any state in the 250SX main event. Who would have ever thought that? All hail D-23!
16 55 Alex Martin Millville, MN Yamaha YZ250F- Martin was eighth and then somehow ended up off the track and way back. So he did what he could to get this finish. Rough night for the Martin brothers and when you combine this night with the fact that father John had to ride a Can-Am in the woods for years, well I wouldn't wish the Martin family luck on my worst enemy.
17 49 Gavin Faith Fort Dodge, IA Honda CRF 250- Bad night for Faith. Not sure what happened.
18 410 Jace Owen Mattoon, IL Honda CRF 250- Owen was leading his heat for a bit before crashing out. He had to go to the LCQ to make it to the main and once there it looked like all the laps were getting to him and tiring him out a bit.
19 79 Ryan Zimmer Fuquay Varina, NC Honda CRF 250- Zimmer made the main event with no graphics on his shrouds. I like it. Just sponsor-less and proud of it. The only thing that would've been better was a bobcat and "Me" on the shrouds.
20 267 Anthony Rodriguez Cairo, GA Yamaha YZ250F- A-Rod has been pretty impressive through the first two weeks but he has crashed a lot. Unfortunately for him, he crashed again in the main this week and broke his collarbone. Combined with Jeremy Martin's poor start, Yamalube/Star Racing Yamaha is not off to a good start on the East.
21 96 Matthew Bisceglia Weatherford, TX Honda CRF 250- That's two career 250SX races for Bisceglia and two DNF's. Last week it was a brake problem, but this week it was crash problems for the rookie. But the good news is that he's two points up on Jeremy Martin!
22 47 Kyle Peters Greensboro, NC Honda CRF 250 DNF
450SX RESULTS
1 94 Ken Roczen Murrieta, CA KTM 450 SX-F
2 1 Ryan Villopoto Seattle, WA Kawasaki KX 450F- RV didn't have a very good practice, perhaps the worst one of the year, but the Kawasaki guys were trying out a linkage and a shock among other things so they weren't worried at all once the races began. And it looks like they were right.
3 5 Ryan Dungey Belle Plaine, MN KTM 450 SX-F- Solid night for Dungey as he was right there the whole way. If RV or Kenny made any sort of big mistake, Dungey would have gotten them. He finished twenty seconds in front of Hahn, so clearly he was much better than everyone not named "Roczen" or "Villopoto".
4 23 William Hahn Menifee, CA Honda CRF 450- A career best for Hahn in the 450SX class and a great ride by him. In the heat race he caught Stewart quite a bit. Not sure if it was James slowing down or what, but it was impressive. He was very fast in the whoops too. Heck, he was very fast everywhere. Good to see him rebound from an injured hand a few weeks back. He's riding at Kevin Windham's place and I'm sure having a blast with KW. It shows in this finish and Lord help us as Hahn lines up every single media outlet for interviews this week. Not because he's egotistical, but because he just likes talking.
5 10 Justin Brayton Cornelius, NC Yamaha YZ450F- Predictably, JB10 was great in the whoops and after a poor race in San Diego (for him) Brayton has rebounded with two top fives in the last two races. Not too shabby at all.
6 800 Mike Alessi Hilliard, FL Suzuki RM-Z450
7 20 Broc Tickle Holly, MI Suzuki RM-Z450- Again, it must be noted just how good Tickle was all day. In that heat race with Alessi he was moving up, stalled, went back to eighth and then zoomed back to fourth. All day long Tickle was great and probably the best we've seen him, to be honest. Let's see if he can use this to get better each week.
8 40 Weston Peick Wildomar, CA Suzuki RM-Z450- Peick went down in practice pretty hard and went limping off. Then he went out and got eighth in the main followed by him Instagraming a photo of a balloon disguised as an ankle. Considering that, this placing is even more impressive.
9 33 Joshua Grant Corona, CA Yamaha YZ450F- Quiet night for Grant in his return from injury. Started tenth, passed Blose for ninth on lap five and then stayed there for the rest of the night. Nothing wrong with a top-ten first time back.
10 29 Andrew Short Smithville, TX KTM 450 SX-F – That's three tenths in a row for Short and I suppose he thinks that's the bad news. Nope, it's not. It means that his streak of being one of four riders to be in the top ten every race this year is alive and intact!
11 7 James Stewart Haines City, FL Suzuki RM-Z450- Stewie lost the front end while in second place and took a long time to get going again. It was a bit weird, maybe he dinged his head a bit or something. I definitely would have thought that after he hit the ground he still would've gotten up to sixth or seventh but eleventh was the best he could do. Stew was FLYING in practice, he was pretty much everyone's pick for the win because, well, he was FLYING. Interesting to see "sneaky Stew" triple off the tabletop on the very last lap of practice and although he almost crashed I figured we were going to see it in the main event.
12 44 Matthew Goerke Temecula, CA KTM 450 SX-F- This was Matt's best finish of the season and maybe he's finally getting it together after a rough start and a surgery early this season. Let's keep an eye on Beef and see if he can get back to where he was last year.
13 75 Joshua Hill Yoncalla, OR Suzuki RM-Z450- Quiet night for Hill.
14 9 Ivan Tedesco Murrieta, CA KTM 350 SX-F- I went up to Ivan after the race to talk about what happened and he just said, "Write that I sucked," and then after I laughed at that and asked him for the interview he said no and to, "Write that I sucked." Okay then…
15 68 Chris Blose Phoenix, AZ Honda CRF 450- Nice night for Blose, who pitted out of a rental car in Atlanta. The longtime privateer rider had his best main event of the year and that's good for him. A guy like Blose is no doubt keeping an eye on the points because getting inside the top twenty at the end of the year (he's currently twenty-fourth) means about $9000 or so in bonus money. Twenty-first? Yeah, nada. Blose needs to get in that top twenty.
16 27 Nicholas Wey Murrieta, CA Kawasaki KX 450F- Wey's just grinding out there. The oldest rider in the field missed the first main of the year (and his not-so-good 2013 motocross tour didn't bode well for future success) but he's been in there every week since (he had to go to the LCQ this week), and to me, he's doing fine.
17 11 Kyle Chisholm Valrico, FL Yamaha YZ450F- Chisholm's getting better and better after a rough start to the year. Atlanta didn't go his way in terms of a finish in the main, but he qualified pretty well again and rode well in his semi.
18 77 Jimmy Albertson Shawnee, OK Honda CRF 450- Top Jimmy did a boner air on the parade lap for the main event and I don't know, it looked to me like he went too far and slammed his head on the bars when he landed but Jason Thomas told that the landing is all part of the "act" so what do I know?
19 132 Justin Sipes Flaherty, KY Kawasaki KX 450F- Pooh is two-for-two in main events this year and although the main was a bit of a struggle for him, that's still pretty good.
20 415 Nicholas Schmidt Riverside, CA Honda CRF 450- No doubt spurred on by me writing last week that the "Schmidt Magic" was disappearing, Nick made his first main event in four weeks but didn't do that well once in there.
21 3 Eli Tomac Cortez, CO Honda CRF 450- It hasn't been a good couple of weeks for Tomac. I didn't see it but he got together with another rider in the main event and the other rider went to the AMA, as he felt the #3 was out of line. Then Tomac crashed again and his bars were all bent so he pulled off. It's too early to label this as a "disappointing" season for Tomac but he's got to turn this ship around and get into the top five real soon before guys like me are pointing at him and judging.
22 38 Phillip Nicoletti Bethel, NY Yamaha YZ450F- Filthy Phil didn't ride all week after a crash in Dallas and then what do you know? He crashed again in Atlanta. In case you're keeping score on Nicoletti's return to supercross as a fill-in/third rider for JGR Yamaha, he's gone 20-DNF-DNF. Hmmm, maybe this coming off the bench thing is harder than we thought?
Some other news and notes:
- Honda's Justin Barcia crashed in practice and was held out of the night show with a knee injury that doesn't look like it's too serious. Whenever this happens the AMA will seek out the rider that just missed out on making the fast forty and bump him up into the night show. This happens quite a bit and this week it was Michael Stryker who missed making the night show by .019 seconds. So because of Barcia's crash, Stryker went on to a thirteenth in the LCQ and made himself some cash. From rags to riches for Stryker, and all thanks to Justin Barcia. Did you know they're both from New York? Barcia hooked a brother up without even knowing it!
- Okay, time for an intervention here. Dear Jeremy Martin, you're ruining fantasy supercross teams across the country. Please straighten up. Thank you. Love, your fans. Incredibly, Martin didn't qualify for the main yet again this week but unlike last week in Dallas where he was riding well but crashes did him in, this week he just wasn't that good. Only fourteenth fastest on the day and struggling in the whoops big-time, Martin just didn't have it on this night.
- One thing I don't understand is having the 250SX LCQ after the KTM Junior Supercross challenge and then having the 450SX semis and the LCQs right after. When the KJSC is there, why wouldn't you have that race right after the 450 heats, then follow that with the 450 semis, the 250 LCQ and then the 450 LCQ. The way it was on Saturday night, if there was a problem with a 450SX rider in the semi there wasn't any time for them to get to the line for the LCQ. I understand when there isn't the KJSC you're sort of screwed with just one intermission but why not give the 450 guys the max amount of time you can in case, like Kyle Chisholm at Anaheim, one of them has to change a motor? Strange scheduling indeed….
- I got some heat for criticizing Tedesco's choice to drop the 450 and go to the 350 for supercross and truthfully, he's been doing about the same since he lost the 100cc (his season-best finish was on the 350, it should be noted). But this weekend was an example of why the 350 just doesn't work that well. Tedesco was getting eaten up in the whoops big-time by riders that he's simply better than. The 350 was running out of power at the end and it was killing him. I'm just not a believer in that bike for Monster Energy Supercross. It's like bringing a knife to a gunfight and this weekend, Tedesco was bloodied.
Thanks for reading, I appreciate it and email me at matthes@racerxonline.com if you want to chat some more about this race or really, any race at all.