1. If this chase really does come down to Roczen versus Villopoto, can those two continue to get along?
Jason Thomas: I think it may be possible, at least outwardly. I think that it's impossible to completely remain the same with so much at stake, but they can certainly remain closer than what we normally see when two riders are battling for a title. These two are racing for the most prestigious championship in the off road world and something they have dreamed of since they were kids. To think that all of that won't affect their friendship in ANY way is naïve, in my opinion.
Steve Matthes: No, no, no. These things never work out. Yes, Aldon Baker will be there to help out and Adam Cianciarulo can probably be the court jester in some ways but two super-mega-fast guys training and riding together doesn't work in the long haul. Roczen's shown that his learning curve into the 450SX class wasn't so steep at all. I think he's surprised everyone not related to him or making money off of him with his speed and overall complete package. So these two can get along, sure, but if the points gap closes even more, I'd look for things to start getting tenser and tenser as we head to Vegas. Ask Rick Johnson how it went for him when he took Jeff Stanton under his wing.
Jason Weigandt: Villopoto is a different case and I present the following evidence: RV and teammate Ben Townley battled hard in the 2007 Lites Nationals and stayed great friends throughout. RV was teamed with Chad Reed at Kawasaki in 2010 and he told me "What drama? It's only a big deal if you make it a big deal." Villopoto is the first lead rider to let Baker branch out—Aldon was exclusive to previous clients Ricky Carmichael and James Stewart. I know previous data (like Johnson and Stanton) says this doesn't work long term, but those soap operas usually involve teammates. Villopoto and Roczen are not. I've seen no evidence of trouble here and until I do I say it's a non-issue.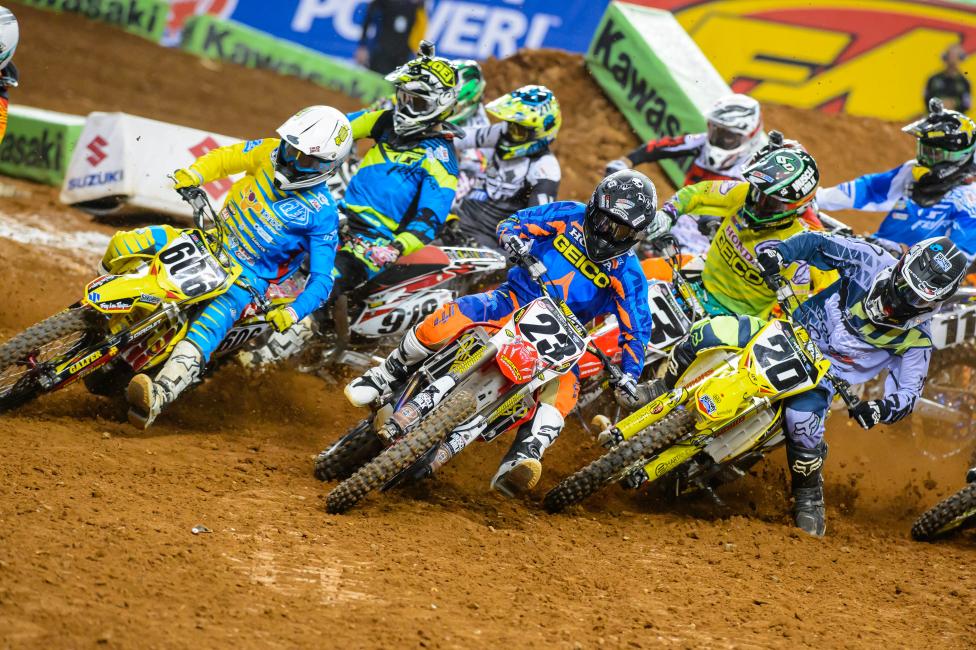 2. Some new faces up front on lap times in Atlanta, like Broc Tickle and Wil Hahn. Can they be threats to podium?
Jason Thomas: A few weeks ago, I would have said they wouldn't be near the podium this year. Last weekend may have swayed me. I still don't think either of them will just ride up to a podium spot without extenuating circumstances or a timely crash but if things go their way, I can see it. They both would have to ride well, as they did in Atlanta, and might need some help, but that's all part of racing.
Steve Matthes: Hmmmm, this kind of stuff gets me in trouble (ala #blosegate) but I have to be true to my feelings and say that unless something weird happens, then probably not. But top fives, sure. After all we just saw Hahn get fourth, right? The fact that third place Ryan Dungey was some 20-seconds ahead of Hahn tells me that he's got some work to do to get to a podium. But if someone crashes or whatever, then sure he can get there. Tickle was great in Atlanta, but I need a few more races like that before I can be sure. Ask me again in a few weeks.
Jason Weigandt: I don't see either rider just burning the field and getting a podium that way, but we're already seeing attrition at play, and that helps others build confidence. Reed and Barcia weren't on the gate in Atlanta. Eli Tomac is struggling. Stewart crashed. Now you've taken that "seven riders can win any race" group and cut it in half. That helps some others build confidence, and I believe that if Hahn gets some more of it, and a start, he can do it. As for Tickle, he's especially good when tracks get rutted and crappy and if we get something like that (maybe Daytona, Seattle or New Jersey) he can make it happen. I'll be bold enough to say that someone who hasn't podiumed yet this year will get one before the year is out.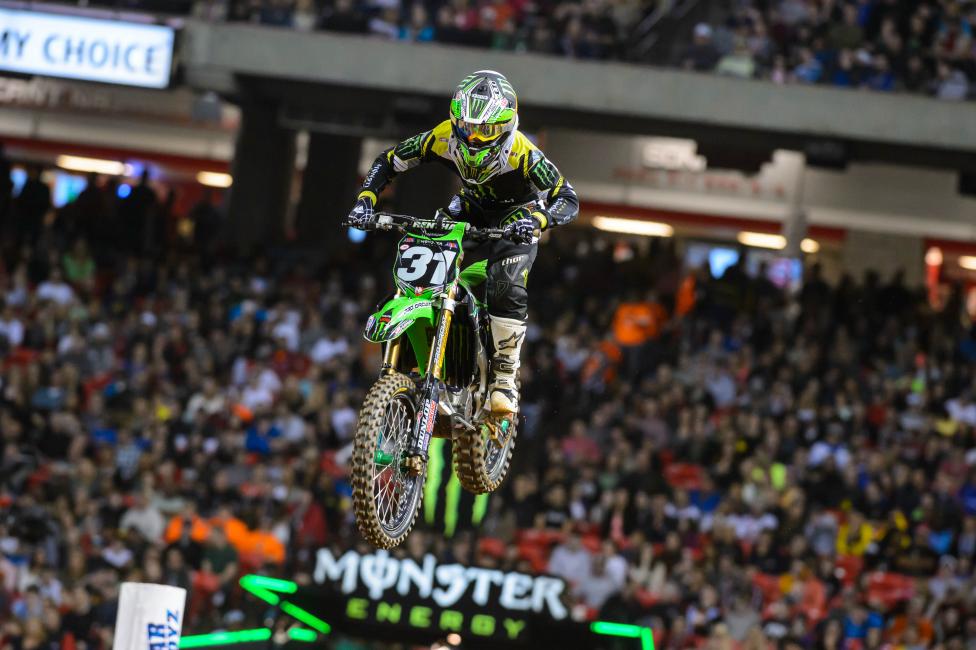 3. Now that Davalos finally has a win, are the floodgates going to open? Are we looking at Davalos Domination?
Jason Thomas: I'm not sure if the floodgates will open per se, but it had to be a huge weight off of his shoulders. I do feel he is the fastest rider in the East series and since he also has the most experience, I am of the opinion that he is the favorite every Saturday morning from here on out. Whether or not he wins this title is anyone's guess, but getting over that hump could go a long way toward that all-critical self-belief.
Steve Matthes: Oh man, "Davalos Domination." I don't even know what to say. But can he win this title? Yes, absolutely. He's been flying, but it's hard for a zebra to change its stripes. I need to see more instances of him not folding under pressure before I can say he will dominate. After all, he almost threw it away in Atlanta on the last lap with an endo off a tabletop. I know it's looking a little bleaker, but I'm holding strong to my Blake Baggett title prediction (I can't jump ship after two races can I?) but just know that I'm #teamdavalos and I've always been there for him.
Jason Weigandt: Oh yeah, no one has pumped up Davalos through the years like you have, Steve.
There's an old term here that says, "Once you get one the rest come easy" and I've seen it happen many times. And considering what a mental block Davalos had, this win has to be especially huge. The only reason I hesitate on Davalos Domination is Adam Cianciarulo. He's learning quickly. I know he's a rookie, but I've heard he made huge leaps at the practice track even over the last two months. I think he was better in Atlanta than he even was while winning in Dallas. If he keeps advancing it'll be hard for anyone else to dominate.