Georgia Dome
Atlanta

,

GA
Atlanta
Monster Energy AMA Supercross Championship
Red Bull KTM's Ken Roczen is not going away in this title chase for the Monster Energy Supercross Championship. In Atlanta, he kept the heat on his training partner Ryan Villopoto, and when the champ bobbled, Kenny took advantage to grab the second victory of his rookie 450SX season. He's also only nine points behind Villopoto in the standings. Here's Kenny talking about winning on a tough track.
Racer X: Take us through it.
Ken Roczen: I got a decent start and Stewy went down I think on the first lap. The track was really tricky. You kind of had some good traction on some spots but it got rutty. There's a couple of bigger rocks in the rut. So it was slippery in some spots also and in-between the rhythm section it was soft and we had some ruts. But it was a great battle. I made that mistake before the finish line and I went a little too tight and that's when RV got by, but he made a mistake, too. So I got by him again and I just kept my focus the whole time. I felt really good. I struggled a little bit all day because I have a little cold and I just didn't feel comfortable on the track. But I'm glad to pull it off, a podium is a good thing, but being on the very top feels that much better. I'm just really happy. I'm back in Florida now and just on my program. It seems like it pays off. I'm really happy to be back here. Atlanta was amazing. The fans were unbelievable. That was for sure one of the best races this year. It felt awesome. I can't wait for next weekend. Going to go back now and put in some good riding days. It was a great race.
Would you rather follow or lead?
Sometimes I would like to follow and sometimes I would like to lead. After I got by him I really just wanted to focus. You can really tell [the whoops were important], once you go good through the whoops you're like … this probably gave me a little bit of room [on Villopoto]. It's not every lap that you have the same run through the whoops. I had a little bit of a gap there and it was a little bit of a gamble with the lappers actually. Sometimes you get the lappers as an advantage and sometimes not. When you're out front and you hit them first that could screw up a little gap and same the opposite way. I guess tonight I think I would have rather led.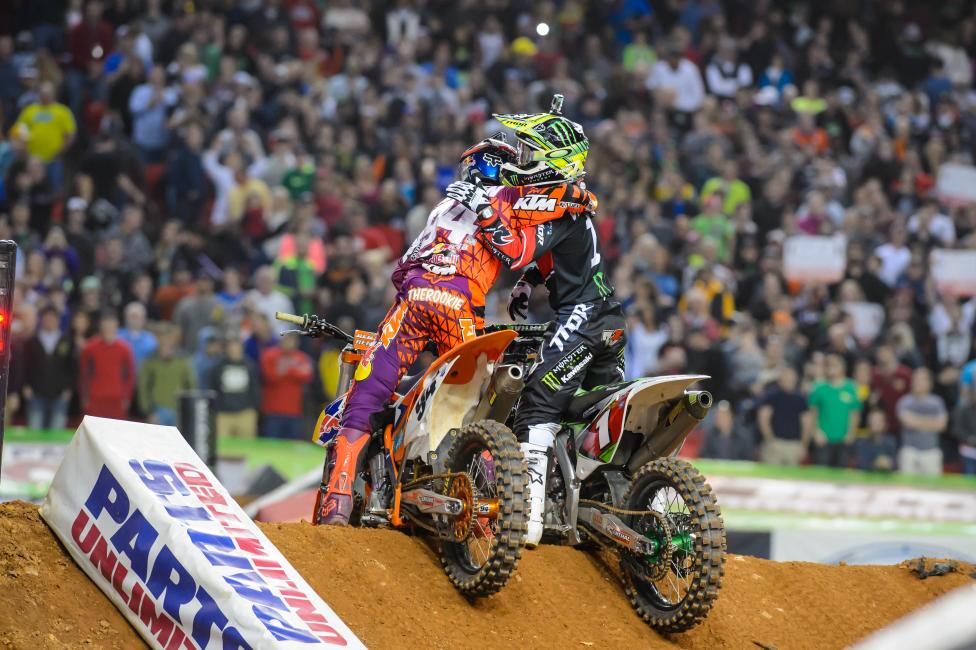 Plus you had Ryan back there pressuring, too.
For sure. That's the tricky part. And also because it was so slippery you had to sometimes go really wide and take the gamble. If he would have been really close he could have cut you off or something. It was definitely a tough night.
Is this what you were expecting for first season in 450s?
I was hoping for it, but expecting is a strong word I would say. But I expect myself to do good. To be honest, it doesn't even matter sometimes, the position. Sometimes you have bad luck, you go down, but you still ride an awesome race. So it's good either way.
You were kind of known coming up, even though you're a young guy, fast guy, you were known for being pretty smart, picking good lines and things like that. This track seems so weird and tricky. Do you think that helps you when a track's like that?
Sometimes when the tracks are a little easy then most of the guys are all the same speed. It makes it a little tougher. Tonight the track was for sure rough and tricky with the ruts, especially in-between the rhythm section. The rhythm section was really peaked up and big. I think the harder the track, the better for me.
Do you feel like your fitness is a big improvement this year? Do you think that's paying off here or do you think you could have done this all along?
For sure it's a big part of it. It's a 450. It's a little bit of a tank, I have to say. It's a lot of power and just a bigger bike. For sure you need to be fit, especially on such busy terrain. So for sure I had to be fitter, and I feel actually great right now. Sometimes it's not all about fitness; sometimes you just need to get in the groove and that makes it so much easier. Sometimes you're fighting it and making mistakes and it makes that much harder. Some weekends are like that.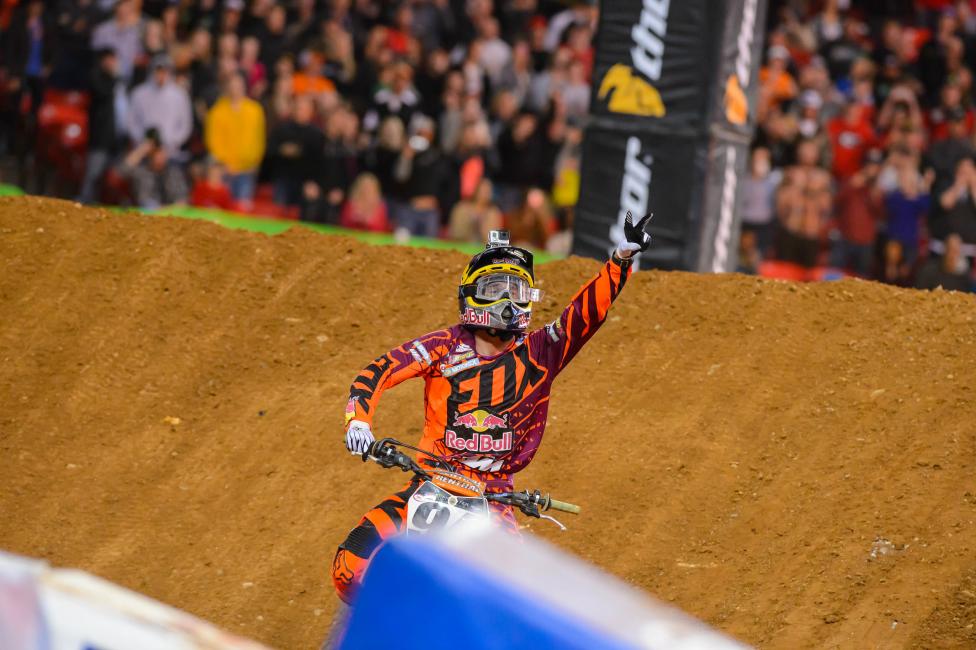 What does it say though? You and Ryan are 1-2 in points, Cianciarulo's leading the 250 East.
It's awesome. It's good to see all of us up front. RV's a really good guy. We don't just train together, I think we're friends, like hanging out with him off the track. Same with Adam. I think we're a good group and that makes it a lot easier knowing we're having fun during the week. It's not like a lot of people think, like "When is it going to split up because I start beating him." I don't think RV's that kind of guy. Everything's working great.
Talk about that other set of whoops over here. They seem more spaced out than everywhere, or have we seen a set like that this year?
The problem all day was that you come right out of the turn, and you have a lot of ruts. Even when they [whoops] get cupped out it's that much easier if you stay on top of them, but you need to come in with a lot of speed, but here you couldn't really. The bike kind of went in deep and you had to be hard on the throttle. If you get a square edge, that's what gets you sideways. They were definitely a bigger set of whoops. They got cupped out and not having a lot of speed coming into them made it tough. First half of the race I think we skimmed them the whole time and it felt good. I felt solid in them. Then we started jumping and if everybody's doing that, and you're not losing time, it actually makes it a little bit easier.