AT&T Stadium
Arlington

,

TX
Dallas
Monster Energy AMA Supercross Championship
There's a tactic in the supercross world that is seldom usable anymore, but when viable, can be the difference in winning and losing. This specific move was once very common for a select few racers. Jeremy McGrath was a master at using it, and now the trick belongs to James Stewart. What he does is not complicated in theory. He dreams up a jump combination but makes sure not to actually jump it all day in practice. Then when the pressure is on in the main event, he nails the jump repeatedly and uses it to gap the field.
Easy, right?
As improbable as it sounds to hide a jump combination until the main event, and then jump it perfectly while in the heat of battle, Stewart has been doing it his entire career. On Saturday night, he once again pulled out the Ace from his sleeve, slapped it down on the table and walked away with everyone's chips.
On track walk at Dallas, many were talking about the rhythm lane after the finish line. There were nine jumps in a repeated 3'-5'-3' layout. Triple-triple-triple seemed to shape up as the fast line, which would have made the section very follow-the-leader in nature. After track walk, Dirt Wurx brought out their equipment and changed the first jump, which made it improbable to triple the first three. The thought process was that it would force riders to either roll the first jump or double into the rhythm lane. Unfortunately, this made the section very one-lined as everyone made quick work of the first jump, doubled the second and third jumps and then continued with their 3-3 plan. It wasn't the triple-triple-triple that they intended originally but sometimes the track just plays out that way.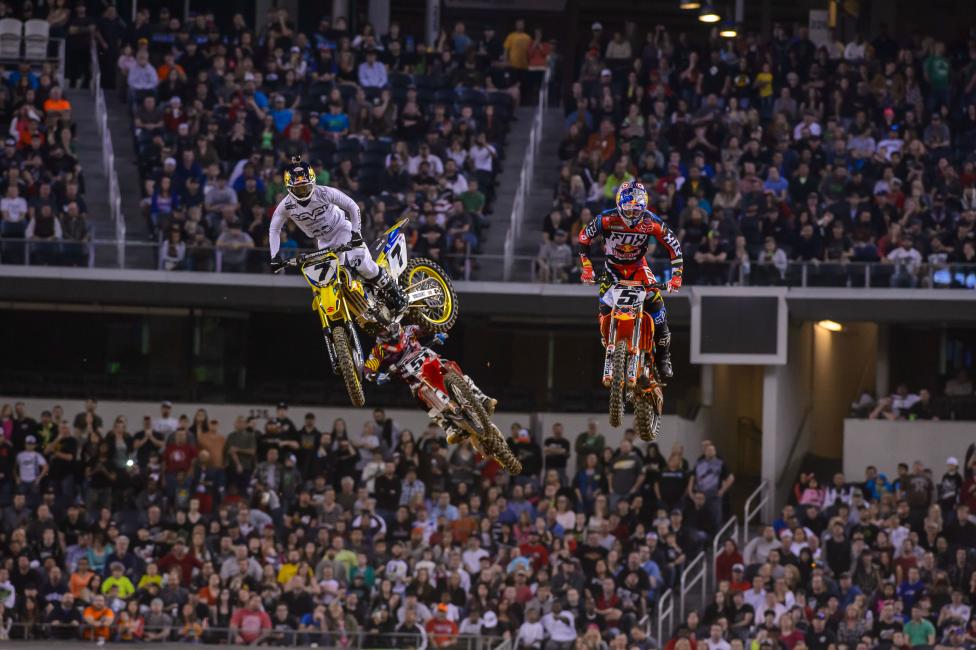 All day and night, this was the line everyone used, and I do mean everyone. From Ryan Villopoto to riders who failed to qualify out of practice, this same line was the line. From there, the section wasn't really given much thought from the riders I talked to. Until Stewart got into the lead.
Instead of hitting the finish line and diving to the inside as had happened thousands of times all day, Stewart swung wide and headed for the berm. Even though they significantly lowered the outside jump and riders had been rolling over it all day, James still found enough lift to triple into the rhythm and then had much more speed as he finished the rhythm lane. The cool thing to me was that he really didn't know if he could make it on the first attempt so he decided to wheel tap the second jump. This wheel tap is incredibly technical when dealing with such a steep second jump and going that fast—even Stewart admitted post race that he almost missed it. Once he felt it out and knew he had the distance dialed, he simply started to triple, and the pulled it off lap after lap. It didn't even look risky or tough, which serves as just another example of James's talent.
It was interesting to watch the other riders respond. Second place Ryan Dungey saw James do it and started doing it himself, and then the rider behind Dungey early, Justin Brayton, did the same. For Dungey, specifically, it was just a bit late. James jumped it right in front of him for a couple of laps, gaining ground each lap in the section. By the time Dungey countered, James had stretched his lead a bit and Ryan never could cut the deficit back down.
The biggest weapon that anyone can give James is the confidence he used to have.
This method is not new for James. I've watched him use this same tactic on Chad Reed many times over the years. Indianapolis 2007 stands out to me as a great example. James jumped a 3-3-3 section in the main event that no one had done all day and blew past Reed in that very section. To his credit, Reed responded and jumped it himself, but by then it was too late, just like it was for Dungey on Saturday night. Stewart simply has the ability and confidence to see a possibility, hide it, and then unleash it when it counts. When you consider how talented this field is, it's pretty remarkable that he can hold a trick that no one else does.
James Stewart is on a two-race win streak. He has won solidly and looks like the James of yesteryear. He is pulling jump combinations with confidence and didn't crack under RV's relentless pressure at San Diego. The biggest weapon that anyone can give James is the confidence he used to have. He once considered himself almost unbeatable. I am beginning to see that James come out again and for RV and the rest of the title contenders, you might want to avoid that scenario. It usually doesn't work out well for anyone but the #7 bike.