AT&T Stadium
Arlington

,

TX
Dallas
Monster Energy AMA Supercross Championship
Honda Muscle Milk's Justin Barcia seemed like the fastest rider of all at Monster Energy Supercross' opening night at Anaheim 1. Incredibly, it has taken until round seven for him to finally make the podium. Is this a turning point? We asked him.
Racer X: Okay, was this a much better night for you in general, or was it just a better result?
Justin Barcia: I think it was just a better result. In the heat race I rode really good. I wish I could have rode like that in the main event. The track was slick. I made a few mistakes and got a little tight and kind of rode tight the whole rest of the race. I wish I could have rode a little better.
The heat race you were going for it. You looked like you were going for it more than the last couple of weeks, to me.
I felt more comfortable tonight. I really have been putting out 100 percent at the races and going for it, it just hasn't shown. I think tonight just kind of was a little better.
You used to say you were the worst hard-pack rider in the world but then you got better—good at Washougal even. So is that even an issue now with tracks like this?
No, not really, as long as my bike setup's good. I'm usually able to adapt to it pretty good. As you can see tonight, quite a few guys pushed the front end and slid out and stuff. I'm happy with how I rode. I wish I could have rode a little faster, but I didn't crash so that was good.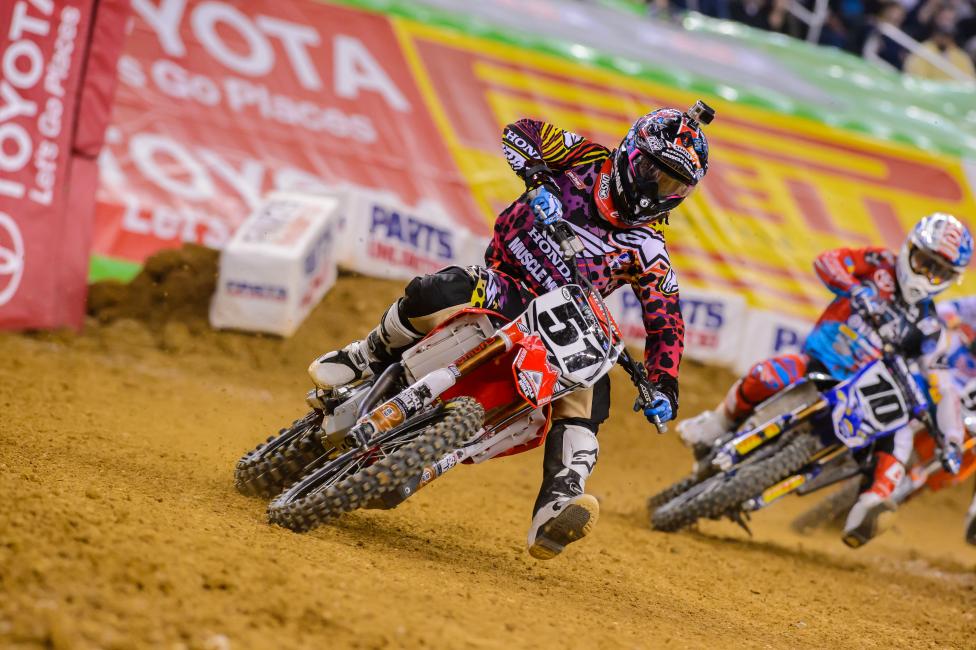 You said you rode tight, is that actually partially just because you haven't won a race this year. If you had won a couple races already do you think in the main you might not have tightened up as much?
I think so, at least in my opinion. Coming through the pack every weekend I haven't been getting tight because I'm like, "I got to get there! I got to do this!" Then tonight I'm like, "Oh, I'm there" and you get a little tight. I wasn't tight in the beginning and then I made a couple mistakes and I got a little tight.
Then there were some crazy moves out there….
The race was crazy. Roczen … I wouldn't even call it a move. I scrubbed it the same way every lap. Unfortunately, I didn't know he was next to me.
So that look-over, wasn't like "what's up?" You did not know he was there?
That's why everyone thinks it's was bad … I'm glad we're doing this interview right now to kind of clear it up a little. I would say it if … hey, if I scrubbed and looked over at him like, "Yo, what's up?" I'd say it. But no, I scrubbed that way every lap. The only reason I looked over is because I heard a panic rev and I knew it wasn't coming from me!
For once….
I didn't know he was that close to me!
So you were looking at him to figure out what was going on?
Yeah. I mean, it looks sick. I watched the video. It looks like I looked over like, "Yo, what's up?" But no, I was like, wow, this is really close … I heard a rev.
And you were close to Brayton in the air too but it was further away from where I was sitting, so I don't know if it was quite as close.
Was it the same jump?
It was on the other jump, all the way on the outside before the start straight.
We were really close and I actually boner-aired it, I think.
To avoid problems?
I got sketchy on the triple on I think and just boner-aired the triple and he scrubbed. I don't think we were super close.
That section, where you and Brayton battled, you had to triple onto a table, everybody messed it up at least once it seemed like. That seemed tough.
I messed it up once in the whole race and yeah it was sketchy. That's how Brayton passed me; I didn't go triple-on. I had to kind of cross over and he got the speed and I kind of wheelied off the triple and he scrubbed, so it did look sketchy I'm sure. But all in all it was a more productive weekend. The podium is a good place to be but it's not going to get any easier. Everyone's really close and fast, so just got to keep trying hard.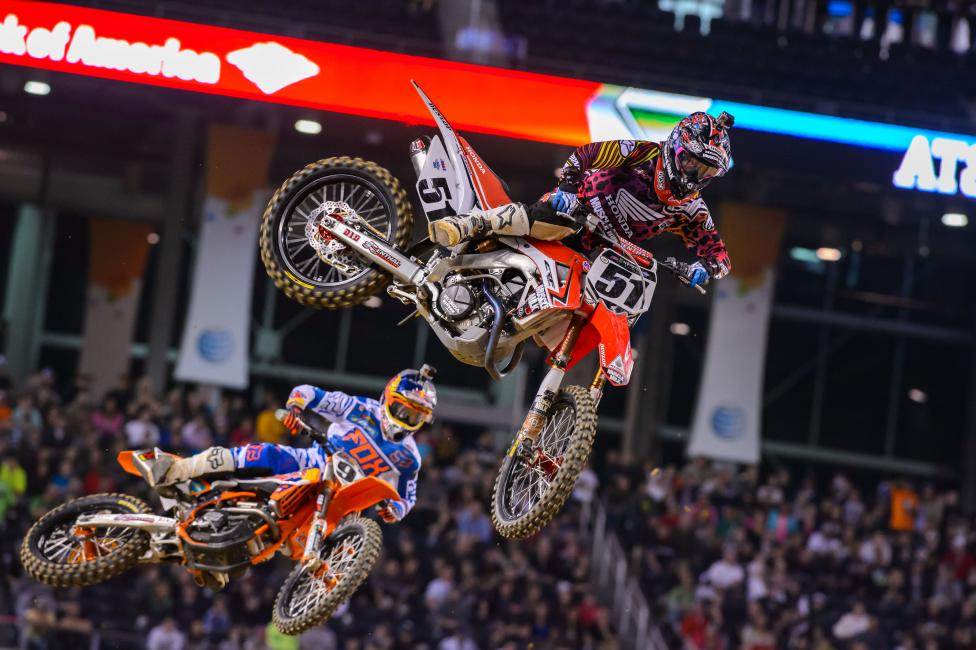 Is there anything you can point to and say, "Now I'm good. I'll be getting podiums all the time after this?"
I want to say it's kind of like that just because I think this week at home I made some really good changes to my dirt bike. I want to say that's going to help put me in a better place. But you just never know. Obviously I'm going to feel more comfortable running up front. Hopefully I can put myself in the position to do that.
I know how competitive you are. If you're not getting results, it's not because you're not trying. We know that. That's never been your deal. Do you almost go too far? Does it make you want it too bad, try too hard?
Yeah. Yeah. I just throw my whole heart into my racing and it shows, it shows a lot of times. Sometimes I do ride too hard and it actually kind of maybe makes me go a little slower. I feel like I'm working on doing that better. I feel like I'm trying to be better about that situation. But definitely I see myself just pushing it until you can't push it anymore, and it hurts me sometimes, but that's just me.
It's a good quality to have most of the time.
Yeah, most of the time!
If you didn't care, that'd be worse.
Yeah, at that point no one would really want to hire you as a rider.