The real travel season for Monster Energy Supercross has begun, and riders and trainers and families and bikes are beginning to spread throughout the country— many headed east after holing up as a collective group in California for the last few months.
Along with shipping out bikes and parts and anything else that comes with the coast-to-coast move, everyone better pack some ice. Seven rounds deep and the bumps and bruises are starting to add up, and not just the big injuries that have forced Jake Weimer and Chad Reed to miss races.
Let's take stock of it all really quickly here. Just to my knowledge, the following riders are racing while fighting back from ailments: Wil Hahn's hand looks all jacked up and he didn't ride during the week last week, or race in San Diego. He gutted out an eighth in Dallas. Josh Hill did yeoman's work last weekend by racing just two weeks after breaking his collarbone, but also hurt a rib in a practice crash last week. His teammate Broc Tickle was down at out at Anaheim 2 and has raced his way back into the top ten. Jimmy Albertson got whiskey throttle in a rhythm section during San Diego practice and ended up crashing into the stadium wall. He made the Dallas main despite a very sore wrist. JGR's Josh Grant is out with a bad shoulder, but plans on racing Atlanta this weekend. His replacement, Phil "Fill In" Nicoletti has had a couple of crashes since joining the series, and his endo late in the Dallas main was a big one. After the race, poor Phil really just needed a full ice bath—he was battered, bruised, stiff and hurting all over.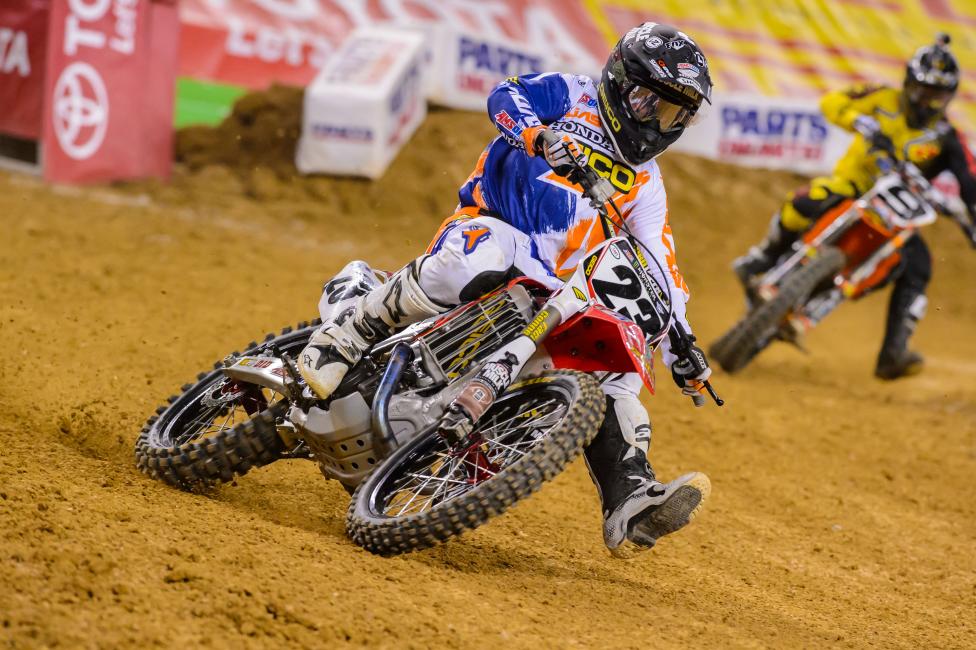 When Nicoletti crashed, he collected Weston Peick, who, remember, was spitting up blood a month ago in Phoenix, but didn't miss any races. Peick said he hurt his leg in the Nicoletti tangle, and he got up limping—but he says it's not a problem and he'll be fine for Atlanta. Mike Alessi had a huge practice crash in Dallas but still suited up to make the main. The list goes on. Remember Eli Tomac (shoulder) and Matt Goerke (finger) got hurt at Anaheim 1.
These are just the injuries I know of, surely there are many more that no one has even bothered to mention, because in this game, small injuries are so common riders just take them for granted. We know we're watching the best in the world every weekend show their speed and skill and talent, but don't forget their toughness. Injuries might be something they take for granted, but that doesn't make it any less painful.