O.co Coliseum
Oakland

,

CA
Oakland
Monster Energy AMA Supercross Championship
In a digital age where athletes discrepancies are placed under an ever increasing microscope, harshly critiqued, or wildly praised—depending on ones opinion, typically to one extreme or the another—sport stars have to constantly be mindful of their actions. An innocent comment, or even an errant facial expression can rapidly turn into Internet fonder.
Last Sunday, just minutes after sending his team to the Super Bowl with a game saving play, Seattle Seahawks defensive back Richard Sherman, still feeding off raw emotion, made some highly controversial comments to Fox sideline reporter Erin Andrews. The media pounced. Sherman's reaction was scrutinized everywhere from ESPN to CNN. It was defended by some, and severely critiqued by others—many even going way over the top, using the term "thug" to describe his actions. Quickly the Stanford educated Sherman was turned into a villain.
What bearing does this hold in the world of supercross?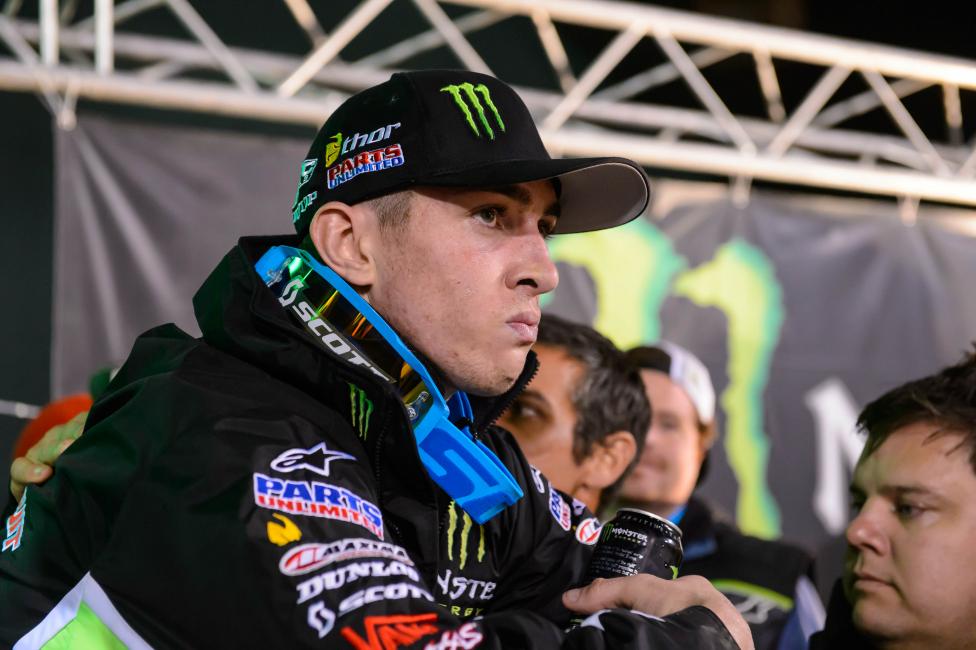 Dean Wilson entered 2014 under immense pressure. Held with the task of bringing Monster Energy/Pro Circuit Kawasaki back to the championship forefront (not to mention his own status), Wilson's sub-par start to the season placed more scrutiny on the veteran. The pressure to win kept ratcheting tighter and tighter.
In Oakland, Wilson was half a lap away from his first win of the season. Half a lap away from getting the monkey off his back. Half a lap from bringing Pro Circuit its first win of the season.
Then, half a lap later, a devastating loss.
Moments later Wilson had to answer the bell. He couldn't go back to the truck, blow off steam, and then answer the tough questions. He quickly had a microphone in his face, explaining what went wrong—to a live television audience. No one would have blamed Wilson for showing raw emotion. Undoubtedly he was feeling it inside. On the outside, though, Wilson held his composure. He spoke with confidence and even flashed his contagious smile at the end.
In a sport where emotions can sometimes get the better of riders, Wilson handled himself with class. He stared adversity head on, and conquered it. A commendable act. An act that will certainly get less coverage than his bike dying on the last lap.