Welcome to Racerhead, post-Anaheim 2, pre-Anaheim 3, with Oakland on for tomorrow night. Five guys are within five points of the lead in Monster Energy AMA Supercross, with Red Bull KTM's Ken Roczen back in the lead and back behind the red plates. But all everyone has really been talking about this week has been the stunning victory of Chad Reed. In coming from behind to win Anaheim 2—the retro race, of course—the veteran turned back the clock on his whole career. No longer are people talking about when he's going to call it quits, but rather when he is going to win again. And if he rides the #22 Discount Tires Kawasaki like he did last Saturday night, it will be sooner than later.

The other guys will get more into Reed's win farther down below, but I just want to add how fitting it was that he won on the night that Monster Energy Supercross was celebrating its 40th year. To me, Chad Reed is the personification of the success of this series. He is a supremely talented racer from the other side of the world who came to America to pursue his dreams of winning here, at the highest level of our sport. And he's done it longer than anyone in history, winning AMA Supercross main events forty-two times over eleven years with two titles in hand. He's ridden for four different brands, on even more different teams, and he has a global following—an army of fans he earned by simply winning rather than being a charmer. And now he's a team owner, having plowed much of his success back into his own program in order to continue the dream. And with forty years of champions watching, he showed them all that he's still got what it takes to win on a stage that's arguably more competitive than ever.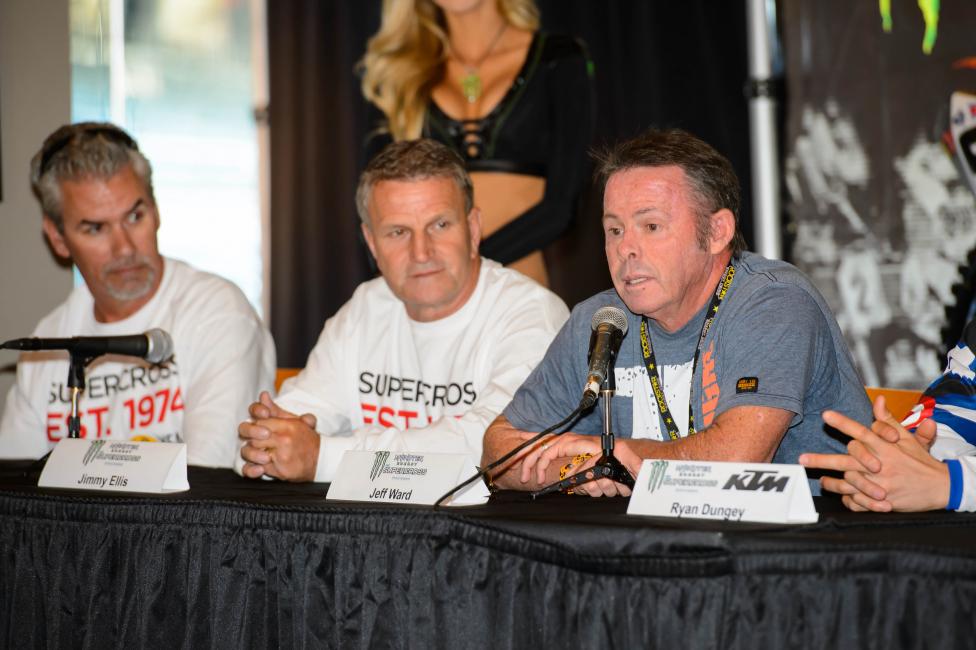 Ironically, the man who won the very first AMA Supercross back in 1974, Pierre Karsmakers, was also a foreign traveler who came here to race, but times were much different then. Karsmakers was a mercenary of sorts, hired by Yamaha to move here from Europe and mine the new market of American motocross in 1973. He was the fastest man on the track that first day, and Pierre got to watch the living embodiment of what he did four decades ago do the same thing: win a supercross main event.
During the press conference on Thursday, I asked Karsmakers if he ever though supercross would become as big as it has. He said yes—he knew it was going to be successful because it was something the Americans would all get behind and work to make it happen. They all did, and despite some rough spots along the way, it's bigger and stronger than ever before. That's why Reed's here, that's why Roczen's here, and that's why so many great champions came back to celebrate last weekend. Thanks to Feld Motor Sports for all of the cool things they put on last weekend, thanks to the Legends & Heroes of Motocross for really making all of the old heroes feel right at home, and thanks to Tom White and the Early Days of Motocross for being a gracious host too.
Now we can get on with the next forty years, beginning in Oakland. No one would be shocked if Reed won again, but I would be more shocked if defending champ Ryan Villopoto didn't win—he's crashed in the two races he's lost this season so far. And don't count James Stewart out yet. He may have gotten passed by his long-hated rival Reed, but he looked like he's still working his way back up to form and comfort after that major endo at Anaheim 1.
And this all reminds me of the most interesting tidbit I saw this weekend, posted by Pete Fox on Instagram: In the nine races we've had so far this season—three main events and six heats (not counting semis and LCQs)—we've yet to see a repeat winner. Anaheim 1 was heat-race winners Mike Alessi and Justin Barcia, then Roczen won the main. In Phoenix the heat races were won by Jake Weimer and Ryan Dungey, then Villopoto won the main. And last weekend it was Justin Brayton and Stewart in the heats, then of course Reed.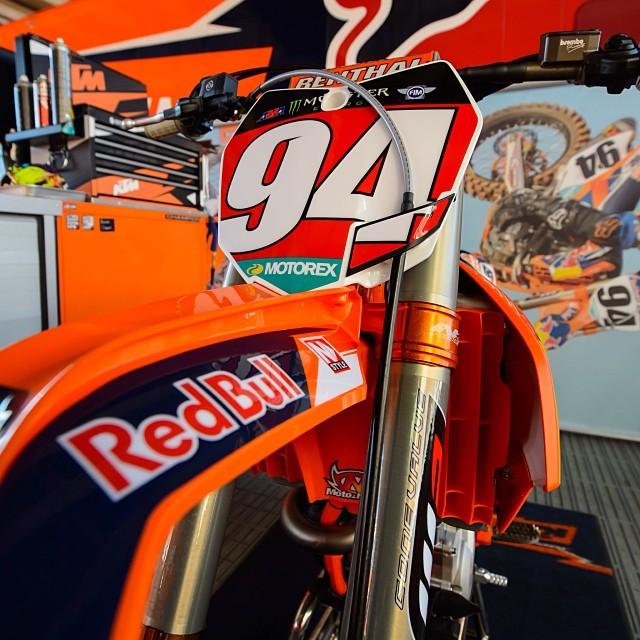 Now think of how cool it would be if this weekend's winners were Andrew Short, Wil Hahn, and Weston Peick!
Okay, let me turn it over here to the rest of the gang, starting with some cool Pro Perspectives by Ping and JT$.
PRO PERSPECTIVE - CONFIDENCE (David Pingree and Jason Thomas)
Ping: I saw a T-shirt once that had a picture of a unicorn on a therapist's couch and the shrink was telling him that he just needed to believe in himself. (Still kick myself for not buying it.) Chad Reed isn't exactly a unicorn, but finding a guy who has that much faith in his own ability through any adversity is about as rare as one. He believed he could be the best rider in Australia, and he made that happen. Then he believed he could compete on a global stage, so he went to Europe and made that happen. Then he believed he could be a supercross champion and he just went ahead and did that also. He even threw in an outdoor title for good measure back in 2009. Last Saturday night, at an age when most riders are gobbling ibuprofen like candy and coasting through their twilight seasons, Chad went racing for a team he built with very little help from those within the industry and he won. Convincingly.
It's no secret that confidence is a major component of being successful at this level, but actually believing in yourself like he does is nearly impossible. I could never do it, and I have the championship trophy case to prove it. So here's a tip of the cap to one stubborn bastard on the most inspirational ride I've seen in a long, long time. Nice job.
And while we're on the subject, I want to congratulate Cole Seely as well. After a couple very difficult weekends, he continued to believe in himself and made a statement on Saturday night. Cole was the main-event winner, he's the new points leader, and for two rounds now he's had the fastest single lap time in both the 250 and 450 main events. You don't pull that off with doubt floating around in your head.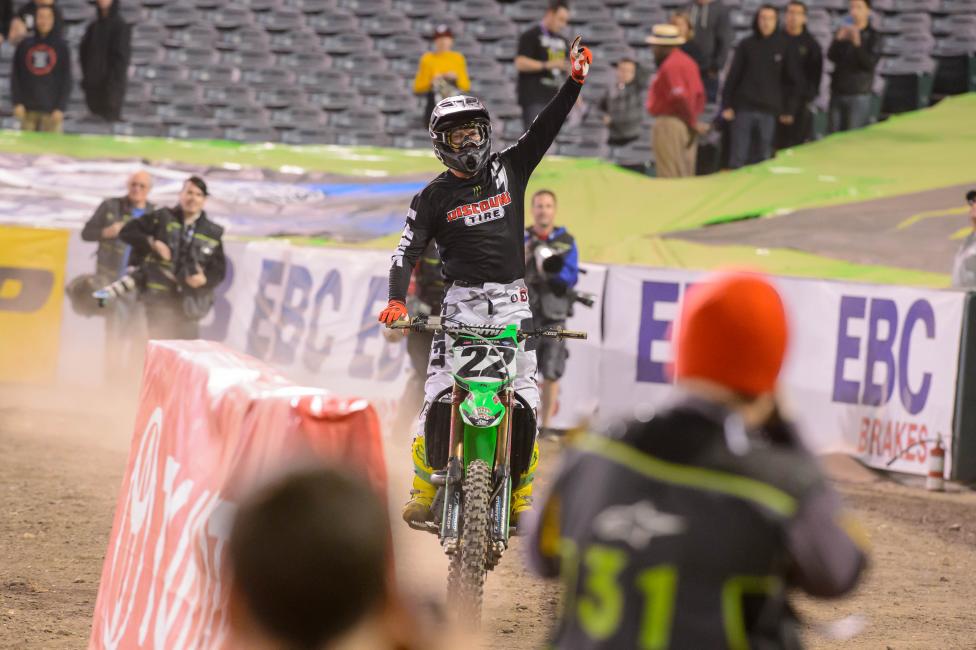 JT: Chad Reed once told me that the single most important aspect of success was believing in yourself when no one else does. You see, a racer's life is a constant internal struggle of insecurity. Every time that gate falls, there were a few minutes of wondering "what if?" and "am I good enough?" prior to that moment of truth. This self-doubt is usually never verbalized, and most riders do everything possible to push it deep down inside, hoping to never see or hear from it again. It is this insecurity that drives most of us to keep improving. No result ever seems good enough, and as soon as one race ends, the focus shifts to the next one. It's a vicious cycle of wanting and needing to be stronger, smarter, and faster.
My personal anecdote of this was in the 2009-'10 German SX Championship. I often hear about Germany not being a real title, and while I agree it's nothing compared to the AMA championship, it was a giant goal for me. Coming down to the last race, I had the points lead but not by much. There was a three-week break between races and I was a nervous wreck for all twenty-one days. I can't even imagine what the elite-level riders feel coming into Vegas with everything at stake, because it was all I thought about day and night. What could go wrong? What could I do to make sure I was at my best? Just so many scenarios playing out in my mind, and there was nothing to do but wait. This was when Chad basically said to me, "Just do everything you can to prepare and believe that you are meant to win."
As simple as it sounds, it was a revelation of sorts. I told myself every day leading up to that race that I was the best guy. The best guy usually wins, so why should I worry? After reinforcing myself so much, I believed it on race day. I rode like I had envisioned all of those sleeplessness nights leading up to it. I won the championship and of course then wondered why I had ever worried. It was a huge mental test for me and the lesson has stayed with me to this day.
For Chad Reed, his struggle was a different situation, as he was coming off the worst year of his career and everyone was counting him out. He had to go into the off-season knowing that the odds were against him. His competition didn't fear him anymore and most fans considered him in the past tense. This is a very dangerous place to put Chad Reed. When cornered and left with no way out, some will surrender and some will respond with vicious ferocity. Chad is and always has been a fighter. Stubborn to a fault and unwilling to go out on someone else' terms, he went into a virtual cave of pain and torture for months. All of his energy and focus was not only spent on regaining his role in the racing hierarchy, but showing every doubter that they were dead wrong. Most were surprised to see him on the podium at Anaheim 1, and his win at Anaheim 2 had to shock even more. For Chad personally, though, this was always how it would play out. He believed in himself when it would have been easy to give up. He said no when the world told him his time was up and he defied the odds last Saturday night.
Love him or hate him, he earned everyone's respect.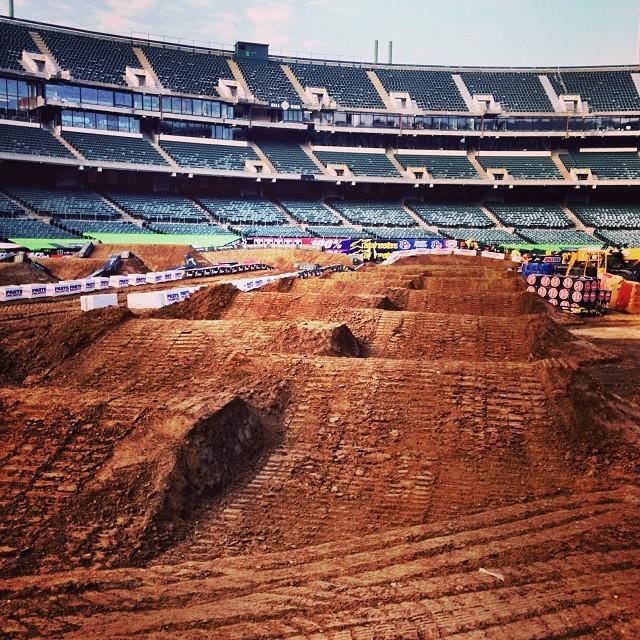 PIRELLI PRESSER (Jason Weigandt)
Race day at Anaheim 2 kicked off with an event called Coffee with Pirelli. The media was treated to breakfast (with an Italian flair), and team riders Justin Brayton, Josh Grant, Phil Nicoletti, Andrew Short, and Matt Goerke were on hand for a Q and A. (Full disclosure: I handled the emcee duties. Your loss, Ryan Seacrest.)
In the tire world, Pirelli is a massive company. They're the exclusive tire provider to the biggest racing series in the world, Formula 1, as well as the World Superbike Series. On the motocross side, Pirelli dominates the GPs, with both Tony Cairoli and Jeffrey Herlings running the tires. Their supercross footprint is comparatively small, with most top teams running Dunlops and only the JGR Yamaha and BTOSports.com KTM team running the rubber. Pirelli wants to point out the gains they've made lately, though, based primarily on the speed of their development. They said lessons learned in racing can show up on production tires you can buy in just six months, and JGR team manager Jeremy Albrecht pointed out that, a few years ago, they had new tires made for the race team in one week! Justin Brayton explained how far the tires have come on hard-pack, especially the front tire, and he held his podium ride on the slippery dirt of Phoenix as proof.
Pirelli is now the official tire sponsor of Monster Energy Supercross, so they have a big pit presence now as well. Might be worth checking out their setup the next time you're cruising through the pits.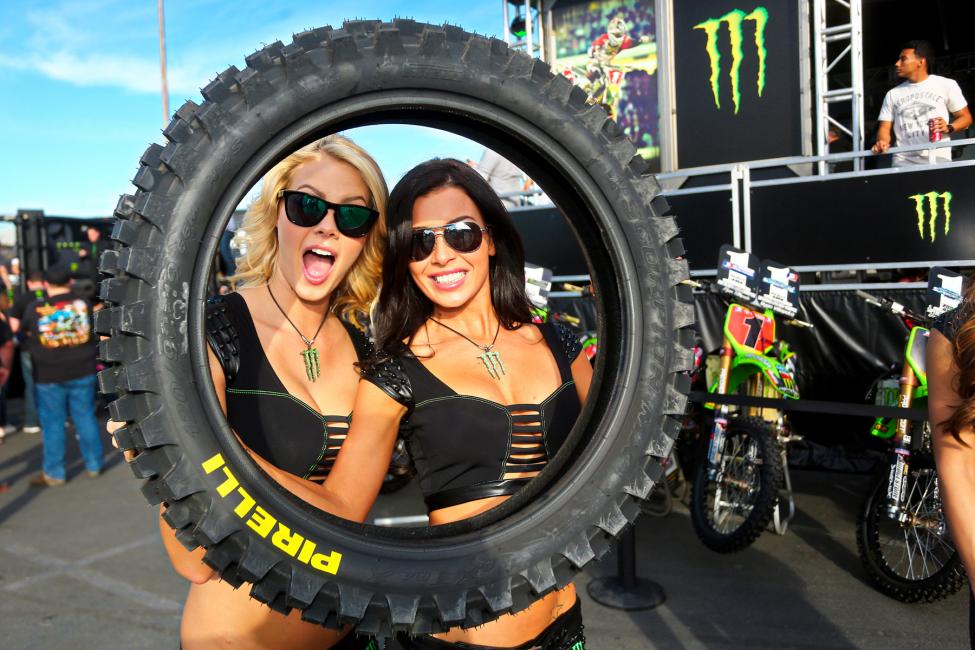 WHAT'S WRONG WITH BARCIA? (Steve Matthes)
What's going on with Justin Barcia? Through three races he's gone 5-5-11 and hasn't been as explosive as he was last year. Riding that sweet retro Honda last week he was seventh for most of the race until falling late. I spoke with the Honda guys before the night show last week and they were optimistic that things were going to turn around for the #51. They said Barcia is happy with the bike, off-season testing went well, and he's accepting that any problems he's having out there are of his own doing. I know Jeff Stanton (Barcia's trainer) was back down in Florida with Justin, and knowing Six-Time, I'm sure they're working hard.
I suppose that in this field of talented riders not everyone can be killing it and right now it's Barcia that some are wondering about. He's too fast to be doing what he's doing and hopefully for him and his team he turns it around soon.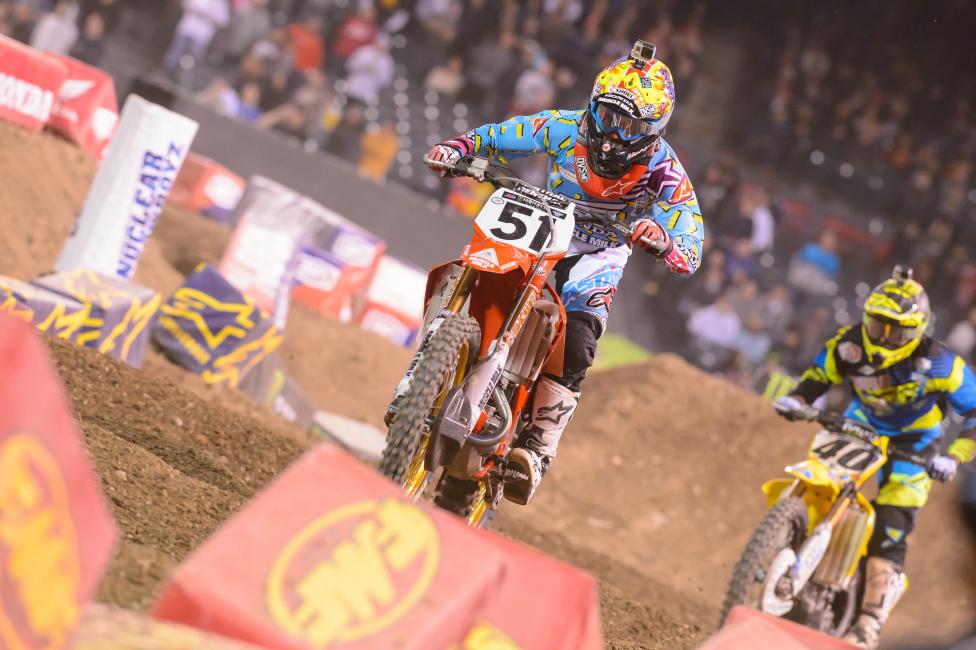 ROCK RIVER CHANGES IN 2014 (Matthes)
The Rock River Yamaha team really took a step up for 2014 with getting a title sponsor (Cycle Trader) and no longer employing a program where the riders paid their own expenses. The team went out and got Alex Martin and Kyle Chisholm to join returnee Ben Lamay and hopefully get some more blue up there in the top ten. Well, the best-laid plans don't always come to fruition, as Lamay crashed hard before the season started and Chisholm has struggled a bit to get back to form.
The team does have Les Smith filling in for a while, but he's still getting used to the Yamaha and hasn't made a main just yet. The team will get Martin for the 250SX East Region, and I'm sure Chisholm and Smith will get better, but it just goes to show you that supercross racing is a tough deal and you never really know what's going to happen.
Still, in this time of teams struggling a bit it's nice to see Rock River expanding and jumping into the pro supercross deep end.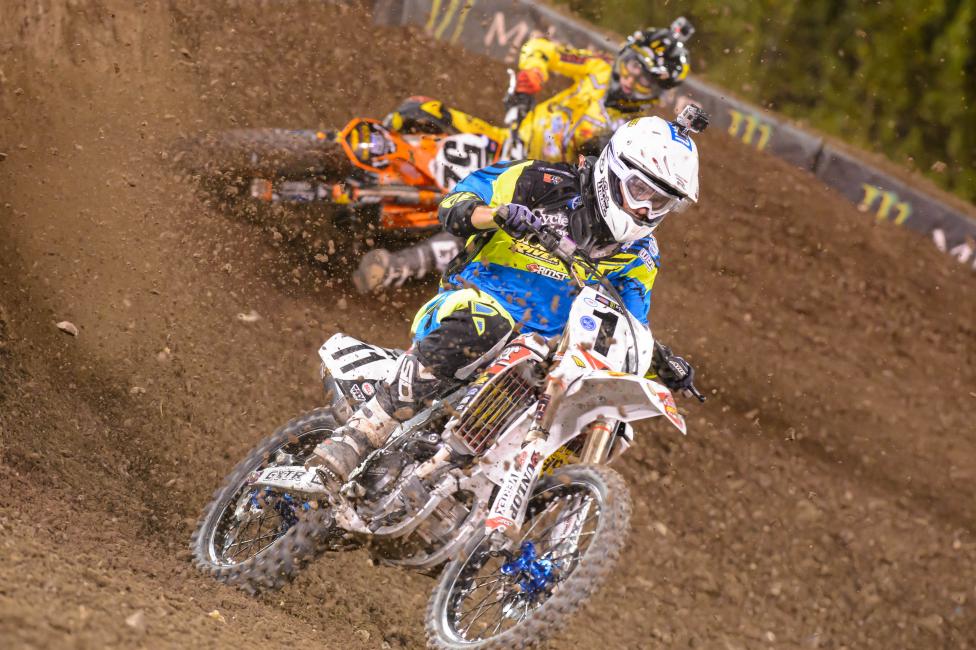 RC TO APPEAR AT ARENACROSS (DC)
If you're heading to Oakland hoping to see the GOAT, he unfortunately won't be there. But if you're on your way to Greensboro, North Carolina, for this weekend's Amsoil Arenacross, you are in for a very big night. Feld Motor Sports, the organizers of both SX and AX, invited Ricky Carmichael to come to Saturday night's arenacross at the Greensboro Coliseum and check on his Road to Supercross. The GOAT will be signing autographs, watching the riders, and talking to everyone about how important this step is beginning in helping aspiring pros to find their way to the top level—and feel comfortable once they're there. If you can survive a weekend of banging bars with the likes of Tyler Bowers, who actually won the Las Vegas SX last May—you know you've got something like what it takes. I know Yamaha prospect Aaron Plessinger's recent win sent some real waves through the supercross pits. So if you're at Greensboro and see Carmichael, give him a high-five (one for each of his Monster Energy Supercross titles) and also say hi to the man likely with him, Feld Motor Sports' VP of operations, Todd Jendro.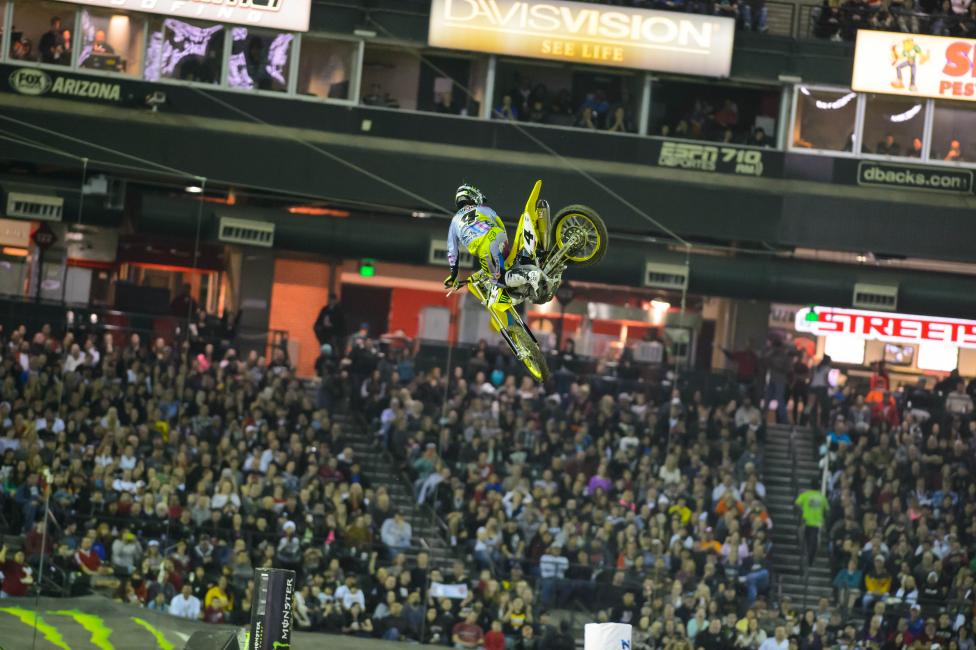 DOCKED TWO AT A2 (DC)
Lost in the nostalgia of the anniversary celebration and Reed's win was the blistering 250 ride by Cole Seely, where the Troy Lee Designs/Lucas Oil Honda rider again laid down the fastest lap times of the night (in either class!) and then was the beneficiary of a penalty to the man shaping up as his title rival, Rockstar Energy KTM's Jason Anderson. Anderson could not catch Seely this time, but after the race, he caught some fire from the officials. According to the press release that followed, "The AMA Supercross Race Director determined that Rio Rancho, N.M.'s Jason Anderson (No. 17) and Vista, Calif.'s Chris Proscelle (No. 193) violated Section 4.15, paragraph e of the 2014 AMA Supercross Rulebook."
That's the rule concerning jumping on a red cross flag when another rider is down. The Rockstar guys were not happy, beginning their weekly press release by stating, "There tends to be a gray area perception when it comes to rulings pertaining to the waving of red cross flags. One year ago, there was an instance where Davi Millsaps was actually passed on the flag and nothing was enforced. In that same race, a penalty was administered to Ryan Villopoto, but was implemented on the red flag restart as opposed to the end of the race as one would expect. Millsaps lost points and was hampered by those results." But with this race, the team argued "a ruling that was made on an opinion and still leaving questions over whether or not it was valid and perhaps even why he was the only one under scrutiny." (They did not realize that Proscelle was also docked.)
So now one point separates Seely from Anderson, and this weekend's 250 race should be even more frantic that the first three. Stay tuned.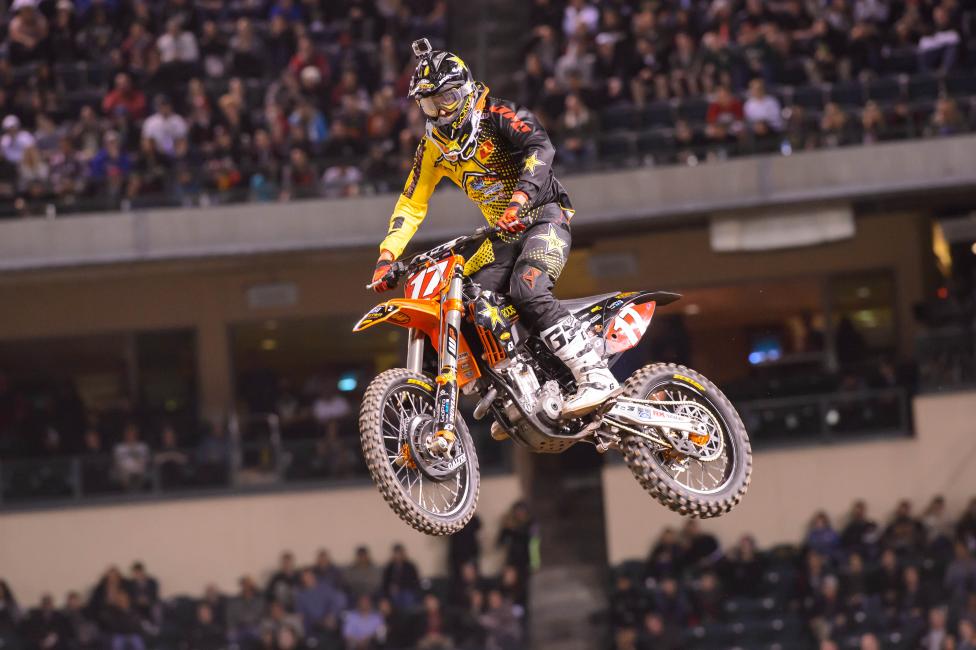 HIGHLIGHTS OF THE WEEK

We've got stats! In 10 Things to Watch, Chase Stallo compared our current five-riders-within-five-points 450SX scenario to previous seasons. We can tell you that no season within the last five years is even in the running for parity. Check the column to see the numbers.
Also, after 31-year-old Chad Reed won A2, Aaron Hansel dug deep into the record books to see how many other 30-something winners there have been. The answer is shockingly few.
You know Cole Seely broke through for his first win of the season last Saturday night at A2, but you might not know that in addition to battling Jason Anderson on the track, he's also been fighting a stomach issue off of it since the beginning of the season that's made it difficult for him to train. Read more right here in this week's Insight.
Steve Matthes called up Lars "The Swedish Miracle" Lindstrom to get some info about working with the 22, switching to Kawasaki and more.
David Vuillemin filed his weekly column on Pulpmx.com looking at A2 right here.
Tony Blazier looks at the 1980 CR125 in this Classic Steel column here.
Swizcore gets all choked up over Reed's A2 win here.
RANDOM NOTES
Headed to Oakland this weekend? Make sure to come by the Racer X booth to subscribe or renew—and get your Racer X wall-cling! Only $20 gets you 13 issues of Racer X plus a giant, wall-friendly Racer X decal featuring Villopoto, Dungey, and Stewart—and as an added bonus, you can give a digital subscription to a friend! (Are you in the U.S. military? Bring your military ID and we'll give you $5 off the subscription price as a small thank-you for your service.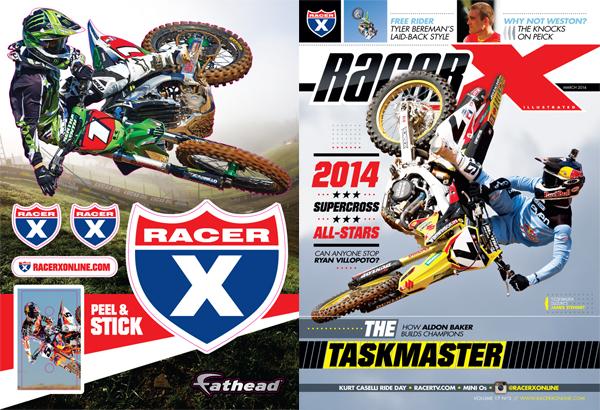 REMEMBERING JASON CIARLETTA (Weigandt)
Today marks ten years since a terrible moment for the sport—the passing of racer Jason Ciarletta in a practice crash at the 2004 San Diego Supercross. While injuries are unfortunately common in this sport, fatalities at the uppermost reaches of professional racing are very rare, and Ciarletta's crash left an impact on everyone—those who knew him and even those who didn't. To this day, some riders approach race day at the San Diego event with an extra dose of hesitation, haunted by that memory. At the very least, we can all remember Jason today, ten years after his passing. Godspeed, Jason.
Longtime Dirt Rider editor-turned-businessman Ken Faught (Pole Position Raceway) also sent us a short memorial slideshow about the fallen racer.

Thanks for reading Racerhead. See you at the races.