Angel Stadium
Anaheim

,

CA
Anaheim 2 (A2)
Monster Energy AMA Supercross Championship
Each week, there's a result that's much more impressive than the sheer number would indicate. This week, Monster Energy/Pro Circuit Kawasaki's Justin Hill generated that result. He crashed in the first turn of the 250SX main event and fought back from last to finish fifth—he was 19th after the first lap!
We could get all poetic in blowing up Hill's ride, but we'll let him explain it himself.
Racer X: Do you even know what happened on the start?
Justin Hill: It was a slight blur. I had the holeshot. I had it. [With the heat and the main] I had two great starts and then both of them just went completely haywire. In the heat I had a great start. I was gone. I had two bike lengths. When the start drops onto the berm in the first corner I pretty much dropped and then my holeshot device popped up. I should have expected it but I kind of didn't. It just kind of hit me and I just washed the front then tried to recover and that just sent me into the hay bales. Actually I was lucky. I saved that. But, man, the main … I should have been maybe a little bit cautious in the first turn after that. But I've just been trying so hard to keep the intensity up that when I get in that first corner it's just all bets are off. Mitch [Payton] always tells me, "Hey, you take so many risks in the race. Why not take a risk in the first 50 feet of the race and that can change the whole outcome?" And he's so right about that. I've got to really get that honed in. I can say I was pretty much just throwing my heart out there in that first corner trying to make it happen. [The back end] just came around. Thought I had it pretty clean and had a lot of traction but it turned out I didn't. I seat-bounced that one [table top] and it flipped my bike around and I just slammed and flipped and flopped.
You didn't get hit by anybody?
No, luckily I didn't. Actually I probably would have but when I crashed I flipped and landed on my feet backwards. No joking—watch it. I landed on my feet backwards and then ran backwards because [Jason] Anderson and a bunch of guys were coming at me. I ran, dodged a bunch of people and then ran again because my bike was at the other side of the section. I was 50 feet away from my bike and ran back to it. The rear fender's all … If I would have done a nac-nac I would have been screwed! So that's how the race started. But I threw my head down and tried my hardest to just try to catch these guys and ended up catching and passing Deano [Dean Wilson], and catching and passing [Zach] Osborne, and [Shane] McElrath and just finally got into fifth. I caught Mookie [Malcolm Stewart] and I almost had Mookie for fourth. Maybe if I had one more lap. I know I've got the speed, I just need a start. I need to get up there. I had it.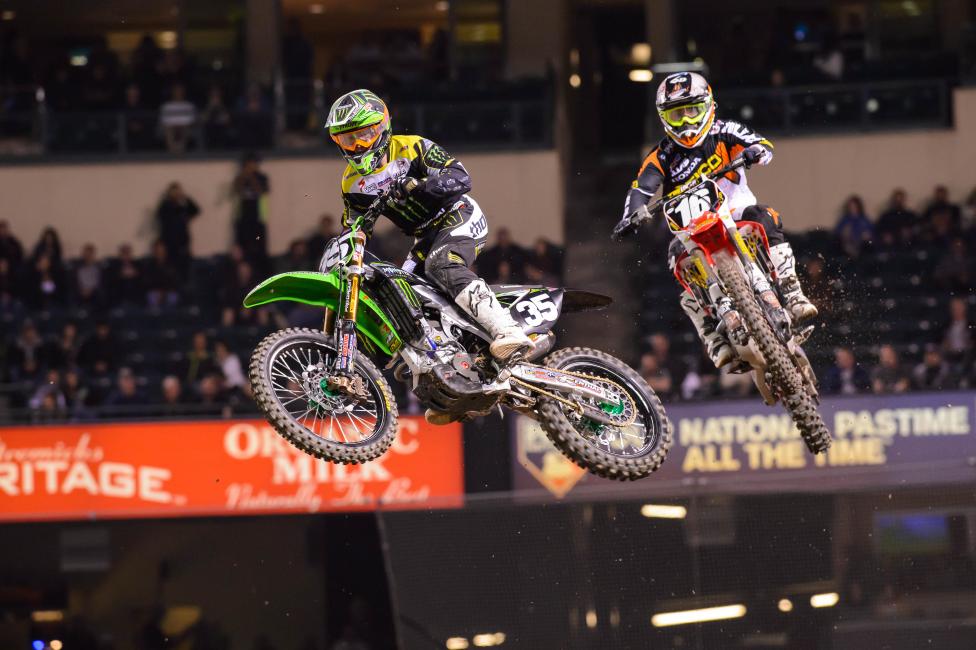 Do you think that's the best race you've ever run? You had good come-from-behind runs at the first two races, but this was from last!
This was ridiculous. This was very drastic. You're not going to sell this one short. It was pretty gnarly, man. This was probably the hardest I've rode. I threw it down as hard as I could for the whole 15 laps and never had a chance to breathe. They always say 15 laps, you've got to breathe on every jump, but dude I was trying so hard to just catch these guys that wasn't an option. And also I knocked the wind out of myself in the crash, so that also wasn't an option.
I can say I was pretty much just throwing my heart out there in that first corner trying to make it happen.
And isn't your heart rate up when you're running 50 feet back to your bike and everything?
It's intense. And especially you get back and your bars are twisted and stuff's messed up. It was rough. I'm not going to say it wasn't. It was really hard.
So you're pumped on the ride?
I wouldn't say I'm pumped on the ride, but I'm just excited that I know I can do that. I'm just excited that I know that if things go completely wrong I can kind of get it back. But I'm not excited on the night. Had I not crashed I think I could have ran away with the thing, but I'm glad that I'm at this point where I feel so comfortable, and so confident in myself and my endurance and everything that I could just throw it down for 15 laps like that. It gives me a lot of confidence for when I am up there and I can just run away with the thing. It's going to help me out a lot.