Anaheim, CA
Anaheim 2 (A2)
Monster Energy AMA Supercross Championship
There really aren't words to accurately describe how big Chad Reed's win was on Saturday night—but rest assured people will be talking about it for a long time. Let's let Chad have a turn with Monday Conversation, logged right after he stepped down from the podium. Oh, and sorry, JT$!
Racer X: Take us through it from the start.
Chad Reed: The start, we did something a little bit different on the lockdown [start device on the front fork], changed that a little bit and just tried to trust it. Honestly last year the bike was very difficult to start on. And I think I just got gun shy. And then all off-season I've been ripping starts and I'm like, wow, feeling good and confident. Then I come to the races and act like I'm gun shy again! So I tried to basically just change it up a little bit—I just went for it and finally got a good start. First few laps were tough. Everyone was kind of going everywhere, the track was really slick. It got beat down and kind of got myself a little bit of a gap and just sat on [Ken] Roczen really. Actually [I sat] on RV and then RV got Roczen. I tried to go to the front. I felt that Villo was going to go to the front and I just tried to stay on the back of him.
Did you get a second wind there at the end? It looked like you really in your groove in the second half of the race.
I don't know if it was a second wind or if I just finally loosened up and rode to my potential. I told you all at the first one that I just felt that I had more in me and we worked harder than that and we were more prepared than that. To come out here and chip away and actually ride better toward the end of the race was nice for us. So I'm super-happy for that. Now we get on a plane, get the hell out of California tomorrow, go back home [to Florida], and try to get a good week in. I haven't been getting good, solid weeks in. So, looking forward to that.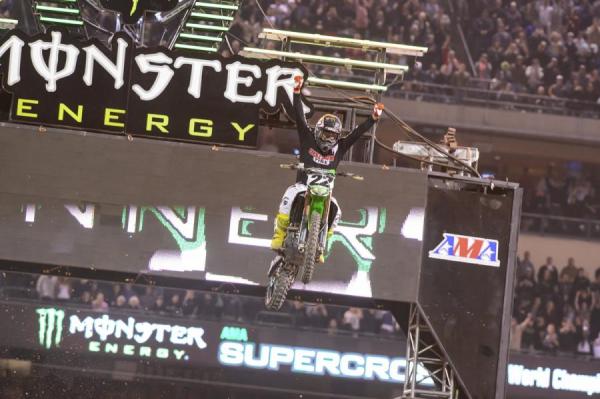 Reed rallied in Anaheim for his first win since 2012.
Simon Cudby photo
Talk about the track.
Track was gnarly. I'm "that guy" I guess, but I hate these tracks. Honestly, I think they're terrible. If my track builder built these tracks I wouldn't pay him. I did a little bit of research, probably like everybody did, and you hear it's Anaheim A1 of 2001 and I actually walked the track with Mark Barnett, who built that '01 track and he's just like, "What the hell is this track?" And I said, "Welcome to the shit that we get every weekend." They're way too fast. Look at the lap times. We were doing 51s or whatever it was. In 2001 they were doing 1:02s, and that's not because the bikes are better. That's literally because the tracks were way more difficult [back then]. You had to be precise, you had to be technical. Now it's about pretty much getting your balls and sacking up and going wide open. For me that's not fun. I'm more of a technical guy, I enjoy that challenge. And it was dry. Obviously the weather, we haven't had any rain or anything like that. It's been super hot and windy this week. That I'm not too concerned about— you've got everything going against you when you're in California and it's hot and it's windy and all that kind of stuff. But as far as the track, it didn't replicate 2001 like it was supposed to.
It looked like the light bulb kind of came on. At what point in the race did you just go, hey, I got this?
I looked at the board and we were lap 16. Right around then I was kind of like—it feels like I got this thing. I could see that I was getting faster and the lines were coming to me a little easier and more frequently. So I just put my head down and tried to grind away. When I got to Stew [James Stewart] I tried to put a good, clean pass on him and then get away so that he couldn't come back at me. He's obviously awesome at doing that, ducking right back up the inside of you and fighting for it. It was kind of a retro weekend in the fact that it was me and Stew going at it. [This time] we just didn't bash bars!
Were you seeing lines when you were sitting in third behind those two guys that you thought you could use on them?
Like I said, the track was fast. Wide open second gear, wide open in, wide open out. You're so hard on the bike, so hard on the clutch. It was a hard track. It wasn't like you could slow down and be patient and kind of pick the lines. You just kind of had to sack up and get after it. That's kind of what I really started doing is just loosening up and just riding to my full potential there at the end.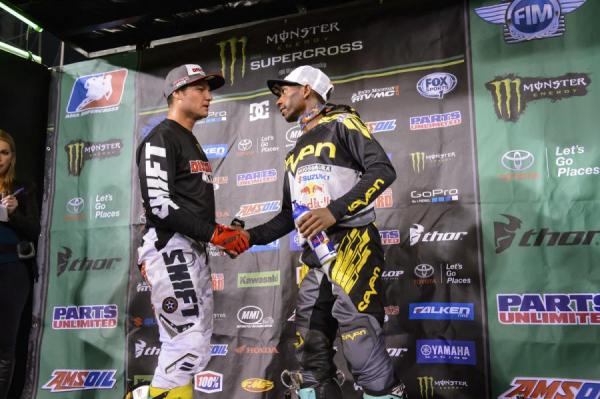 "It was kind of a retro weekend in the fact that it was me and Stew going at it. [This time] we just didn't bash bars!" - Reed
Simon Cudby photo
When was your last win? Two years ago, right?
Yeah, the third race of 2012. I feel like I'm shape like I was in '12. I podiumed at the first race in '12. I went to Phoenix and sucked it up like I always do and came back and won the third race. Kind of did the same this year. I'd like to try to put myself in the battle, get better starts consistently and just battle for this thing and try to get some points. The only thing I would change is no crashing in Dallas or anything like that. Just try to take this thing to Vegas and have a shot at it.
How much of this was mental for you?
The mental factor is, I didn't buy into what you all said: I'm old and washed up and whatever. I believe that I belong here. I believe that this can happen. I needed to get healthy. I needed to get back in shape and get on a motorcycle I was comfortable on. We ticked all those boxes and here we are.
Talk about the line you had leading into the table tops, that's the one that seemed to come together. You went outside and got on these tables a little bit better. Was that something you were doing the whole night or did you figure that out partway through?
Actually I saw [Justin] Brayton do it early on in the practices and then it was working for him in the heat race. I pretty much did it all my heat and then in the main I needed a little bit of room—I think it was Brayton that was actually on me. So I tried to be fast enough in the whoops where he couldn't have a shot at me down the inside. That then forces him—because it is a faster line, it flows a little better—forces him to have to follow me around the outside. It was a tough track to pass on, and my passes didn't come easy. Other than kind of [Ryan] Dungey laying on the ground and RV, it was tough. When Dungey went down he actually got back up when I was coming by and went straight across in front of me so I kind of lost a bunch of time to the guys in front. But honestly I'm not sure that we would have seen Dungey [if he hadn't crashed]. Dungey seemed like he was gone. These conditions suit him. And when you're out front, like I said, when you don't have anybody right on you, you can ride your lines and try to be smooth and maintain the speed. It seemed like he was on a roll there. Bummer for him, but we'll take it.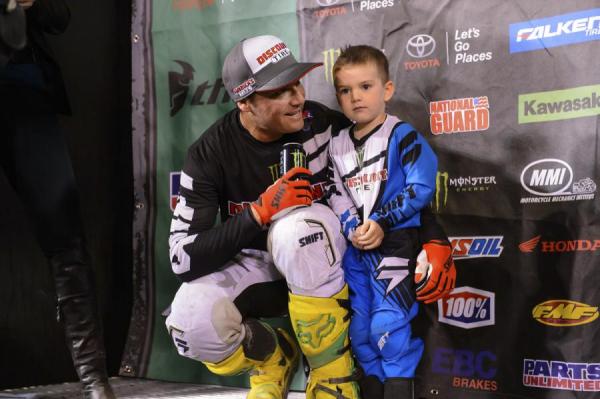 Reed shares a special moment with son, Tate, on the podium at Anaheim.
Simon Cudby photo
Is this a huge, emotional win for you or is it like, hey, I expected to get wins and it's not as big a deal as maybe people make it out to be?
No, I would say this is probably the most emotional win of my career. It just took way too long to get [career win] 42. It seemed like the amount of effort and work and time that went into getting this one, the 41 other ones seem like they came a hell of a lot easier. Just proud, proud of the team for doing what they did in the off-season. And I just worked my butt off. So it was a team effort. It's nice to work hard and come here and do well and win races.
You've got a bunch of special moments of Tate this year. Having him up on your shoulders for a win has to be good.
Done that one other time, Father's Day weekend, which is tough to top. It was in Budds Creek. But he's getting old enough to know that I'm out there, I'm racing, I'm winning and losing, and I'm trying to win. All those kinds of things. He understands that you're going fast, you're going slow. He's hearing things and actually comprehending. Probably one of the hardest things for me to swallow last week was he literally straight up told me, "Dude, you're slow like JT [former pro, and Reed's buddy, Jason Thomas]." And I'm not okay with that! I don't want to go down like that. My son just told me I'm slow like JT! There's no more motivation in the world to come out here and get a win for the little guy.