Angel Stadium
Anaheim

,

CA
Anaheim 2 (A2)
Monster Energy AMA Supercross Championship
Hello, everyone, and welcome to the Rev Up. This week round three of the 2014 Monster Energy Supercross Championship returns to the "Mother Ship" at Angel Stadium in Anaheim, California. The racers and teams are only 40 laps into the premiere championship heading into this Saturday night, and fans will be in for a treat as a special effort will be made to celebrate 40 years of supercross. On hand will be all 22 supercross champions and for all of you history loving fans like me, it will be a very nostalgic weekend for our favorite sport.
First off, let's go back 40 years to 1974. American celebrities Rob Dyrdek, Dale Earnhardt Jr., and Mark-Paul Gosselaar (an eventual huge SX fan) are born, Richard Nixon vacates the White House following the Watergate scandal and Muhammad Ali knocks out George Foreman in "The Rumble in the Jungle." On the motocross side of things, Pierre Karsmakers wins the '74 Daytona Supercross on a Yamaha while Gary Bailey hammers out a top five on his Bultaco. Also circulating the tracks were CZ's, Maicos, Can-Am's, Husqvarnas and even a Penton and a Montessa. Throughout the pits mechanics were burning cigarettes and you could probably catch Texan Steve Stackable kicking back in a lawn chair listening to "Sundown" by Gordon Lightfoot on the radio in his van. Meanwhile in Campbell, California Geoff Fox rents out the corner of an industrial complex and creates the Fox Head brand. Next month will mark their 40-year anniversary.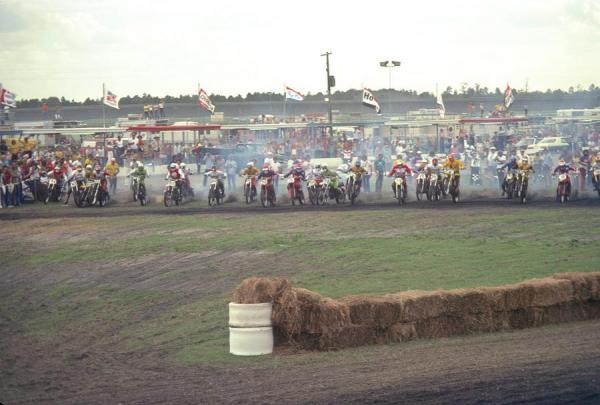 Daytona start circa 1976.
Dick Miller archives
By 2001, American Supercross had hit the big time. The transition from box vans to 18-wheelers was complete and outside sponsors like EA Sports and Chevrolet were making vested efforts in the sport. There was no more cigarette smoke in the pits, and songs like "Butterfly" from Crazy Town and "Ms. Jackson" by Outkast blasted through high definition speakers. The aroma of premix still filled the night sky, but thunder clouds of change could be seen and heard throughout the pits. Yamaha factory rider Timmy Ferry was aboard the YZ426F and Yamaha of Troy had deployed the mighty new YZ250F in the 125cc divisions. Placed in the capable hands of eventual 125 West Region Champion Ernesto Fonseca, it was almost unfair. But at the top there was a power struggle set to begin between the greatest supercrosser in history and the rider who would eventually dethrone him.
When they loaded the gate to begin the 2001 season, Jeremy McGrath wore the #1 plate for the seventh time of his career. Honda's Ezra Lusk was one of the few riders who could beat him in recent seasons, and Kawasaki's Ricky Carmichael was set for his third attempt at the supercross title. Many predicted the young Floridian could dethrone The King. As history would have it, Jeremy would win the season opener while Lusk and Carmichael rounded out the podium. Carmichael would rebound to win round two, then he and McGrath staged a battle royal for the second Anaheim race with Jeremy winning yet again. But it would turn out to be the 72nd and last win of McGrath's career. Carmichael would close out the 2001 series with 13 consecutive wins and the "Showtime Era" had come to pass.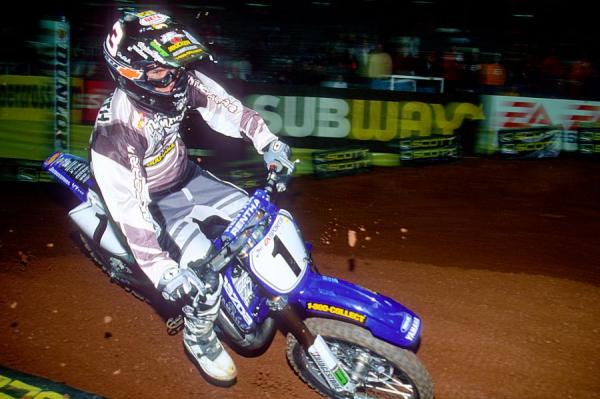 MC won the 2001 season opener at Anaheim as well as A2...
Racer X archives/Turbo
It's 13 years later and so much has changed. The era of the energy drinks is upon us, and while the 450cc and 250cc four-stroke machines have upped the danger element, the Asterisk Medical Unit is larger and more professional than ever, and they now have concussion tests to make sure some things that happened in 2001 don't happen again—at that 2001 Anaheim 2 race, Travis Pastrana coasted to the sideline during a race and fell down, saying he didn't even know where he was. Travis had suffered a huge, head-first crash the week before in San Diego but tried Anaheim anyway. Travis did go on to win the 2001 East Coast 125cc title, but I digress. Supercross is a different animal today. The racers all walk around jamming their tunes on wireless bluetooth headsets and the only premix you can encounter is during the KTM Jr. half time race. On the race track, the game has changed even more. Go back and look at those 2001 YouTube clips and notice the absence of the scrub, and the slower overall speed of the leaders. Put Ryan Villopoto and his KXF450 on the track with Carmichael and McGrath on their '01 250 two-strokes and he would demolish them. But, that's just the natural order of progression. Look at pro skating where 14-year-old kids are doing Tony Hawk's 2001 tricks while 30 feet in the air over a gigantic mega ramp.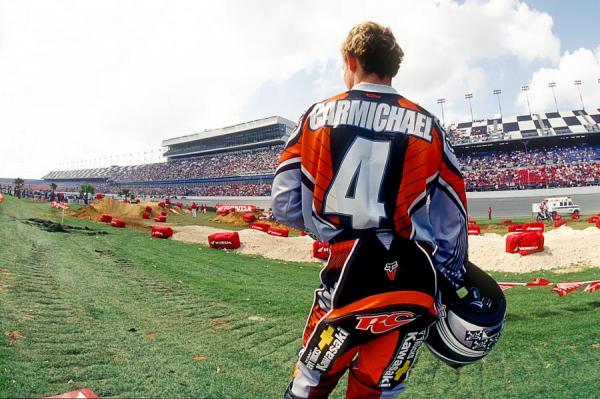 ...but Carmichael went on a 13-race win streak to dethrone The King.
Simon Cudby photo
With this week's track design being a throwback to the 2001 Anaheim opener, it will be interesting to see how the race flow goes. That said, it will be an interesting evening at the races all around with most of the teams and gear companies busting out retro schemes. What other similarities to 2001 will we see? Like McGrath in '01, Ryan Villopoto is the three-time defending champion consecutively, and he has some viable racers looking to dethrone him. Dissimilar to McGrath in 2001, this is only Villopoto's sixth year in the big boy class and regardless of the new (and old) competition I think it is still his time to rule. I think we're looking at more of a '99 version of McGrath if you want to compare the #1 we'll see on the track in two days. When I look ahead at the rest of the series that is how I see it, although when RV was in Anaheim two weeks ago Mike Alessi beat him in a heat race and RV crashed to a fourth in the main event. All the same he is my pick to win this week—but I think we'll first see a show between himself and James Stewart.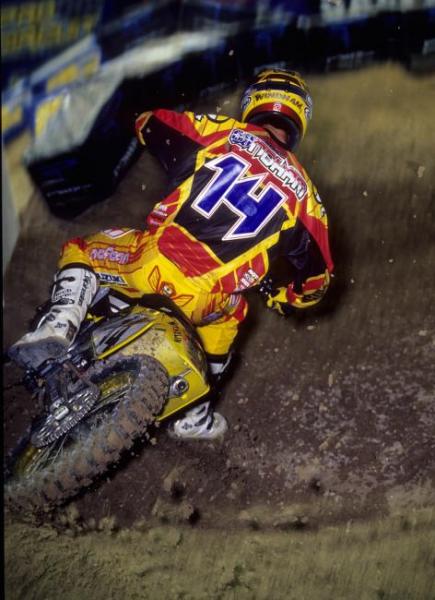 Cool photo of Windham on an RM 250 circa 2001 because, hey, why not?
Simon Cudby photo
We're only at round three and there is so much to be excited about! From Ken Roczen being vocal about revenge on Justin Barcia, to Justin Brayton establishing himself as a potential winner, to the downright jaw-dropping last lap action of the 250 class - get ready for more madness. As mentioned we'll be celebrating 40 years of the greatest show on dirt. In closing I want to go back to the title of this week's column. An odyssey is defined as a long journey full of adventures. From 1974 to 2001, all the way to the main events we'll see this Saturday night, I couldn't think of a more fitting word to describe the sport we're all so passionate about.
Thanks for reading, see you next week.