Almost a week ago, inside a shadowy catacomb-like tunnel present in Chase Field in downtown Phoenix, Arizona, ten-time AMA National Motocross Champion and five-time Supercross Champion Ricky Carmichael sat atop his RCH Suzuki RM-Z450 and patiently waited his turn to be waved out to join the regular cast of characters taking part in opening ceremonies for the second round of the 2014 Monster Energy Supercross Series. A star of the opening act festivities in the way of his superlative parade laps, RC is also now an integral part of the drive train that is the FOX Sports 1 TV broadcast crew - and with the help of Direct TV (if you have it) – Ricky Carmichael likely showed up in your home last Saturday evening – just as he will for the next five month as the tour MapQuest's the USA. And for that we can be stoked because RC, when it comes time to strap on his sport coat and look top dead center into the TV cameras, certainly calls it like it is when the world's best supercross riders race in anger at your friendly neighborhood NFL or MLB stadium. Quite proud and quite animated about his "second career" in the sport, Carmichael, as he did back in the day when he was racing, puts all he has into both his opening ceremony sighting laps and TV broadcast gigs for one primary reason: To, whether they be live and in person and sitting in a polyurethane seat inside the stadium or feet-up and sunk into a well-worked couch inside their home, pump-up the race fans the wide world over. "When I was racing I was so committed and so focused and had so much pressure on me to win, I didn't get to interact with the fans like I wanted to," explained Carmichael while in Phoenix. "Now, through opening ceremonies and the TV broadcasts and being at the races as both a team owner and a fan, I am so much more relaxed. I really enjoy being out with the fans at the races and spending more time with them. 2014 is going to be an excellent season of racing and I'm really happy to be a part of it all." So with that said, and without further blathering, we now turn things over to Ricky Carmichael. "You're on RC!"
Ricky Carmichael and Kevin Windham have been a part of opening ceremonies at A1 and Phoenix.
Simon Cudby photo
Racer X: RC, we're just two days out from Anaheim 2. How are you doing today?Carmichael: Good, man! Just getting some stuff around the house done and then I'll head out your way on Friday morning. So that's about it bud.
Great job on the TV broadcast on Saturday night from Phoenix.
Yeah, thanks, man. I'm definitely trying to bring it, you know what I mean? I want to do a good job while I'm in there.
You've told me before that back when you were racing you were so focused and driven, that it was hard for you to spend much time with the fans. You've also talked about how much you now enjoy being with and around the fans. Does that same sort of enthusiasm also translate into your TV work?
It does. It all works good. I like my position. You know, like going in the booth; I like my position when I go to the race and be in the booth when I want. You know, not all the time, not every single weekend, but the majority of the time. I think it's great, the exposure that you get on TV and being with the fans. I think it's good and I like my position that I'm in right now. I'm very fortunate to have this opportunity. It's fun. I take pride in it and I want to do good at it when I have the opportunity.
You come off really well during the broadcasts. You're really relaxed yet really informative. You also call the action just as you see it. Do you get feedback on your TV gig from the fans and industry?
Yeah, you definitely have your critics when you're in the booth. You can't please everyone. There are a lot of people who play Monday morning quarterback who can wear you out. Ninety percent of it is all pretty positive feedback and I get that from the fans which is really, really cool. Yeah, it all ties in. It's a busy day for me when I'm at the track. There is TV rehearsal and all that good stuff. Then I'm trying to watch practice and our team guys. Then there are the autograph sessions that we do at our rig throughout the day. It's a busy day, a work day, but nevertheless it's fun and it all ties in together. That's my role: Taking care of the fans and being available and doing my thing, if you will. That's what I do now. I don't have to hide in the rig and be a hermit like I was when I was racing. I don't race anymore and I can take all the time that I need with the fans.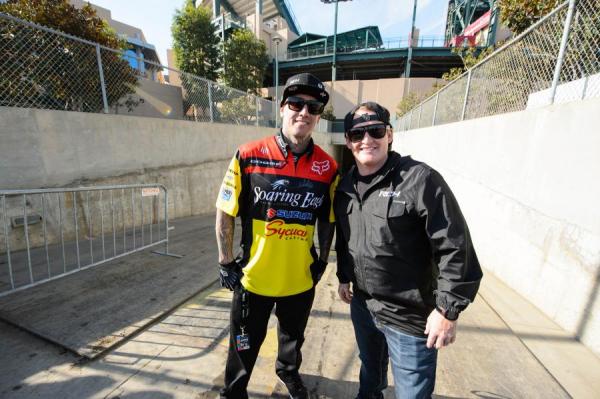 Ricky Carmichael and Carey Hart (left) hanging out pre-race in Anaheim.
Simon Cudby photo
Well, speaking of your former race days… At Anaheim 1 I followed Ryan Villopoto around for basically 12 hours. In doing so, Ryan made it pretty clear to me that racing, as much as he loves it, can be a job at times. In other words, being a winner is not always all fun and games and champagne and roses. Being around you for essentially your entire career, I know it was kind of that way for you, too. Can you talk about that?
Yeah, you're exactly right, Eric. I took my job extremely serious and there are things that I regret. There are things that I wish I would have done more, but you can't turn back the hands of time. When I look at Ryan Villopoto I think, and I don't know, maybe this can be a question for you, but I feel like when I watch Ryan Villopoto and the way he approaches everything, it's very similar to what I feel like I approached it as. Whether it was on-track or off-track or whatever it might be, yeah, it was a job. I was there to win races and give it my all and give it 100% and that was the deal. If I wasn't winning, someone was there trying to win and trying to take my job. I had to take it seriously and unfortunately I wish there were things that, like I said, I wish I could do differently. Like to take a little more time when I was off the track but I can't so I'm trying to make up for lost time, if you will.
What also brought a lot of this to light were some comments Ryan's dad, Dan, had said. At the Monster Cup he said to me, "I can't believe how well my kid has done. I can't believe he made it this far. You know, though, I don't think the fans realize just how hard Ryan has to work to win and stay on top." And at the opener at Anaheim he said, "Ryan doesn't get to eat cheeseburgers and French fries." It's not really a normal life, huh?
Yeah, it's not. I think we're cut from the same cloth, a little bit. Or, if not cut from the same cloth, we approach the sport in very similar ways. I think about that. This will be my seventh season retired – '08, '09, '10, '11, '12 and '13 – believe it or not. It seems like yesterday. Can you believe I haven't raced a season since '07. Isn't that crazy? But, yeah, living how Ryan needs to live right now is not easy.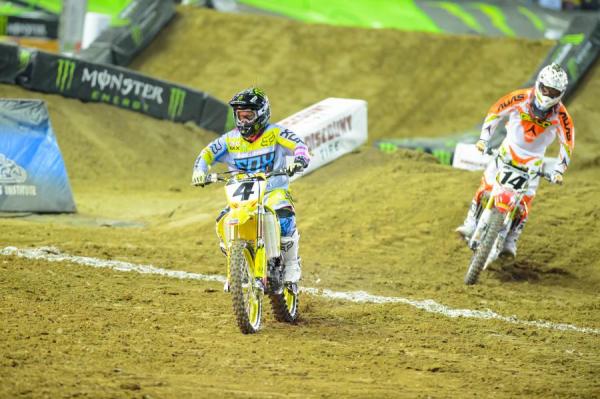 Ricky enjoys being in the booth calling the action, as well as on the track for some whips.
Simon Cudby photo
Here's something I want to run by you… I took a pass by the Pro Circuit shop last night and stopped in to see how Mitch and Bones and the guys were doing. While there, your name came up. One of the guys said, "It was so great when we had Ricky here because he just knew how to win. We didn't have to teach him anything about that. We didn't need to tell him how to win and what to do."
(Laughter) It's funny how they reference back to me. We had a great run. We had one thing in mind when I would show up to the races when I rode for Pro Circuit: It was just about winning and what we were going to do and how we were going to do it to get the job done. I think that's why we meshed so good and why, and still to this day, we still have so much in common. There's only one thing - and that's winning. That was the approach I had and that was the approach that they had. They were willing to do anything for me to make that happen. On the flipside, I was the same.
Okay, FELD, the Monster Energy Supercross Series organizers, are celebrating the 40th anniversary of the sport on Saturday. As part of that, they are going to bring out all the former SX champions. You won five SX titles - '01, '02, '03, '05 and '06 - relatively recently. All this withstanding, you're going to be among the youngest guys at the Big A in 48 hours' time. And many of them you fought and battled with. That's all interesting, isn't it?
Yeah, I think it's really cool what FELD is doing, recognizing the past supercross champions. I think all the champions are going to be there for the celebration of supercross. I think it's cool what they're doing. Not too many other sports can say that, any time you go to a function like that and you see the past champions, it makes you feel like you're getting a little old and dated that's for sure (laughter). What I always like, especially with these champions that are older than me, it flashes me back to when I used to look up to these guys and when I used to watch them. And the equipment that they raced on… The equipment these days is far more superior than what they were on. It was so badass what they were able to accomplish on the equipment they were on. I have a tremendous amount of respect for everybody because I know what goes into it and I know how hard it is.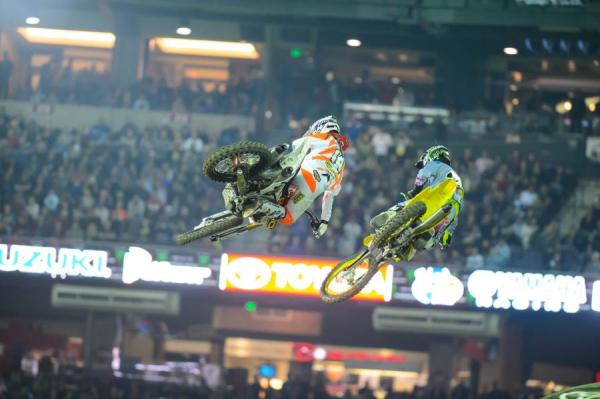 Windham and Carmichael giving the fans a treat at A1.
Simon Cudby photo
We're two rounds into the 2014 season. With Phoenix now in the media guides, just how does RC see the field? Who were the winners, who were the hangers on, who struggled? How do you see things RIGHT NOW!?
Well, right now with the series in general, I see that Ryan Villopoto is the guy to beat. You always have to give the nod to the defending champ unless there is a huge reason not to. I think if anybody is going to want to win the title they're going to have to go through him to win it. On the flipside of that, every race that I go to, if I can't tell you who is going to win, then I have a pretty damn good philosophy of why. I can tell you why I think a guy will win and I can tell you why I think he won't win. It's a lot different than it was years ago when, basically, there were one or two guys who were probably going to win the race. We can't say that now and that's what's really cool about the sport of supercross. So that's where I see the series right now. I don't think we can say, "Hey, this guy is going to win unless something happens this weekend." There's too much talent and the field is too deep right now.
Who has impressed or surprised you thus far?
Nobody has really surprised me. I think there are things where I expect a little more out of people. Villopoto is doing what he's going to do, you know what I mean? Dungey, he should have, in my mind, won Anaheim 1 and he should have won Phoenix. He's not a very aggressive rider. For the most part, he's very "in the zone" and in control and in his comfort zone. Had he passed Chad Reed at Anaheim at an earlier stage, I think he would have gone on to beat Roczen. Did Roczen surprise me that he won Anaheim? Absolutely not. He is plenty capable of doing that. I expected Barcia to be, at the least, to be on the podium right now. He has plenty of speed to do so. I expected a little more from him. I know it will come throughout the season. I've got my eye on him.
What about James and Reed?
The two veterans? You know other than the people that we just mentioned, I've never really raced any of the other guys. The only two guys that I raced against in supercross, at a winning level, are Stewart and Reed. It's just weird to see them out there still. When I watch them I think about when we used to race and come hell or high water the three of us were going to be on the box, no matter what. I don't see that happening anymore. It's just really surreal for me to watch that. I respect both of them tremendously. We've had some tremendous battles and a lot of history together. When I watch them now, I don't see them on the podium after coming from a bad start. To me, that's just not them. It's surreal for me to watch that. And I mean zero disrespect. I respect those guys tremendously. I had so many great battles with them that it's hard for me to believe that they can't come up and be on the box every weekend because that's how they were when I raced them.