Chase Field
Phoenix

,

AZ
Phoenix Supercross
Monster Energy AMA Supercross Championship
Three years ago, I wrote this in Redux:
"Muscle Milk Toyota (JGR) has some great technology, but what they really need is a time machine to get Brayton into the future, when he finally has a breakthrough race and gets the confidence he needs, and then bring him back with that confidence today."
Apparently, they've built the machine.
This season, Justin Brayton keeps repeating the mantra over and over: "Battling with the guys I'm supposed to be battling with. Battling with guys I'm supposed to be battling with." What's he mean by that? Justin is pulling a mind trick to get himself to the next level. He is making himself believe he is good enough to battle the lead dogs like Villopoto, Dungey, Reed or Stewart. A noble cause, but Brayton doesn't carry the credentials those guys do. He hasn't won a professional title, and never even won a 250SX race. Now he wants to win a 450SX against a loaded field. How do you convince yourself that this is possible? Therein lies the greatest challenge in this sport.
It helps that the riding is there. Brayton only has a handful of career supercross podiums, but he has some talent. Here are the indicators: When the tracks are gnarly and technical, he excels. Also, he usually figures the tracks out more quickly than most—you'd be surprised how often #10 (or, his old number, 23) pops up on the lap chart board early in practice. Big whoops? No troubles. Tricky jump combinations? He's got 'em. As a rider raised in arenacross, these things come naturally. Corner speed, high speed stuff and outdoor motocross skills are not as much Brayton's forte, but this is January and supercross is what matters. Physically, Brayton has the tools to run with the best. The mental side is another issue, though. When you've come from nothing, it's hard to believe you really can be something.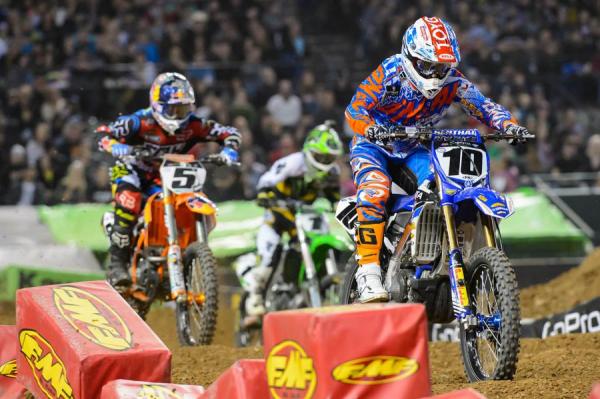 Brayton Battling Dungey and Villopoto--that's where he expects to be.
Cudby photo
This off-season, Justin went to work with a specific task of making himself believe he could battle that next pack, believing he could run the exact type of race he just ran in Phoenix. And you could see the benefits in the moment, because each time a challenge came his way, he responded as if he had been there before.
We've seen riders take off and lead laps before, but they don't usually finish it the way Justin did on Saturday. Those first laps of glory are just adrenaline and hanging on, and it's good until reality catches up, arm pump creeps in, and the inevitable backwards slide begins. Countless times you'll see a rider lead like that and later comment that they held their breath the whole way. But when Justin pulled off the track, he didn't even look winded—or excited. In his mind, all he did was exactly what he expected to do.
Brayton's first Phoenix challenge came from Barcia, who has been lightning-quick every time he has hit the track this season. When Barcia dove inside, Brayton calmly squared Barcia back up to retake the lead. When Barcia attacked him again, Brayton held his ground, sending Barcia into the tough blocks. From there, Barcia tightened up and started sliding backwards.
Next came Ryan Dungey—except he didn't, because Brayton didn't yield any ground. A final challenge came from Ryan Villopoto—heretofore unstoppable by anyone—and sure enough, RV made the pass and started to move out. (Might I add that Villopoto is starting to become very McGrath-like in his passes? He's never in a battle for long, he just zaps dudes before you even know he's there). But Brayton wasn't pumped up, nervous or tight from running more than half of the race up front. He just kept flowing and riding, and found himself back on Villopoto's back tire as the checkered flag waved. If a first-time fan watched the Phoenix race, they'd never realize that was a career night from the #10. It looked like he belonged there, as if he had done that many times. If you watch his previous runner-up finishes behind Villopoto (a pair of seconds in 2012) it was more of the lead-early-but-it-can't-last-20-laps variety.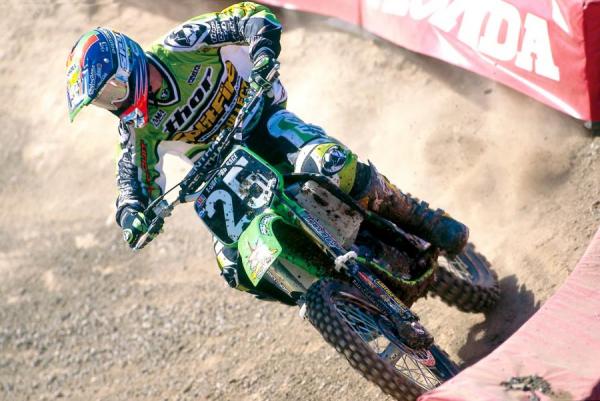 Nathan Ramsey is a two-time East/West Shootout Winner,
past 125SX Champion, and 450SX main event winner.
Courtesy Moto Verte
This year Justin is working with Nathan Ramsey, and it's a good pairing. Brayton had been doing some work with Buddy Antunez (their arenacross roots run deep) but BudMan's race-day 450 schedule is now full with Eli Tomac and Weston Peick. Ramsey took over where his friend (buddy?) Antunez left off, but with a twist. Like Brayton, Ramsey was a perennial underdog—never spectacular as an amateur, but someone who willed himself into a great pro career (Ramsey's best-ever overall finish in a class at Loretta Lynn's is tenth, but he's the 1999 125 West SX champion, and is second all-time in 125/Lites SX wins. Second all-time!). Ramsey also won a 450 supercross at Pontiac in 2002. He had no business being that good, as he wasn't on the radar as a can't-miss prospect. He willed himself to make it happen.
Now, Ramsey is trying to build that same belief in Brayton. "I was a lot the same way," says Ramsey. "For guys like us to believe we belong at the front, it takes some convincing. I think he's convincing himself now. You don't get lucky [with a good finish], you did it. More than once you've been one of the fastest guys at the race—but you need to get that to stick with you every week."
"Some guys are kind of just born with a little higher opinion about themselves, they have that confidence already," says Ramsey. "Other guys gain confidence from hard work. You see guys like that snowball after they get one good result. It's one of those things—some guys have more confidence than they should have, and that helps them pull things off that maybe they shouldn't. But if the hard working guy can get to that point where he's mature and believes in the work he's done… Justin knows he's put in his hard work. That's where his head is at now. He's not uptight, he's not anxious, he's turned into a real veteran of the sport."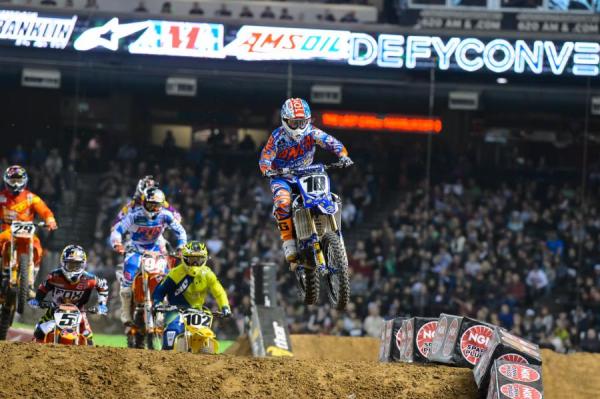 Brayton looks to retain his front-runner mentality as the season continues.
Simon Cudby photo
The first step is getting there. The next is staying there. The riders that work the hardest are the ones that want it the most. So while that hard work and desire can help them climb the ranks, it also means they're going to be more disappointed than most when it doesn't work out. A single bad race, heck, a bad day at the test track can let the doubt creep in.
"We've all been there beating ourselves up for the whole week," says Ramsey. "You look at how many good guys are in that class, a lot of guys that could pop at any moment and be on the podium. You have to give yourself a little slack—bad races are going to happen at times and you have to be okay with it. Otherwise you have a noose around your neck and you're waiting for someone to kick the chair out."
For now, the group continues on an uphill climb. From the whole JGR staff, to Brayton's support group in California and North Carolina—which consists of a variety of trainers, coaches, and overall well-wishers that just want to see him succeed—this is a moment they've all waited for. Now the work goes in to sustain it—and for Brayton and his crew, working is the easy part.