Chase Field
Phoenix

,

AZ
Phoenix
Monster Energy AMA Supercross Championship
Each week, we put together three burning questions and solicit three answers from the Racer X edit team. Here's Jason Thomas, Steve Matthes and Jason Weigandt this week.

1. Does Ryan Villopoto's come-from-behind win mean it's lights out for everyone else?
Jason Thomas: I don't feel it's "lights out" but it certainly was a statement that let everyone know that RV is still the man to beat. I think that Barcia, Stewart and Dungey all are capable of running with and beating RV on occasion. The biggest problem is that at Anaheim, RV looked beatable and maybe the gap had closed between the pack and the champ. RV did his best to quiet those voices on Saturday. If one of these guys wants to make a serious title run, they need to beat RV straight up and soon. Villopoto is great at managing a points lead and unless someone gets into the mix quickly, we might all be watching him wrap up another title before Vegas.

Steve Matthes: I don't think it's lights out for the competition but it was a nice win for sure. Coming from so far back makes for a "stamp that" kind of win. Villopoto's the favorite to win this title and you have to think he's got ten wins or so in him. He could very well rip off a streak, but so far, he's crashed and gotten fourth and gotten a so-so start and shredded the pack to win. The "easy" win hasn't been there yet.

Can you ask me again in a couple of weeks though?

Jason Weigandt: It's very, very scary for the competition. If it's not lights out yet, RV at least has his hands on the switch and is ready to turn them off. Sorry for the bad news—I know we all want parity.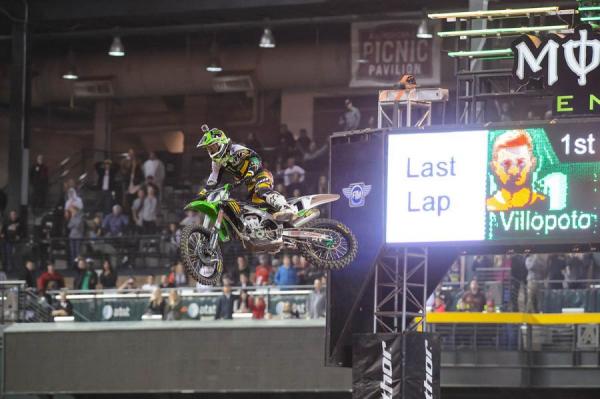 When RV lit the candles on Saturday, did it turn the lights out for everyone else?
Cudby photo
2. Is Justin Brayton for real?
Jason Thomas: Justin Brayton is certainly for real. He has the skill set, equipment and experience to run up front and score podium finishes. The hurdle Brayton must clear is getting in that top-five every week. He has shown the tendency to have off races, which relegate him to an 8th-11th place result that really hurts him in the points chase. The only thing I still would like to see from JB10 is a string of multiple performances like the one we saw in Phoenix. If he can put himself squarely in that podium fight regardless of the venue, starting position etc, then I will say that Brayton has truly arrived. Having said that, he opened everyone's eyes on Saturday. Can he do it again in Anaheim? That is the million dollar question.

Steve Matthes: Yes, Brayton is for real. He was very good at A1 and even better in Phoenix. Brayton's got what you need to be successful in supercross. He's good at starts, he's good in the whoops and he's got a good bike and team and, oh yeah, he takes this stuff pretty seriously. He's working with Nathan Ramsey this year and told me that Ramsey is trying to hold him back a bit in terms of taking what he can get on a night and not stressing if it doesn't work out. Brayton may not make the podium this weekend but he's a better rider than he was last year.
Jason Weigandt: Too early to say. For certain, Brayton has done all the right things so far: he's gotten himself to believe he can run with anyone, and clearly his pre-season training and bike setup are spot on. But the early season has a way of throwing surprises our way, only for it to average out by the end. Someone who wasn't spot on in the off-season might get dialed in soon—but I think Brayton's indoor skills have always been underrated and he's capable of staying up there. That said, as long as Villopoto's on the gas, Brayton (and everyone else) can't afford to waste any opportunities to get a win.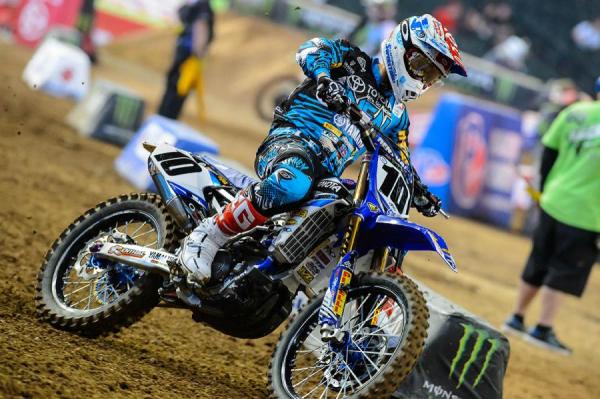 Are more podiums in Brayton's future?
Cudby photo
3. Are Anderson and Seely in a race by themselves or will someone step up and beat them soon?

Jason Thomas: So far, it's really hard to not put Jason Anderson and Cole Seely into a class of their own. They have simply run away from everyone else in two consecutive weekends when the contenders were for the most part all near the front to begin with. Sure, things can swing on a dime and we can have a completely different dynamic by this Sunday morning but for now, they are the class of the field. What's odd is the heat races haven't played out in the same manner. I'm not sure if it's the main event pressure or simply the urgency they feel to raise their game, but for whatever the reason, these two have absolutely dominated both main events thus far and show no signs of changing that approach. For Wilson and Osborne, the time for change is now.

Steve Matthes: Twenty-seven seconds was the margin of victory last weekend and eighteen seconds at A1. Yeah, I'd say Anderson and Seely are better than the other guys as of right now. I picked Wilson for the title and Osborne to challenge him the hardest but right now, I'd like a mulligan on those picks. Both Jason and Cole look very strong this year and there it would be hard to pick a fave between either of them. This is a big weekend for the rest of the class, let's just put it that way.

Jason Weigandt: Dean Wilson just has too much talent to count him out. Osborne tries really hard. These short 250SX championships usually come down to someone making a huge a mistake, not who is simply the fastest overall. Go rewatch last year's Salt Lake City SX for reference. I think everyone is going to have a problem at some point and if Wilson and Osborne play their cards right, they'll have a shot at the points lead when it counts.