Nick Wey had a bounce back weekend at Phoenix. Missing all of the 2013 SX season due to his injuries suffered at the Spring Creek round of the Lucas Oil Motocross Championship back in 2012, many had their doubts as to how the 33-year-old would do in Monster Energy Supercross this year. The sport is endlessly evolving and riders' speeds keep elevating along with it. Anaheim didn't do much to silence those critics as Nick found himself on the ground repeatedly and the odd man out come main event time. But he's seen adversity before and on Saturday he proved that he wasn't one to shy away.
Getting poor starts is a great way to have a bad night. With the depth in the field, it isn't easy to move through the pack and into a qualifying spot. Knowing this, Nick claims that he did at least 100 practice starts in the week leading up to Phoenix. It showed, too. He was near the front in every start and was this close to holeshotting the main event. Racer X's Jordan Roberts asked Nick about that very start after the race: "I feel like if [Matt] Moss had been six inches further back, I would have been first. He kind of made a mistake in the first corner and I fell a little bit further back than I wanted to." Keep in mind that this near holeshot was coming from the very outside, as Nick qualified through the LCQ. Practice paid off, indeed. As for his main event, he rode solidly, even following Ryan Villopoto and Chad Reed for a few laps. A 13th place finish is not the end goal but it's a far cry from where he was sitting during the main event a week prior—in the stands. For a rider who was a weekly podium contender earlier in his career, I would guess that it is difficult to enjoy a 13th but in the grand scheme of a comeback, he's on the right path.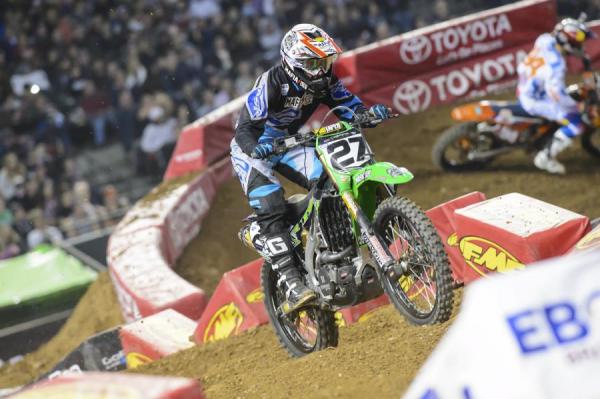 Nick Wey was back in form in Phoenix following a tough opening round.
Simon Cudby photo
Where Nick's career goes from here is 100 percent up to him. He is running his own team and program and makes his own decisions. With the costs of running your own team, it's doubtful that he is seeing a huge profit in return for his huge effort. I feel that he is out there for the ultimate in noble reasons, simply because he wants to be. He enjoys what he is doing and knows that one day soon, this will all be a memory. A year or three from now, he will be watching the races from the seats just as I do now. He will look back on nights like Phoenix and wish he could relive that feeling of redemption and the satisfaction of a decent race.
Nick Wey is this week's Unsung Hero not only because he flew under the radar to a great finish, but because he is still out there fighting when the world is telling him his time has passed. He is a true professional and the kind of rider you want your children to cheer for. He is doing it the right way and the supercross world is better with Nick Wey in it.