Ken Roczen won his first ever 450 main event on Saturday at Anaheim. Ken was great all day, looking strong right from the first laps of free practice. If there were any rookie jitters, they certainly weren't showing. He was quick to put the tough sections together and find the pace, and was even on the top of the leader board at times. This was a great omen, as the moment didn't look too big for the young German. As great as his riding skills were on Saturday night, more impressive to me was the mental poise he showed.
Most rookies take a few races to really unleash their true potential. Sure, there are exceptions, but everyone from Ricky Carmichael to Jeremy McGrath took a bit to find their groove (MC suffered through arm pump at the first two rounds of his rookie season—then he won round three and changed everything forever). The stage is large and the lights are bright in that first race with the big boys. Riders have often spent years looking up to their competition and now must attempt to put that admiration out of their minds and treat them like an equal.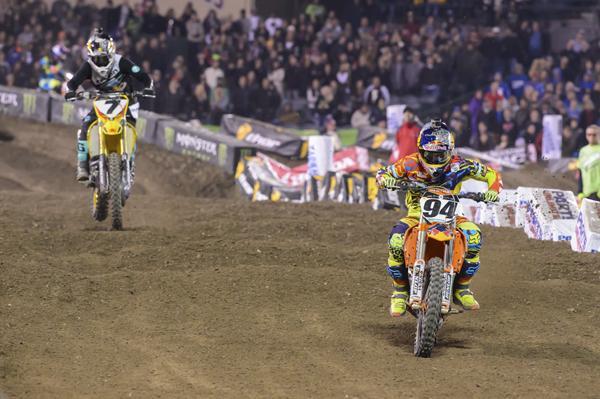 Ken Roczen handled the pressures of Anaheim 1 on Saturday.
Simon Cudby photo
No easy task there, yet he executed the plan to perfection. Even with his training partner Ryan Villopoto handing him the lead and supercross legend James Stewart applying enormous amounts of pressure, Ken never appeared close to blinking. His lap times stayed right where they needed to be, even putting down a 58.685 on lap 12 when everyone but Stewart had given up the ghost on the 58 second mark. He continued to stay in the 59-second range consistently, even when he had to be getting more and more nervous as the checkered flag approached. It was an ice-in-his-veins type performance in a situation with every reason to crack. Impressive to say the least.
Where Ken Roczen goes from here is anyone's guess. This 17-races-in-18 weekends season is longer than any he has ever raced before. Not only will he have to face the strongest class in recent history, he will have to deal with nagging injuries, travel woes and the mounting pressure if he continues these winning ways. With the most successful trainer in the sport in his corner, he should be well equipped to deal with all of the new situations in his path. Phoenix will tell us quite a bit more about how Roczen's season may go. If he comes out and lands on the podium again, we may have to take a long hard look at his title chances when no one really had him contending a few short weeks ago. Remember, only twice has a rookie ever won the title. The ball is his to bounce but only Kenny can determine the direction from here.