Angel Stadium
Anaheim

,

CA
Anaheim I (A1)
Monster Energy AMA Supercross Championship
"Justin Hill has another year under his belt. For whatever reason, and I don't know how, he just took some time off and came back and boom! He started riding on the supercross track and it looked like he was a different person than last year at this point. He's ready to go. He's as fast as anybody on the track. He picks up everything immediately where last year he couldn't."
That's Pro Circuit Kawasaki boss Mitch Payton on the progress his sophomore rider has made leading up to the 2014 season. On Saturday night in Anaheim, Hill will line up against ten fully factory-backed riders, all of whom have a realistic shot at taking the main-event win. Although Hill, now 18 (and the brother of SX challenger Josh) had a wobbly East Region 2013 series, placing twelfth overall with two top-five finishes, he's ready to but his #35 KX250F on the podium.
Racer X: Justin, you broke in your new supercross bike today, correct?
Justin Hill: Yes, I finally rode my race bike today.
For the technical fans out there reading this, what do you guys do when you break in a new race bike?
We ride them to the prior to the race just because we're riding the West Coast. Basically, we go out to the test track and wait for the bikes and make sure they're all good. We make sure the chassis are all good and make sure everything is all good with the bikes. Then we clean them up and load them up. We basically break them in to make sure we're comfortable with them so we show up and don't think anything might be off with the bikes.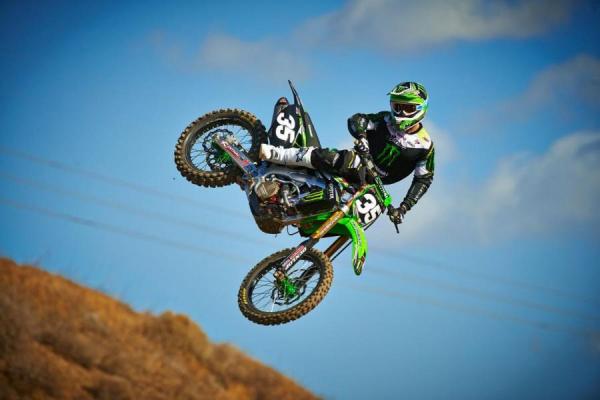 Justin Hill is entering his second season with Monster Energy/Pro Circuit Kawasaki.
Simon Cudby photo
So how does your 2014 bike feel? Here's a big quote from Mitch about getting it ready: "Nine-tenths of a horsepower is a big gain for us. It's a big gain when you consider a standard bike comes out with almost 39 horsepower, and if we can make a substantial gain from there, then that's a big deal. We're way above 6 percent over a standard bike. Our engine package is really solid. This year we also worked on some chassis stuff. We spent a lot of time and effort on that. We built six or seven different linkages and some different triple clamps and some axel lugs. We want to make the bike turn and handle better. I think that's going to be a big deal. We tried to concentrate on getting the bike over the gate—what would make the bike better over the gate. We did video on a lot of things, and I think we've done some really, really good things to help that."
Oh, yeah, Mitch has it nailed. We made so many changes to our advantage this time around. We did a lot with the chassis. Bones [Bacon] really worked hard with the chassis and got us to where we liked how the bike was turning and everything. We worked with the rear end a lot to where we could get it high over the gate. We were practicing starts with the race bikes. We've got those things dialed.
The start is so important in supercross, isn't it?
Yeah, it's the whole deal. For the last couple of weeks I've just been sitting here and watching all the live races from last year and it was like, man, all these starts are super important. The guys who are even coming from dead last, they have to give it all to try and come through and go to the front. It's so tough if you don't get a good start because there are so many good guys. Starts are really important.
The West Region is going to be really stacked come Anaheim.
Yeah, we have all the Troy Lee guys, four more guys that are really good.
How about the GEICO Honda guys? Will they be tough to beat too?
Yes, for sure. I mean, that team is always so strong. I think the West guys are going to be Bell and Osborne. Those guys will be strong. I know Osborne has been there for a long time, and he's got a lot of knowledge. Those guys will definitely be strong. Bell will get a spurt of speed and go with it.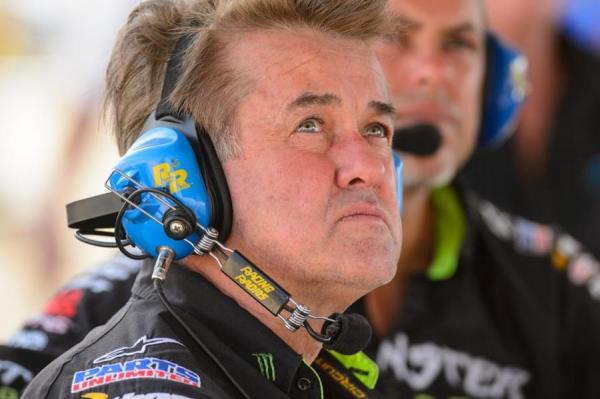 "We tried to concentrate on getting the bike over the gate—what would make the bike better over the gate. We did video on a lot of things, and I think we've done some really, really good things to help that." - Mitch Payton
Simon Cudby photo

How about Cooper Web and Malcolm Stewart?
Webb will go pretty fast, but I haven't really seen him. He trains at the Rockwell Gym, and I hear reports that he's going pretty good. Cooper knows how to race, and he gets out front and he doesn't play around. He's pretty good. Malcolm is always strong. Malcolm is impressive and will come out and be there. I know he's been working. He'll be tough as well.
How about your teammates? Dean has put together a very strong program for 2014. This is what Mitch said about him: "Dean's strengths are that he has won supercrosses and outdoors before. He's a national champion. He's raced everybody before. He's older, wiser, and much stronger now physically. He's working with Ryan Hughes, and Ryno's done a really good job of getting him into shape. That's a really positive thing."
Dean has really boosted up his program. It shows when we go to the track. He's working with Ryno now and they seem to be gelling pretty well. It seems to be working for him.
Here's Mitch's take on Darryn Durham, too: "Durham has won a race before. He's one of those kids that's really talented on the bike, and he can jump everything. He's had a year to get over his shoulder and ankle injury and I think he's ready to go"
Darryn has been training with me and he's looking pretty good and is working hard too.
You rode the East Region in 2013. You weren't too happy with your results, so you went home up to Oregon for a while, regrouped, and then came back down here to Southern California with an entirely new mindset and attitude for 2014.
That's what I pretty much did. I went home and thought about all the races from last year that I was far from being happy with. I sat and thought about that for so long and just pounded it in my head that I needed to do something about it. I showed up here with a vengeance, really. I showed up to try and prove a point. At the track, I tried to be the fastest guy. After watching all of my races, and I was just like, 'Man, what am I doing out there? That's not me. That's not the best I can do.'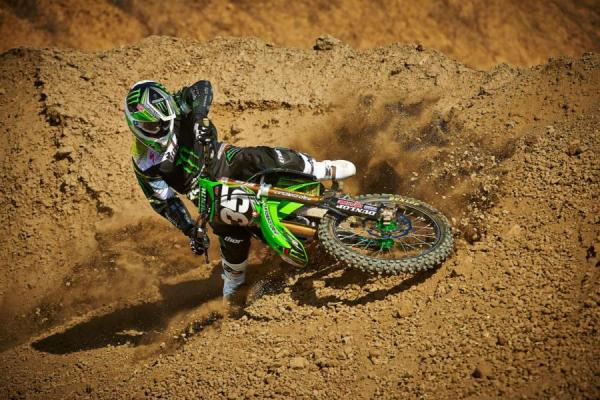 Can Hill contend for podiums in 2014?
Monster Energy/Pro Circuit Kawasaki photo
After watching the races, where do you think you were coming up short?
It was just my confidence. Instead of forcing stuff to be comfortable and to be aggressive, I just pretty much accepted that I wasn't comfortable and I rode it out.
Are you excited to race in Angel Stadium? Did you look up to the race as a kid?
Oh, yeah, I'm so excited. I'm just really excited to be a brand new man and know what I'm going to do this year and not play around with it. I mean, I watched my brother race Anaheim, you know, probably ten times. It gets more exciting every time I watch it. I'm super pumped to race it myself. I can come out swinging and really turn some heads because I know that nobody is expecting me to go out there and challenge for wins, but I'm the one who put myself in that position.
What's in the cards for you at Anaheim?
Like I said, I just want to come out swinging and let everyone know that I'm in it for real. Now that I know I'm on the pace, I don't think it's crazy for me to want to win the thing. If I don't hit that box at the first round, I'm going to be very upset with myself. I want to be on that box, for sure, and then I'll take it from there because you have to be in it from the start. You have to get up there quick, and I know I can do it, so I need to get up there and hit that box, for sure.