Nobody likes hearing about riders getting hurt, but if there is a silver lining to the dark cloud of injuries that always seems to materialize every December, it's that riders who were left without rides for the year get opportunities they wouldn't have otherwise had. After winning an Eastern Regional 250SX race and finishing third in the series last year, Blake Wharton was one of those riders in search of a spot on a team. On the heels of Justin Bogle's injury, he found one at GEICO Honda. Here's what he had to say about it.
Racer X: The press release about you joining GEICO Honda pretty much came as a surprise to everyone. Last we heard you were preparing for the season on a privateer Yamaha with Larry Brooks. What happened?
Blake Wharton: Yes, that was the plan. I was working with Larry and some other people he had brought to the table. It was a West Coast deal, but I wasn't sure if I was going to be able to be where I needed to be come Anaheim. Also, we had to develop the bike, and it's a new bike this year, which takes more time because you have to start from the ground up. Good bike, by the way. But that aside, I just didn't feel like I'd be ready for the start of the West Coast rounds. I have more time to prepare for the East Coast, and I raced it last year. I like the West, but given the amount of preparation I had, racing the East made more sense; I'd be better prepared. So then the GEICO deal came along, unfortunately because Justin Bogle suffered a bad crash, and it was for the East. They called me, we started talking and that's how it happened.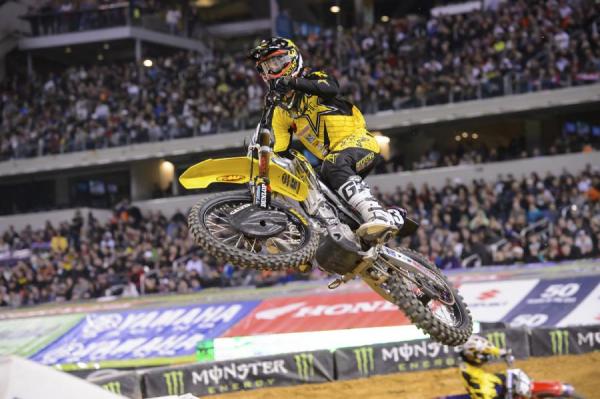 Blake Wharton has spent the past two years with Rockstar Energy Racing.
Simon Cudby photo
It seems like it came together pretty fast.
It did, and one of the reasons is because I've been there in the past. I was with them for four years, one as an amateur and three as a pro. I've got a lot of experience with those guys over there and our relationship allowed us to get things done very fast. There wasn't any, 'Hey how's it going, nice to meet you,' talk. It was just, 'Hey let's do this.'
How was it to work with Larry Brooks?
I only worked with him for a short while. He's known to be pretty extreme, but I think he's extreme for the riders. I don't think he says no when a rider needs something. It's hard to think like a racer if you've never been a racer, and he's been a racer, and a successful one at that. He understands the riders really well, and he's been managing teams and developing bikes for a long time. He knows a lot of people, he has good ideas and he knows how to get it done.
Will you be racing motocross with GEICO too?
The plan right now is to do supercross and take it from there. We're just focused on supercross right now. That's what I've been brought on for and that's what's happening right now.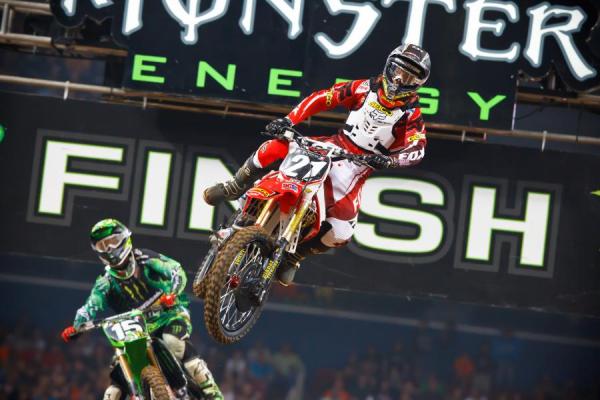 Wharton is back with GEICO Honda, where he rode from 2008-2011.
Simon Cudby photo
How does it feel to be back?
It feels good to be back with the team that I started on. It's kind of like a family reunion! They've brought on some new guys, and a lot of guys are still there. I like what they've done with the team sponsors, too. They've done some really neat things and are doing things a lot of people aren't. They've stepped outside the normal boundaries and look for what is actually best for the team, instead of what might be the best option financially. They have a unique way of operating and all they want to do is progress. They want to get better as a whole, and the better the team is, the better they can be for the riders.
Talk about your goals for the upcoming season.
GEICO Honda has proven that they can win. They have been winning, and I've won races with them. They want to go to the races and win, and that's what I want to do, too. I feel confident that we can come together as a team and allow me to go further than I've ever gone. That's the normal talk you'd probably expect from anyone when asked that, but it's the truth. You can see how dedicated the team is to winning; they always have guys at the front and they've been winning championships. Winning is addictive, and that's what we both want to do.