Hello, everyone, and welcome to the Rev Up. Yesterday, right down the road from me, an announcement was made that sent shock waves through American motorsports. Perhaps the most famous racing number of all-time will be making its return to the NASCAR Sprint Cup series as Austin Dillon will drive the #3 RCR Chevrolet in 2014. It will have been 13 years since Dale Earnhardt died on the last lap of the 2001 Daytona 500 when young Dillon returns the stylized #3 to the Cup series this February. This has been met with a serious amount of fan reaction, both positive and negative, but all the same the number is back.
In three weeks our sport will also see the return of the #3 in similarly exciting circumstances as Eli Tomac will make his 450 debut in the 2014 Monster Energy Supercross Championship. It's a very exciting time for that number and whether you are a NASCAR fan or not, the national sporting press will be sending off articles surrounding its return all year. I think we should be making a fairly big deal about it in our world. Yes, Mike Brown has been racing with the number for over a decade, but this will mark the first season since Jeff Emig's 1997 title run that the number will make a serious impact in the premiere division. In fact, the #3 is perhaps one of the strongest digits in motocross history—just check out a column I wrote seven years ago. Just how much potential does Tomac have? I think he has as much or more "potential" than any rookie we've seen since Ryan Dungey, who won the 2010 title. He is a no frills fitness geek that has James Stewart like speed and talent, and if he can make it through the first several rounds without getting injured, I feel like we may see him enter the championship discussion this season.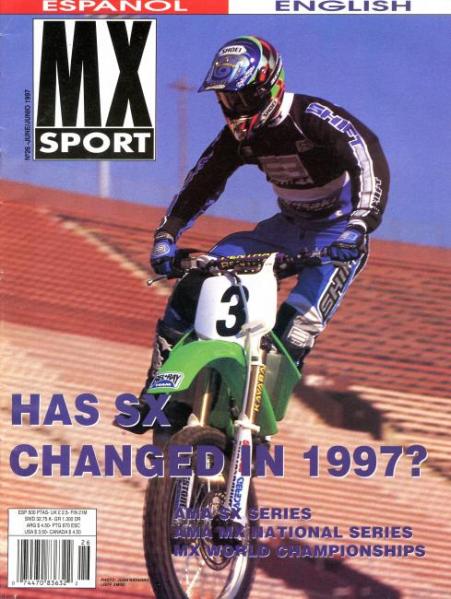 Jeff Emig made a title run in 1997 wearing #3.
Would it make any difference if Eli was running #243 or any of his previous digits? Yes, I think so. Tomac is now a "made guy" and he will be embarking on the branding process of his image this season. Remember, you only get to run a single digit by winning a National Championship, so him getting to this status by virtue of that hard-fought 2013 250MX title proves something. Now he can keep that number until he retires. Ricky Carmichael was the first guy to do this and while his career was obviously unique, the "RC4" logo cemented itself into the pages of motocross history similarly to the silhouettes of RUN DMC or the feathered cowboy hat of Richard Petty. When he won championships he kept the #4. In his wake, James Stewart and Chad Reed have harnessed this successful marketing effort. Imagine if Tomac goes out and sets the world on fire this year. "ET3" certainly has a catchy ring to it.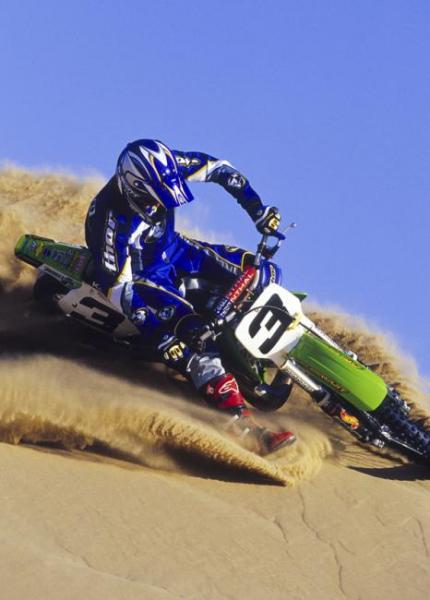 The legendary Mike Brown made the #3 his trademark over the last decade.
Simon Cudby photo
But what about his decision to stay on a satellite team? Tomac was sought after by every team in the sport, and he could have went with a factory bike. Instead he chose to stay at home and see if he could push his team to the top of the 450 division. The effort has been a long time coming and it wouldn't surprise me if we don't even have factory teams four or five years from now. There is already no factory Yamaha, and factory Suzuki consists of only one rider. That said, will Tomac's bike hold him back? A lot of the riders complained about the 2013 Honda and the production machine really isn't that much different this season. Plus, Tomac wasn't very impressive last year when he moonlighted in the East Coast rounds. But I don't think the bike will matter too much. The 2014 race bike could end up much different than the 2013, and the most important factor of all isn't the machine, but simply staying off the ground. Much like Stewart, Tomac has a penchant for hitting the ground hard. Crashing took him out of the 2013 West Coast SX championship and more or less cost him the win at the MXoN a couple months ago. Rookie debuts in the premier class are historically rocky and he'll have to fix that part of his game if he is to live up to his extremely high billing. There are a lot of questions and speculation surrounding the #3 GEICO Honda in what, for all intents and purposes, will be the most exciting rookie seasons the sport has seen in a very long time.
Thanks for reading, see you next week.