Paul Perebijnos has been around for a number of years as one of the top mechanics in the sport, wrenching for Monster EnergyPro Circuit Kawasaki with riders Dean Wilson and Blake Baggett. But he's now got a new gig at ANSR Racing. Paul's new gig gives him a different look at the industry and I called him up to get his take on the new job as well as talk about the switch from wrenching to being behind a desk.
Racer X: New job for you. It's cool, exciting. Talk about it and what you do.
Paul Perebijnos: I'm no longer at Pro Circuit as a mechanic. Now my title is Marketing Manager for Answer Racing. I guess a summary of what my position is, I work directly with the MX Director to manage the brand. I recruit, contract, and manage professional racers, race teams, work on the salaries, product expenses, all within my defined budget. Essentially my job is to ultimately help contract and secure athletes to the brand, manage the brand and be a primary market persona of the brand and just a bunch of stuff like ads, advertisement strategies with media budgets.
As far as my responsibilities at the races, I just go to accomplish goals of bringing attention to the brand. I'm there to work with the media, the riders and the industry to bring attention to the brand, manage relationships and make contacts within the industry.
Jake Weimer is probably your number one athlete this year.
He's my guy.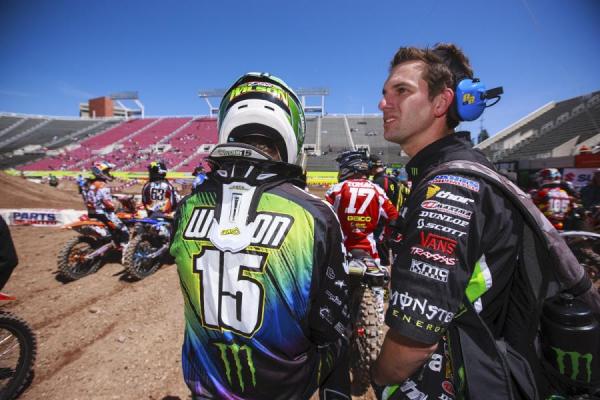 Paul Perebijnos (right) was Dean Wilson's and Blake Baggett's mechanic before moving to ANSR.
Simon Cudby photo
I went from being a mechanic to working for Parts Unlimited and you realize that this whole racing thing is just one part of this pie. And now you're on this side where it's like, what sells? What do normal weekend riders need? What's cool, what's not? We need sales. It's a whole other world.
It is. It's totally different. Motocross is, I kind of look at it like a triangle and there are all these different sides to it. I lived on one side before and I've been a rider before and now I'm on a different side. I've always kind of been into what gear is cool and what looks cool, but there's so many limiting factors that you run into now that I'm learning as far as building the gear. And everybody wants something different. This guy is from Georgia and he doesn't want white in his gear because the clay stains it. Another guy needs vented gear because it's hot most of the year. There are so many different parties to appeal to that it's tough to make everyone happy.
In racing you deal with the trickest, newest stuff, works parts on the bikes and the newest gear and all that. On your end of things you realize the lower-end stuff matters and people buy it. Not everyone can buy what your rider necessarily was wearing last week.
Exactly. What Jake needs is completely different from what the majority of people need. We really have to pay attention to the price of our gear. We offer a gear package that's $120. You get a pant, jersey, glove. And it has to look good, it has to be functional. That's why we have to make a line of gear to try to appeal to everybody.
Why the decision to leave Pro Circuit, and not only leave Pro Circuit, but quit being a mechanic?
I think for me, just my mentality is, I always want to try to be moving forward and bettering myself, trying to progress to get to the top of the industry I guess you could say. I went to college. I have a Bachelor's Degree in Legal Studies with a minor in Criminal Justice. I've always felt that I can do something more than be a mechanic. I think I've accomplished a lot of my goals as far as in the 250 class. You never know what's going to happen. Who knows what I'll be doing years down the road, but I wanted to do something different. This just happened to come up kind of quite last minute right before October 1. It was kind of like contract time for me. It was a good opportunity.
Contract time at Pro Circuit?
It was contract time at Pro Circuit. I intended on staying there but then this came up in late September and it was kind of everything I was looking for. Priorities change as you get older and I'm getting older now. Starting a family, priorities change. I wanted to make a change to better that side of my life. So this kind of fit the bill, I guess.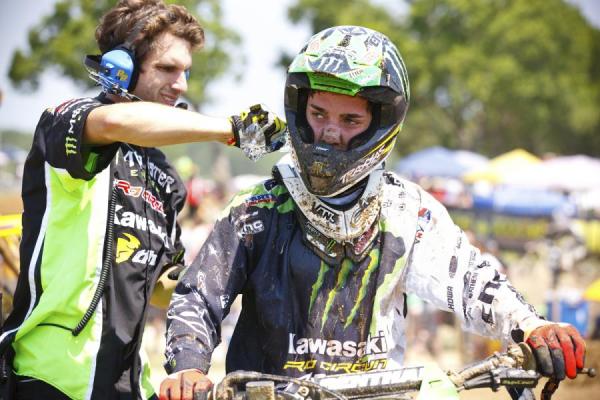 Perebijnos (left) was Dean Wilson's mechanic when he won his 250MX title.
Simon Cudby photo
How long were you a mechanic?
Eight or nine seasons, maybe. It was at the Butler Brothers, Doug Dehaan. Actually Karsten Butler was my first guy, with Doug Dehaan. Doug was number 90. I went from there and really liked being a mechanic and I still like being a mechanic. It's just time for a change.
People don't understand, I think. I'm always telling [RCH veteran mechanic] Tony Berluti that he's a hero. Guys like him and [TwoTwo Motorsports'] Mike Gosselaar--people don't realize how much work being a mechanic is. To do it for a long time is amazing to me. I did it for 11 years and I was done, just burnt out.
It's hard. I think a lot of people realize it's hard work, but then when you try to have a relationship and get married and then you buy a house and then you want to start a family… add all that to the work that you're already doing, probably 60-70 hours a week, it really gets tough. So my hats off to those guys that they were able to do it as long as they have, and they're still doing it. It's pretty impressive for sure.
I just don't feel like it's a job where you can expect a long lifespan because of the amount of work involved.
Yeah, I think you're 100 percent correct.
And also, too, you're lucky. You rode professionally and then you became a mechanic. All you know is dirt bikes. So it's really fortunate that the job like this came up.
It is. I am fortunate for sure. I'm thankful for it. Like you, I've been in motocross forever. I've been an AMA member for 25 plus years and this is what I know, this is what I love. I think given my journey through the sport—growing up and racing, traveling the amateur circuit, going to all the races with my family, then racing as a professional just a little bit… I wasn't very good, obviously. Then I rode for a major team in Canada.
I've been working on race teams as a mechanic, and now this. I've been on a lot of different sides of the puzzle, and I'm still a pretty good rider myself. And on top of all that I did go to college, so I think I have a lot of tools. Coupled with my experience and my education, I think I have a lot of things I can do in this industry still.
What did you learn from Mitch Payton? The guy's built a multi-million dollar business from the ground up, and he's built a title-winning team.
A lot of things. I'm extremely grateful for my choice to go there and I'm happy I did. I learned respect for one. I learned a hell of a work ethic. I learned to have tougher skin. A lot of things don't bother me anymore because you can be in an argument with Mitch and we'll go back and forth and the next day there's a job to do and then we can both drop it and go back to business. I think I've learned to let a lot of things not bother me. And it's even tougher nowadays with social media and how people can reach out to you and influence you.
And his leadership role and how he runs things, just people management. Now I have to manage people at my job. So now I'm just working on such a big team, working with so many different personalities, riders, mechanics…. I think you learn a lot about how to get through problems and deal with everyday issues. I learned tons of things there and those are all things that aren't on the mechanical side.
Yeah, never mind working on the actual motorcycle and motor and everything. Are you still going to be friends with our own Jason Thomas? Now he loves Fly, and now you love Answer and you're lifelong buddies….
I think I'll always be friends with JT. I think there's enough for everybody in the industry. But it will definitely make for some easy jabs I guess you could say.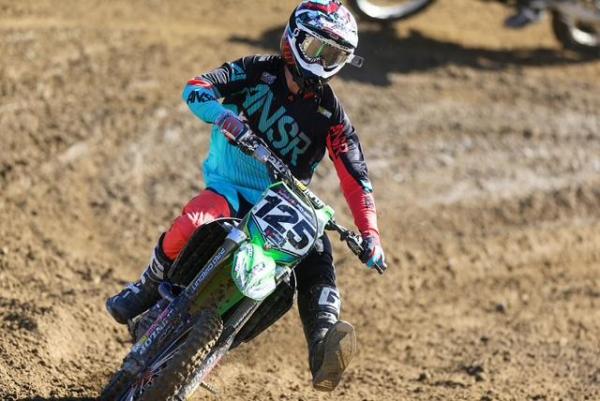 Perebijnos (above) now works for ANSR Racing as a Marketing Manager.
ANSR Racing photo
Your career highlight as a mechanic, probably winning the 250 outdoor title with Dean Wilson?
Yeah, for sure. That was a super special year. We were battling teammates in the same truck. Everything he was accomplishing for the first time I was accomplishing for the first time. I don't think there'll ever be a year that can top that for myself. That was super, super special.
Also too, down there in the Corona offices at Tucker Rocky, they employ not one but two Canadian factory riders! Incredible.
That's pretty cool. It's a good atmosphere around here. Randy Valade actually won a title up there and Charles Castaloo, we're in the same positions and they deal with MSR and Pro Taper, respectively, and we actually all get along really good, which is cool. Love those guys. They're fun to be around. And Dave Casella, my boss, he's the director of all the brands and he's also really cool. Everything's good so far.
Something I noticed was that I was under a lot of stress as a mechanic and once I stopped doing it, I felt better physically and mentally as well. I don't know, it was just the pressure was gone and I was happier. Is that something you noticed as well?
Yes. I think the thing I noticed was, my heart was in being a mechanic and I love doing it, but the difference to me is now the things I do don't affect the life and health of another person. If I go out and have a drink or something and then have to work on a bike the next day I have to make, weather it's Dean or Blake riding, whoever it is riding it, I have to make sure that bike's perfect so they don't have an issue. I don't want anyone to ever get hurt on my account. Where now I definitely don't have that stress. I'm looking at gear designs and reading over contracts and negotiating with people but no one can be injured. I would say that's the biggest weight lifted off my shoulders and the biggest difference between the two jobs.