While there are a few records in our sport that might not ever be broken (it's looking pretty likely that Jeremy McGrath's 72-win tally in supercross will be safe for a long, long time), most of them will fall sooner or later. Here's a look at a few of the records that could go down in flames in 2014.
King of Anaheim
This is a supercross records piece, so you're going to see Jeremy McGrath's name a lot here folks, get used to it. This time it's in reference to premier class wins in Anaheim. He's tied with Ricky Carmichael and James Stewart for eight wins apiece there. Can Stewart become the winningest man in Anaheim this year? With six Anaheim wins to his credit, Chad Reed could also make a run at this one.
If you're wondering if the same record can be broken in the 250SX Class this year, it can't. Ivan Tedesco has won in Anaheim five times on a small bike, and Cole Seely, who has won there once, is the only rider who has won in Anaheim that is still aboard a 250.
Most Consecutive Seasons with a Premier Win
Another one held by McGrath, but he's got some company here in the form of Stewart. Both racers currently have wins in nine consecutive seasons. There's a good chance Stewart will have exclusive ownership of this record in a few months.
Chad Reed has wins in nine seasons, they're just not consecutive. After an outstanding run from 2003 through '09, Reed went winless in '10 after getting hurt early and missing most of the season. He rebounded to take wins in 2011 and 2012. If Reed wins this year and Stewart does not, Reed will hold the record for most total seasons (non-consecutive) with a supercross win with ten. If Stewart and Reed get a win, they'll be tied in total but Stewart will have his consecutively.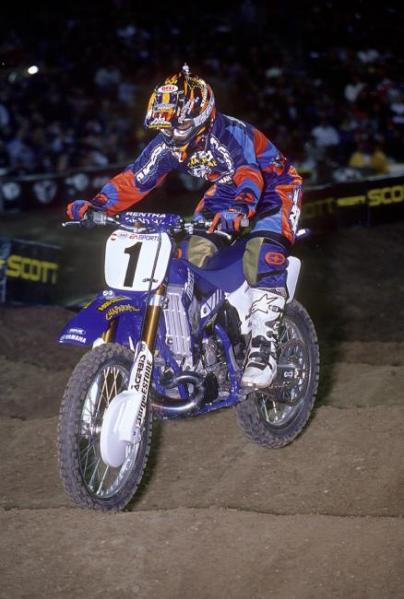 When you're talking all-time supercross records, you're going to be talking about Jeremy McGrath.
Simon Cudby photo
Droughts Between Titles
With three years between his first title in 2004 and his second in 2008, Reed holds the record for largest gap between titles. If Dungey wins the title this year, he'll tie ('11, '12, '13). If Stewart wins the title, he'll break the longest gap record ('10, '11, '12, '13) while setting a record for first racer to win three non-back-to-back titles. Finally, if Reed wins the title, he'll smash his own record ('09, '10, '11, '12, '13) while simultaneously becoming the first rider to earn three non-back-to-back championships.
Total Wins
Have a look at the current top ten list below. While McGrath's record won't be toppled this year, there's a solid chance that the order of this list is going to be different when twenty laps are done in Las Vegas. Stewart has a shot at moving to second on this list, and mathematically speaking, Reed and Ryan Villopoto could also do it, but winning that many races these days is a tall order to fill, even for a guy like RV. Dungey, who is currently fourteenth with thirteen wins, will make it into the top-ten if he can pull together five wins this year. How will this list look after seventeen rounds in 2014?
Jeremy McGrath          72
Ricky Carmichael        48
James Stewart             45
Chad Reed                  41
Ryan Villopoto            34
Ricky Johnson             28
Bob Hannah                27
Jeff Ward                     20
Damon Bradshaw        19
Kevin Windham           18
Championship Runs
Jeremy McGrath's record of seven titles is another one that isn't going to fall this year, but Villopoto does have the opportunity to match McGrath's mind-blowing run of four consecutive championships ('93-'96). If he does, he'll go into 2015 trying to gain the sole possession of most consecutive championships with five in a row. Did we just blow your mind?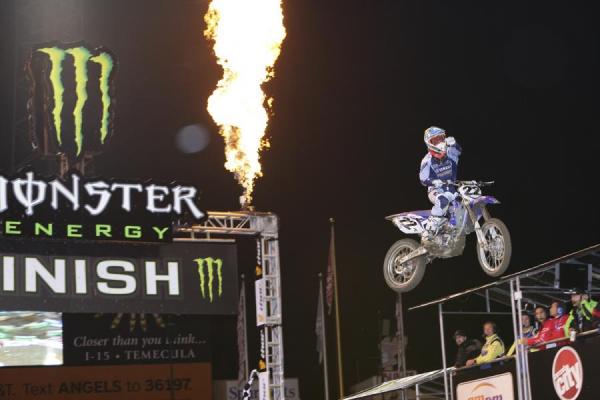 Chad Reed has wins in nine different seasons--ten would be a record.
Simon Cudby photo
Rookie Championship
Jeremy McGrath and Ryan Dungey are the only two riders to win a premier class supercross championship in their rookie years. McGrath did it in 1993 and Dungey did it in 2010. We've got some talented 450 rookies coming in this year, like Eli Tomac and Ken Roczen. If they're able to do the same thing, they'll join a very exclusive club.
Most Consecutive Premier Wins in a Single Season
In 1996 McGrath won thirteen races in a row before Jeff Emig ended his streak at round fourteen in St. Louis. In 2001, Carmichael went on a rampage of his own and won the final 13 rounds. The streak record stands at 13, because McGrath didn't race the final round of 1995 (the famous "Night the Lights Went Out" in Las Vegas) and Carmichael crashed out of the 2002 opener. It's a long shot, but if Villopoto gets hot, anything is possible. If you go back to the final two rounds of 2013, he's already working on a two-race win streak.
The Perfect Season
No, we're not talking about McGrath's near perfect season in 1996, although that record is indeed up for grabs. We're referring to the perfect season Carmichael put together in '98 in the Eastern Regional 125SX Class. The GOAT even topped everyone at the Dave Coombs Sr. East/West Shootout in Las Vegas that year to put the icing on his perfect season cake. Do you think any of this year's 250 riders have what it takes to repeat the feat in 2014?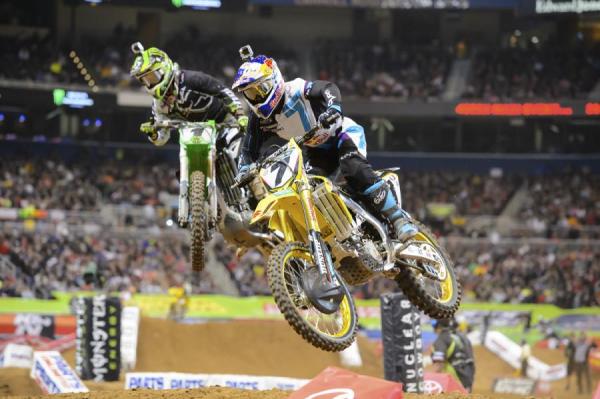 James Stewart has a chance at ten seasons with a win, too, and also eyes second on the all-time win list.
Simon Cudby photo
Largest Leads
This one is tricky. In 1975 the AMA used a different points structure, with a win earning 150 points. The result was a 202-point lead at the end of the season for Jimmy Ellis over Marty Smith. Technically, that's the largest season-ending lead in supercross history. Of course, you could easily argue that you can't compare that to the current system that awards twenty-five points for a win. Under the modern system, McGrath holds the record, thanks to the 132-point lead he held after the final race in 1996. MC also holds second place with an 83-point lead in 1999, followed by Jean-Michel Bayle's 72-point lead in '91. Dungey gets honorable mention for his 70-point lead at the end of 2010.
Given the depth of the current field, it's unlikely that we'll see the guys take poundings of that magnitude in 2014, but you never know. Villopoto was actually flirting with this record during the injury-plagued 2012 season, but then he tore his ACL and missed the final few races after clinching the title.
First and Last
With six seasons between his first premier championship ('93) and his last ('00), Jeremy McGrath holds the record for most seasons between first and last titles. But that could change this year. If James Stewart, who won his first championship in 2007, wins, he'll tie McGrath's record. If Chad Reed, who earned his first title in 2004, wins, he'll shatter McGrath's record with an incredible nine seasons between his first and last championship.