In a world where many amateur riders are moving their pro debut forward, New Jersey native Luke Renzland has taken the opposite approach. After grabbing the 450 A title at Loretta's in August, he planned on turning pro for the last few Lucas Oil Pro Motocross Nationals. Instead, he switched it up and returned to the amateurs, starting with a week at the Mini Olympics in Florida over the weekend. While riding for a new team, he grabbed a title there and proved he can go head-to-head with just about anyone.
Racer X: When we last saw you after Loretta's, you were planning on heading to Unadilla to turn pro. Now you're back in the amateur ranks. Just explain your plan from here.
Luke Renzland: We kind of made a last-minute decision to delay turning pro for a year. We decided to take the extra time so I could develop more as a rider, mature, get stronger and more fit. This way when I do make that transition, I'll be 100 percent ready to take that next turn in my career. The last couple of months I've just been doing a whole lot of training and preparing for Mini Os. That's it, just having a lot of fun.
Explain this place you have to ride in Florida. Sounds pretty awesome from what I hear.
Yeah! Everyone is calling it "Dreamland" and that's pretty much exactly what it is. Jason Baker from Dream Traxx stayed for about a month last year, just sun up to sun down for 30 days. We ended up with a pretty serious facility out of that. We have a gym and a full blown motocross and supercross track.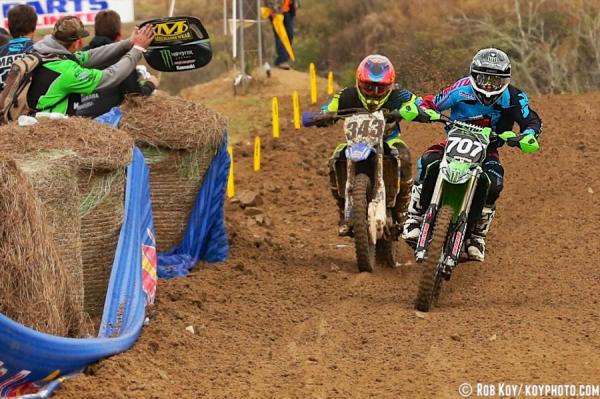 Luke Renzland (343) made the late decision to hold off on his pro debut to race amateurs for another year.
Rob Koy photo

Is that just for you, or do other people pay to come and ride there?
It's mainly just for me. We have a few friends from the area that come and ride, and if any of the local training facilities have rain, they might come down. But when we built it, it was for my use only, and I think that's how we're going to keep it. We're not planning on turning into a training facility like some others, we'd like to do it like Carmichael or Villopoto does, just a facility for me and my close friends, working hard.
You were on a new team at Mini Os, right?
Yeah, about two weeks before the race I signed with a new team, Horton Racing/Rock River Yamaha. It's been great. This was my first time meeting all of those guys and they were super welcoming. They've had the team going for a little while now, but they weren't clique-ey at all. They operated with a family atmosphere and I'm super happy to have signed with them. I'll be with them through 2014 Loretta Lynn's.
You have this awesome riding facility, and you're getting more and more support. Have you seen this make an impact on your riding, or your results?
Yeah, I definitely have. My results have been super strong lately, they've been strong in the past, but what I'm noticing more lately is that I'm more confident when I go to the line. I go to the line expecting to win instead of just hoping to win. In this sport, confidence is the number one deal, so I'm very happy with the progress I'm making.
The Mini Olympics is really two events in one, and supercross comes first. Tell me how that went for you.
Supercross was pretty great. I started out a little slow in practice, I didn't expect there to be so much sand on the track. It ended up working into a great racetrack later in the week, but it kind of shocked me at first. Racing came around and I was a podium contender except in the motos where I crashed—I think I got a couple of fifths in those. But I was a podium contender in the rest of my motos, and I came out with first overall in 250 Pro Sport. I was pretty happy with that—I kind of expected more titles, but the way things went, I'm still pretty happy.
So you have a full-blown supercross track at your place. The Mini Olympics is one of the few amateur events that has a supercross race, but the Gatorback track is not really a full-blown supercross track, right?
Yeah, especially this year. This year's Gatorback supercross track seemed geared more toward mini riders, and I think a lot of the A riders had a tough time finding their flow. I know that was my problem at first. Everything was super tight and super mellow. Coming in, I was expecting way more. We had to soften the bike up after practice, and that helped it settle down a bit. We didn't need to worry about the harsh hits from big jumps.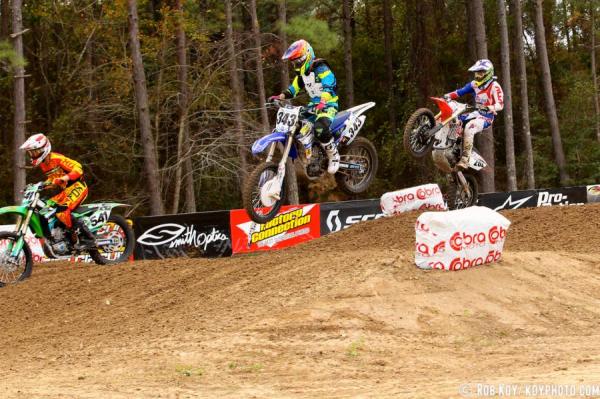 Renzland took home a title in the 250 Pro Sport supercross portion.
Rob Koy photo
Having a full-blown supercross track at home, is that something most amateur riders have? Do you think you'll have a leg up on everyone when you do turn pro and race supercross a year from now?
Well, I'd say a lot of amateurs do have access to some sort of supercross track. But my supercross track is a little bit more technical. Jason from Dream Traxx, he builds Chad Reed's track, Ryan Villopoto's track, Trey Canard's track, and he built Justin Barcia's track at the beginning. So that's the type of track I have to ride on.
Now the motocross portion of the week, I guess it didn't work out exactly the way you'd have hoped?
Actually, it went pretty great. I didn't get any titles, but I felt like I rode well. I just didn't get good starts, and that's what I've been struggling with all year. My speed was there, I was the fastest guy on the track most of the time. I came out with a second overall in 250 A, I got a top ten in 450 A but I crashed in the main event of that one. Off the start of the 250 Pro Sport moto I locked bars with another guy going into the first turn and cartwheeled off my bike. I got knocked out for a while, kind of scared everyone there, I think. It was a pretty big deal because I didn't move for a while. But it turned out to be a minor concussion, all the tests were clear after I went to the hospital. So now we're going to get a few more tests, follow the rehab, and go into 2014 strong.
iI you need to be off the bike for a little bit, that's actually okay the way the racing schedule works.
It's definitely the best time of year to do something like that. I'll probably be off the bike for a few weeks, but that's kind of called for by this time of year. Everyone is starting to get burned out a bit, so time off isn't always a bad thing.
So outside of the crash, overall you were happy with your riding?
Yeah, overall the whole week was a success. Besides my starts, everything was 100 percent perfect. I was strong the whole moto. Even though they were short motos, the track was gnarly and I think people were starting to get fatigued by the end of the week. I felt strong though. I was putting in some fiery laps toward the end of the week. I'm happy with the way I rode and the way things went.

Renzland will ride for Horton Racing/Rock River Yamaha through Loretta's next year.
Rob Koy photo
So you'll be racing amateur through the spring nationals and Loretta's?
Yeah, I've signed with Horton through Loretta's 2014. I'll do the spring nationals and Loretta's, maybe Mammoth and the World Minis, Ponca and Loretta's. After that we'll decide if I'm turning pro, or if I'll do Mini Os for another year.
You have to feel good about the direction things are going.
It definitely feels like things are shaping up for me. My whole career I've seemed to be that guy who is under the radar, and I'm really happy to see people taking notice of the progress I'm making and the speed I bring to each national. I'm happy with the progress I'm making, and now I'm looking forward to getting on the 2014 Yamahas, especially the new 250F. Both bikes are all new and I'm looking forward to getting on them and getting rolling, and coming into the spring nationals faster than I've ever been.
Yeah, so you rode your 2013 Yamahas at this one?
Yeah, the 2014s just got released a couple of weeks ago. Everyone wanted me to be on them, but me and my family decided to stay with the 2013s just because that's what I'm familiar with and comfortable on. I had a good feel for the bike at that point. Once I'm done rehabbing we'll do some testing and get in all the time we need on the new bikes.
You have plenty of time for that.
Yup, I'm definitely excited about what's to come.