The proliferation in electronic technology makes it virtually impossible for you to win the early adopter game, no matter how often you search the App Store. In fact, any electronic gift you're buying right now will probably be outdated and outdone when Christmas rolls around three weeks from now.
So let's suggest a new technique. Instead of surging forward, why not get on the brakes early, cut down off the berm, and get away before getting stuffed into the cheap seats (theoretically) by some new fangled smart-tab-net-phone?
Crosley Radio can guide the way. The brand sells modern electronics that look retro, so you're basically telling everyone that you're good for now—no reason to reinvent the wheel every three months. By the way, there's no chance you're actually going to get that cute redhead when you hit the Mayday button on your Kindle anyway.
Crosley's iJuke™ Premier is just an example of what they have to offer. It looks retro cool but features an iPhone/iPod doc and a CD player (Crosley also offers a version to dock with iPads). It measures 12 inches high, 18 inches wide and 9.5 inches deep, so it looks like a real diner-counter jukebox, and packs in dynamic full-range stereo speakers, neon lights and a remote control.
The iJuke Premier costs $299.95, but Crosley offers smaller docks if that's what you're looking for, an even bigger mammer jammers if you want the full-on 1950s jukebox experience. They would know, because the Crosley brand has actually been churning out this type of stuff since 1920. Back then, stuff that looked like this actually was for early adopters!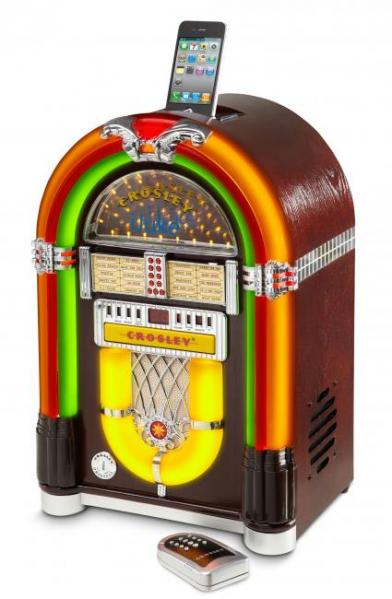 By the way, Crosley supports this sport, backing privateer Jake Baumert's campaign (he's earned national #91 for 2014 and is a Racer X Virtual Trainer athlete) and they even handed out these exact iJuke Premier stereos to 250 and 450 National Champions Eli Tomac and Ryan Villopoto and Rookie of the Year Jeremy Martin at this year's Lucas Oil Pro Motocross Awards Ceremony. So now RV rocks one—that's a red head you can actually count on.
Go get your new fangled internet device and scroll to Crosleyradio.com to get a look.