In a season featuring a star-studded battle between big names Taddy Blazusiak and Mike Brown, Beta's Cody Webb earned more GECIO EnduroCross victories than anyone. Winning three of the last four rounds makes Webb an instant contender for next year's EnduroCross title. But who is he? And what's a Beta? We found him in the pits after the EnduroCross finale in Vegas to find out.
Racer X: You're the factory Beta rider. Explain to everybody the facts and background of that bike.
Cody Webb: Yeah, there is an off-road bike that exists called Beta, and it's won three EnduroCross races this year. I think that's more than any other rider did. So this bike might be worth something, so you guys should look into it.
But here's the cool thing, in California you're out there riding motocross tracks on this Beta, right?
Yeah. People look at me funny and then they kind of look at my bike wondering what it is. But everyone likes the bike. They think it's really cool. It's just too foreign to them. So we're here at the EnduroCross. It's catching on in the off-road world, that's for sure. I guess I'm doing my part training at moto tracks trying to get my intensity and aggression up to put it up there with the moto guys.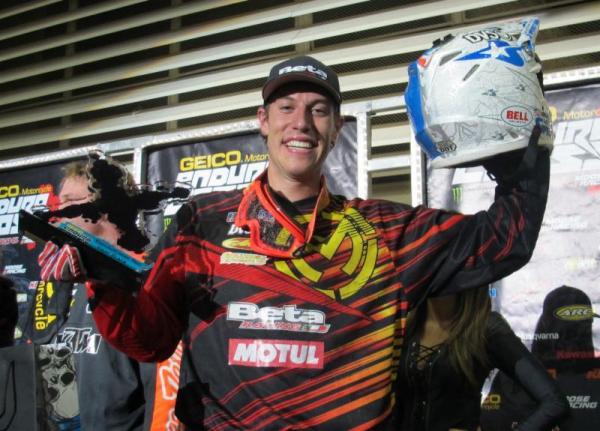 Beta's Cody Webb won the GEICO EnduroCross season finale in Las Vegas.
Drew Ruiz photo
Your background is trials, right?
Yeah, I came solely from trials. I rode my first EnduroCross on a trials bike. I was instantly hooked. I got a dirt bike when I was 19 and I just went from there.
You had never ridden a regular dirt bike until 19?
I had maybe ridden a dirt bike five times. My mom thought they were too dangerous so I went and bought my own.
So trials bikes were considered safe enough?
[Laughs] Trials bikes are okay when you're like launching off rocks and doing all this deathly stuff.
So you do the moto track thing to improve for this. That's the goal?
Yes.
You've been second in the series before; you've done well, but did you think you would do this well this year? Win three of the last four?
I definitely knew I was going to get a win or two this year. I've been right there a couple of times and we switched to a two-stroke. I struggled on the start but on the rest of the track I can push really hard on the light-weight two-stroke. We're trying to make a resurgence with them. It's been a great year. I'm only looking forward to what's to come next.
You're a pretty busy guy. You've got other irons in the fire, right?
Yeah, I know that a motorcycle career is not going to last forever. There's a couple guys who can do it but it's complete dedication. I can do it right now but I don't know how long I can do it for. You see a lot of guys in the moto industry… I have a lot respect for Christian Craig. He knows when to call it quits because he's struggling. I'm trying to get a background degree, a background job after I'm done racing. I'm working on my degree in mechanical engineering, so I can kind of connect it somewhere in the industry, and with something I like to do. Until then, I'll just keep racing.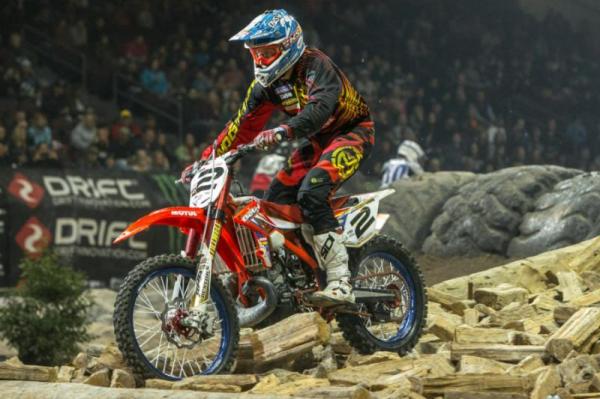 Webb is expected to contend for a title in 2014.
Drew Ruiz photo
A mechanical engineering degree is not easy to get. That's a lot of work!
My social life is gone.
Do the people at school realize what you're doing?
It's really funny. I talk to people at school, they look at me, they're like, "Don't you like, spend all the money you make to keep going racing?" I'm like, "You're kind of right but I love doing it, so I'm going to keep it doing it." And look at all the traveling we get to do. It's an unreal experience. We're here in Vegas. I won a huge EnduroCross race. I love doing this. I've been doing it, riding bikes, since I was three years old and I'll keep doing it forever.
You've got to be thinking title now. This year you missed a race with an injury, and you still almost won the title. Can you even wait until May? Are you counting the days to next year?
I think I'd really like a break right now. It's near the end of school. Everything's getting really jam-packed for me. I think I'm going to go under the knife again in a couple weeks. My foot is still bugging me a lot when I'm riding. It's not 100 percent, I'm really limited on training. All I can do is ride a road bike right now. I can't run, can't even walk on my tippy toes. It's a weird, nagging pain. Get the plate taken out, a little bit of cleanup, then I'll be ready and looking forward to what's in store for next year.