When Kurt Caselli moved east to tackle the Grand National Cross Country Series for 2009, people wanted to not like it. Caselli was a Southern California guy, and the 2008 World Off-Road Championship (WORCS) Champion. For decades, American off-road had played out in an unsettled East versus West battle, with "desert racers" against "woods guys," each with their strengths and weaknesses. In fact, it's said in lore that the top guys from each coast would purposely arrange to meet on each other's turf every once in while, just to help each other. Scott Summers would head west and take his ass kicking from California guys, which would make the Californian fans and riders swoon. Then the desert rats would try a few races in Summers country, Scott would win, and the tree people could worship their star a little more. It was easy business for all.
When Caselli came over, it was supposed to be more serious. WORCS has been growing, and the format of WORCS and GNCC were pretty similar—even if the terrain wasn't. A lot of people were wondering which series was faster. Plus, Caselli was taking the spot of KTM world-beaters Juha Salminen and David Knight on KTM. A few years earlier, he showed up at some GNCCs racing the XC2 class and dominated. He had the ability to win, and he was replacing riders that had done so. Kurt was going to have to ride with the weight of the west on his shoulders.
But two things happened. First, he didn't win. Didn't even really come close, getting just one podium during the season. Oh, the door was open for those on the east to say, "I told you so." But they couldn't…. because Kurt Caselli was too damned cool.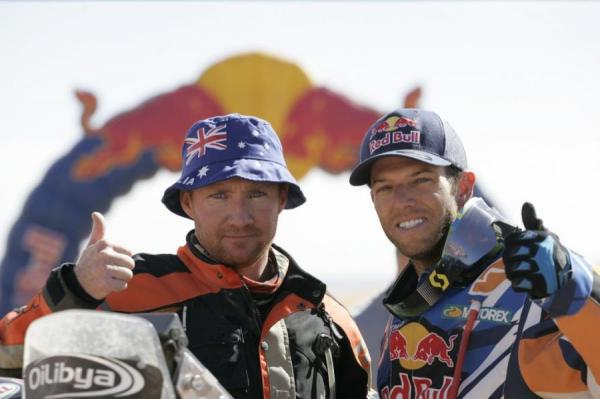 KTM images
Truth was Kurt never fully had his head in the game that year. His father had died of cancer at the end of 2008, and while Kurt transferred himself in body down to Georgia to learn the woods game, his spirit just didn't seem to be there. He didn't want to use that as an excuse, didn't want to reveal anything that personal, but those around him didn't see the same Kurt that season. But, others saw enough to realize he was the nicest, coolest, most laid back guy they'd ever run into.
No one ever said anything bad about Kurt, win or lose. What sealed the deal is that Kurt never took himself too seriously. He never carried an air of superiority even though he was badass fast and carried multiple titles in his gear bag (he is a three-time WORCS Champion and three-time AMA Hare and Hound Champion). Once, for an off-road DVD, the producer asked him to share some riding tips. Kurt goon rode through the whole thing and ended up putting down one of the most hilarious riding instructional segments ever. He was never able to take himself too seriously.
Perhaps that's why he could adapt so well to different events and environments. Most riders find their little niche and stick to it so they can win and win and win. Kurt wasn't so stuck on himself and his own ways that he couldn't learn from others. He seemed to relish trying new things and tackling new challenges. The biggest breakthrough of all? A few years back, Kurt did something almost unheard of for an American—he went really fast at the ISDE. For years, no, decades, Team USA had been a disappointment at the event, until Kurt's natural speed and talent shocked the world with inspired rides. In New Zealand in 2006, he led the U.S. Junior Trophy Team to victory, along with teammates Ricky Dietrich, David Pearson and Russell Bobbitt.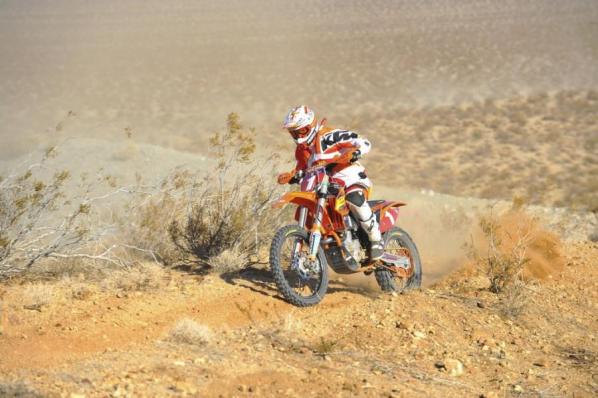 KTM images
And that was just the beginning. Caselli was not self-centered. He wanted everyone to share in his passion. So he and his dad started organizing the American ISDE effort. They were leaders, not individuals, so they riled up the best American off-roaders with a long-gone sense of pride in the ISDE effort. Not only did Kurt go back year after year and kick ass, but the other Americans got faster, too. In 2007 in Chile, Kurt flirted with winning the individual overall at the event, something no American has ever done. For his efforts, he was named the AMA's Sportsman of the Year in 2007. There is no way this year's American ISDE Trophy Team gets second without Kurt Caselli—and I don't mean that from merely the contribution of his individual scores. The very idea that American riders go to that event fired up, confident and prepared started with Kurt's big rides years ago. His attitude was contagious.
That attitude is part of what made him so versatile (a ton of talent and plenty of work contributed, too). He carries more than just three WORCS titles and three AMA National Hare and Hound titles. Kurt was laid back enough to slip into any environment and learn that game. He was too cool, too nice, and too funny for anyone to guard anything from him. Plus, when you're that nice and that laid back, you effectively ward off culture shock. I can only imagine that Kurt figured out how to enjoy himself regardless of if he was racing in North or South America, New Zealand or Europe. For several years, Kurt investigated the idea of moving to Europe to race the World Enduros. He was constantly looking for new horizons and new challenges, and constantly being welcomed by others to do it, because they liked him. Even those who needed to beat him would want to help him. It was impossible not to like the guy!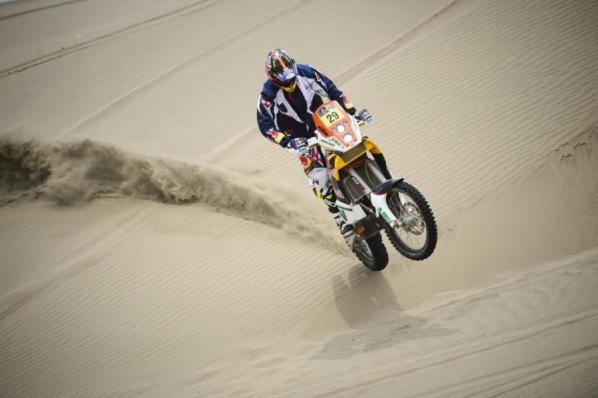 KTM images
While that GNCC season was a funky one, he proved he could do pretty much anything anywhere, from those WORCS titles, to the ISDE success, to his recent run in the AMA Hare & Hound Series. His next conquest? He was going rally racing, and, of course, with incredible adaptability, he won two stages as a last-minute replacement at the Dakar Rally earlier this year, and won the Rally Argentina. He was going to master that form of racing, too.
And then there was Baja. Caselli was already proving to be a great mentor for his young teammate Ivan Ramirez, and along with super vet Mike Brown, the KTM team finished second at the Baja 1000 last year. This time, they were leading it, with Caselli at the helm. He could ride, he could learn, he could adapt, and he sure as hell could lead.
And he'll be missed.