Sam Boyd Stadium
Las Vegas

,

NV
Monster Energy Cup
Monster Energy Cup
Hey, don't look now but racing is back! At least for one more weekend as the Monster Energy Cup invades Las Vegas on October 19th at Sam Boyd Stadium. This race, now in its third year, has captured the fans and riders interest with its unique format, Joker Lane and an amateur supercross showcase.
We caught up to Feld Motorsports' Dave Prater, the man in charge of this thing, to get his take on the race and the upcoming supercross season
Racer X: We're going into the third year of the ME Cup, overall how do you feel the race has gone and has it garnered the excitement that you had hoped for?
Dave Prater: I think so, I think it's captured the excitement in its first two years. We talked about it for the first year being something a little different than supercross, a little off the beaten path and that all sounds good but sometimes you get, for lack of a better term, writer's block when it comes to these things. So we try to make it a good dirt bike track, get the riders there and the first year we learned a lot. The second year we learned even more and I thought last year was amazing.
We sat down with the riders, teams, listened to the fans about the track and the majority of what we heard was extremely positive. We'll go off that and try to make it better every year.
As with all things, you learn as you go. The first year the mains went on a little long and the event was originally billed as sort of a Supercross of Nations to try and get some European riders there but that didn't work, which is too bad. Why do you think those guys didn't show much interest?
We had quite a bit of interest last year from the European riders but it didn't pan out. We had some riders interested this year but when push comes to shove and they had to pull the trigger, they couldn't do it. It's not quite a supercross track but it leans that way and I'm not sure most of those guys are that comfortable with that.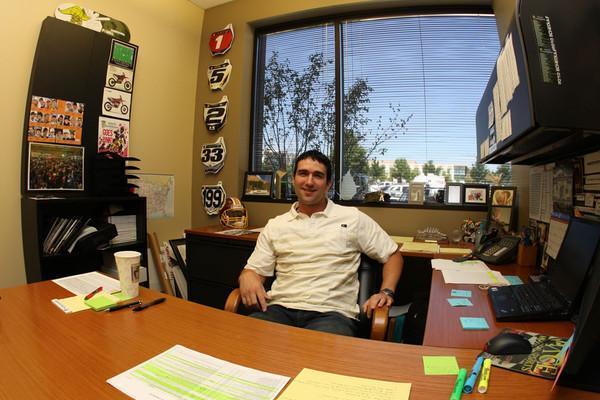 Prater looks forward to putting a unique spin on the one-off Monster Energy Cup.
Steve Giberson/VitalMX.com photo
Last year you added the Joker Lane into the race and it directly affected the third main event when Tomac won. I love that idea, I'd love to see it in the supercross series here and there. My question is: how was that idea accepted?
At first I didn't get much reaction either way, I was a bit surprised. But I was ready for it, introducing something new sometimes gets rolled eyes or whatever. But everyone seemed to get excited over it once we started racing. I think because it's not for supercross, they accept it for this race but if we introduced it for supercross, they might not be so excited. But for the most part people liked it, a few people here and there didn't like it. The only rider that didn't like it was Justin Barcia and that was because it cost him the win! But Eli, he loved it, he was singing its praises afterwards. If you flip flopped it [the results], they would have different opinion.
I thought it was great, you never know what was going to happen or when to take it. And Tomac took it early, Barcia didn't and Eli was able to make up that time on the track.
Is this something we could see in supercross down the road? Is there a chance for this?
I think so. Obviously it would take a lot of communication with the teams and everyone else. I'd be for it, I love switching things up and it involves some strategy. It's basically a rolling pit stop. I'm not sure we would ever want to add it to every race but maybe some sort of Triple Crown where it's in three races would be interesting. I know the teams and industry are reading this and going "Oh no..." (Laughs)
Hey, if it doesn't work, you can take it out. Maybe it works great and we have something that ratchets up the excitement level in our sport.
Yeah exactly.
I've long written this, said this and believe that supercross itself needs a shake-up in terms of format, points, Joker Lanes or whatever. Every major sport and motor sport changes rules, regulations and formats but we've been 20 laps, a heat race, 25 points for first, 22 for second for so long I think it's become a bit stale. Why not holeshot points, laps led points, a Joker Lane here or there, two ten lap mains here and there. Anyways, enough of what I think, what do you think?
I do agree that we need change and we're slowly getting there and I know it's not as quick as you or others want it but it's getting there. We're all getting there together and things are much better between us, the AMA, the teams, the FIM and all that. The relationships are really good right now, things are coming together and you're right. We have to evolve and I think you'll see some changes this year, not everything you want to see but we're adding some twists to some things and we're always working on different ways to make the sport better.
This is why the Monster Cup is great, three ten lappers, split start, Joker Lane, and I applaud you guys for making changes.
It's fresh and new and exciting for us. You and I go to as many dirt bike races as pretty much anyone out there so to see this format and the different things is pretty fun.
What other changes are we going to see for the Monster Cup for this year?
We got a lot of feedback from everyone last year, we met with the riders and teams and we paid attention to the feedback from fans about the race and the first thing people brought up was the track and everyone seemed to enjoy it. We started planning it right after the event and threw some new track designs around and we had some promising ones but everyone kept coming back to last year's track and how good it was. So rather than do the identical thing, we tweaked it a bit and we flip-flopped it the other way [track winds the opposite direction of last year]. Like we would do with the US Open track from one night to the next.
Track designer Ricky Carmichael thinks it will flow a little better, especially the outdoor section. So it's a little different, run backwards and we're going to fix the split-start to make it more of a 45-degree so the guys are a bit different coming in.
There's a Best Whip contest where the guys, to me anyways, show what they can do. I think the whips they're doing nowadays are amazing. Now granted I don't backflip or whip but just looking at it the whipping they do seems to be more difficult than the backflips that they're doing. They're basically inverted!  There will be qualifying for the event and Monster and us reached out to the best guys in the world and they'll be there trying to win. I'm looking forward to this contest, these guys are nuts.
During the US Open years, it wasn't always easy getting the teams there in their semis with all their riders for whatever reason. With this event, it seems like everyone wants to do it and is excited about it. Do you feel that way?
I think so, I think because this event is closer to what they're used to. I think they use it for testing and these teams like to come in and see where they're at. The US Open was great, a lot of riders loved it but I think the style of racing isn't what they were used to. Even though the Cup is something different it's a lot closer to supercross for these guys. You're right though, these guys do want to come out for this and we're pumped for that.
Supercross 2014 is going to be nuts with Ken Roczen, Eli Tomac among others jumping up the 450 class and I'm just not sure where all these guys are going to fit. It's looking pretty exciting.
It is going to be good, it seems like every year you and I have this talk where we're looking at the riders coming in and wondering how they're going to do. It just gets better and better every year and I think Roczen and Tomac are going to be players right off the bat. It's going to be a steep learning curve but we saw Tomac run with those guys at last year's Monster Energy Cup so we saw a glimpse into the future right there.
But (Ryan) Villopoto is amazing, you can't take anything away from him. But the great thing about the season is you never know what's going to happen. This is always an exciting time of the year for supercross fans. I think it's going to be cool.