They had seen this movie before. When Clement Desalle, the lead rider for Team Belgium for the 2013 Monster Energy FIM Motocross of Nations, went down in the first turn of the final moto on Saturday, it sure seemed like a familiar story. Belgium is always a contender for the win in this event, but often terrible luck ends up derailing their effort.
To wit, last year, Jeremy van Horebeek had mechanical troubles in the second moto, leading to a 38th place finish. Locked into a dogfight for the win with Germany, it was costly, and thus Belgium had to count van Horebeek's tenth-place from moto one (against MX1 bikes). Germany edged Belgium for the win by four points.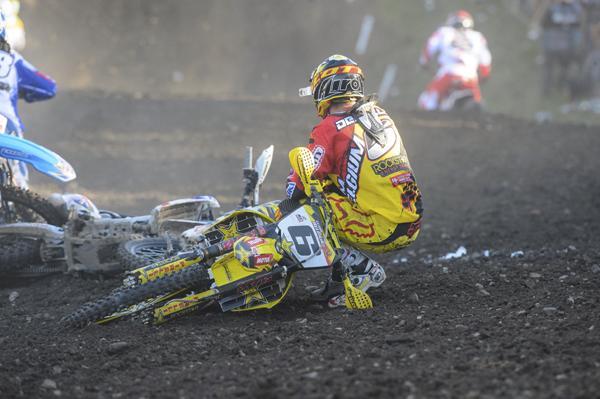 The odds were stacked against Belgium after Clement Desalle went down in Race 3.
Simon Cudby photo
The 2006 event was highlighted by Stefan Everts' memorable retirement party, where he swept both of his motos in the final race of his career. But Belgium's shot at the team victory went up in smoke (almost literally) when Kevin Strijbos ran into bike problems on his 250F. A costly DNF cost Belgium a chance to win the event despite Everts' heroics.
In contrast, in 2005 Belgium might have had a shot to upset Team USA, but Everts' ended up on the ground in the first turn with crashes in both of his motos. He never got back to the front, struggling with uncharacteristic 5-9 moto scores. Team USA, paced by Ricky Carmichael's double-moto wins, was untouchable.
When Desalle went down on Sunday and then got up slowly with a dislocated shoulder, it appeared all hope was lost. But "Big" Ken de Dycker stepped up and responded to the challenge, reeling off a second-place to save the day. Credit, too, to Jeremy van Horebeek, who overcame an early crash in his second moto to salvage a seventh. It's rare that a team can overcome two first turn crashes and still rally to win the event, but this time, Belgium wouldn't let a moment of bad luck spoil the victory party.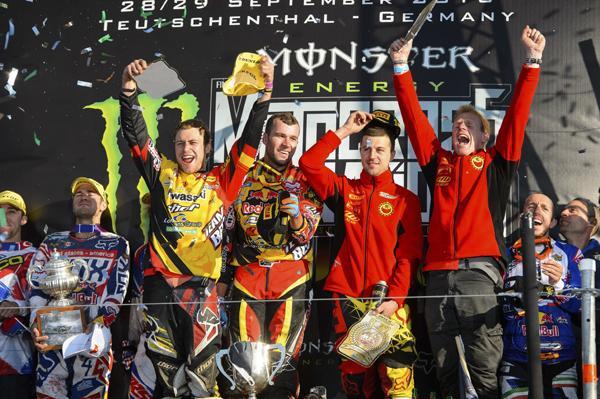 Ken de Dycker (center) came through in the final race with a second place finish.
Simon Cudby photo
"You know as a kid, you dream about winning the 'Nations, and last year we were so close but I broke the bike," said van Horebeek afterwards. "Every year we have something, and this year with Clement, he hurt his shoulder, and we were like, 'This is it. It's over again.' But we put ourselves together and it worked good."
Congratulations to team manager Joel Smets and the Red Knights of Belgium, who wore an image of the late Georges Jobe on their jerseys. They were the best team on Sunday, even after that rough start to the final moto.