Saxony-Anhalt, Germany
Motocross of Nations
Motocross of Nations
As a team event, the glory at the Motocross of Nations goes to the team that wins. But that often obscures some breakthrough performances and amazing individual races from other riders. Check out these examples of great performances for riders on teams that didn't have the best overall result.
Andre Vromans, 1981: The 1981 Trophee and Motocross des Nations is obviously remembered for one thing—Team USA's shocking first-ever triumphs in each. The U.S. win in each was a true team effort, powered on by consistency rather than outright moto wins. At the Trophee des Nations in the deep sand of Lommel (yup, same site as last year's MXoN), Belgium's Andre Vromans won both motos overall. He did his part!
Jean-Michel Bayle, 1987: There was much ado about the first-ever U.S. hosted MXdN at Unadilla in 1987, and the event is memorable as an all-time mudder, another team USA victory, and a hall-of-fame dream team with Rick Johnson, Jeff Ward and Bob Hannah on board. But deep within the slop, a young French kid named Jean-Michel Bayle (at that time, everyone was just calling him "Jean Michael Bayle") ran up front on his CR125. He won the 125 class in moto one, and might have beaten Hannah for the second moto 125 win if not for a bent shift lever. No worries, he'd go on to do great things.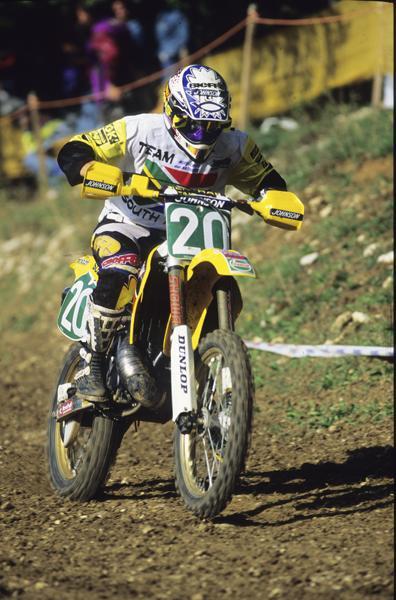 Albee even ran a Deer Hunter butt patch after his crazy 1994 incident.
Racer X Archives
Greg Albertyn, 1994: Deer in the headlights! At the end of 1994, Albee was set to bring his multiple world titles to the U.S., but while Bayle had just recently broken through in America, many top American riders were still not taking the Albee threat seriously. So Greg was determined to wax the world at the '94 des Nations and show what he had. And he was for awhile, jetting off to a giant overall lead in a moto before … crashing into a deer! He was relatively uninjured, but his day was over, and that kind of bad luck would shadow Albee to the U.S. for quite some time.
Sebastien Tortelli, 1995: Like Bayle a generation earlier, this young French kid had his breakout ride at the des Nations, going 1-1 in the 125 class and beating Stefan Everts and Steve Lamson in the process. With that surname, a lot of people mistakenly thought Tortelli was an Italian! The world would soon find out that Tortelli's speed was totally legit.
Doug Henry, 1998: Doug Henry only got one shot on Team USA, and the 1998 race he competed in at Fohxhill, England, was remembered as one of the worst mudders of all time. Team USA struggled huge for the most part, but Doug had one shining moment, winning the first moto overall on his YZ400F.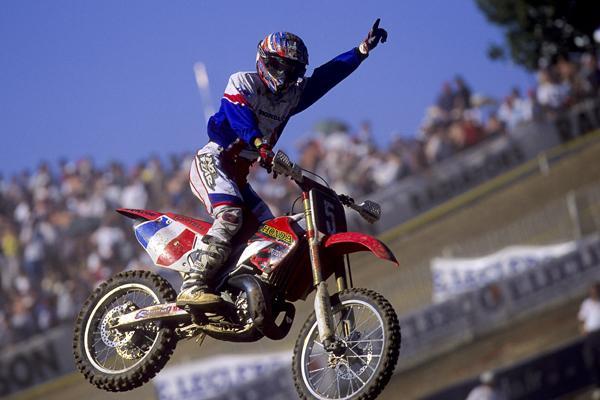 France didn't get its home team win in 2000, but Tortelli gave them something to cheer by winning the final moto.
Simon Cudby photo
Sebastien Tortelli, 2000: Another time, another place, for Seb. While now based in the U.S., the Frenchman was hoping to lead his team to a home victory at the 2000 event. Hopes were dashed when teammate Fred Bolley was hit in the face with a rock and had his day end early. Team USA romped. But in the final moto of the day, Seb made the French fans happy by passing Ricky Carmichael and jetting off with the overall moto win on his CR250.
Grant Langston, 2000: On the same day, the 125 class was hyped up between the powerhouse French and U.S. teams and riders Stephane Roncada and Travis Pastrana. But new 125 World Champion Grant Langston was there laying in wait, and the South African won the 125 class in the first moto, taking sixth overall. He would end up tying Roncada in the overall 125 results, Ron-Ron got the tiebreaker, Team USA won, but Langston showed he could run with anyone.
Chad Reed, 2001: Bags already packed for a Yamaha of Troy ride in the U.S. in 2002, Chad Reed went out of Europe a winner, taking the second moto overall at the legendary Namur, Belgium circuit on his KX250.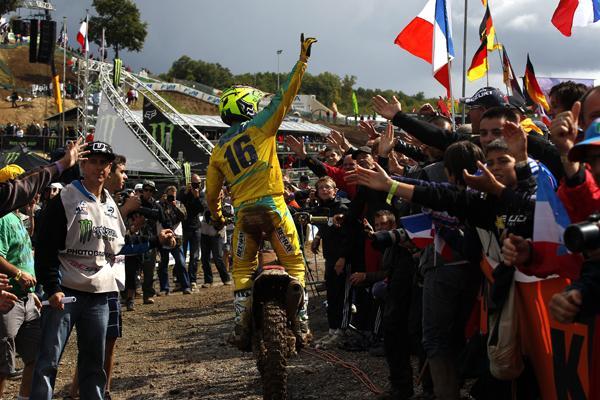 Two months after his Millville mega crash, Reed won a moto at the 2011 MXoN.
Ray Archer photo
Javier Garcia Vico, 2002:
This year marked the debut of the terrible one moto format at the des Nations, but at least the "A Final" produced a popular winner. In Bellpuig, Spain, Spain's own Javier Garcia Vico took the moto win.
Ricky Carmichael, 2003: Okay, this one is kind of reversed. RC won the one-moto-only 2003 MXdN, but U.S. teammates Ryan Hughes and Tim Ferry had problems, and Belgium won the team event. But really, Ricky's ride seemed to stand out most that day, since the whole race was hyped around RC vs. Everts and Ricky won it. So, yeah, we're writing about one of the most memorable motos ever in a story labled "Motos you forgot about" but if we leave RC's performance out, someone in the comments section below will probably puke on their keyboard.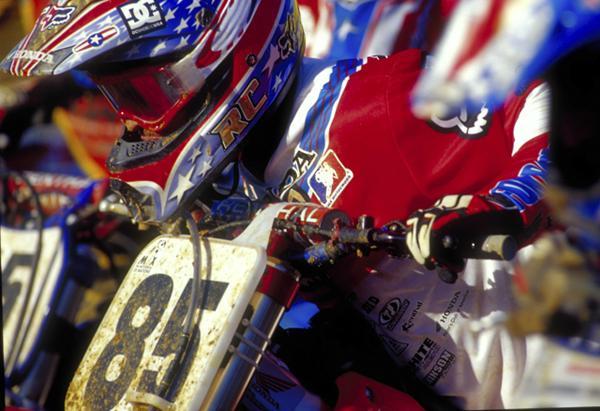 Carmichael's win in the one-moto-only '03 event stands out as a great individual ride.
Simon Cudby photo
Chad Reed, 2011: Most assume Reed's 2011 motocross drive pretty much ended with his crash heard around the world at Millville. But he actually bounced back a few months later, taking the overall win in the first moto of the 2011 Nations in France. That's two overall MXoN moto wins for Reedy ten years apart—the man has had one heck of a career.
Antonio Cairolli, 2012: Each year the Motocross of Nations carries a "How will Super Tony fare against the Americans?" vibe, but unfortunately bad luck usually jacks him. He finally showed what he had last year at Lommel, winning both of his motos outright. Germany took the team win, but Tony had to be happy to get that MXoN monkey off of his back.