That's it, it's over. The fat lady has sung and the 2013 Lucas Oil Pro Motocross Championship is finished. It's been a long year for many in the industry and I think I can speak for everyone that follows it week to week that we're happy it's over. It all started back in Anaheim in January and it ends now. With the titles wrapped up, the temperatures hot and 90 percent of the industry living within an hour of the final round at Lake Elsinore Motorsports Park, I think I can say with confidence that most everyone was really, really, really looking forward to the end of the day. After all, when you're so close to your pool-equipped back yard and air conditioned house, leaving it to go to a race is extra tough.
There are a lot of people that didn't like this weekend's track. I get it and I understand why Lake Elsinore, and last weekend's track in Utah, aren't really anyone's favorites, but the overreaction has been just silly. The nay-sayers call it a supercross track (because of it being manmade) but trust me, if you're there you can see that it's rough as balls. There are berms, ruts, mud, rocks and all the other things that make up a so-called "man's track." I like some variety. and the hard-packed West Coast tracks offer a different take from most of the other tracks. I don't think either of the last two tracks are anyone's favorites, but they were tough and challenging and if you're mad about it, they're just two out of twelve tracks in the series.
I can go on and on trying to make a point and maybe convince some of you but I tried that last week. One commenter on the bottom said that my column was "a shit sandwich" and accused me of being a homer. After all, MX Sports is the sister company of Racer X. So I give up. I'm not a huge fan of the last two tracks but I thought they were okay, and not a sign that motocross was ruined or being run by a bunch of idiots. Nope, there were some positives to the last two races. You know what? I'm doing it again. Okay, let's just move on.
With it being the last race and nobody really caring all that much about what was going on out there, I though I'd take you through my weekend of Lake Elsinore. I get emails and Tweets about shadowing me for a day at the races or hanging out with me so here is my weekend in all its glory.
If you're upset about this just scroll to the results where I talk a little bit about the race.
It all started on Friday when I drove down to Temecula from my home base in Las Vegas. I'm not saying that I was dreading this trip, but I did numerous thermometer checks on myself to see if I was coming down with any kind of sickness whatsoever that would've prevented me from driving there. Nope, I checked out fine. Crap.
I almost didn't make it for real when somewhere on the I-15 south a semi-truck driver decided to pull out and make a pass while I was coming up on the left. Hard on the brakes and a move onto the shoulder saved me. I'd like to thank the trucker for once again reinforcing my thinking that most truck drivers DGAF about much.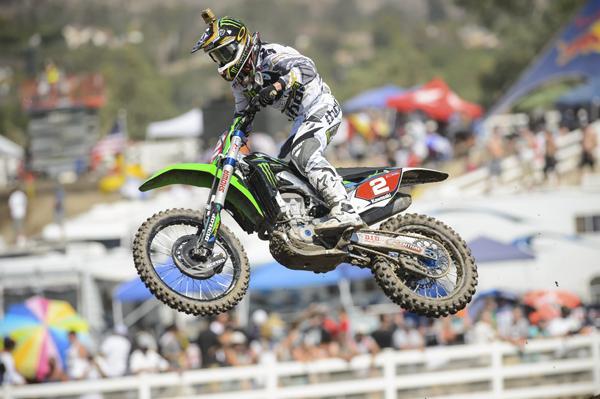 Ryan Villopoto put an end to a long summer with a 1-1 performance.
Simon Cudby photo
My listening on the way down mostly consisted of podcasts about the Toronto Maple Leafs and the NFL followed up by lots and lots of Van Halen, which came with a light dusting of Tragically Hip.
I got to the hotel room and built some EKS Brand goggles for some riders; very exciting stuff. My roommate was two-time German Supercross champion Jason "Da Schnitzel King" Thomas. We immediately made dinner plans for The Yard House with the voice of motocross Jason Weigandt, Kelli Stavast (the pit reporter) and Scott goggles guru John Knowles, who would once again provide most of the entertainment for us. I really wish John Knowles would get his own podcast. There's no one in the industry more passionate about anything than Knowles is about Scott goggles. And he's got some strong opinions about others in the industry that are very humorous. Good times.
Before we left, Thomas came out of the shower and put on camo pants. Yes, I'm serious. I understand that I'm not a fashion expert (cargo shorts and flip flops are worn by me 90 percent of the time I'm awake), but camo pants? When did this become cool? Does he know about a hostile takeover at Yard House that I don't? Will he need to blend into the greenery at some point to save his life?
At dinner Weege spent the whole time talking about TV, the role it plays in our sport, what he wears on camera and how he's doing a Super-Truck race in Wisconsin this weekend, where he'll fill in for Stavast as the pit reporter. He's nowhere near as hot as she is but he thinks that it won't matter. Jeff Ward and Ricky Johnson race this truck series so I would look for a lot of interviews by Weege of these two moto icons. Anyway, that was a wrap on Friday night. JT and I settled into bed arguing about the NFL, motocross and really everything else. It's amazing that in the fifteen years of being friends one of us hasn't punched the other one out.
Our morning wakeup time of 5:30 came early, and I was woken up by Thomas yelling, "Lake Elsinore, here we come!!!" I hit snooze, wishing it was a dream, but nope, it wasn't. Thomas was up and at 'em early. I've only seen this fire from him a few times and it usually ends up with him getting the checkered flag in some third-world supercross race.
We hit Starbucks where I got my usual and picked up a soy latte for Wil Hahn. Hahn and I have this deal where he runs a Pulpmx.com sticker on his helmet and I bring him a coffee on Saturday mornings. It's a simple arrangement, one that I'm massively benefitting from, as he holeshots moto after moto. Except it's turned complicated because one weekend I couldn't get Starbucks so I brought him Caribou instead ("This is Cari-poop" is what he said). Also, a few weekends, well there just weren't any Starbucks around. I can't poop a Starbucks out (that would hurt by the way) but he doesn't understand this. So we've had a few rough patches in this sponsorship agreement, to say the least. The last text I got from him read, "I'm lawyering up and I'll see you in court." I hate this sport sometimes.
At the track I ran into N-Fab TiLUBE Yamaha owner Allan Brown and Paul Delaurier, former factory mechanic to Mike LaRocco, Damon Bradshaw, Mike Alessi and many others. Seeing as how all three of us are Canadian, talk naturally circulated to who's been back home to the motherland and how it's been. Paul was last seen as the team manager for Mike Kranyak Racing but, he's now got a dry-cleaning business in North Dakota and is working at Kawasaki on some police street bikes. He's good people.
From there it was onto the GEICO truck and dropping off Hahn's coffee for the last time this summer. Next year we'll have to more clearly define our deal so that both parties get what they want out of this contract. That last sentence could cover almost every contract ever signed in our sport.
I stopped by the Red Bull KTM pits to talk to Frankie (Musquin's mechanic), Kelly (Roczen's guy) and Carlos (Dungey's guy). All Frankie does is make fun of me for never coming by except when Pit Beirer is there, which isn't totally true but not far off either. I just don't want to upset Ryan Dungey, as he's not what you'd call a fan of Steve Matthes.
Next I handed out my goggles without bothering to ask Alessi's mechanic, Dave Dye, why he's carrying an American-flag bag with a pair of high heels in it. Things would've just gotten strange.
Yeah the titles were sewn up but there was one battle that every moto fan was still geared up for and that's the battle for sixth in the 450s between Andrew Short and Jake Weimer. I went by the staging area where Short was right ahead of Weimer waiting for first practice and I fired the hype machine up. Unfortunately neither rider cared one bit about sixth and in fact Weimer called me an idiot for caring.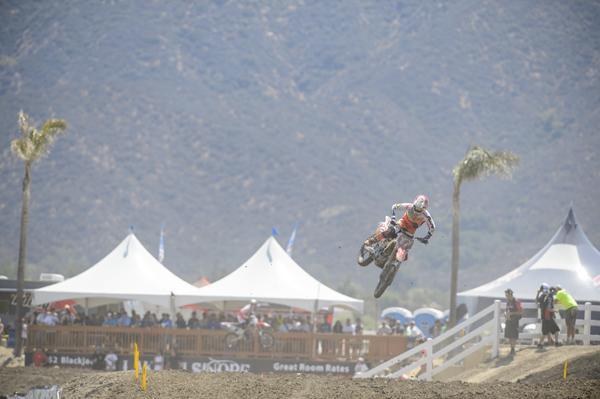 Eli Tomac, who clinched the 250 title a week earlier, won the season finale.
Simon Cudby photo
After that I went over, and per my boss Jason Weigandt's request, interviewed Rockstar Energy Racing's team manager Dave Gowland about his team's switch to KTM, and how the 2013 season went. Dave also wrenched for Ross "Rollerball" Pederson for a few years so the first ten minutes of our conversation were about Ross and how awesome he is. I have no doubt that Dave (and Dunlop's Marshall Plumb, who also worked for Pederson) is getting VERY tired of these talks.
Last week it was explained to me that the normal announcers wouldn't be making it to the last race, and seeing as how I have handled myself decently at some of the other rounds, my presence was requested up in the booth at Elsinore for a time or two. So after talking to Dave it was time for practice and therefore time for me to head on up and entertain the masses. Robbie Floyd, Rodney Tompkins and Grant Langston were up there already and the first thing I heard was Robby asking Langston about his 2007 450MX title. You know the one, where Tim Ferry was the points leader late in the season and looking good to win before Langston came on strong and won it? Yeah, exactly. I want to light myself on fire at this point.
The first set of practices came to an end, so after getting in my Tim Ferry mentions, as well as talking about what we were looking forward to (THE BATTLE FOR SIXTH PEOPLE!!! MAKE SOME NOISE!!!!), I headed down to the pits to go eat get scoops.
First stop was the GEICO Honda truck to see how everyone was feeling. I went upstairs to the rider's lounge and am greeted with a whiff of the worst smell you can imagine. It's a combination of sweaty gear, socks that have never been washed, dudes in their underwear and balls. Yes, I said balls. I gave Zach Osborne his Optrix phone case that Pulpmx Show Producer Tits Legendary demanded of me, while Tomac showed me his new phone case that he claims is bitching. No one liked the track and Hahn asked me to fly to Kansas to hang out with him for a race that he and his brother are promoting. Justin Bogle chimed in with the fact that he's going, to which I said I couldn't go anywhere where a FOR (Friend of Robbie Reynard) is going because I'm still mad about RR beating Tim Ferry at Loretta Lynn's. Hahn made a smartass comment about his coffee and I split, leaving everyone with a "Good luck to everyone up here not named Wil Hahn."
To the Kawasaki truck I went for my second coffee of the day. And just as I pulled up Weimer and Ryan Villopoto are sitting on the Kawasaki UTV getting ready to be driven to their autograph session. I once again told Weimer that he's got this, and that he needs to dig deep and get sixth. Yup, he still didn't care. We argued about goggles and then Villopoto got into the seat. Before they drive away RV backhanded me in the nuts and laughed. Just another day over at Kawasaki…
From there it was to the Pro Circuit truck where I saw "Baby Jesus" (that's not a self-proclaimed nickname for Adam Cianciarulo, it's a nickname that jealous riders have given the fast, funny and personable kid that the media loves. It does make me chuckle though) washing his boots. We talked about the track and whether or not he can come on the Pulpmx Show. He said he will only come on if he's top five, to which I replied, "Guess you're not going to be on then." He sprayed me with the wand and I moved on.
When it was time for the second set of practices I wandered back to the announcer's tower just in time for me to walk onto a conversation where a fan was telling Langston how awesome that 2007 450MX title was. I somehow resisted the urge to punch him in the face.
On to the BTOSports KTM truck where Jacki Short is in the house! She of course told me about how she fed her cats a live mouse; Jacki Short is gnarly, there's no doubt about it. Andrew Short talked to me about what I'm doing (seriously, Shorty's so nice that when he asks you how you're doing I swear he actually cares, unlike 95 percent of the other people in the pits) and how my wife is. Then he talked about his upcoming vasectomy. This is life in the pro pits people. I'm taking you deep inside the walls!
Then came the EKS Brand Goggles prerace Pulpcast that I do over on Pulpmx.com with Jason Thomas and most of the time, Georgia Lindsey. We talked about Weston Peick's latest social media blunder, who was going to win and I tried to hype up the battle for sixth in the 450s. Georgia once again picked Trey Canard to win. She's got that cool accent so we keep letting her do the show but in reality, she's nuts.
Back into the BTOSports truck where I gobbled down some chicken and delicious tri-tip. There was some other sort of noodle/pasta dish that looked delicious but there wasn't much left. Chances are it was for a rider and so I left it. I'm serious.
After that I wandered back to the announcer's area to watch the motos. The one-day format and live TV make it so that the Nationals now run approximately 300 percent faster than the days when I was a mechanic. There is not much bro-down time anymore, but at least at Lake Elsinore there was a 30-minute intermission.
The motos were cool. I was parked up on a shaded deck overlooking the track, there were coolers full of water and the Red Bull hospitality area was spraying misters about ten feet away. Life could have been worse for me; I could have been Jason Thomas out there trying to reenact his Soul Man performance from Utah.
I missed some of the first 250 moto because DC told me that Mike Kelso from Rockstar Energy Drink wanted to fight me for something I said in a podcast. I wandered over preparing to duck and cover, but it turns out the whole thing was a joke. We did indeed discuss something I said but Mike was fine with it. DC was laughing the whole time but really the joke was on him. As the owner of Racer X, his company has not been Tweeting the happenings of the race because the person who is responsible for working the Twitter during the motos (me), was tied up with a practical joke. People who follow Racer X Online on Twitter must have thought that the race had fallen into a black hole or something. Newsflash, Racer X loses 30,000 followers!
At intermission I headed back to the pits. Now I know I'm out of shape but the walk isn't that far. Well something happened to time because by the time I get to Kawasaki for my coffee (yes I drink hot coffee way too much and on hot days) RV and Weimer were already heading out for their second motos. Villopoto asked me how his race was and when I said that it looked like Josh Grant was faster he twisted my nipple and laughed at me.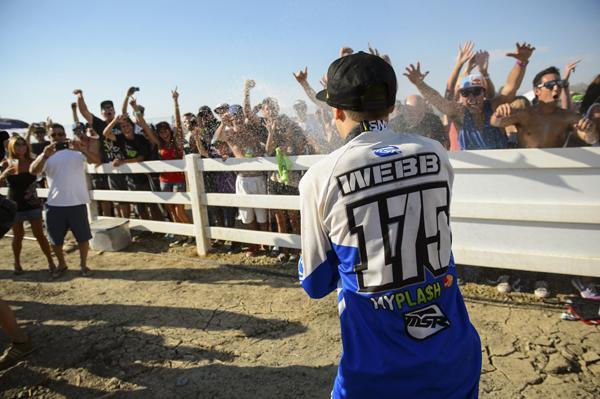 Cooper Webb celebrates his first career overall podium.
Simon Cudby photo
I went back to my prime viewing location, but on the way I saw "Filthy" Phil Nicoletti on his bike heading out for his second moto. I asked him how he liked the track and Southern California. He replied by swearing something at me as he drove by. This was followed by more moto watching, more listening to people talk to Langston about his "epic" 2007 450MX comeback season and more of me throwing up in my mouth.
After the motos ended I headed back to the pits to grab my mic and recorder to get the news from the riders on how the day went. This was a hit and miss proposition. Seeing as how it was the last round, most riders are close to home and the 450 motos have been over for an hour. I didn't have much luck in getting many guys and the ones I did get just wanted to get the eff out of there.
I talked to the Honda guys about the season, Chad Reed, the bike and more about Chad Reed. Me- "Hey I think you guys should probably get your stuff back from 22." Them-"Uh yeah, we already did." It's safe to say that this marriage between Chad Reed and Honda started off like Charlie Sheen and Denise Richards and ended like, well, Charlie Sheen and Denise Richards. Intense passion and sweet lovemaking turned ugly with he-said-they-said type disagreements.
Thanks for reading my blow-by-blow account of the weekend. If it wasn't that interesting to you, go get your own column and do whatever you want.
Let's take a look at the results, shall we?
250 RESULTS
1 17 Eli Tomac Cortez, CO Honda CRF250R 2 1- Tomac goes 2-2 but he gets the second moto win when Baggett jumps on a "Don't Jump" flag. I love Tomac's "Bullseye-Bar-B-Que Sauce" boldness when it comes to the MXoN. He's looking forward to it and looking forward to winning. So we know Tomac's bested Roczen this summer but Kenny's THE MAN at the MXoN and he'll be on a track that he knows well, riding in front of his home fans. And Eli's claiming he's going to win. I can't wait! This is going to be epic.
2 94 Ken Roczen Germany KTM 250 SX-F 1 7- Roczen showed me something in that first moto. Great job by him to make a statement and too bad Osborne cleaned tangled with him because he was looking good. Did I mention I'm excited for the MXoN?
3 175 Cooper Webb Newport, NC Yamaha YZ 250F 4 3- Nice ride from Webb at Elsinore and I like the aggression he showed as well.
4 77 Jeremy Martin Millville, MN Yamaha YZ 250F 3 5- Martin had a strong Elsinore, but I wonder what he was thinking as Tomac jumped onto this tabletop and zoomed by him in the first moto. It was quite a pass by Eli. If you had to pick Webb or Martin to start a team, who would you go with? Tough decision right? Good news, Yamaha has finally developed a couple of young stars. I think it's their first find since Ron Lechien. I'm kidding. Kind of.
5 338 Zach Osborne Chesterfield, SC Honda CRF250R 5 4- Zach with the MONSTER holeshot in the second moto. Wow. That's the kind of start that riders dream about. A solid return to America for the #338, who is going to be losing his three-digit number next year for a permanent career number.
6 19 Will Hahn Decatur, TX Honda CRF250R 6 6- I'll take this. It's a good finish. Yay for Hahn. My lawyers prevented me from saying any more.
7 25 Marvin Musquin France KTM 250 SX-F 9 10- Musquin was on it in the first moto and then he cased a jump and crashed. I think with third in the points locked up a while ago and not much chance of beating Tomac or Roczen, Musquin was pretty much over it for the last month.
8 34 Justin Bogle Cushing, OK Honda CRF250R 8 11- Bogle had to go to Asterisk after the second moto because of heat-related problems. Still a good summer for Bogle, as he reestablished himself as a "guy" in the 250 class.
9 1 Blake Baggett Grand Terrace, CA Kawasaki KX 250F 33 2- Baggett did deserve some sort of penalty for jumping on the "Don't Jump" flag but taking the win away was harsh. I'm ok with it as long as that's the new standard. But when you go years and years of seeing riders get slapped on the wrist for offenses, seeing a win taken away from a guy is a bit like seeing your mom and dad doing it. As in, you know it happens but it's still shocking.
10 40 Martin Davalos Ecuador Kawasaki KX 250F 11 9- I'm impressed with Martin's ride at Elsinore. He was way back in the first moto and he charged hard to get an eleventh. It was rough and hot and not the kind of stuff Martin excels at, but credit is  due to him here. Davalos has been in the 250 class for so long that I'd like to see some sort of family-tree-type chart with racers that have raced against Davalos in the 250 SX and MX classes. I'd be fascinated to see how far back it goes. For sure we'd see guys like Casey Lytle in there, and he's been retired forever. Maybe we'd see Jeff Ward pop up there somewhere?
11 317 Justin Hill Yoncalla, OR Kawasaki KX 250F 13 8
12 43 Cole Seely Newbury Park, CA Honda CRF250R 10 12- Seely and his teammate were around each other all day long. Cole finished tenth in the series points and for him, after missing the outdoors last year, that was a fine finish. It's not great but it's also not terrible.
13 36 Jessy Nelson Paso Robles, CA Honda CRF250R 12 14- Nelson's whole year was ruined with his supercross injury and hopefully the 2012 rookie of the year in outdoors will rebound next year.
14 44 Darryn Durham Butler, PA Kawasaki KX 250F 15 13- Durham's better than this. I'm not sure what happened to him the last two races but I'm sure he's looking forward to pressing reset on his 2013 season and starting anew.
15 38 Kyle Cunningham Aledo, TX Yamaha YZ 250F 7 35- Great first moto for Kyle as he came from fifteenth to seventh. Remember the hard-pack skills of this kid. Second moto he broke his foot and will be out for a while. Bummer. Word is he's moving to the back-again Valli Yamaha team next year. I don't know for sure, but I'm going to guess Kyle Regal as his teammate.
16 677 Matthew Bisceglia Tualatin, OR Honda CRF250R 16 15- The rookie's best day so far and he'll be better next year. By the way, I'm still waiting for someone smarter and more official than I am if to tell me if Bisceglia is a rookie next year or not
17 127 Shane McElrath Canton, NC Honda CRF250R 18 17- Shane's gotten four seventeenths in his six professional motos. And that's all I got.
18 292 Adam Cianciarulo Port Orange, FL Kawasaki KX 250F 14 40- AC crashed on the first lap of moto one with his teammate Davalos and fought hard for his fourteenth. He then complained of elbow and stomach pain and was taken off on a stretcher in case he had something serious going on internally, which he didn't.
19 244 Ryan Zimmer Raleigh, NC Honda CRF250R 20 16
20 21 Jason Anderson Edgewood, NM Suzuki RMZ 250 17 32- Anderson was third in the second moto and flying when he crashed and took a bar to the gut. That was it for him, he called it a day. Next time you see him he'll be on the same team but on a KTM.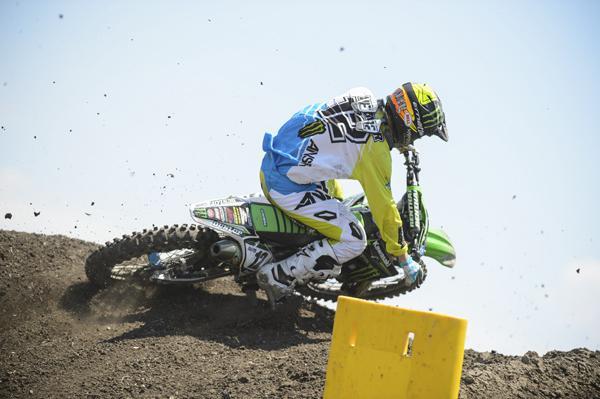 Jake Weimer locked down sixth in points with a solid ride at Elsinore.
Simon Cudby photo
450MX RESULTS
1 2 Ryan Villopoto Poulsbo, WA Kawasaki KX 450F 1 1- Another day, another 1-1 for Villopoto, who won eight out of the twelve races this summer and left no doubt that he was the guy. What was going on with his hair and that gear in the first moto? Anyone have any idea?
2 1 Ryan Dungey Waconia, MN KTM 450 SX-F FE 2 2- Dungey destroyed everyone in the class not named Ryan Villopoto but I'm sure that doesn't make him satisfied with his season. Last year the KTM guys told me that they weren't sure how good or bad their bike was because RD didn't have to push it to the limit without RV there. Well, I think they know now.
3 51 Justin Barcia Monroe, NY Honda CRF450R 5 3- Good day for Barcia, despite some poor opening laps in moto one that saw him drop back. He fought with his bike all day long and credited a shock change for the second moto that helped him out. Then he said that he should've changed his forks also.
4 12 Jake Weimer Twin Falls, ID Kawasaki KX 450F 8 4- HE DID IT! LADIES AND GENTLEMEN, YOU'RE LOOKING AT THE SIXTH BEST 450MX RACER IN 2013!
5 28 Tyla Rattray South Africa Kawasaki KX 450F 7 6- And that's it. Rattray closes the chapter on his American career with a great ride that was ruined a bit by a sprained ankle. Rattray is going back to the GPs next year with Husky and I'll miss him over here. He was always classy to deal with off the track and a great outdoor warrior. He was never the same guy after breaking his neck at Oakland SX a couple of years ago but he still put in some great rides here in his time.
6 41 Trey Canard Shawnee, OK Honda CRF450R 4 10- Canard's second moto was ruined by a stall. Otherwise it was a good day for #41, and a pretty good season for a guy that some thought might never race again.
7 800 Mike Alessi Hilliard, FL Suzuki RMZ 450 12 5- Great second moto for the #800 as he came from the back to get a strong fifth. I know he's placed higher this season but I think the second moto at Elsinore might have been his best ride of the season.
8 24 Brett Metcalfe Australia Kawasaki KX 450F 10 8- Metcalfe did what he does. He went out there and put in some solid rides. I didn't think his bike looked that great out there but I can't be sure because I was pretty far away from most of the track. It just seemed busy. Brett Metcalfe deserves a great ride in America next year but I don't think he's going to get one. There just aren't many rides open. I bet he goes back to Canada next year, rakes in the cash again and perhaps does some West Coast supercross races out of his motorhome.
9 29 Andrew Short Colorado Springs, CO KTM 450 SX-F FE 6 12- Short admitted that  the heat got to him in the second moto as he dropped back pretty rapidly after the halfway point. The #29 had a good motocross season and in many ways is still overlooked by people.
10 20 Broc Tickle Holly, MI Suzuki RMZ 450 11 11- Fitting that Tickle went 11-11 at the last round, as he's gotten eleventh eight times in twenty-four motos this year. That's just what he does. Nothing wrong with it but it's creepy how much he ends up there no matter what happens in the moto.
11 33 Josh Grant Riverside, CA Yamaha YZ 450F 3 38- All those people that write me and tweet me saying Josh Grant is injured too much and doesn't deserve his ride, Peick should get it, etc, etc, saw why he has rides. Grant was the quickest qualifier once again and led the first moto for a while before getting a well-deserved third. This guy can go fast, and that's the bottom line. You can't just wave a magic wand and get this guy's talent, folks. And this talent will keep him employed for a long time. Yes, he was so drained he had to get an IV and couldn't race the second moto, but in our sport, Grant's first moto will be remembered more than Broc Tickle's 11-11 that beat him. Don't hate the player, hate the game. I can't believe I just typed that.
12 10 Justin Brayton Fort Dodge, IA Yamaha YZ 450F 14 9- It was a weird summer for Brayton. Sometimes we saw Good Justin Brayton and sometimes we saw Bad Justin Brayton. A very up and down performance for the #10. I bet he's fast this off-season in Europe though!
13 35 Ryan Sipes Vine Grove, KY Suzuki RMZ 450 13 14- Sipes' farewell ride on the Rockstar Suzuki.
14 32 Malcolm Stewart Haines City, FL Honda CRF450R 9 18- I don't like Mookie's hair. There I said it. I just don't think it's a good look. I remind you that again, I wear cargo shorts and flip-flops 90 percent of the time.
15 46 Weston Peick Wildomar, CA Suzuki RMZ 450 33 7- A bike problem caused Peick to pull off in the first moto, but in the second moto he was his typical strong self. Yes he needs a ride, but no, I just don't see him getting anything good. We'll see.
16 57 Ben LaMay Wasilla, AK Yamaha YZ 450F 16 13- Good day for LaMay who says he'll be back with Rock River Yamaha next year. There's just not many rides that are really up this year but next year, just about everyone but RV, Dungey, Roczen are all open for bidding.
17 27 Nicholas Wey DeWitt, MI Kawasaki KX 450F 17 17- Wey returned from injury and in the last four motos he's been at his best. But that's it for NYK, I don't think you'll ever see him race the motocross series again. He'll do supercross-only next year on his own team and perhaps that's it. Years from now Wey should teach "How to be a good guy for your team and sponsors" to other riders who complain about being faster than him but yet get less support. Nick shows everyone that it's not all about the results on the track. By the way, he's the last rider still active that had me as a mechanic. Please don't quit Wey. Please, I'm begging you.
18 26 Michael Byrne Australia KTM 450 SX-F FE 23 15-Byrner's 2013 was a disaster. There's no other way to put it. Amazing how quick life can change, huh? Last year he was ten minutes from winning a 450MX moto when he broke his leg and he hasn't been the same guy since. I hope that one of the coolest guys in the pits can get back to his old level.
19 49 Phil Nicoletti Cohocton, NY Yamaha YZ 450F 15 37- Filthy's been in a bad mood the last two weeks because he's had to stay in California, and it showed this weekend. Nicoletti still had a great outdoor season and was a real surprise all year.
20 71 Zack Freeberg Riverview, FL Honda CRF450R 22 16- Freeburg's ability to ride a 450 pretty fast was the second-half surprise of the summer.
Hey you, thanks for reading this column all year. I appreciate it. I'm not always right but I always aim to entertain, no doubt about it. Thanks to BTOSports.com for supporting this thing and I'll be back after the MXoN, Monster Energy Cup and whatever other race I attend to give you guys my opinions and to talk about what I observed. Thanks and my email is matthes@racerxonline.com if you want to chat.