Lake Elsinore
Lake Elsinore

,

CA
Lake Elsinore
Lucas Oil AMA Pro Motocross Championship
Standing nearly 6-foot-3 inches tall, Zack Freeberg isn't an ideal fit for a 250F. And after another setback on the 250F in his return from a broken leg in supercross, the Florida native make a drastic switch in his program—he would step up to the 450 Class at Washougal. The results didn't come right away—he scored zero points in his debut—but slowly the pieces of the puzzle have begun to match up. Since Washougal, Freeberg has churned out the best results of his career—two top fifteen performances over the last six motos. The former Team Green amateur rider may have found the solution to an injury riddled past, as he explains in this week's Privateer Profile.
Racer X: Since making the switch to the 450 at Washougal, we've seen a real turn around to your season. Is there anything you can accredit that to?
Zack Freeberg: I came back from a broken leg in supercross and I raced High Point and Budds Creek on a 250 and didn't have the best of luck. I had two really big crashes on the 250 and messed up my shoulder. While I was down a couple of races, I was just thinking, 'I need to go to a 450, I'm just too big for a 250.' I really don't have the motor to pull me to run up front in the 250 Class, so I decided to move up and it seems to be working well. I've had some of the best finishes of my career and it's working great. The bike suits my style much more. You can let it hang out and when something goes bad there is enough power to straighten it out. With a 250 I have it pinned and when it goes sideways I can't correct it because it's already wide open.
How tough of a transition was it? It appears it's been rather smooth, but I'm sure there have been some bumps in the road along the way.
Obviously it was a last minute deal to switch to the 450, but we do have a Pro Circuit suspension and pipe on it, but we don't have a motor—it's stock. Mitch [Payton] and Bones [Jim Bacon] have been helping me out tremendously with suspension and everything. They're definitely in my corner and I can't thank them enough for it. They have really helped me get through these last couple races and it's working well.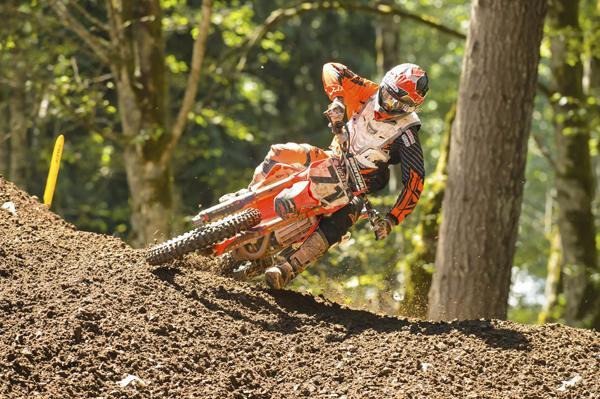 Freeberg made his 450 debut at Washougal and has since put in career results.
Simon Cudby photo
A lot of privateers have said that it's nearly impossible to compete in the 250 Class with a stock motor. Has it been easier to compete in the 450 Class with a stock motor?
For sure. If you go to the gate in the 250 Class with a stock motor you're going to struggle really bad. With a 450 you can only go so fast. I don't mind having the bike I have because I can put it to its full potential. Whereas some guys may have a big motor and they can't ride it. With my bike I can ride it like a 250 and let it hang out. The only problem I've had is on the start. I struggle there, but after we get going it's just fun.
You're a pretty tall guy; I'm sure at points you felt like you were on an 80 when riding the 250?
[Laughs] Yeah, for sure. The 450 is a lot heavier. One little movement going forward or backward on a 250F I would lose so much power. I can pull out of that on a 450, where on a 250 it would screw me for the entire next section.
Would this lead to you riding a 450 in supercross, or are you still on the fence?
I think I am going to ride the 450 in supercross. I don't have anything lined up right now, so we will see how everything goes.
You rode for Team Green throughout your amateur career, but dealt with a lot of injuries, and even had to deal with injuries this season. Are we starting to see your true potential?
Yeah, for sure. Like I said a lot of my injuries were on a 250F because when it goes bad for me it's hard to correct because the bike is already so wound out and I can't straighten it out. The 450 is helping me a lot. Even the people that I'm around have told me to ride the 450 because I'm a bigger guy, and I also think it will help prevent injuries. You have to respect the bike, obviously, but it's got enough power to pull me around. It's a good change for me and it seems to be working well.
What are your plans and goals heading into the off-season?
I want to end the season on a good note at Lake Elsinore. I want to put in two solid motos. I'm definitely racing Monster Cup, which should be a lot of fun and then I'll get ready for supercross. I had Jason Baker at Dream Traxx build me a supercross track a few years back, so I'll have him touch that up and then start going to work. I don't have a deal lined up so I might have to come out to California and prove to people that I can do it.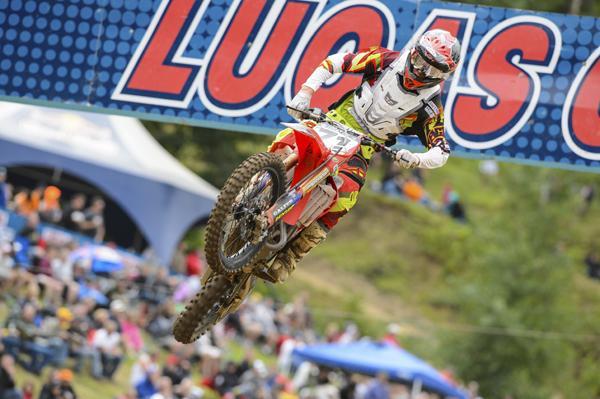 Freeberg has two top fifteen performances over the last six motos.
Simon Cudby photo
You have a pretty cool facility down in Florida at your house. Tim Ferry has helped you out a lot down there in the past. Is he still a part of your program and can you talk about what your place offers?
I have a full-blown supercross track and Timmy comes out there and helps me out every once in a while. I'll go to his place as well and train. At the races he will come by and tell me what I need to fix and things like that. He is a big help to my program
In recent years Florida has become the California of the east coast. How important is it to your program to have some of the best in the business to gauge your speed against?
It's great. You have all the top 450 guys down in Florida. You have Chad, Villopoto, Stewart, Timmy, they are all there. They come to Florida because the heat is so gnarly—it's like anything else. California gets hot, but there is no humidity. I don't really get to ride with them much, but the Stewarts let me ride whenever I want. So it's good to go and do motos with Malcolm and James and you can gauge your speed off that. You learn so much from those guys. They have been around so long, so it's great to ride with them and learn things.
Thanks, Zack. Who would you like to thank for helping you this season?
First of all I want to thank Scott and Kelly Witt, without them none of this would be possible. I would also like to thank Maykers, Bell Helmets, Alpinestars, FLY, SCOTT Goggles, Pro Circuit, BPM Motors, Renthal, Pit Posse, Outlaw, DT1, ICW, Dubya USA, Hollywood Graphics, Engine Ice, Ethica, DC, Scott Salkil, my mechanic Nick Burns, Dave Robertson, the Cianciarulo family and my family!