Miller Motorsports Park
Tooele

,

UT
Utah National
Lucas Oil AMA Pro Motocross Championship
Monster Energy Kawasaki's Ryan Villopoto just keeps getting better. In a career already consisting of multiple big race wins and titles, his 2013 season has been his best yet, and he's ending it with a four-moto win streak and a wrap of the Lucas Oil Pro Motocross 450 Championship with one race to go.
He talked about it all in the post-race press conference in Utah.
Racer X: Let's start with this last week. You got out of Unadilla with a big points lead and you knew that you had a chance to wrap this up today. How did the week leading up to this event go for you?
Ryan Villopoto: The week was good. Went back to Florida and we did some riding and doing the normal program. And then we came out for press day to just kind of see how the track was and what we were going to be up against. That was pretty much it.
You mentioned press day. I guess press day didn't quite go as planned for you. There were a couple tip-overs out there?
[Laughs] There were a couple little tip-overs but I was able to get a feeling of the altitude on the outdoor track instead of, obviously we race here for supercross, but it's in a stadium. Supercross is not outdoors. Main concern was just how the bike was going to leave the line, making sure that we were going to get two good starts, because that's really kind of what was the only thing standing in our way. That's what pops into mind. We need two good starts and then we'll see how the rest of the race plays out.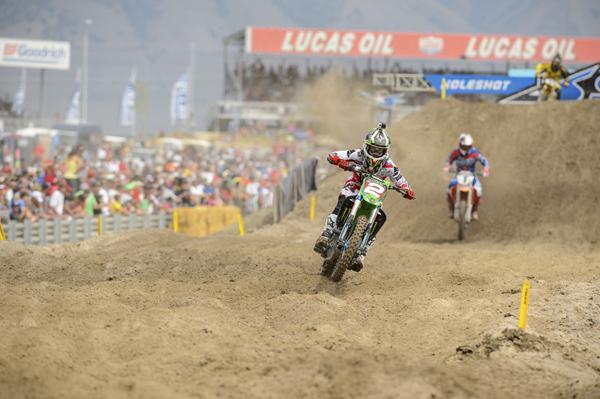 Ryan Villopoto (front) went 1-1 over Ryan Dungey (rear) to capture the 450 championship.
Simon Cudby photo
Take us through moto 1 because that was a pretty good start.
It was really good. Getting the holeshot in that felt really good. I was able to get a gap right away and then just keep pushing. I was gauging on where Ryan [Dungey] was. Obviously the pit board was telling me what his lap times were too. Just tried to keep pushing it and just tried to make that gap as big as it could be.
Second moto we saw you get off to another good start then maybe around lap three or four you had a little feet come off the pegs back there; got a little sideways?
Definitely the track went away, got a little drier, and got much rougher. That was my mistake; I almost came off over there. Right after the mechanic's area there was a lapper I was coming up on. He kept moving over on me. I almost ended up going off the track.
The track conditions, the layout here, it was all new. What did you think?
It was good. I think definitely it can be better. It's their first shot at it. It's the first time that they've built a motorcycle track right here on the infield. Now that we've raced it, now that we've kind of seen how the track developed and things like that, then they can learn off of that and see what they need to change for next year. But overall I thought it was a pretty good racetrack. I think they could have maybe watered a little bit of the infield. I was watching the Lites race and it looked like it was the desert out there!
How about that sand coming out of the gate? It seemed like the dirt changed from the gate, then over the gate, then up the start hill. It was sandy off the line.
There was a little bit of sand there, then over in that big sweeper over there it's like a beach. It was a little sandy and then it went into the clay. I thought it was going to be a lot more sandy or a lot softer than it actually was.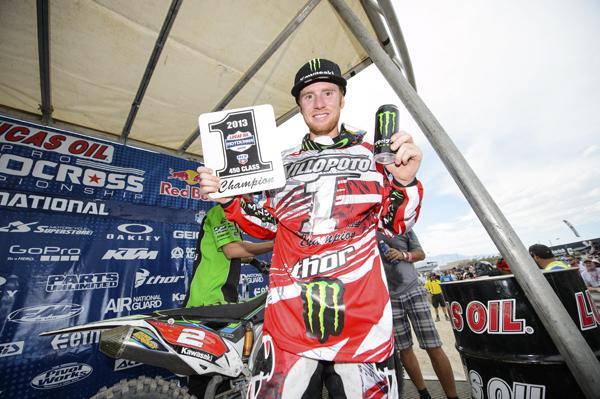 Villopoto now has eight AMA National Championships, which puts him in a tie with McGrath for second all-time.
Simon Cudby photo
You have eight AMA National Championships now, which puts you in a tie with Jeremy McGrath. The only guy in front of you now is Ricky Carmichael. Can you talk about sort of where you started and how far away that would have even looked?
I don't think you ever sit down and think of, well, this is what Jeremy has, this is what Ricky has, and so on. You just take it year by year and race by race, really. If you really sit down and kind of look at how many races MC's won, how many races Ricky's won, how many championships they have … I think you're like, 'Oh, I'll never get there.' And there's no time to sit down and look at it and be like, okay, well, let's see how many races we need to win, how many this, how many that. You never know how it's going to play out. For me, I never started this sport to look at MC or Ricky or anybody else and say, 'I'm going to beat those guys' records.'
How much fun do you have? There's so much pressure when you're trying to win these titles. You can't have a bad race when you try to win a title, and if you do, it's a big deal. So are you still able to enjoy this or has it been pretty gnarly the last couple years being at this level?
I think it is gnarly being at this level. I think that's one of the reasons why Ricky retired when he did retire and why I think our careers are a little shorter if you're at the top for so long. But I think the thing that keeps the top guys going is winning. That is the fun part. Nobody wants to go back during the week and put in the work and go sweat in Florida. It's really hot and it's not easy. The answer is yeah, winning is fun. But during the week it is tough.
Do we see you next week or is that something that you even considered?
I'll be there next week. If there's a race, I'll be there.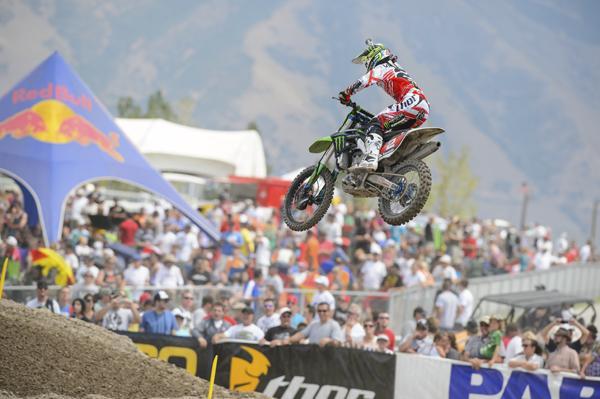 Villopoto hopes to return for the Monster Energy Cup following off-season surgery.
Simon Cudby photo
Did you get to do some other stuff around this facility? Didn't you get to drive a Ford Raptor and stuff?
We went over and did the Ford Raptor Assault thing over there. This place is pretty cool. They have a lot going on. I see the zip line and obviously the street bike course and off-road and this and that. They definitely have a great facility here and they put a lot of money into making sure every angle and everybody's needs are met.
Will we ever see you back at the Motocross of Nations competing again? I know you're getting your foot repaired. And then you have two more years you say you want to race. Do you think you'd be a candidate the next two years if the results are similar to what you're enjoying?
Always. I've had a lot of good luck and great success at that race and that is for sure one of the more fun races to do. It is a bummer that we're going to miss it. I wish all these guys, the guys that are going, the best luck and hope that they come back with that trophy.
Will the foot be healed back in time for the Monster Cup?
Yeah, it will be healed. I think that's October 20th so it gives me enough time to get that all sorted away and also start riding some supercross and doing some testing.