Unadilla MX
New Berlin

,

NY
Unadilla
Lucas Oil AMA Pro Motocross Championship
What you like about Monster Energy Kawasaki's Jake Weimer is that he's a regular guy. He's down to earth, relatable, and not at all cocky. That's good in a buddy. But the qualities that make good people do not always make good racers, and unfortunately for Weimer, he's been way too down to earth, relatable and not at all cocky about this season. It's been a bad one, and he admits it. He makes no excuses. That means his confidence is lagging.
You probably don't remember Weimer scoring solid 5-6-5 finishes in the first three series rounds of Monster Energy Supercross. He looked capable of podiums, but then he fell victim to injury and illness. He never found his groove again after he returned.
Finally, at the Built Ford Tough Unadilla National, there was a tiny glimmer of hope. Weimer logged his best moto of the summer in 450 moto two, holding off a late charge from Ryan Dungey to finish in third place. For the first time all season, he was on the podium.
"It was good," said Weimer after the race. "The beginning of the day was kind of same that it's been, nothing great. My times weren't good but I felt good on and off in the second practice. So then in the first moto, for sure I had to have started right around tenth and got passed a few times and then rode decent after that, but I was frustrated obviously.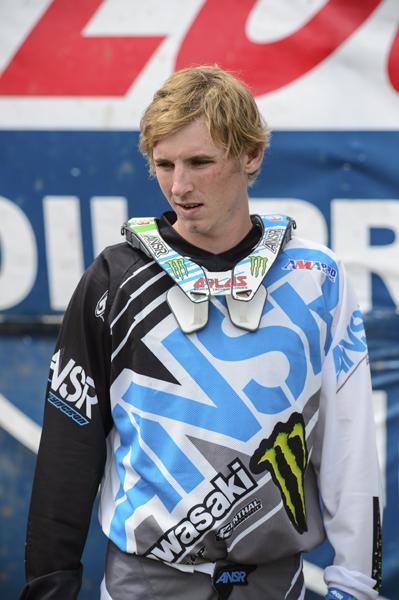 Jake Weimer has lost confidence this season. Something he is trying to get back.
Simon Cudby photo
"I don't feel like I should be getting passed like that at the beginning of a race," he added. "So I was frustrated with that and fixed it in the second moto. Got a better start and did my best to stay up front. By the time I knew it there were a couple laps to go and I had a fight on my hands. I knew because I saw JG and Dungey behind me. Once they kind of battled they inched up on me a little bit and I'm like, I got to go, I got to go! It was getting down to the end of the moto. I figured Dungey would get him, and then he'd be on me. So I knew that it was going to be close, and it was."
Again, Weimer is so down to earth, he freely admits what he's been struggling with instead of making excuses.
"It's just mental struggles," he said. "It gets old hearing it because we've heard it so many times and it doesn't even tell the fans much, but it's confidence. When you're not feeling good about yourself or you're not sure … It's confidence. Once you go and start digging yourself a hole of being unconfident, every time you get on the bike and you're not confident, you're digging your hole deeper and deeper and deeper. So to get out of it is hard. It doesn't happen just like that. I think at Washougal I had kind of a breakout moto in the second one [fourth place] and that definitely helped me kind of start to get my head above water, you know, 'Okay, I can do this.' And then obviously again today in the second moto that was solid for me."
Weimer could have walked out of Unadilla with his head held high, but again, he's too realistic to assume he's turned the corner.
"Of course it can carry over, but it could go the other way, too," he says. "Obviously that's not what I want to think. When you have times like these or a year like this and you have some good rides I think it's important to just hold on to it and use it for everything it's worth and try and get the confidence back to where it needs to be."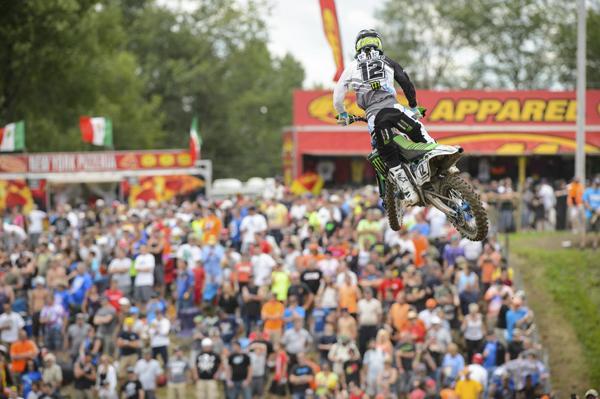 Weimer is hoping his recent success at Washougal and Unadilla will carry over to the final two rounds of Lucas Oil Pro Motocross.
Simon Cudby photo
Riders can train hard and rebuild their bodies, and they can get on the bike and learn new skills. They can test new parts and make the bike perform differently. But the hardest thing to do is change who they are mentally. Weimer's in a rut, and he can't just tell himself to get out of it.
He says the difference between races when he's confidence and races when he's not are "Night and day. You know in your head. But it's more of just a feeling. It's hard to say, 'Okay, I'm going to feel a certain way.' If you read sports psychology books or stuff like that they talk about learn how to control your brain, control your thoughts, not let bad thoughts come in. And that's so hard to do!"
No excuses, no fluff. Weimer is just himself. Now he just hopes he's a little more confident self.