Unadilla MX
New Berlin

,

NY
Unadilla
Lucas Oil AMA Pro Motocross Championship
After giving the competition a brief glimmer of hope at Millville, where he finished off the podium, Monster Energy Kawasaki's Ryan Villopoto bounced back strong at Unadilla with a 1-1 performance. At the post race press conference, he got in depth about bike set up changes, track changes at Unadilla, and more.
By the way, rumors were buzzing at Unadilla about RV possibly needing to get ankle surgery in the off season, and the five week break between the final Lucas Oil Pro Motocross round and the Motocross of Nations doesn't really help if you're trying to schedule a surgery and be 100 percent for 2014. But Kawasaki PR requested that questions about the 'Nations be held off until a final decision is made, and Team USA is officially announced. Once that happens we'll try to get Villopoto's take on all of that.
Racer X: We missed you in the press conference at Millville. What happened there?
Ryan Villopoto: [Laughs] Yeah I guess I just got kind of tired of the press conference so I decided to finish off the podium and skip one…
[Laughs] Okay. A 1-1, is that a little bit of a serving notice that Millville was your mulligan for the year?
Yeah, definitely. Millville was a struggle. I was a little off on the current setting that we had there, then we went back and had the weekend off, obviously. Did some homework on the suspension settings. I feel like it translated over. We knew where we were at Millville. We knew what we had and what we needed to fix. The team ended up fixing it, so can't thank those guys enough. They did it actually out in California while I was in Florida and sent it to me. That was good work on their part. I was pumped with the way it went today.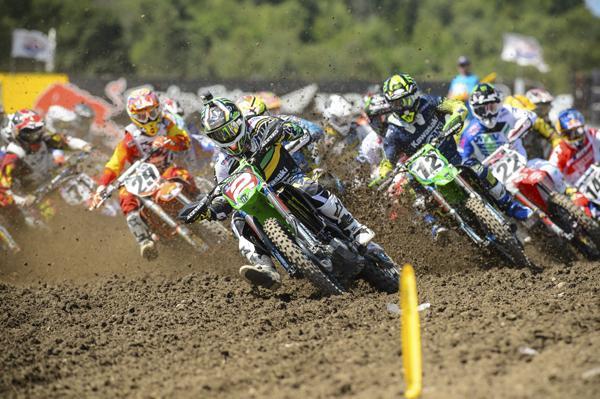 Two key starts propelled Ryan Villopoto to easy 1-1 wins at Unadilla.
Simon Cudby photo
Take us through your motos, although there might not be much to talk about.
It was good. I got two holeshots and I think I only had one on the year so far so that was probably my highlight of the day, just the two holeshots. Getting the first one was awesome but then to back it up was even better. I was able to get two clean starts and get out front. I really enjoyed the track. They've done a lot of work in the past years to try and get the dirt better, get rid of some of the rocks. It definitely shows. Just Unadilla itself is very wide, it has a lot of line choices, a lot of options. You go from right to left or inside to outside or vice versa, it's a great track. It's definitely becoming one of my favorites, just because you can take completely different lines from other people.
Run through the changes you've made to your bike. I think you had a bike change at Southwick or something like that…
We changed some stuff after … Budds Creek. We went to Budds Creek. We were decent in practice but race conditions came around, track was rougher, we were off the pace. We needed to do a little bit of homework. We've been doing that and also getting something that I like. We had that setting at Southwick. But unfortunately I outgrew it very quick and I came to Millville and was in the same situation as Budds Creek. It's kind of similar; big downhills, a little steep. Put a lot of force and pressure onto the suspension. So if you're a little off or a little soft you'll know out there.
How far have you come with testing and getting a feel for all this since your Lites days? Are you a totally different rider when it comes to your testing abilities?
We all evolve and the team learns us. We made that big jump to Showa suspension last year right before the Monster Cup. We tried to learn as much as we could as quick as we could. Especially with the Showa stuff, it seems like no matter what you change, you tend to notice it. With what I was running before for some years, up until that point you kind of would change something but you really wouldn't notice it. The Showa stuff is really easy to fix things but sometimes you can get confused or lose direction because each thing does change the bike a lot.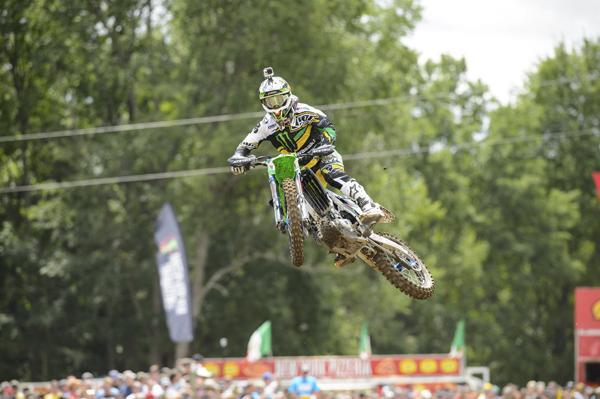 Villopoto can clinch the 450 title at Utah on Saturday.
Simon Cudby photo
Talk a little bit more about those two starts. Did you do anything special?
I think going back to what we had changed on the bike did help improve my starts. It was a fork change and a shock change. But it helped my initial jump out of the gate. After Millville I was just talking to the guys and didn't feel like it was necessarily me. Could have been wrong but I just didn't feel like it was. And you're not going to get every holeshot out there; there's too many good guys to holeshot every time. But I just felt like we should be better, no matter what. With the change we made it actually helped my initial lead in the gate.
Salt Lake City just a week from now. What are we expecting?
It's going to be good to go to a new place. It's unknown. It's at altitude. I don't know how the dirt actually is. If you go off of Salt Lake Supercross dirt it could be kind of slippery and maybe hard-packed. It may be hard to keep water in it. But Colorado is a pretty good place and they did a good job with that, and that's at altitude and has that clay base. They can do a lot of things to the tracks, just like Unadilla here. When I rode Lites bikes here it was never really good. It was a lot more rocky and way more slippery but they've come a long way in a few years. So it will be good. I think we're not also pitting out of trucks or something, kind of like Daytona. It'll definitely be different. It will be good. I think we need a change.