Red Bull KTM's Jeffrey Herlings finally put the members of the MX2 Class of the FIM Motocross World Championship out of their misery. He clinched the MX2 title with three rounds to go thanks to his twelfth 1-1 of the year and his fourteen Grand Prix victory of a still perfect campaign. Said fourteenth fixture from seventeen occurred in a hot and briefly wet Czech Republic and went to concrete formbook for the 250s, but in MX1, there was a changeup, as Rockstar Suzuki's Clement Desalle enacted a 'Tony Cairoli modus operandi' with a faultless 1-1 in MX1 as the actual KTM No.1 made a critical error in both motos to lose his 100 percent podium record and classify fifth overall.
For those uninspired by what the Lausitzring motorsport complex offered the previous week, Loket – forty years old for the 2013 edition of the Czech Grand Prix – was the antithesis. Whether it was any better than the German track constructed in only seven days is a matter open to fierce debate. The annual grumbling about Loket from the riding fraternity began early on Saturday as the process of refining set-up and musing over tire choice to find grip and wondering where passing would be possible filled many discussions. While the addition of a new timing section, a double across the finish line and a major alteration with the bizarrely relocated gate (eliminating one of the longest and most spectacularly start straights on the calendar) showed that Loket was not stubborn to change. The makeover did not alter the fact that the narrow layout makes passing tough, and creates a raft of similar lap-times. It presents a different type of motocross; one in which riders have to go as long and hard as possible in the knowledge that a mistake could cost a few seconds that can be difficult to win back. It is cat-and-mouse stuff with overtaking rare and decisive rather than plentiful and free-willed.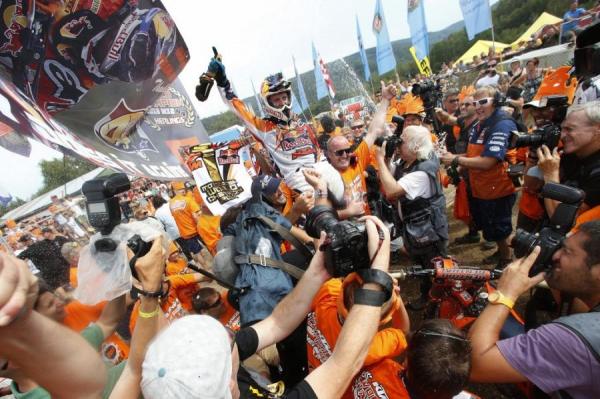 Herlings wrapped up his second consecutive MX2 title on Sunday.
Ray Archer photo
Five key MX1 riders were missing through injury or sickness and saw the gate figures tumble to just 21. Davide Guarneri and Jonathan Barragan were also to become non-starters. Combined with a low entry from wildcards or local aspirants the sparse gate will still have to be one of Youthstream and the FIM's chief concerns for the rebranded 'MXGP' class in 2014. There are no signs of such apathy in the European divisions of EMX250 and 125, but transferring that health into the premier class in the continued pursuit of excellence with the 450s is clearly a priority.
Among a couple of talking points, Herlings easily dwarfed the headlines. Flanked by family, friends, Dutch fans and persistent media all weekend, the eighteen year old is also surrounded by numbers thanks to his stunning efforts in just four years of Grand Prix. His second championship arrived on a massive crest of superior speed and form, but marking 2013 with an unheard-of perfect season will no doubt stand the test of time. So, even with the title, Herlings cannot drop his guard for final meetings in Belgium, Britain and Holland. Already making mainstream news in his country, '84' was simply uncatchable again for fourteen in a row and thirty wins for a young career.
Monster Energy Yamaha's Christophe Charlier had former champion Mickael Pichon offering guidance this weekend but the Corsican has not lacked speed in recent meetings, only effective starts and he rectified this weakness at arguably one of the most crucial locations for a decent launch. Third on the podium was Aleksandr Tonkov on his privately run Honda for a career-first and part one of a curious Russian double on the day. Tonkov clearly has potential and a rumoured signature with the factory Husqvarna team for 2014 could mean his baby face will be more prominent in GP photographs next season. Rockstar Suzuki's Max Anstie's weekend lasted barely two laps before a collision on the sketchy and blind rise to the pitlane straight – an area that Cairoli felt compelled to complain about to officials – led to a deep elbow wound and a trip to the hospital. CLS Monster Energy Kawasaki Pro Circuit's Alex Lupino was burning with frustration after a superb runner-up position in the first moto was nullified by a tumble in the same spot as Anstie in the second outing. Loket will not stand as many riders' favorite track simply through its restrictions but you won't find the likes of Charlier or Lupino speaking out.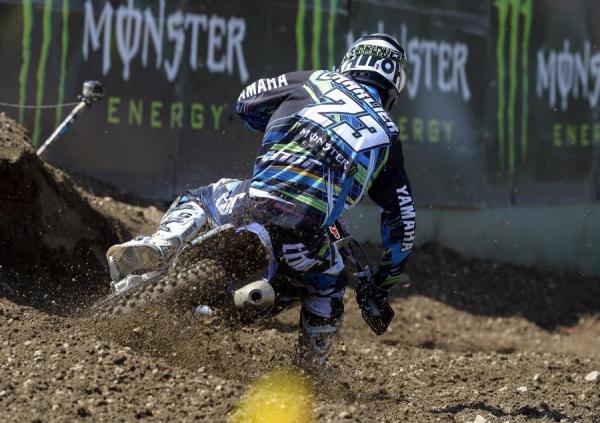 Christophe Charlier would finish second behind Herlings.
Monster Energy photo
In MX1 Desalle clearly has a special affinity. It is a happy hunting ground for the rider that is currently a settled second in the MX1 standings. After victory in 2009 and 2011, he was due in 2013 and looking for a fifth consecutive podium at the site. And so it came to pass. With Kawasaki Racing Team's Gautier Paulin missing his second meeting in a row due to concussion from his German GP smash, Desalle was favourably placed to gain numerical ground with three rounds remaining post-Czech Republic. He disappeared from the pack.
"I could make some cool lines and fast lap-times that allowed me to make a gap in both motos," he said. "The gap allowed me to relax and I could control it until the end. It was a really strong day for me."
It was for Suzuki, in fact. The Belgian duo of Desalle and Kevin Strijbos are familiar to AMA fans for their summer sojourn to Colorado and Tennessee and here they ruled; going 1-2 and 1-4 with Strijbos all but earning a rumoured extension to his factory deal with a third trophy of the term. On the third plinth of the box was the second part of the Russian axis as Evgeny Bobryshev emerged from pitlane water bucket ridicule in the heat of Germany seven days previously to find out that champagne tastes a lot sweeter. Steady and fancy-free, 'Bobby' took the exotic CRF450R to a timely second podium of 2013 with Japanese top-brass and a raft of Europe's press – even JMB on Honda France duties – looking on ahead of the 2014 CRF media test on Monday at the circuit. Max Nagl was on the MIA list due to a bout of the Epstein-Barr virus that could further derail Team Germany's status at the Motocross of Nations on home turf in a little over seven weeks.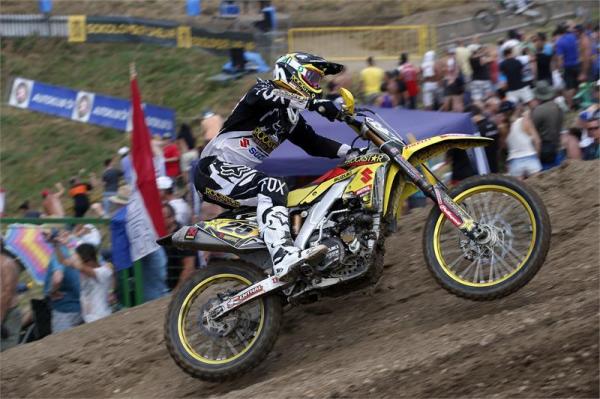 Clement Desalle keep Antonio Cairoli from clinching the MX1 title with a 1-1 performance.
Suzuki photo
Cairoli would finish behind teammate Ken de Dycker in moto one. In the second moto, the Belgian was tiring and close to crashing so ended up sacrificing an overall rostrum slot in favour of preservation. But Cairoli had a bike stall and front end tuck while trying to pass Kawasaki Racing Team's Jeremy van Horebeek, which meant a day of catch-up. The Sicilian pointed a small finger at the track but admitted he had ridden poorly. He still took comfort in a 90-point margin over Desalle which means he can wrap up his fifth MX1 crown in a row in a matter of weeks. Van Horebeek was in speedy form. The MX1 rookie of the year was undone by broken front brake in the first moto but was efficient as runner-up in the second. That's a personal best.
Rutty, rough and technical circuits sit on the calendar in the three weeks to come. Bastogne entertains its second Grand Prix of Belgium on August 18 while the following weekend goes to the UK and the Matterley Basin.
MX1 Moto1
1. Clement Desalle (BEL, Suzuki), 40:13.885;
2. Kevin Strijbos (BEL, Suzuki), +0:17.258;
3. Ken de Dycker (BEL, KTM), +0:36.119;
4. Antonio Cairoli (ITA, KTM), +0:40.733;
5. Evgeny Bobryshev (RUS, Honda), +0:46.263;
6. David Philippaerts (ITA, Honda), +0:49.981;
7. Joel Roelants (BEL, Yamaha), +0:55.559;
8. Tommy Searle (GBR, Kawasaki), +1:02.663;
9. Tanel Leok (EST, TM), +1:04.210;
10. Shaun Simpson (GBR, Yamaha), +1:06.423;
MX1 Moto2
1. Clement Desalle (BEL, Suzuki), 39:52.449;
2. Jeremy van Horebeek (BEL, Kawasaki), +0:11.241;
3. Evgeny Bobryshev (RUS, Honda), +0:15.502;
4. Kevin Strijbos (BEL, Suzuki), +0:18.634;
5. Tommy Searle (GBR, Kawasaki), +0:19.929;
6. Ken de Dycker (BEL, KTM), +0:43.766;
7. Antonio Cairoli (ITA, KTM), +0:46.632;
8. Shaun Simpson (GBR, Yamaha), +0:49.173;
9. Tanel Leok (EST, TM), +0:50.415;
10. David Philippaerts (ITA, Honda), +0:53.086;
MX1 Overall
1. Clement Desalle (BEL, Suzuki), 50 points;
2. Kevin Strijbos (BEL, Suzuki), 40 p.;
3. Evgeny Bobryshev (RUS, Honda), 36 p.;
4. Ken de Dycker (BEL, KTM), 35 p.;
5. Antonio Cairoli (ITA, KTM), 32 p.;
6. Tommy Searle (GBR, Kawasaki), 29 p.;
7. David Philippaerts (ITA, Honda), 26 p.;
8. Jeremy van Horebeek (BEL, Kawasaki), 24 p.;
9. Shaun Simpson (GBR, Yamaha), 24 p.;
10. Tanel Leok (EST, TM), 24 p.;
MX1 World Championship standings after 14 of 17 rounds
1. Antonio Cairoli (ITA, KTM), 643 points;
2. Clement Desalle (BEL, Suzuki), 553 p.;
3. Ken de Dycker (BEL, KTM), 514 p.;
4. Gautier Paulin (FRA, Kawasaki), 465 p.;
5. Kevin Strijbos (BEL, Suzuki), 437 p.;
6. Tommy Searle (GBR, Kawasaki), 404 p.;
7. Jeremy van Horebeek (BEL, Kawasaki), 351 p.;
8. Maximilian Nagl (GER, Honda), 314 p.;
9. David Philippaerts (ITA, Honda), 245 p.;
10. Evgeny Bobryshev (RUS, Honda), 238 p.;
MX2 Moto1
1. Jeffrey Herlings (NED, KTM), 39:38.058;
2. Alessandro Lupino (ITA, Kawasaki), +0:37.903;
3. Aleksandr Tonkov (RUS, Honda), +0:47.805;
4. Christophe Charlier (FRA, Yamaha), +0:52.989;
5. Jordi Tixier (FRA, KTM), +1:07.729;
6. Glenn Coldenhoff (NED, KTM), +1:14.265;
7. Dylan Ferrandis (FRA, Kawasaki), +1:17.832;
8. Petar Petrov (BUL, Yamaha), +1:18.835;
9. Jake Nicholls (GBR, KTM), +1:20.211;
10. Maxime Desprey (FRA, Yamaha), +1:26.473;


MX2 Moto2
1. Jeffrey Herlings (NED, KTM), 40:27.757;
2. Christophe Charlier (FRA, Yamaha), +0:20.606;
3. Jose Butron (ESP, KTM), +0:29.951;
4. Aleksandr Tonkov (RUS, Honda), +0:34.661;
5. Jordi Tixier (FRA, KTM), +0:37.893;
6. Jake Nicholls (GBR, KTM), +0:40.315;
7. Dylan Ferrandis (FRA, Kawasaki), +0:57.314;
8. Alessandro Lupino (ITA, Kawasaki), +1:06.995;
9. Dean Ferris (AUS, Yamaha), +1:09.821;
10. Petar Petrov (BUL, Yamaha), +1:11.697;


MX2 Overall
1. Jeffrey Herlings (NED, KTM), 50 points;
2. Christophe Charlier (FRA, Yamaha), 40 p.;
3. Aleksandr Tonkov (RUS, Honda), 38 p.;
4. Alessandro Lupino (ITA, Kawasaki), 35 p.;
5. Jordi Tixier (FRA, KTM), 32 p.;
6. Dylan Ferrandis (FRA, Kawasaki), 28 p.;
7. Jake Nicholls (GBR, KTM), 27 p.;
8. Petar Petrov (BUL, Yamaha), 24 p.;
9. Jose Butron (ESP, KTM), 20 p.;
10. Romain Febvre (FRA, KTM), 19 p.;


MX2 World Championship standings after 14 of 17 rounds
1. Jeffrey Herlings (NED, KTM), 692 points;
2. Jordi Tixier (FRA, KTM), 515 p.;
3. Jose Butron (ESP, KTM), 436 p.;
4. Christophe Charlier (FRA, Yamaha), 405 p.;
5. Glenn Coldenhoff (NED, KTM), 377 p.;
6. Dean Ferris (AUS, Yamaha), 359 p.;
7. Jake Nicholls (GBR, KTM), 345 p.;
8. Alessandro Lupino (ITA, Kawasaki), 294 p.;
9. Max Anstie (GBR, Suzuki), 282 p.;
10. Petar Petrov (BUL, Yamaha), 262 p.;